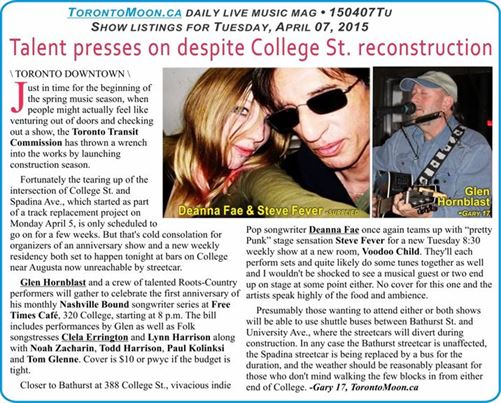 \ TORONTO DOWNTOWN \
Just in time for the beginning of the spring music season, when people might actually feel like venturing out of doors and checking out a show, the Toronto Transit Commission has thrown a wrench into the works by launching construction season.
Fortunately the tearing up of the intersection of College St. and Spadina Ave., which started as part of a track replacement project on Monday April 5, is only scheduled to go on for a few weeks. But that's cold consolation for organizers of an anniversary show and a new weekly residency both set to happen tonight at bars on College near Augusta now unreachable by streetcar.
Glen Hornblast and a crew of talented Roots-Country performers will gather to celebrate the first anniversary of his monthly Nashville Bound songwriter series at Free Times Café, 320 College, starting at 8 p.m. The bill includes performances by Glen as well as Folk songstresses Clela Errington and Lynn Harrison along with Noah Zacharin, Todd Harrison, Paul Kolinksi and Tom Glenne. Cover is $10 or pwyc if the budget is tight.

Closer to Bathurst at 388 College St., vivacious indie Pop songwriter Deanna Fae once again teams up with "pretty Punk" stage sensation Steve Fever for a new Tuesday 8:30 weekly show at a new room, Voodoo Child. They'll each perform sets and quite likely do some tunes together as well and I wouldn't be shocked to see a musical guest or two end up on stage at some point either. No cover for this one and the artists speak highly of the food and ambience.
Presumably those wanting to attend either or both shows be able to use shuttle buses between Bathurst St. and University Ave., where the streetcars will divert during construction. In any case the Bathurst streetcar is unaffected, the Spadina streetcar is being replaced by a bus for the duration, and the weather should be reasonably pleasant for those who don't mind walking the few blocks in from either end of College.
-Gary 17, TorontoMoon.ca
SHOW LISTINGS for Tuesday, April 07, 2022
Listings preceded by an asterisk (*) are repeating weekly events. (Double asterisk indicates repeating event with different hosts/guest/etc.). Admission prices followed by a slash and minus (/-) after the amount indicates door charge with availability of cheaper rates for some purchases. /+ indicates stated price is minimum.
Names of subscribers appear in bold, are underlined and, where applicable, include a live link to their websites. Advertisers' listings are in larger highlighted type, include live link to website and also have ad icon included in listings.
5-8> Howard Willett Blues Duo @ Gate 403, 403 Roncesvalles Ave., TO West ~Jazz
*6-9> Julian Fauth solo @ Sauce, 1376 Danforth Ave., TO East ~original Blues piano
6> Zachary Lucky @ Cameron House (front), 408 Queen St. W., TO
6:30> Carissa Neufeld Group @ The Rex, 194 Queen St. W., TO ~Jazz
*6:30-11> The Woodshed jam with Don Niblett & Frank Zochodne @ Simcoe Blues & Jazz, 926 Simcoe St. N., Oshawa
*7> open mic @ The Central, 603 Markham St., TO
7> Kerry McMaster @ Black Horse Pub, 452 George St. N., Peterborough
7:30-9:30> Don Stevenson @ Relish, 2152 Danforth Ave., TO East ~songwriter
7:30> Reggae jam @ Tranzac Club (Southern Cross), 292 Brunswick St., TO
8> Nashville Bound anniversary show with Glen Hornblast; Clela Errington; Lynn Harrison; Noah Zacharin; Tom Glenne; Todd Harrison; Paul Kolinski @ Free Times Café, 320 College St., TO ~original Roots
*8-11> Michael Keys & Friends @ The Ale House, 802 Upper Gage Ave., Hamilton ~Pop/Jazz
8> Some Birds Walk For The Hell Of It @ Cameron House (rear), 408 Queen St. W., TO
8-10> TWAC @ Castro's, 2116 Queen St. E., TO East
*8-12> Marshall Dane Trio @ Roc'n Doc's, 105 Lakeshore Rd. E., Port Credit ~New Country/Pop
*8> open stage with host Iain Leslie @ Moonshine Café, 137 Kerr St., Oakville; $2
*8-11> jam with Matthew Kane & The Brews Brothers @ The Crown, 9580 Yonge St., Richmond Hill
*8:30> Deanna Fae & Steve Fever @ Voodoo Child, 388 College St., TO ~indie Pop/pretty Punk
8:30> Alexandria @ Hugh's Room, 2261 Dundas St. W., TO West ~Roots-Pop; $18
*8:30> open mic @ Falcon & Firkin, 10300 Yonge St., Richmond Hill
*8:45> Tyler Yarema & His Rhythm @ Reservoir Lounge, 52 Wellington St. E., TO ~Jazz/Blues
*8:45> open mic with Matt Zadkovich @ Culchain's Irish Pub, 158 Queen St. S., Streetsville-Mississauga
**9> open mic with host Jody Ferrer & 10 p.m. feature by tba @ Groove Bar, 1952 Danforth Ave., TO East
9> The Ditch Horses featuring Reid Pickering & Chris Bennett @ The Only Café, 972 Danforth Ave., TO East ~original Country/urban Pop
9> John Showman @ The Local, 396 Roncesvalles Ave., TO West ~fiddle virtuoso
9> Bruce Chapman Blues Duo + guests @ Gate 403, 403 Roncesvalles Ave., TO West ~Blues
9> The Dinner Belles with Ginger St. James @ Dakota Tavern, 249 Ossington Ave., TO West ~Rockabilly/cabaret
**9> aBabe Music presents Rufus; Whiskey Legs; Ebb & Flow; Alanna Matty @ The Painted Lady, 218 Ossington Ave., TO West ~indie showcase; $5
9> James Barker Band @ The Corral, 433 Simcoe St. S., Oshawa ~Country Rock
*9> open mic with Manny D, Andy Earle & Dave Breckels @ Big Chris BBQ, 17380 Yonge St., Newmarket
*9:30> The Phil & John Show feat. Phil Naro @ Shore Grill, 71 Lakeshore Rd. E., Port Credit ~acoustic Pop Rock
*9:30> karaoke with The English Rose & The Mad Scotsman @ The Fossil & Haggis, 790 Military Trail, Scarborough
9:30> Django jam @ Grossman's, 379 Spadina Ave., TO
*9:30> Peter Verity @ Black Swan, 154 Danforth Ave., TO East ~Folk Roots
*9:30-12> open stage hosted by Jennifer Brewer @ The Old Nick, 123 Danforth Ave., TO East
*9:30> jam with Frank Wilks & Friends @ The Duke Live, 1225 Queen St. E., TO East
9:30> Jazz jam hosted by Chris Gale @ The Rex, 194 Queen St. W., TO ~Jazz
*9:30> jam with Derek Downham @ Axis, 3048 Dundas St. W., TO West ~eclectic
*10-2> The Sattalites @ Orbit Room, 580 College St., TO ~orig. & cover Reggae/Funk
10> Nico Dann with Mike Daley's sLab @ Tranzac Club (Southern Cross), 292 Brunswick St., TO ~Jazz
10> Run With The Kittens @ Cameron House (front), 408 Queen St. W., TO
*10> open mic with Josh Beaven @ The Atria, 59 King St. E., Oshawa
*10> open mic @ The Dickens, 423 Elizabeth St., Burlington
10:30> The World Is Yours Unplugged @ The Hideout, 484 Queen St. W., TO ~indie Rock
Copyright © 2015 Toronto Moon Magazine. All Rights Reserved