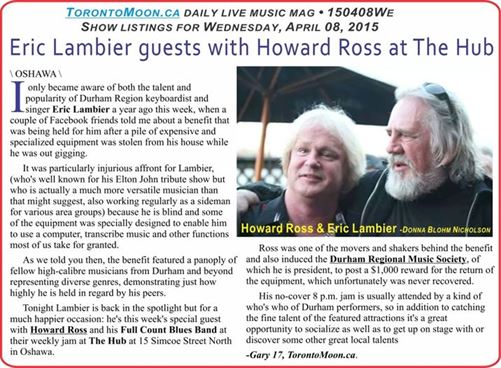 \ OSHAWA \
I only became aware of both the talent and popularity of Durham Region keyboardist and singer Eric Lambier a year ago this week, when a couple of Facebook friends told me about a benefit that was being held for him after a pile of expensive and specialized equipment was stolen from his house while he was out gigging.
It was particularly injurious affront for Lambier (who's well known for his Elton John tribute show but who is actually a much more versatile musician than that might suggest, also working regularly as a sideman for various area groups) because he is blind and some of the equipment was specially designed to enable him to use a computer, transcribe music and other functions most of us take for granted.
As we told you then, the benefit featured a panoply of fellow high-calibre musicians from Durham and beyond representing diverse genres, demonstrating just how highly he is held in regard by his peers.
Tonight Lambier is back in the spotlight but for a much happier occasion: he's this week's special guest with Howard Ross and his Full Count Blues Band at their weekly jam at The Hub at 15 Simcoe Street North in Oshawa.
Ross was one of the movers and shakers behind the benefit and also induced the Durham Regional Music Society, of which he is president, to post a $1,000 reward for the return of the equipment, which unfortunately was never recovered.
His no-cover 8 p.m. jam is usually attended by a kind of who's who of Durham performers, so in addition to catching the fine talent of the featured attractions it's a great opportunity to socialize as well as to get up on stage with or discover some other great local talents.
-Gary 17, TorontoMoon.ca
SHOW LISTINGS for Wednesday, April 08, 2022
Listings preceded by an asterisk (*) are repeating weekly events. (Double asterisk indicates repeating event with different hosts/guest/etc.) Admission prices followed by a slash and minus (/-) after the amount indicates door charge with availability of cheaper rates for some purchases. /+ indicates stated price is minimum.
Names of subscribers appear in bold and underlined and, where applicable, include a live link to their websites. Advertisers' listings are in larger, highlighted type, include live link to website and also have ad icon included in listings.
5-8> Michelle Rumball Duo @ Gate 403, 403 Roncesvalles Ave., TO West ~Jazz
6> Jennie Thai @ Cameron House (front), 408 Queen St. W., TO
6> Devin Cuddy Band @ Dakota Tavern, 249 Ossington Ave., TO West ~$10
6> Comhaltas Irish Slow Session @ Tranzac Club (Tiki Room), 292 Brunswick Ave. TO ~folk dancing
6:30> Ethan Ardelli Quartet @ The Rex, 194 Queen St. W., TO ~Jazz
6:30> Raconteurs Storyelling @ Tranzac Club (Main Hall), 292 Brunswick Ave. TO ~spoken word
7> David Reubel Quartet @ Monarchs Pub (Eaton Chelsea Hotel), 33 Gerrard St. W., TO ~Jazz
*7> open mic night with Tanya Joy Senior @ Col. McGrady's Pub, 44 Brock St. W., Uxbridge
WILL THEY REMEMBER YOU WHEN YOU'RE GONE?
PLEASE DONATE TO SUPPORT THIS PROJECT
*7-11> open jam with Wayne Buttery Band @ The Beacon, 146 45th St., Wasaga Beach
7> Art Lajambe @ Black Horse Pub, 452 George St. N., Peterborough
*7:30-10:30> The BTBs @ Relish, 2152 Danforth Ave., TO East ~Jazz
7:30> Arnd Jurgensen & guests @ Tranzac Club (Southern Cross), 292 Brunswick Ave. TO
**8-10:30> Hump Night Blues with Dave McManus & Cleave Anderson + special guest tba @ On Cue Billiards, 349 Jane St., TO West ~Blues
*8-12> Girls Night Out Jazz singers jam with Lisa Particelli, Peter Hill et al @ Chalkers, 247 Marlee Ave., TO North-West
*8-12> All-ages jam with band featuring Dave Girdlestone of Soul Funkshun on guitar @ Sixth Line Pub, 1500 Sixth Line, Oakville
*8> Howard Ross hosts "Big Mojo" Blues jam with guest performer Eric Lambier @ The Hub, 15 Simcoe St. N., Oshawa
**8> open stage with 9 p.m. feature by John Stroud @ Fat Albert's, 25 Cecil St. (Steelworkers Hall), TO ~Roots
*8-1> open jam with Wednesday's Child feat. Johnny Bootz Hutt @ Lola, 40 Kensington Ave., TO
8> Sugar Brown @ Cameron House (front), 408 Queen St. W., TO
8> Lzrszn @ The Only Café, 972 Danforth Ave., TO East ~space jazz
*8-11> Fraser-Daley @ Inter Steer, 357 Roncesvalles Ave. TO West ~Roots/Blues
8-1> Pinto & Carey @ Timothy's Pub, 344 Brown's Line, Etobicoke South ~Jazz; $
*8-2> Paul & Curtis @ Roc'n Doc's, 105 Lakeshore Rd. E., Port Credit ~Rock/Pop
8-1> Songsmiths showcase and open stage with host Lorne Allan & guests Peter Wildman; Pat Maloney @ Moonshine Café, 137 Kerr St., Oakville ~Roots/Pop; $5
*8-12> acoustic jam with Tony Paglia & Aaron Soloman @ Jake's Boathouse Brampton, 59 First Gulf Rd., Brampton
8> Bruce & Hughes @ Simcoe Blues & Jazz, 926 Simcoe St. N., Oshawa
*8-12> open mic with Kevin Ker @ Aw Shucks, 15230 Yonge St., Aurora
*8-11> open mic @ Frank's Pasta, 426 King St. E., Cobourg
8:30> Al Reilly's Catalyst @ Centro Pizza, 3408 Kingston Rd., Scarborough ~classic Rock
8:30> Daryl McClure; Miselle @ Free Times Cafe, 320 College St., TO ~songwriters; pwyc
*8:30-10:30> WE –B3 @ Castro's, 2116 Queen St. E., TO East
8:30> Jon Brooks album release for The Smiling and Beautiful Countryside @ Hugh's Room, 2261 Dundas St. W., TO West ~Roots; $20/-
*8:30> open mic with Jadzia Skye & Michael Oesch @ Chez Helene's, 1437 Kingston Rd., Scarborough
*8:30> Crazy Strings host High Lonesome Wednesdays with opening acoustic act @ Silver Dollar 486 Spadina Ave., TO ~Bluegrass
*8:30> Something Country @ The Endzone, 1900 King St. E., Hamilton ~Country
*8:45> Bradley & The Bouncers @ Reservoir Lounge, 52 Wellington St. E., TO ~Jazz/Blues/R&B
9-12> Blues Night with Julian Fauth & guests @ Gate 403, 403 Roncesvalles Ave., TO West ~original Juno-winning Blues
9> Rucksack Willies @ The Local, 396 Roncesvalles Ave., TO West ~Country-Folk
9> Eirene Cloma; Sara Jane Scouten; Daisy Blue @ The Painted Lady, 218 Ossington Ave., TO West ~indie
*9> open mic with Sean Barker @ Monarch Tavern, 12 Clinton St., TO
9> Greg Cockerill Band @ Dakota Tavern, 249 Ossington Ave., TO West
*9> open mic jam with Jack B Nimble @ Blarney's Gate, 1151 Dundas St. W., Mississauga
*9?> jam with Michael Zane @ Shakers, 580 Kerr St., Oakville
*9-12> jam with Damage Control @ St. Louis Bar & Grill Ajax, 11 Harwood Ave. S., Ajax
*9-1> open mic jam with Whiskey Birds @ Sweetz Lounge, 5289 Hwy 7, Woodbridge-Vaughan
*9:30> open stage with Nicola Vaughan @ Black Swan (downstairs), 154 Danforth Ave., TO East
9:30> Trevor Watts Four @ The Rex, 194 Queen St. W., TO ~from England
*9:30-2> jam with B-Sides @ The Unicorn, 175 Eglinton Ave. E., TO North
9:30> Darcy Windover @ C'est What, 67 Front St. E., TO ~pwyc
9:30> The Carson Freeman Diversion @ Shore Grill, 71 Lakeshore Rd. E., Port Credit ~Pop Rock
10> Joey Wright @ Cameron House (front), 408 Queen St. W., TO
10> Ken Aldcroft Convergence Ensemble @ Tranzac Club (Southern Cross), 292 Brunswick Ave. TO
*10-2> Blues-Rock jam with Bruce Domoney @ Grossman's, 379 Spadina Ave. TO
10:30> The Sons Of Jameson @ The Hideout, 484 Queen St. W., TO ~indie Rock
*10:30> Paige Armstrong @ Orbit Room, 580 College St. TO ~indie/classic Rock/Blues; $10
Copyright © 2015 Toronto Moon Magazine. All Rights Reserved