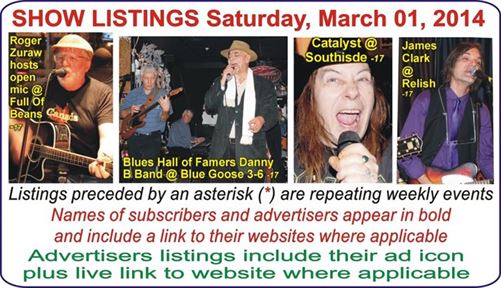 *12-3> Danny Marks @ The Rex, 194 Queen St. W., TO ~eclectic Jazz/Blues/Rock
12:30-2:30> Melanie Peterson @ Humble Beginnings, 3109 Dundas St. W., TO W. ~acoustic Roots/Blues/Pop
1-4> open mic with host Roger Zuraw @ Full Of Beans, 1348 Dundas St. W., TO W.
1:30-4:30> Words & Music with hosts Linda Stitt & Peter Solmes & guests Max Layton; Charlene Jones; K.D. Miller; Shahriyar Jamshidi; Kim Michele; Diana Manole @ Portobello, 995 Bay St. TO ~eclectic original mix
*2-6> jam w. Tom Finocchio @ Sam's Place, Barton-Chestnut Sts., Hamilton
**2-6> Saturday Blues Sermon with James Anthony & special guest Ronnie Russel @ Black Swan Pub Burlington, 4040 Palladium Way, Burlington ~Blues
*3-6> Danny B's House Party Band feat. Michael Keys on piano @ Blue Goose, 1 Blue Goose St., Etobicoke South ~R&B/Pop
*3-7> jam with Michelle Deneault & Redder @ Port Credit Legion, 35 Front St., Port Credit
*3-7> open stage jam @ Moonshine Café, 137 Kerr St., Oakville
*3-6> jam @ Sauce, 1376 Danforth Ave., TO E.
3> The Hot Five Jazzmakers @ C'est What, 67 Front St. E., TO ~traditional Jazz; $5
3:30> Toronto Jazz Orchestra @ The Rex, 194 Queen St. W., TO ~Jazz
3:30> Sue & Dwight @ Cameron House (front), 408 Queen St. W., TO
*3:30-6> Johnny Wright @ Outriggers, 2232 Queen St. E., TO E. ~R&B
3:30> Ted Quinlan Quartet @ The Pilot, 22 Cumberland St., TO ~Jazz
*4-8>

The Bear

Band & guests @

Southside Johnny's

, 3653 Lakeshore Blvd. W. Etobicoke ~Rock-R&B
*4> PRJ @ Simcoe Blues & Jazz, 926 Simcoe St., Oshawa ~Blues
4> Cadillac Stew @ Cadillac Lounge, 1296 Queen St. W., TO W. ~Rockabilly/Country
*4-7> Climax Jazz Band @ Seven44, 744 Mount Pleasant Blvd., TO North ~Jazz
*4-8> The Meteors with special guest Kimberley Wetmore @ Timothy's Pub, 344 Brown's Line, Etobicoke South ~Blues/Rock/R&B
5-8> Bill Heffernan & Friends with guests Abbey Scholzberg Trio @ Gate 403, 403 Roncesvalles Ave. TO W. –Rootsy Pop
5-8> Arthur Renwick @ The Local, 396 Roncesvalles Ave., TO W. ~Rootsy Pop
6-8> Rattlesnake Choir @ Cameron House (front), 408 Queen St. W., TO
7> The Bacchus Collective @ The Rex, 194 Queen St. W., TO ~ Jazz
7:30> Abigail Lapell & Friends @ Tranzac Club (Southern Cross), 292 Brunswick Ave., TO
7:30> FOG (Four Old Guys) @ Tranzac Club (Main Hall), 292 Brunswick Ave., TO ~Roots/Blues originals; $
8-12> Duane Rutter & Lori Yates @ Moonshine Café, 137 Kerr St., Oakville ~Country; $10
8-12> Ric Jacobs @ Gator Ted's, 1505 Guelph Line, Burlington
8:30> Downshift; more for Habit For Humanity fundraiser @ Free Times Café, 320 College St. TO ~$5
*9-1> karaoke with Rob MacArthur @ Tudor Rose, 700 Harwood Ave. S., Ajax
9-1> Melissa Boys Jazz & Blues Band @ Gate 403, 403 Roncesvalles Ave., TO W. ~ Jazz
9> David Celia Band @ The Local, 396 Roncesvalles Ave., TO W. ~creative indie Pop
9> Ray Darren @ The Corral, 433 Simcoe St. S., Oshawa ~Country
9-1> Colin Amey @ Black Dog Pub, 87 Island Rd., Scarborough ~Pop/soft Rock
9-1> Two For The Show @ Oscar's Roadhouse, 1785 Queen St. E., Brampton ~Pop Rock & comedy
9:30> My Favourite Headache @

Linsmore Tavern

, 1298 Danforth Ave., TO E. ~RUSH tribute; $15
9:30-11:30> James Clark Institute @ Relish, 2152 Danforth Ave. TO E. ~original indie Pop
*9:30-2> karaoke with The English Rose & The Mad Scotsman @ Winners, 2181 Lawrence Ave. E., Scarborough
9:30> Soul Funkshun feat. Dave Girdlestone @ Sixth Line Pub, 1500 6th Line, Oakville ~Funky Soul
9:30> James Sloan & friends; Jubilani @ Black Swan, 154 Danforth Ave., TO E. ~original Roots; South African folk
9:30> The Junction City All-Stars feat. Dave McManus & Nicole Dunn @ The Black Cat, 3513 Dundas St. W., TO W. ~Rock/R&B
9:30> Love & LeBlanc feat. David Love @ Tracks Brewpub, 60 Queen St. E., Brampton ~melodic acoustic vintage Pop Rock
9:30> Bad Dog @ Seven44, 744 Mount Pleasant Blvd., TO North ~classic Rock
9:30> The Kat Kings @ Axis, 3048 Dundas St. W., TO W. ~Rockabilly
9:30> fundraiser for Streetwise Actors with The Meteors @ Mulligan's, 2458 Dundas St. W., Mississaugua ~Rock/R&B
9:30> Bon Jovi Forever @ Rockpile East, 2787 Eglinton Ave. E., Scarborough ~tribute
9:30> karaoke with M.C. Ian @ Black Swan Pub Burlington, 4040 Palladium Way, Burlington
9:30> Old Man Flanagan's Ghost @ Timothy's Pub 344 Brown's Line, Etobicoke S. ~Pop Rock/Top 40
9:30> Killin' Time @ The Harp, 55 Lakeshore Rd. E., Port Credit ~Pop Rock/Top 40
9:30> Sonic Square @ Stone Cottage Pub, 3750 Kingston Rd., Scarborough ~Pop Rock
9:30> Busted Again @ International Sports Bar, 2480 Cawthra Rd., Mississauga ~classic Rock
9:45> David Buchbinder's Odessa/Havana @ The Rex, 194 Queen St. W., TO ~Jazz
9:45> Morning Frame; Paint @ NTB Lounge, 2878 Lakeshore Blvd. W., Etobicoke S. ~original & contemp. Rock
10> Prince Enoki @ Tranzac Club  (Southern Cross), 292 Brunswick Ave., TO
10-2> Sandra & Ed @ Fionn MacCool's Ajax, 36 Kingston Rd. E., Ajax ~Pop Rock
10-2> Destroyer @ Roc'n Doc's, 105 Lakeshore Rd. E., Port Credit ~KISS tribute
10> A Little Rambunctious @ Cameron House (front), 408 Queen St. W., TO
10> Bernadette Connors; Wednesdays Enging @ The Hideout, 484 Queen St. W., TO ~indie Rock
10> Irene Torres & The Sugar Devils @ Kennedy Public House, 2199 Bloor St. W., TO W. ~Blues/R&B
10-2> Dodge Fiasco @ Dakota Tavern, 249 Ossington Ave., TO W. ~Country
10:30> Last Exit @ The Dickens, 423 Elizabeth St., Burlington ~Pop Rock
Copyright © 2014 Toronto Moon Magazine. All Rights Reserved