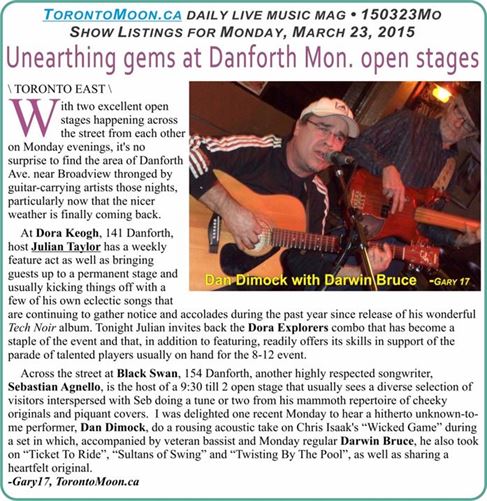 \ TORONTO EAST \
With two excellent open stages happening across the street from each other on Monday evenings, it's no surprise to find the area of Danforth Ave. near Broadview thronged by guitar-carrying artists those nights, particularly now that the nicer weather is finally coming back.
At Dora Keogh, 141 Danforth, host Julian Taylor has a weekly feature act as well as bringing guests up to a permanent stage and usually kicking things off with a few of his own eclectic songs that are continuing to gather notice and accolades during the past year since release of his wonderful Tech Noir album. Tonight Julian invites back the Dora Explorers combo that has become a staple of the event and that, in addition to featuring, readily offers its skills in support of the parade of talented players usually on hand for the 8-12 event.
Across the street at Black Swan, 154 Danforth, another highly respected songwriter, Sebastian Agnello, is the host of a 9:30 till 2 open stage that usually sees a diverse selection of visitors interspersed with Seb doing a tune or two from his mammoth repertoire of cheeky originals and piquant covers.  I was delighted one recent Monday to hear a hitherto unknown-to-me performer, Dan Dimock, do a rousing acoustic take on Chris Isaak's "Wicked Game" during a set in which, accompanied by veteran bassist and Monday regular Darwin Bruce, he also took on "Ticket To Ride", "Sultans of Swing" and "Twisting By The Pool", as well as sharing a heartfelt original.
-Gary17, TorontoMoon.ca
SHOW LISTINGS for Monday, March 23, 2022
Listings preceded by an asterisk (*) are repeating weekly events. (Double asterisk indicates repeating event with different hosts/guest/etc.). Admission prices followed by a slash and minus (/-) after the amount indicates door charge with availability of cheaper rates for some purchases. /+ indicates stated price is minimum.
Names of subscribers appear in bold, are underlined and, where applicable, include a live link to their websites. Advertisers' listings are in larger highlighted type, include live link to website and also have ad icon included in listings.
5-8> Cody McMillan Duo @ Gate 403, 403 Roncesvalles Ave., TO West ~Jazz
*6-9> Calliope's Nest open stage/jam for women @ Lola Pub, 40 Kensington Ave., TO
*6-8> Communi-Kitch with Trevor Davis @ The Garnet, 231 Hunter St. W., Peterborough
6:30> U of T Jazz Ensembles @ The Rex, 194 Queen St. W., TO ~Jazz
*7> Hard Time Mondays with Rick & Gailie @ Black Horse Pub, 452 George St. N., Peterborough
**7:30> M Factor Mondays with host Elana Harte & features Candice Sand; Sandra Bouza @ The Old Nick, 123 Danforth Ave., TO East
7:30> Happy Hour with Chris Banks @ Tranzac Lounge (Southern Cross), 292 Brunswick Ave., TO
7:30> Vincent Wolfe & The Vegas North Orchestra @ Seven44, 744 Mount Pleasant Road, TO North ~R&B/Swing
8-11> John Wayne Swingtet @ Relish, 2152 Danforth Ave., Toronto East ~Gypsy Jazz
8-12> open stage with Julian Taylor & 9:30 feature by Dora's Explorers @ Dora Keogh, 141 Danforth Ave. TO East
8> comedy @ Cameron House (rear), 408 Queen St. W., TO
**8-1> open stage with host Alex Zdravkovic @ Free Times Café, 320 College St., TO
*8-11> open stage @ McGradie's, 2167 Victoria Park Ave., Scarborough
8-12> Chris Plock & Stevie G @ Roc'n Doc's, 105 Lakeshore E., Port Credit ~Blues-Rock duo
**8-12> BBQ & jam night with Port Credit Review Band @ Moonshine Café, 137 Kerr St., Oakville; ($8.95 with BBQ dinner special starts at 6)
*8-12> open stage @ Simcoe Blues & Jazz, 926 Simcoe St. N., Oshawa
*8:30> Songbird Mondays with Nicole "Songbird" Coward & guest Harpin' Norm Lucien online live @ http://www.streetjelly.com ~Roots/Folk
8:30> Ryan Carr @ Castro's, 2116 Queen St. E., TO East
*9-1> eclectic open stage/jam with host Nelson Sobral @ The Painted Lady, 218 Ossington Ave., TO West
**9-1:30> jam with No Band Required @ Grossman's, 379 Spadina Ave., TO
*9-1> Hamstrung Stringband @ The Local, 396 Roncesvalles Ave., TO West ~Bluegrass
9-1> Kalya Ramu Band @ Gate 403, 403 Roncesvalles Ave., TO West ~Jazz
*9-1> jam with Tom Barlow @ Shore Grill, 71 Lakeshore Rd. E., Port Credit
*9:30-2> Sebastian Agnello & friends @ Black Swan (ground floor), 154 Danforth Ave., TO East
*9:30> open mic night at Amsterdam Bicycle Club, 54 The Esplanade, TO
9:30> Humber College Jazz Ensembles @ The Rex, 194 Queen St. W., TO ~Jazz
10> Jordan John @ The Orbit Room, 580 College St., TO ~R&B/Blues
*10> open mic (2 songs; signup starts 8p.m.) @ Tranzac Lounge (Southern Cross), 292 Brunswick Ave., TO
10:30> Big Otter Creek acoustic duo @ The Hideout, 484 Queen St. W., TO ~indie Rock
Copyright © 2015 Toronto Moon Magazine. All Rights Reserved