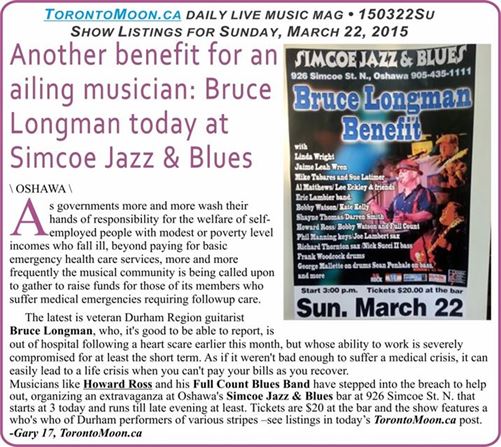 \ OSHAWA \
As governments more and more wash their hands of responsibility for the welfare of self-employed people with modest or poverty level incomes who fall ill, beyond paying for basic emergency health care services, more and more frequently the musical community is being called upon to gather to raise funds for those of its members who suffer medical emergencies requiring followup care.
The latest is veteran Durham Region guitarist Bruce Longman, who, it's good to be able to report, is out of hospital following a heart scare earlier this month, but whose ability to work is severely compromised for at least the short term. As if it weren't bad enough to suffer a medical crisis, it can easily lead to a life crisis when you can't pay your bills as you recover.
Musicians like Howard Ross and his Full Count Blues Band have stepped into the breach to help out, organizing an extravaganza at Oshawa's Simcoe Jazz & Blues bar at 926 Simcoe St. N. that starts at 3 today and runs till late evening at least. Tickets are $20 at the bar and the show features a who's who of Durham performers of various stripes –see listings in today's TorontoMoon.ca post.
-Gary 17, TorontoMoon.ca
SHOW LISTINGS for Sunday, March 22, 2022:
Listings preceded by an asterisk (*) are repeating weekly events. (Double asterisk indicates repeating event with different hosts/guest/etc.). Admission prices followed by a slash and minus (/-) after the amount indicates door charge with availability of cheaper rates for some purchases. /+ indicates stated price is minimum.
Names of subscribers appear in bold, are underlined and, where applicable, include a live link to their websites. Advertisers' listings are in larger highlighted type, include live link to website and also have ad icon included in listings.
11-2> Liane Fainsinger for Jazz brunch @ Relish, 2152 Danforth Ave. TO East
11am-2pm> Kiki's Klezmer Trio for Jazz brunch @ Free Times Café, 320 College St., TO
*12-3> Julian Fauth's Blues brunch @ Axis, 3048 Dundas St. W., TO West ~Blues
12> Songwriters Café @ Tranzac Club (Tiki Room), 292 Brunswick Ave., TO
12-3> Excelsior Dixieland Jazz Band @ The Rex, 194 Queen St. W., TO ~Jazz
2> Ansgar's Birthday party @ Tranzac Club (Southern Cross), 292 Brunswick Ave., TO
*2-5> Jordana Talsky @ Morgan's, 1282 Danforth Ave., TO East ~Jazz
*3-6> open mic with Nicola Vaughan @ Hirut, 2050 Danforth Ave., TO East
3-?> Benefit for Bruce Longman heart attack recovery with Howard Ross & Full Count Blues Band, Jaime Lee Wren, Eric Lambier Band, Mike Tabares & Sue Latimer, more @ Simcoe Jazz & Blues, 926 Simcoe St. N., Oshawa
*3-6> Michael Brennan @ Graffiti's, 170 Baldwin St. TO ~East Coast Rock/Blues Roots
3-6> jam with host Buddy Love Band @ Moonshine Café, 137 Kerr St., Oakville
*3-7> open stage with Kevin Ker @ The Earl Of Whitchurch, 6204 Main St., Stouffville
*3-7> jam at CJ Barleys, 213 The Queensway, Keswick
3> Odd Man Rush @ Black Horse Pub, 452 George St. N., Peterborough
3:30-6:30> Mr. Rick's Tin Pan Alley @ The Rex, 194 Queen St. W., TO ~Americana Roots
*3:30-7:30> jam @ Black Bear, 1125 O'Connor Drive, TO East
4-8> Lost Patients @ Timothy's Pub, 344 Brown's Line, Etobicoke ~Pop Rock
4> The Conductors @ Cameron House (front), 408 Queen St. W., TO
4-8> Tim Collins @ Blue Goose Tavern, 1 Blue Goose Rd., Etobicoke South
4> Roots and Branches @ Castro's Lounge, 2116 Queen St. E., TO East ~Rootsy Blues
*4:30-8> New Orleans Connection All Stars & guests @ Grossman's, 379 Spadina Ave., TO ~New Orleans Jazz
*4:30-8> Chuck Jackson's All Stars @ Roc'n Doc's, 105 Lakeshore Rd. E., Port Credit ~Blues
*5-9> John Dickie/Pat Perez Band @ Linsmore Tavern, 1298 Danforth Ave, TO East ~R&B/Blues
*5-9> All ages open jam with Juggernaut Jam Band featuring Andy Narsingh @ West Shore Bar & Grill, 877 Bayly St., Pickering
5-7> Steve-Paul Simms & Lynn Harrison @ Tranzac Club (Southern Cross), 292 Brunswick Ave., TO ~original Roots

**5-8> John Borra & Sam Ferrara w. guest @ The Communist's Daughter, 1149 Dundas St. W. TO West ~Country
5-9> Robbie Lane & The Disciples @ Seven44, 744 Mount Pleasant Road, TO North ~vintage Rock/R&B; $10
5-8> Hannah Shira Naiman & Rosalynn Dennett @ The Local, 396 Roncesvalles Ave., TO West ~old time Country
5-8> Marie Fatima Rudolf Band @ Gate 403, 403 Roncesvalles Ave., TO West ~Jazz
**5-8> The Stew @ Mulligan's, 2458 Dundas St. W., Mississauga ~R&B/Rock
*5-9> open mic with feature guest @ Sgt. Pepper's Aurora, Walmart Plaza (Hwy 404 & Aurora Rd.), Aurora
*6-10> jam with Tommy Rocker, John Robbie @ Scarborough Junction, 646 Danforth Rd., Scarborough
*7-1> Freefall Sundays open stage with hosts Steve York & Tony Rabalao (2 songs each -signup @ 7 or pre-sign online); set by Randy Starr @ The Supermarket, 268 Augusta St., TO
*7-11> Karaoke with Rob MacArthur @ The Edge, 250 Bayly St. W., Ajax
7> Song Studio @ C'est What, 69 Front St. E., TO ~
7> The Double Cuts @ Cameron House (front), 408 Queen St. W., TO ~Western Swing
7-9:30> Joel Visentin's Bugaloo Squad @ The Rex, 194 Queen St. W., TO ~Jazz
*7-11> open jam @ McGradie's, 2167 Victoria Park Ave., Scarborough
**7-11> The Nomads @ Shore Grill, 71 Lakeshore Rd. E., Port Credit
*7> open jam with Mike Shotton & The Flying Squirrels @ Black Swan Pub Burlington, 4040 Palladium Way, Burlington
7:30> Gathering Sparks @ Tranzac Club (Southern Cross), 292 Brunswick Ave., TO ~Folk
*8-10:30> Michael Keith @ On Cue Billiards, 349 Jane St., TO West ~eclectic acoustic solo
8> Zack Werner's Idol School showcase @ Free Times Café, 320 College St., TO ~
*8:30-12:30> karaoke with The English Rose & The Mad Scotsman @ Gryphon Pub, 114 Dundas St. E., Whitby
8:30> The Grand Slambovians @ Hugh's Room, 2261 Dundas St. W., TO West ~NY alt-Folk/Americana; $22.50
9-1> Tiffany Hanus Band @ Gate 403, 403 Roncesvalles Ave., TO West ~Jazz
9> Watch This Sound @ Castro's Lounge, 2116 Queen St. E., TO East ~Jamaican music
9> jam with Jay Pennell @ Scruffy Murphy's, 150 Eglinton Ave. E., TO North
9> The Devil's Drink @ The Local, 396 Roncesvalles Ave., TO West ~Celtic
*9> Rob Hiemstra solo @ The Unicorn, 175 Eglinton Ave. E., TO North ~Rock/Pop
*9-1> The Tonkas @ Roc'n Doc's, 105 Lakeshore Rd. E., Port Credit ~Rock/Top 40
*9-1> jam with Mike Roland and Lenny Vaccari @ Stewart Maguires Landing, 15 Allan Dr., Bolton
9> jam @ Moonshine Café, 137 Kerr St., Oakville
*9-1> jam @ Ivy Arms Pub, 201 Main Street East, Milton
*9:30-1> jam with the Stir It Up Band featuring Bryan Van Dusen & David Macmichael @ Relish, 2152 Danforth Ave., TO East
9:45> Murley/Braid Nordic Project @ The Rex, 194 Queen St. W., TO ~Jazz
*10> Horshack feat. Chris Caddell @ Orbit Room, 580 College St., TO ~Bluesy contemporary & classic Rock
10> The Mercenaries @ Dakota Tavern, 249 Ossington Ave., TO West
10> J Swinnerton Band @ Cameron House (front), 408 Queen St. W., TO
**10> Blues jam with Brian Cober, Bill Hedefine & guest bassist @ Grossman's, 379 Spadina Ave., TO
10-4> Music City North Festival with Jonesin' and The Hurt; Steven David; The Honeyrunners; Ol\'cd; Big Otter Creek @ The Hideout, 484 Queen St. W., TO ~indie Rock
*10> Brent Thomas Diablo @ The Garnet, 231 Hunter St., W., Peterborough
Copyright © 2015 Toronto Moon Magazine. All Rights Reserved