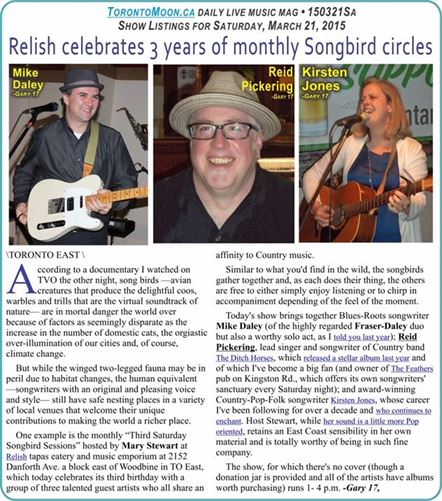 \TORONTO EAST \
According to a documentary I watched on TVO the other night, song birds —avian creatures that produce the delightful coos, warbles and trills that are the virtual soundtrack of nature— are in mortal danger the world over because of factors as seemingly disparate as the increase in the number of domestic cats, the orgiastic over-illumination of our cities and, of course, climate change.
But while the winged two-legged fauna may be in peril due to habitat changes, the human equivalent —songwriters with an original and pleasing voice and style— still have safe nesting places in a variety of local venues that welcome their unique contributions to making the world a richer place.
One example is the monthly "Third Saturday Songbird Sessions" hosted by Mary Stewart at Relish tapas eatery and music emporium at 2152 Danforth Ave. a block east of Woodbine in TO East, which today celebrates its third birthday with a group of three talented guest artists who all share an affinity to Country music.
Similar to what you'd find in the wild, the songbirds gather together and, as each does their thing, the others are free to either simply enjoy listening or to chirp in accompaniment depending of the feel of the moment.
Today's show brings together Blues-Roots songwriter Mike Daley (of the highly regarded Fraser-Daley duo but also a worthy solo act, as I told you last year); Reid Pickering, lead singer and songwriter of Country band The Ditch Horses, which released a stellar album last year and of which I've become a big fan (and owner of The Feathers pub on Kingston Rd., which offers its own songwriters' sanctuary every Saturday night); and award-winning Country-Pop-Folk songwriter Kirsten Jones, whose career I've been following for over a decade and who continues to enchant.

Host Stewart, while her sound is a little more Pop oriented, retains an East Coast sensibility in her own material and is totally worthy of being in such fine company.
The show, for which there's no cover (though a donation jar is provided and all of the artists have albums worth purchasing) runs 1- 4 p.m.
-Gary 17, TorontoMoon.ca
SHOW LISTINGS for Saturday, March 21, 2022
Listings preceded by an asterisk (*) are repeating weekly events. (Double asterisk indicates repeating event with different hosts/guest/etc.). Admission prices followed by a slash and minus (/-) after the amount indicates door charge with availability of cheaper rates for some purchases. /+ indicates stated price is minimum.
Names of subscribers appear in bold, are underlined and, where applicable, include a live link to their websites. Advertisers' listings are in larger, highlighted type, include live link to website and also have ad icon included in listings.
*12-3> Julian Fauth's Blues Brunch @ Axis, 3048 Dundas St. W., TO West ~Blues
*12-3> Danny Marks & friends @ The Rex, 194 Queen St. W., TO ~Jazz
1-4> Songbird Sessions with Mary Stewart, Kirsten Jones, Reid Pickering, Mike Daley @ Relish, 2152 Danforth Ave., TO East ~Roots/Pop songwriters in the round
*2-5> Dr. B's Acoustic Medicine Show open stage with host Brian Gladstone @ Free Times Café, 320 College St. TO ~Roots; pwyc
**2-6> open mic with a different weekly host @ Magic Oven, 347 Keele St., TO West
*2-6> jam w. Tom Finocchio @ Sam's Place, Barton-Chestnut Sts., Hamilton
**2-6> Saturday Blues Sermon with James Anthony & special guest Terry Chisholm @ Black Swan Pub Burlington, 4040 Palladium Way, Burlington ~Blues
2:30-4:30> Rye & Fairytales @ Humble Beginnings, 3109 Dundas St. W., TO West ~acoustic Roots/Blues/Pop
*3-6> Danny B's House Party Band feat. Michael Keys on piano @ Blue Goose, 1 Blue Goose St., Etobicoke South ~R&B/Pop
*3-7> jam with Michelle Deneault & Redder @ Port Credit Legion, 35 Front St., Port Credit
3> The Hot Five Jazzmakers @ C'est What, 67 Front St. E., TO ~traditional Jazz; $5
3> Sue & Dwight @ Cameron House (front), 408 Queen St. W., TO ~Folk
1-11> Monk Marathon @ Tranzac Club (Southern Cross), 292 Brunswick Ave., TO
1-?> Storytelling Festival @ Tranzac Club (Tiki Room), 292 Brunswick Ave., TO ~10 spoken word artists
*3-7> open stage jam @ Moonshine Café, 137 Kerr St., Oakville; $2
3:30-6:30> Loaded Blues featuring Jim Cornell of Still Sunday @ The Loaded Dog, 1921 Lawrence Ave. E., Scarborough
*3:30-6> Johnny Wright @ Outriggers, 2232 Queen St. E., TO East ~R&B
3:30> Jerome Godboo Band @ The Rex, 194 Queen St. W., TO ~Blues
3:30> The Murley-Schwager Nordic Project @ The Pilot, 22 Cumberland St., TO ~Jazz
**4-8> Bear's Band with guest singer Robin Banks @ Southside Johnny's, 3653 Lakeshore Blvd. W. Etobicoke South ~Rock-R&B
4-7> Fabulous Rave @ Seven44, 744 Mount Pleasant Road, TO North ~Jazz; $
*4-7:30> Ronnie Hayward Trio @ McQueen's, 993 Queen St. E., TO E. ~Blues/Roots
*4-8> The Meteors with guest Suzanne Piano @ Timothy's Pub, 344 Brown's Line, Etobicoke South ~Blues/Rock/R&B
*4> PRJ @ Simcoe Blues & Jazz, 926 Simcoe St., Oshawa ~Blues
**5-8> Bill Heffernan & Friends featuring guests The Tentatives @ Gate 403, 403 Roncesvalles Ave. TO West –Rootsy Pop
5-8> David Meenan @ The Local, 396 Roncesvalles Ave., TO West ~Irish Sessions
6-9> Chris Strei; Carmen Toth; The Stereo Division @ The Central, 603 Markham St., TO ~indie Pop
6-8> Grier Coppins @ Cameron House (front), 408 Queen St. W., TO ~songwriter
6> Toronto Storytelling Festival @ Free Times Café, 320 College St. TO ~spoken word; $5
6-8> The Cosmotones @ Castro's, 2116 Queen St. E., TO East ~Blues/Roots
*6-9> Victoria & Bobby Keys @ Roc'n Doc's, 105 Lakeshore Rd. E., Port Credit ~soft Pop
7:30> The Bacchus Collective @ The Rex, 194 Queen St. W., TO ~ Jazz
8-11> Michael Keithalbum pre-release celebration @ Le Revolucion, 2048 Dundas St. W., TO West
8> Stone Feathers featuring Michael Theodore @ The Feathers, 962 Kingston Rd., TO East ~Pop Rock songwriter
8> Jory Nash album release party for Acoustic Harvest @ Robinson Hall, St. Nicholas Anglican Church, 1512 Kingston Rd., TO East ~Roots; $25
8> Declan O'Donovan @ Cameron House (front), 408 Queen St. W., TO
8> Grace @ Eton House, 710 Danforth Ave., TO East ~Rock/Funk/Motown; $10
8-12> Ron Baumber Band @ Moonshine Café, 137 Kerr St., Oakville; $10
8:30> Stephen Fearing @ Hugh's Room, 2261 Dundas St. W., TO West ~Roots-Rock/Country songwriter; $27.50/-
9> Luau or Die; James Clark Institute; Chapel of Ease @ Junction City Music Hall, 2907 Dundas St. W., TO West ~indie
*9-1> karaoke with Rob MacArthur @ Tudor Rose, 700 Harwood Ave. S., Ajax
9-1> Fraser Daley @ Black Dog Pub, 87 Island Rd., Scarborough ~acoustic Roots-Rock
9-1> Sweet Derrick Blues Band @ Gate 403, 403 Roncesvalles Ave., TO West ~Blues
9> Heather Kelday @ C'est What, 67 Front St. E., TO ~pwyc
9> Alistair Christl @ The Local, 396 Roncesvalles Ave., TO West ~Rockabilly
9> Fried Angels @ Blue Goose Tavern, 1 Blue Goose Rd., Etobicoke South ~Pop Rock
9> open jam @ Maple Leaf House, 2749 Lakeshore Boulevard East, Etobicoke ~Rock/Top 40/Blues
9> Urban Rodeo @ The Corral, 433 Simcoe St. S., Oshawa ~Country
9-1> Full Tilt @ Oscar's Roadhouse, 1785 Queen St. E., Brampton ~Pop Rock/Top 40
9> Dirty Little Swing Thing @ King Richard's Pub, 15570 Yonge St., Aurora ~Pop Rock
**9> Niagara Rhythm Section @ The Old Winery, 2228 Niagara Stone Rd., Niagara-On-The-Lake ~R&B/Blues
9:30> The Neil Young'uns @ Linsmore Tavern, 1298 Danforth Ave., TO East ~Neil Young tribute' $15
9:30-11:30> Young Running @ Relish, 2152 Danforth Ave., TO East ~indie Pop
*9:30-2> karaoke with The English Rose & The Mad Scotsman @ Winners, 2181 Lawrence Ave. E., Scarborough
9:30> Tamin' Thunder @ Seven44, 744 Mount Pleasant Road, TO North ~Rock/Funk; $10
9:30> aBabe Music presents Matt James; Elena Juatco; Orit "Little Birdie" Shimoni @ The Paddock, 178 Bathurst St., TO ~indie; $5
9:30> Lady Kane @ Alleycatz, 2409 Yonge St., TO North ~Funk/Soul/R&B
9:30> Tanya Marie Harris @ The Duke Live, 1225 Queen St. E., TO East ~Pop Rock
9:30> Paint @ Sound Academy 11 Poulson St., TO ~indie Rock; $
9:30> Live From Limbo @ Stone Cottage Pub, 3750 Kingston Rd., Scarborough ~Pop Rock
9:30> Taxi @ Timothy's Pub 344 Brown's Line, Etobicoke South ~Pop Rock/Top 40; $5
9:30> Pat Hewitt @ Shore Grill, 71 Lakeshore Rd. E., Port Credit ~Pop Rock/Top 40
9:30> Skip Tracer @ Jake's Boathouse Brampton, 59 First Gulf Rd., Brampton ~Pop Rock
9:30> Groove Hammer @ Sixth Line Pub, 1500 Sixth Line, Oakville
9:30> Switch Beat @ Aw Shucks, 15230 Yonge St., Aurora ~Pop Rock
9:45> Murley/Braid Nordic Project @ The Rex, 194 Queen St. W., TO ~Jazz
9:45> MINT featuring Amanda Rose & Anthony Cee @ International Sports Bar, 2480 Cawthra Rd., Mississauga ~Rock/Top 40/R&B
9:45> Catalyst @ Centro Pizza, 3406 Kingston Rd., Scarborough ~classic Rock
*9:45> Tyler Yarema & His Rhythm @ Reservoir Lounge, 52 Wellington St. E., TO ~Jazz/Blues
10-2> 40 Sons @ Southside Johnny's, 3653 Lakeshore Blvd. W. Etobicoke South ~Rock/Top 40
*10> karaoke with Randy Petrie @ Kramers, 1915 Yonge St., TO North
10> Ride The Tiger @ Orbit Room, 480 College St. TO ~Funk/Soul
10> Devin Cuddy Band @ Cameron House (front), 408 Queen St. W., TO
10-2> The Double Cuts @ Dakota Tavern, 249 Ossington Ave., TO West ~Country
10-2> The Dreamboats @ Roc'n Doc's, 105 Lakeshore Rd. E., Port Credit ~Rock/Top 40
10-2> Trilogy @ Fionn MacCool's Ajax, 36 Kingston Rd. E., Ajax ~Pop Rock
10-2> Skrou @ Whisky John's, 843 King St. W., Oshawa ~Rock
10> Thieves! Thieves! + guests @ The Garnet, 231 Hunter St. W., Peterborough
10-4> Music City North Festival with Low Orbit; Plaid On Flannel; Grand Line; RFIM; BS101; Run @ The Hideout, 484 Queen St. W., TO ~indie Rock
Copyright © 2015 Toronto Moon Magazine. All Rights Reserved