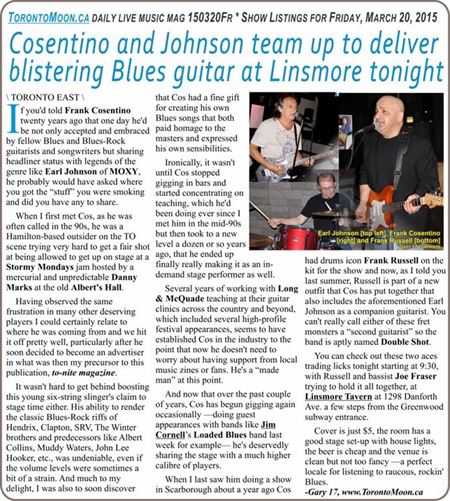 \ TORONTO EAST \
If you'd told Frank Cosentino twenty years ago that one day he'd be not only accepted and embraced by fellow Blues and Blues-Rock guitarists and songwriters but sharing headliner status with legends of the genre like Earl Johnson of MOXY, he probably would have asked where you got the "stuff" you were smoking and did you have any to share.
When I first met Cos, as he was often called in the 90s, he was a Hamilton-based outsider on the TO scene trying very hard to get a fair shot at being allowed to get up on stage at a Stormy Mondays jam hosted by a mercurial and unpredictable Danny Marks at the old Albert's Hall.
Having observed the same frustration in many other deserving players I could certainly relate to where he was coming from and we hit it off pretty well, particularly after he soon decided to become an advertiser in what was then my precursor to this publication, to-nite magazine.
It wasn't hard to get behind boosting this young six-string slinger's claim to stage time either. His ability to render the classic Blues-Rock riffs of Hendrix, Clapton, SRV, The Winter brothers and predecessors like Albert Collins, Muddy Waters, John Lee Hooker, etc., was undeniable, even if the volume levels were sometimes a bit of a strain. And much to my delight, I was also to soon discover that Cos had a fine gift for creating his own Blues songs that both paid homage to the masters and expressed his own sensibilities.
Ironically, it wasn't until Cos stopped gigging in bars and started concentrating on teaching, which he'd been doing ever since I met him in the mid-90s but then took to a new level a dozen or so years ago, that he ended up finally really making it as an in-demand stage performer as well.
Several years of working with Long & McQuade teaching at their guitar clinics across the country and beyond, which included several high-profile festival appearances, seems to have established Cos in the industry to the point that now he doesn't need to worry about having support from local music zines or fans. He's a "made man" at this point.
And now that over the past couple of years, Cos has begun gigging again occasionally —doing guest appearances with bands like Jim Cornell's Loaded Blues band last week for example— he's deservedly sharing the stage with a much higher calibre of players.
When I last saw him doing a show in Scarborough about a year ago Cos had drums icon Frank Russell on the kit for the show and now, as I told you last summer, Russell is part of a new outfit that Cos has put together that also includes the aforementioned Earl Johnson as a companion guitarist. You can't really call either of these fret monsters a "second guitarist" so the band is aptly named Double Shot.
You can check out these two aces trading licks tonight starting at 9:30, with Russell and bassist Joe Fraser trying to hold it all together, at Linsmore Tavern at 1298 Danforth Ave. a few steps from the Greenwood subway entrance.
Cover is just $5, the room has a good stage set-up with house lights, the beer is cheap and the venue is clean but not too fancy —a perfect locale for listening to raucous, rockin' Blues.
-Gary 17, www.TorontoMoon.ca
SHOW LISTINGS for Friday, March 20, 2022

:
Listings preceded by an asterisk (*) are repeating weekly events. (Double asterisk indicates repeating event with different hosts/guest/etc.). Admission prices followed by a slash and minus (/-) after the amount indicates door charge with availability of cheaper rates for some purchases. /+ indicates stated price is minimum.
Names of subscribers appear in bold, are underlined and, where applicable, include a live link to their websites. Advertisers' listings are in larger type, highlighted, include live link to website and also have ad icon included in listings.
*3-7> acoustic jam with John Hutt @ Lola, 40 Kensington Ave., TO
*4-6> Hogtown Syncopators featuring Terra Hazelton @ The Rex, 194 Queen St. W., TO ~Jazz
*5-8> Kensington Kitchen Party with host Kevin Jollimore of Sin City Boys & guest musicians @ Graffiti's, 170 Baldwin St., TO ~Pop Rock with heart
*5-7> open mic with The Foolish Things @ Tranzac Club (Southern Cross), 292 Brunswick Ave., TO ~original Pop
5-8> Sam Broverman Duo @ Gate 403, 403 Roncesvalles Ave., TO West ~Jazz
5:30-7:30> The Straight 8s @ Castro's, 2116 Queen St. E., TO East
5:30> Rick & Gailie @ Black Horse Pub, 452 George St. N., Peterborough
6> David Celia @ Cameron House (front), 408 Queen St. W., TO ~indie Pop
6-4 am> Music City North with Will Black; Buzz Deluxe; 1990 Future; Sylver Dry; Iduna; Leopardism @ The Hideout, 484 Queen St. W., TO ~indie Rock
6-9> Melissa Payne @ Dakota Tavern, 249 Ossington Ave., TO West; $7
*6-9> Hailee Rose Duo @ Roc'n Doc's, 105 Lakeshore Rd. E., Port Credit ~acoustic Pop Rock
6:30> Lester McLean Group @ The Rex, 194 Queen St. W., TO ~Jazz
7:30> Dust: The Quietest Big Band in the Known World @ Tranzac Club (Southern Cross), 292 Brunswick Ave., TO
8> Patrick Brealey @ Cameron House (front), 408 Queen Street West, TO
8> Jory Nash album release @ Moonshine Café, 137 Kerr St., Oakville ~songwriter; $10
8> Evan Champagne @ Black Swan Pub Burlington, 4040 Palladium Way, Burlington ~Pop Rock
8:30> Jack & Ally @ Free Times Café, 320 College St., TO
8:30> A Man Called Wycraft tribute to Kate Bush & Peter Gabriel @ Hugh's Room, 2261 Dundas St. W., TO West ~tribute; $30/-
8:30> Princess & The Pocket Kings @ Black Horse Pub, 452 George St. N., Peterborough
9-1> Tevlin Swing Band @ Gate 403, 403 Roncesvalles Ave., TO West ~Swing Jazz
9> Molly's Chamber @ Eton House, 710 Danforth Ave., TO East ~Rock
9> Fraser Daley @ The Local, 396 Roncesvalles Ave., TO West ~Rootsy Blues
9-1> Connors Gains Band @ Monarchs Pub in Eaton Chelsea Hotel, 33 Gerrard St. W., TO ~ Blues-Rock
9> Big Machine @ Blue Goose Tavern, 1 Blue Goose Rd., Etobicoke South ~Pop Rock/Top 40
9> IN2U @ Maple Leaf House, 2749 Lakeshore Boulevard East, Etobicoke ~Rock/Top 40
9> Urban Rodeo @ The Corral, 433 Simcoe St. S., Oshawa ~Country
9> Chelsea Crites @ Spot 1, 289 Rutherford Rd. S., Brampton ~Country
9> Connie Scriver Band @ King Richard's Pub, 15570 Yonge St., Aurora ~Pop Rock
9:30> Double Shot @ Linsmore Tavern, 1298 Danforth Ave., TO East ~Blues
*9:30> David Macmichael & Dean McKinnon @ Relish, 2152 Danforth Ave., TO East ~alt Pop originals and covers
9:30> Valerie & The Dreamcatcher featuring Tony Oldland @ Sweetz Lounge, 5289 Hwy. 7, Woodbridge ~Pop Rock covers and originals
9:30> Rebel Rowsers @ McGradie's, 2167 Victoria Park Ave., Scarborough ~classic Rock/Top 40
9:30> Freedom Train @ Timothy's Pub, 344 Brown's Line, Etobicoke South ~Pop Rock/Top 40
9:30> Keep The Faith @ Seven44, 744 Mount Pleasant Rd., TO North ~Bon Jovi tribute; $
9:30> Lady Kane @ Alleycatz, 2409 Yonge St., TO North ~Funk/Soul/R&B; $10
9:30> Wasted Measures @ The Duke Live, 1225 Queen St. E., TO East ~Pop Rock
9:30> Danny Scott Duo @ Stone Cottage Pub, 3750 Kingston Rd., Scarborough ~Pop Rock
9:30> Dan Dyer @ Shore Grill, 71 Lakeshore Rd. E., Port Credit ~Pop Rock/Top 40
9:30> Skip Tracer @ Jake's Boathouse Brampton, 59 First Gulf Rd., Brampton ~Pop Rock
9:30> Hip Kings @ Oscar's Roadhouse, 1785 Queen St. E., Brampton ~Top 40/Rock
*9:30> open mic @ Big Daddy's, 460 Elgin Mills Rd., E, Richmond Hill
9:30> Road Dogs @ Aw Shucks, 15230 Yonge St., Aurora ~Pop Rock
9:30> Melanie Jean Band @ Shakers, 580 Kerr St., Oakville ~Pop Rock
9:45> Ingrid Jensen + Eli Bennett + Gray Matter @ The Rex, 194 Queen St. W., TO ~Jazz
9:45> Dee Dee and the Dirty Martinis @ Reservoir Lounge, 52 Wellington St. E., TO ~Jazz/Blues
10-2> The Doubts @ Southside Johnny's, 3653 Lakeshore Blvd. W., Etobicoke South ~classic Rock
10-2> Big Tobacco & The Pickers @ Dakota Tavern, 249 Ossington Ave., TO W. ~Country; $10
10> Mena Hardy band featuring Anthony Cee on guitar @ Fionn MacCool's Vaughan, 6110 Hwy. 7, Vaughan ~Southern Rock
*10> karaoke with Randy Petrie @ Kramers, 1915 Yonge St., TO North
10> Concrete Rockers @ Orbit Room, 480 College St. TO ~Bob Marley tribute; $
10> Donkey @ The Queen's Legs, 286 Eglinton Ave. W., TO North ~Rock/Pop
10> Freeman Dre @ Cameron House (front), 408 Queen Street West, TO
10> New Grease Revival @ Tranzac Club (Southern Cross), 292 Brunswick Ave., TO
10-2> Parkside Drive @ Roc'n Doc's, 105 Lakeshore Rd. E., Port Credit ~Rock
10-2> Jackhammer @ Fionn MacCool's Ajax, 36 Kingston Rd., E., Ajax ~Pop Rock/Top 40
10-2> Two For The Show @ Whisky John's, 843 King St. W., Oshawa ~Pop Rock
10> The Holy Gasp @ The Garnet, 231 Hunter St. W., Peterborough ~
Copyright © 2015 Toronto Moon Magazine. All Rights Reserved