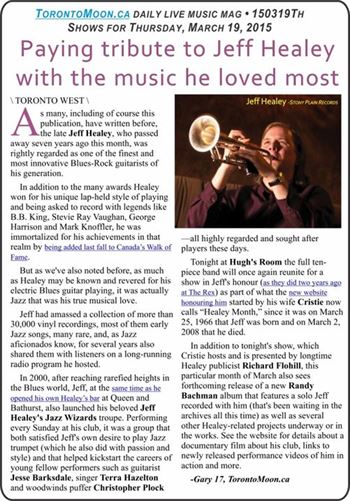 \ TORONTO WEST \
As many, including of course this publication, have written before, the late Jeff Healey, who passed away seven years ago this month, was rightly regarded as one of the finest and most innovative Blues-Rock guitarists of his generation.
In addition to the many awards Healey won for his unique lap-held style of playing and being asked to record with legends like B.B. King, Stevie Ray Vaughan, George Harrison and Mark Knoffler, he was immortalized for his achievements in that realm by being added last fall to Canada's Walk of Fame.
But as we've also noted before, as much as Healey may be known and revered for his electric Blues guitar playing, it was actually Jazz that was his true musical love.
Jeff had amassed a collection of more than 30,000 vinyl recordings, most of them early Jazz songs, many rare, and, as Jazz aficionados know, for several years also shared them with listeners on a long-running radio program he hosted.
In 2000, after reaching rarefied heights in the Blues world, Jeff, at the same time as he opened his own Healey's bar at Queen and Bathurst, also launched his beloved Jeff Healey's Jazz Wizards troupe. Performing every Sunday at his club, it was a group that both satisfied Jeff's own desire to play Jazz trumpet (which he also did with passion and style) and that helped kickstart the careers of young fellow performers such as guitarist Jesse Barksdale, singer Terra Hazelton and woodwinds puffer Christopher Plock —all highly regarded and sought after players these days.
Tonight at Hugh's Room the full ten-piece band will once again reunite for a show in Jeff's honour (as they did two years ago at The Rex) as part of what the new website honouring him started by his wife Cristie now calls "Healey Month," since it was on March 25, 2022 that Jeff was born and on March 2, 2022 that he died.
In addition to tonight's show, which Cristie hosts and is presented by longtime Healey publicist Richard Flohill, this particular month of March also sees forthcoming release of a new Randy Bachman album that features a solo Jeff recorded with him (that's been waiting in the archives all this time) as well as several other Healey-related projects underway or in the works. See the website for details about a documentary film about his club, links to newly released performance videos of him in action and more.
-Gary 17, TorontoMoon.ca
SHOW LISTINGS for Thursday, March 19, 2022
Listings preceded by an asterisk (*) are repeating weekly events. (Double asterisk indicates repeating event with different hosts/guest/etc.). Admission prices followed by a slash and minus (/-) after the amount indicates door charge with availability of cheaper rates for some purchases. /+ indicates stated price is minimum.
Names of subscribers appear in bold and underlined and, where applicable, include a live link to their websites or event page. Advertisers' listings are in larger type and highlighted, include a live link to their website and also have a copy of the ad included in listings.
*5-8> Kirsten Jones @ Richtree Restaurant, Eaton Centre (14 Queen St. West), TO ~Country originals & Pop covers
5-8> Roger Chong Band @ Gate 403, 403 Roncesvalles Ave., TO West ~Jazz
*5-8> Nelson Denis @ Frank's Pasta, 42 King Street E., Cobourg ~eclectic mix (Folk, Jazz, soft Rock, Latin)
6> Corin Raymond @ Cameron House (front), 408 Queen St. W., TO ~Roots-Pop
6-9> Skye Wallace @ Dakota Tavern, 249 Ossington Ave., TO West; $5
6:30> Kevin Quain @ The Rex, 194 Queen St. W., TO ~moody Blues
*7> open mic with Derek Mok @ Kensington Lodge, 21 Kensington Ave., TO
*7-10> Zone Music Youth jam with hosts Chasing Shadows @ West Shore Bar & Grill, 877 Bayly St., Pickering
7:30-9:30> Shingo @ Relish, 2152 Danforth Ave., TO East ~songwriter
*7:30-9:30> Bluegrass Thursdays with Houndstooth @ Tranzac Lounge (Southern Cross), 292 Brunswick Ave., TO
*7:30> Rob Phillips Band and Chelsea Bennett @ Black Horse Pub, 452 George St. N., Peterborough ~Jazz/Blues
*7:30-12> open mic with K.M. Smith @ Molly Bloom's Guelph, 91 Wyndham St. N., Guelph
*8-11> Tinderbox Thursdays open stage with Michael Keith @ La Revolucion, 2848 Dundas St. W., TO West ~eclectic
8> Russ Macklem's Jazz Jam @ Linsmore Tavern, 1298 Danforth Ave., TO East
*8-10:30> Jerry Leger & The Situation @ Castro's, 2116 Queen St. E., TO East ~Folk-Rock/Country
8-12> R&B/Blues @ Nawlin's, 299 King St. W. TO
8> Rob London & The Ragged; Bruce Domoney Band; The Responsibles @ The Painted Lady, 218 Ossington Ave., TO West ~indie
8> Elmer Ferrer @ Timothy's Pub, 344 Brown's Line, Etobicoke South ~Pop Rock
8> Trace Minerals @ The Only Café, 972 Danforth Ave., TO East
8-12> Alexander Quail @ Roc'n Doc's, 105 Lakeshore Rd. E., Port Credit ~acoustic Rock
8-12> Richard Henderson @ Fionn MacCool's Ajax, 32 Kingston Rd. E. Ajax ~Pop
*8> open mic with Kevin Ker @ Duchess of Markham, 53 Main St., Markham
*8-12> open mic & jam @ Black Swan Pub Burlington, 4040 Palladium Way, Burlington
*8-12> jam hosted by The Personics @ Carrigan Arms, 2025 Upper Middle Rd., Burlington
*8-11> open mic with Sandy MacDonald @ Williamsburg Arms, 1187 Fischer Hallman Rd., Kitchener
8:30> Jeff Healey's Jazz Wizards & special guest Jimmy Bowskill celebrating 49th anniversary of Jeff's birth @ Hugh's Room, 2261 Dundas St. W., TO West ~Jazz; $27
8:30> Stephen Fearing solo @ Moonshine Café, 137 Kerr St. Oakville ~iconic Roots songwriter; $20/+
*9> Tommy Rocker's Classic Rock Band  with Jonny Rock on bass host jam @ Centro Pizza, 3406 Kingston Rd., Scarborough
*9> jam with Ted Rusk @ The Sauble Dunes, 11 Southampton Parkway, Sauble Beach
*9-1:30> open stage with Jay Pennell @ Dave's On St. Clair, 730 St. Clair West, TO West ~eclectic
9-12> Annie Bonsignore with Mike Conto @ Gate 403, 403 Roncesvalles Ave., TO West ~Jazz/Soul/Country/Pop
*9-1> Blackburn @ Jo Mamas, 317 King St. W., TO ~Blues
9> Jessica Speziale; Beyond The Mountain; The Goombas; Mellowkotzen; Don Campbell @ Cherry Cola's, 200 Bathurst St., TO ~indie Pop
9> Tich Maredza Trio @ The Local, 396 Roncesvalles Ave., TO West ~Zimbabwe Roots
9> Fat Tony @ Alleycatz, 2409 Yonge St., TO North ~Funk/Soul/R&B
9-1> Mark "Bird" Stafford @ Monarchs Pub (Eaton Chelsea Hotel), 33 Gerrard St. W., TO ~Blues harp master
9> The Black Pearls @ Dakota Tavern, 249 Ossington Ave., TO West
*9> jam @ The Wee Pub, 371 Wilson Rd. South, Oshawa
9> Susan Latimer; Pete @ Simcoe Blues & Jazz, 926 Simcoe St. N., Oshawa
*9:30-2> Skip Tracer @ Southside Johnny's, 3653 Lakeshore Blvd., Etobicoke South ~Rock/Pop
9:30> The Celebration Army featuring Nelson Sobral & guest David Hustler @ C'est What, 67 Front St. E., TO ~indie original
9:30> Greg Wyard @ Black Dog Pub, 87 Island Rd., Scarborough ~Pop Rock
9:30> Glenn Groves @ Shore Grill, 71 Lakeshore Rd. E., Port Credit ~Pop Rock
*9:30> jam with Billick @ Harp & Crown, 300 Kingston Rd., Pickering
*9:30> jam with Jack B Nimble @ Abbey Road Pub, 3200 Erin Mills Parkway, Mississauga
*9:45> Mary Mckay @ Reservoir Lounge, 52 Wellington St. E., TO ~Jazz/Blues
9:45> Ingrid Jensen + Eli Bennett + Gray Matter @ The Rex, 194 Queen St. W., TO
10> James Clark @ Amsterdam Bicycle Club, 54 The Espanade, TO ~original Pop with bite
*10-2> karaoke with Shane Taylor @ Relish, 2152 Danforth Ave., TO East
10> Sam Cash @ Cameron House (front), 408 Queen St. W., TO
10> Rebecca Hennessy & Kelsey McNulty @ Tranzac Lounge (Southern Cross), 292 Brunswick Ave., TO
10> Dixie Chicken @ Orbit Room, 480 College St. TO ~Little Feat tribute; $
10> The Coachlites; Ben Rough @ The Garnet, 231 Hunter St. W., Peterborough
10:30> Music City North @ The Hideout, 484 Queen St. W., TO ~indie Rock
Copyright © 2015 Toronto Moon Magazine. All Rights Reserved