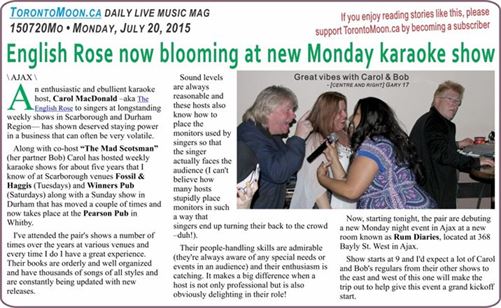 \ AJAX \
An enthusiastic and ebullient karaoke host, Carol MacDonald –aka The English Rose to singers at longstanding weekly shows in Scarborough and Durham Region— has shown deserved staying power in a business that can often be very volatile.
Along with co-host
"The Mad Scotsman"
(her partner Bob) Carol has hosted weekly karaoke shows for about five years that I know of at Scarborough venues
Fossil & Haggis
(Tuesdays) and
Winners Pub
(Saturdays) along with a Sunday show in Durham that has moved a couple of times and now takes place at the
Pearson Pub
in Whitby.
I've attended the pair's shows a number of times over the years at various venues and every time I do I have a great experience. Their books are orderly and well organized and have thousands of songs of all styles and are constantly being updated with new releases.
Sound levels are always reasonable and these hosts also know how to place the monitors used by singers so that the singer actually faces the audience (I can't believe how many hosts stupidly place monitors in such a way that singers end up turning their back to the crowd –duh!).
Their people-handling skills are admirable (they're always aware of any special needs or events in an audience) and their enthusiasm is catching. It makes a big difference when a host is not only professional but is also obviously delighting in their role!
Now, starting tonight, the pair are debuting a new Monday night event in Ajax at a new room known as Rum Diaries, located at 368 Bayly St. West in Ajax.
Show starts at 9 and I'd expect a lot of Carol and Bob's regulars from their other shows to the east and west of this one will make the trip out to help give this event a grand kickoff start.
-Gary 17, TorontoMoon.ca
SHOW LISTINGS for Monday, July 20, 2021
Listings are organized by area in which the shows occur and within each area field shows are listed chronologically.
Listings preceded by an asterisk (*) are repeating weekly events. (Double asterisk indicates repeating event with different hosts/guest/etc.). Admission prices followed by a slash and minus (/-) after the amount indicates door charge with availability of cheaper rates for some purchases. /+ indicates stated price is minimum.
Names of subscribers appear in bold, are underlined and, where applicable, include a live link to their websites. Advertisers' listings are in larger highlighted type, include live link to website and also have ad icon included in listings.
416 - Toronto Central
6> tba @ Cameron House (front), 408 Queen St. W., TO
*6-9> Calliope's Nest open stage/jam for women @ Lola Pub, 40 Kensington Ave., TO
6:30> Peter Hill Group @ The Rex, 194 Queen St. W., TO ~original Jazz
7:30> George Lake Big Band @ Seven44, 744 Mount Pleasant Road, TO North ~R&B/Swing
8> Back Room Comedy @ Cameron House (rear), 408 Queen St. W., TO
8> Ukulele jam @ Tranzac Lounge (Main Hall), 292 Brunswick Ave., TO
**8-1> open stage with host Alex Zdravkovic @ Free Times Café, 320 College St., TO
8:30> Alt Dot Comedy Lounge @ Rivoli, 334 Queen St. W., TO; $5
8:30> The AM Resolution; Alex Mason; The Stephen * Cameron Show @ Horseshoe Tavern, 370 Queen St. W., TO ~indie
**9-1:30> jam with No Band Required @ Grossman's, 379 Spadina Ave., TO
*9-1> Hamstrung Stringband @ The Local, 396 Roncesvalles Ave., TO West ~Bluegrass
*9:30> open mic night at Amsterdam Bicycle Club, 54 The Esplanade, TO
9:30> Neufeld Occhipinti Jazz Orchestra @ The Rex, 194 Queen St. W., TO ~Jazz
10> Jordan John @ The Orbit Room, 580 College St., TO ~R&B/Blues
*10> jam night hosted by Phill Hood & Jon McCann @ The Cage 292, 292 College St., TO
*10> open mic (2 songs; sign-up starts 8 p.m.) @ Tranzac Lounge (Southern Cross), 292 Brunswick Ave., TO
10> tba @ Cameron House (front), 408 Queen St. W., TO
10> Shuggie Otis @ Lee's Palace, 529 Bloor St. W., TO ~$30-40
10:30> Big Otter Creek Acoustic Duo @ The Hideout, 484 Queen St. W., TO
416 - Toronto East
**7:30> M Factor Mondays with host Elana Harte & features Jen Schaffer and the Shiners; The Spandettes @ The Old Nick, 123 Danforth Ave., TO East
8-10> John Wayne Swingtet @ Relish, 2152 Danforth Ave., Toronto East ~songwriter
8-12> open stage with Julian Taylor @ Dora Keogh, 141 Danforth Ave. TO East
*8-12> open mic with host Chris Scian @ Breakwall, 1910 Queen St. E., TO East
8:30> Lilly Frost @ Castro's, 2116 Queen St. E., TO East
*9:30-2> Sebastian Agnello & friends @ Black Swan (ground floor), 154 Danforth Ave., TO East
416 – Toronto West
5-8> Christopher Platt's CP3 @ Gate 403, 403 Roncesvalles Ave., TO West ~Jazz
9> Jimmy Reid @ The Roncy, 390 Roncesvalles Ave., TO West
*9-1> eclectic open stage/jam @ The Painted Lady, 218 Ossington Ave., TO West
9-1> Jazzforia featuring Claire Riley @ Gate 403, 403 Roncesvalles Ave., TO West ~Jazz
416 - SCARBOROUGH
*8-11> open stage @ McGradie's, 2167 Victoria Park Ave., Scarborough
705
*7> Hard Time Mondays with Rick & Gailie @ Black Horse Pub, 452 George St. N., Peterborough
905 West
**8-12> BBQ & jam night with tba @ Moonshine Café, 137 Kerr St., Oakville; ($8.95 with BBQ dinner special starts at 6)
*9-1> jam with Tom Barlow @ Shore Grill, 71 Lakeshore Rd. E., Port Credit
9-1> Alexander Quail @ Roc'n Doc's, 105 Lakeshore E., Port Credit ~acoustic Pop
905 East
*8-12> open stage @ Simcoe Blues & Jazz, 926 Simcoe St. N., Oshawa
*9> karaoke with The English Rose & The Mad Scotsman @ Rum Diaries, 368 Bayly St. W., Ajax
Online/On The Air