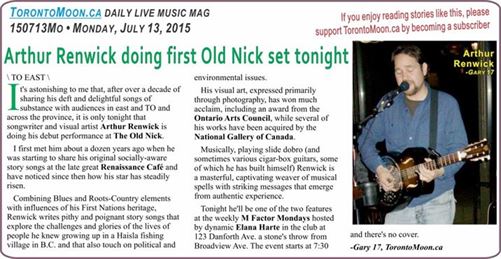 \ TO EAST \
It's astonishing to me that, after over a decade of sharing his deft and delightful songs of substance with audiences in east and TO and across the province, it is only tonight that songwriter and visual artist Arthur Renwick is doing his debut performance at The Old Nick.
I first met him about a dozen years ago when he was starting to share his original socially-aware story songs at the late great Renaissance Café and since then have noticed how his star has steadily risen.
Combining Blues and Roots-Country elements with influences of his First Nations heritage, Renwick writes pithy and poignant story songs that explore the challenges and glories of the lives of people he knew growing up in a Haisla fishing village in B.C. and that also touch on political and environmental issues.
His visual art, expressed primarily through photography, has won much acclaim, including an award from the Ontario Arts Council, while several of his works have been acquired by the National Gallery of Canada.
Musically, playing slide dobro (and sometimes various cigar-box guitars, some of which he has built himself) Renwick is a masterful, captivating weaver of musical spells with striking messages that emerge from authentic experience.
Tonight he'll be one of the two features at the weekly M Factor Mondays hosted by dynamic Elana Harte in the club at 123 Danforth Ave. a stone's throw from Broadview Ave. The event starts at 7:30 and there's no cover.
-Gary 17, TorontoMoon.ca  
SHOW LISTINGS for Monday, July 13, 2021
Listings are organized by area in which the shows occur and within each area field shows are listed chronologically.
Listings preceded by an asterisk (*) are repeating weekly events. (Double asterisk indicates repeating event with different hosts/guest/etc.). Admission prices followed by a slash and minus (/-) after the amount indicates door charge with availability of cheaper rates for some purchases. /+ indicates stated price is minimum.
Names of subscribers appear in bold, are underlined and, where applicable, include a live link to their websites. Advertisers' listings are in larger highlighted type, include live link to website and also have ad icon included in listings.
416 - Toronto Central
6> Duane Rutter @ Cameron House (front), 408 Queen St. W., TO
*6-9> Calliope's Nest open stage/jam for women @ Lola Pub, 40 Kensington Ave., TO
6:30> Jake Koffman Group @ The Rex, 194 Queen St. W., TO ~Jazz
7:30> The Big City Big Band @ Seven44, 744 Mount Pleasant Road, TO North ~R&B/Swing
8> Back Room Comedy @ Cameron House (rear), 408 Queen St. W., TO ~comedy
8> Ukulele jam @ Tranzac Lounge (Main Hall), 292 Brunswick Ave., TO
**8-1> open stage with host Christian Bridges @ Free Times Café, 320 College St., TO
8:30> Alt Dot Comedy Lounge @ Rivoli, 334 Queen St. W., TO; $5
8:30> Lenka; Nick Howard; Stacey @ Horseshoe Tavern, 370 Queen St. W., TO ~indie Pop; $17.50
**9-1:30> jam with No Band Required @ Grossman's, 379 Spadina Ave., TO
*9-1> Hamstrung Stringband @ The Local, 396 Roncesvalles Ave., TO West ~Bluegrass
*9:30> open mic night at Amsterdam Bicycle Club, 54 The Esplanade, TO
9:30> John Cheesman Jazz Orchestra @ The Rex, 194 Queen St. W., TO ~Jazz
10> Jordan John @ The Orbit Room, 580 College St., TO ~R&B/Blues
*10> jam night hosted by Phill Hood & Jon McCann @ The Cage 292, 292 College St., TO
*10> open mic (2 songs; sign-up starts 8 p.m.) @ Tranzac Lounge (Southern Cross), 292 Brunswick Ave., TO
10> Ken Kelly & David Baxter @ Cameron House (front), 408 Queen St. W., TO
10:30> Big Otter Creek Unplugged @ The Hideout, 484 Queen St. W., TO ~indie Rock
416 - Toronto East
7> Rickie Lee Jones @ Danforth Music Hall, 147 Danforth Ave., TO East ~Pop; $55-70
**7:30> M Factor Mondays with host Elana Harte & features Karissa Nicole; Arthur Renwick @ The Old Nick, 123 Danforth Ave., TO East ~originals
8-11> Music Of The Mediterranean Stars @ Relish, 2152 Danforth Ave., Toronto East ~songwriter
8-12> open stage with Julian Taylor @ Dora Keogh, 141 Danforth Ave. TO East
*8-12> open mic with host Chris Scian @ Breakwall, 1910 Queen St. E., TO East
8:30> Fraser-Daley @ Castro's, 2116 Queen St. E., TO East ~Bluesy Roots
*9:30-2> Sebastian Agnello & friends @ Black Swan (ground floor), 154 Danforth Ave., TO East
416 – Toronto West
5-8> Chris Reid Band @ Gate 403, 403 Roncesvalles Ave., TO West ~Jazz
*9-1> eclectic open stage/jam @ The Painted Lady, 218 Ossington Ave., TO West
9-1> Chris Staig Trio @ Gate 403, 403 Roncesvalles Ave., TO West ~indie Pop
416 - SCARBOROUGH
*8-11> open stage @ McGradie's, 2167 Victoria Park Ave., Scarborough
9> Uke jam @ Stone Cottage Pub, 3750 Kingston Rd., Scarborough ~Pop Rock
705
*7> Hard Time Mondays with Rick & Gailie @ Black Horse Pub, 452 George St. N., Peterborough
905 West
**8-12> BBQ & jam night with Catherine Harrison @ Moonshine Café, 137 Kerr St., Oakville; ($8.95 with BBQ dinner special starts at 6)
*9-1> jam with Tom Barlow @ Shore Grill, 71 Lakeshore Rd. E., Port Credit
9-1> Alexander Quail @ Roc'n Doc's, 105 Lakeshore E., Port Credit ~acoustic Pop
905 East
*8-12> open stage @ Simcoe Blues & Jazz, 926 Simcoe St. N., Oshawa
Online/On The Air