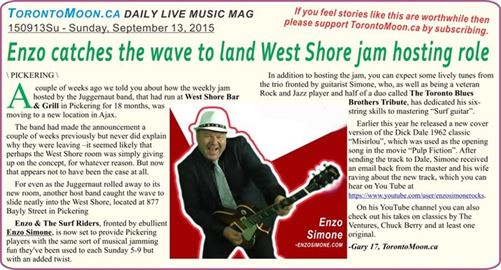 \ PICKERING \
A couple of weeks ago we told you about how the weekly jam hosted by the Juggernaut band, that had run at West Shore Bar & Grill in Pickering for 18 months, was moving to a new location in Ajax.
The band had made the announcement a couple of weeks previously but never did explain why they were leaving –it seemed likely that perhaps the West Shore room was simply giving up on the concept, for whatever reason. But now that appears not to have been the case at all.
For even as the Juggernaut rolled away to its new room, another host band caught the wave to slide neatly into the West Shore, located at 877 Bayly Street in Pickering
Enzo & The Surf Riders, fronted by ebullient Enzo Simone, is now set to provide Pickering players with the same sort of musical jamming fun they've been used to each Sunday 5-9 but with an added twist.
In addition to hosting the jam, you can expect some lively tunes from the trio fronted by guitarist Simone, who, as well as being a veteran Rock and Jazz player and half of a duo called The Toronto Blues Brothers Tribute, has dedicated his six-string skills to mastering "Surf guitar".
Earlier this year he released a new cover version of the Dick Dale 1962 classic "Misirlou", which was used as the opening song in the movie "Pulp Fiction". After sending the track to Dale, Simone received an email back from the master and his wife raving about the new track, which you can hear on You Tube at https://www.youtube.com/user/enzosimonerocks.
On his YouTube channel you can also check out his takes on classics by The Ventures, Chuck Berry and at least one original.
-Gary 17, TorontoMoon.ca
SHOW LISTINGS for Sunday, September 13, 2021

:

Listings are organized by area in which shows take place and listed chronologically within each area field.

Listings preceded by an asterisk (*) are repeating weekly events. (Double asterisk indicates repeating event with different hosts/guest/etc.). Admission prices followed by a slash and minus (/-) after the amount indicates door charge with availability of cheaper rates for some purchases. /+ indicates stated price is minimum.

Names of subscribers appear in bold, are underlined and, where applicable, include a live link to their websites. Advertisers' listings are in larger highlighted type, include live link to website and also have ad icon included in listings.

416 – Toronto Central

11am-2pm> Tio Chorinho for Jewish brunch buffet @ Free Times Café, 320 College St., TO

12-3> Excelsior Dixieland Jazz Band @ The Rex, 194 Queen St. W., TO ~Jazz

1> Toronto Improvisers Orchestra @ Tranzac Club (Southern Cross), 292 Brunswick Ave., TO

3-5> Sue & Dwight with Dave Lang @ Tranzac Club (Southern Cross), 292 Brunswick Ave., TO ~Folk

*3-6> Michael Brennan @ Graffiti's, 170 Baldwin St. TO ~East Coast Rock/Blues Roots

3:30-6:30> Dr. Nick & The Rollercoasters @ The Rex, 194 Queen St. W., TO ~Jazz

3:30> VCW; Brass Knuckle Sandwich @ Lee's Palace, 529 Bloor St. W., TO; $20

*4:30-8> New Orleans Connection All Stars & guests @ Grossman's, 379 Spadina Ave., TO ~New Orleans Jazz

5-8> Murray Porter solo with Lacey Hill opening @ The Eagles Club, 17 Elm St., TO ~original Blues; $10

5-9> Robbie Lane & The Disciples @ Seven44, 744 Mount Pleasant Road, TO North ~vintage Rock/R&B; $10

5> Max Layton & Robert Priest @ Tranzac Club (Southern Cross), 292 Brunswick Ave., TO ~songwrtiers

*7-1> Freefall Sundays open stage with hosts Steve York & Tony Rabalao (2 songs each -signup @ 7 or pre-sign online) @ The Supermarket, 268 Augusta St., TO

7> The Double Cuts @ Cameron House (front), 408 Queen St. W., TO ~Western Swing

7-9:30> Victor Bateman Trio @ The Rex, 194 Queen St. W., TO ~Jazz

7:30> Avesta Nakhaei & friends @ Tranzac Club (Southern Cross), 292 Brunswick Ave., TO

7:30> Demontage; Throaat; Zeminal @ Rivoli, 334 Queen St. W., TO; $10

8-10> Niska Napolean @ Musideum, 401 Richmond St. W., #133, TO ~songwriter; $20

8> Cat & The Queen @ Cameron House (rear), 408 Queen St. W., TO

9> jam with Jay Pennell @ Scruffy Murphy's, 150 Eglinton Ave. E., TO North

9:30> Jacob's Cattle @ The Rex, 194 Queen St. W., TO ~Jazz

*10> Horshack feat. Chris Caddell @ Orbit Room, 580 College St., TO ~Bluesy contemporary & classic Rock

10> Lina Allemano Four @ Tranzac Club (Southern Cross), 292 Brunswick Ave., TO ~Jazz

10> New Grease Revival @ Cameron House (front), 408 Queen St. W., TO

**10> Blues jam with Brian Cober, Bill Hedefine & guest bassist Omar Tunnoch @ Grossman's, 379 Spadina Ave., TO

10:30> Scott Baragar @ The Hideout, 484 Queen St. W., TO ~indie Rock

416 – Toronto East

11-2> Evan Desaulnier for Jazz brunch @ Relish, 2152 Danforth Ave. TO East

*3-6> open mic with Nicola Vaughan @ Hirut, 2050 Danforth Ave., TO East

*3:30-7:30> jam @ Black Bear, 1125 O'Connor Drive, TO East

4> Gypsy Rebels @ Castro's Lounge, 2116 Queen St. E., TO East

5-7> Cadre @ Relish, 2152 Danforth Ave., TO East ~Blues/Rock

*5-9> John Dickie/Pat Perez Band @ Linsmore Tavern, 1298 Danforth Ave, TO East ~R&B/Blues

*8-9> Sam Taylor & The East End Love @ Relish, 2152 Danforth Ave., TO East ~original Blues

9> Watch This Sound @ Castro's Lounge, 2116 Queen St. E., TO East ~vintage Jamaican music

*9:30-1> jam with the Stir It Up Band featuring Bryan Van Dusen & David Macmichael @ Relish, 2152 Danforth Ave., TO East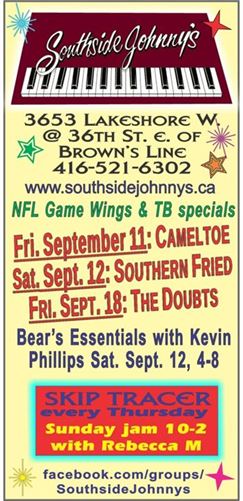 416- Toronto Etobicoke
3:15-4:15> David Love Band also featuring Darrell McNeill forTaste of The Kingsway, Bloor St. W. at Prince Edward Drive, Etobicoke ~melodic 60s-70s Pop Rock
4-8> The Pie Guys with Sherman Lee Dillon @ Timothy's Pub, 344 Brown's Line, Etobicoke ~Pop Rock
*10-2> jam with Rebecca Matiesen & Phoenix @ Southside Johnny's, 3653 Lakeshore Blvd. W., Etobicoke South
416 – Toronto Scarborough
*6-10> jam with Tommy Rocker @ Scarborough Junction, 646 Danforth Rd., Scarborough
*7-11> open jam @ McGradie's, 2167 Victoria Park Ave., Scarborough
416 – Toronto West
**11-2> live Jazz brunch @ DeSoto's, 1079 St. Clair Ave. W., TO West
*12-3> Julian Fauth's Blues brunch @ Axis, 3048 Dundas St. W., TO West ~Blues
* 12-3> The Cosmotones @ Dakota Tavern, 249 Ossington Ave., TO West ~Rockabilly
**5-8> John Borra & Sam Ferrara w. guest @ The Communist's Daughter, 1149 Dundas St. W. TO West ~Country
5-8> Chris Coole  @ The Local, 396 Roncesvalles Ave., TO West ~old time Country
5-8> John Nicholson Trio @ Gate 403, 403 Roncesvalles Ave., TO West ~Jazz
9-1> Laura Swankey Quartet @ Gate 403, 403 Roncesvalles Ave., TO West ~Jazz
9> Everlovin' Jug Band @ The Local, 396 Roncesvalles Ave., TO West ~jugband music
9> Dimwits & guest @ The Tennessee, 1554 Queen St. W., TO West
10> The Mercenaries @ Dakota Tavern, 249 Ossington Ave., TO West
519
*9-1> jam @ Ivy Arms Pub, 201 Main Street East, Milton
705
*3-7> jam at CJ Barleys, 213 The Queensway, Keswick
3> Chicken Pot Pi @ Black Horse Pub, 452 George St. N., Peterborough
*7> open mic with Randy Hill @ Black Horse Pub, 452 George St. N., Peterborough
905 East
*5-9> Jam Night with Enzo & The Surf Riders @ West Shore Bar & Grill, 877 Bayly St., Pickering
*5-10> All ages open jam with Juggernaut @ The Edge Lounge, 250 Bayly St. W., Ajax
*7-11> Karaoke with Rob MacArthur @ The Edge, 250 Bayly St. W., Ajax
*8:30-12:30> karaoke with The English Rose & The Mad Scotsman @ Pearson Pub, 101 Mary St. W. Whitby
9> Doug Dale @ Simcoe Blues & Jazz, 926 Simcoe St. N., Oshawa
905 North
**1-3> Joe & Frank with guest performer on the patio @ Lake Simcoe Arms, 21089 Dalton Rd., Jackson's Point ~Jazz
*3-7> open stage with Kevin Ker @ The Earl Of Whitchurch, 6204 Main St., Stouffville
*5-9> open mic with feature guest @ Sgt. Pepper's Aurora, Walmart Plaza (Hwy 404 & Aurora Rd.), Aurora
7> Battle Of The Bands @ Stewart Maguire's Landing, 15 Allan Rd., Bolton
905 South
2-6> Bay City Blues Band & guest Jake Chisholm @ Bay City Music Hall, 50 Leander Drive, Hamilton ~Blues; $5
*4> acoustic patio jam @ This Ain't Hollywood, 345 James St. N., Hamilton
8> The Diodes with Dave Rave @ This Ain't Hollywood, 345 James St. N., Hamilton
905 West
Noon-7pm> 17th Annual Southside Shuffle in Port Credit with concerts on four stages in Memorial Park, at clubs and other venues in Port Credit ~Blues/Roots; $
1:30-5> Kids' jam @ Moonshine Café, 137 Kerr St., Oakville
**2-6> Country matinee with host Colin Connors and guest Colin Butler @ Carrigan Arms, 2025 Upper Middle Rd., Burlington ~Country
2> Chris Bruder Trio @ Fionn MacCool's Burlington, 2331 Appleby Line, Burlington
*4-8> Bib Bob Hammond & The Mississauga Delta Band @ Roc'n Doc's, 105 Lakeshore Rd. E., Port Credit ~Blues
**5:30-8:30> The Stew @ Mulligan's, 2458 Dundas St. W., Mississauga ~R&B/Rock
**7-11> The Nomads @ Shore Grill, 71 Lakeshore Rd. E., Port Credit
*7> open jam with Mike Shotton & The Flying Squirrels @ Black Swan Pub Burlington, 4040 Palladium Way, Burlington
7> Folk Music open stage with Tom Miller @ Moonshine Café, 137 Kerr St., Oakville
*7:30> open jam hosted by Troy Harmer @ The Brown Barrel, 1515 Upper Ottawa St., Hamilton
*10-2> Southside Shuffle Superjam & festival after-party @ Roc'n Doc's, 105 Lakeshore Rd. E., Port Credit ~Blues/R&B/Jazz
*10:30> Adam Cooke & The Adams Family @ The Dickens, 423 Elizabeth St., Burlington