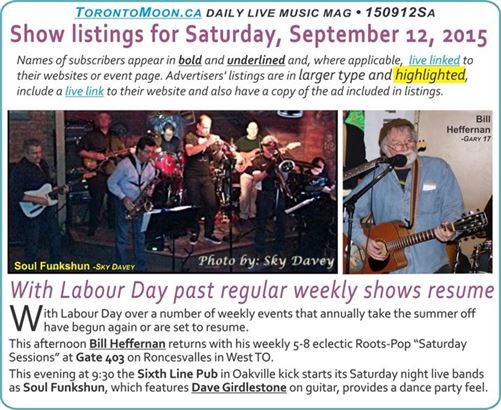 With Labour Day over a number of weekly events that annually take the summer off have begun again or are set to resume.
This afternoon Bill Heffernan returns with his weekly 5-8 eclectic Roots-Pop "Saturday Sessions" at Gate 403 on Roncesvalles in West TO.
This evening at 9:30 the Sixth Line Pub in Oakville kick starts its Saturday night live bands as Soul Funkshun, which features Dave Girdlestone on guitar, provides a dance party feel.
-Gary 17
SHOW LISTINGS for Saturday, September 12, 2021
Listings are organized by area in which the shows occur and within each area field shows are listed chronologically.
Listings preceded by an asterisk (*) are repeating weekly events. (Double asterisk indicates repeating event with different hosts/guest/etc.). Admission prices followed by a slash and minus (/-) after the amount indicates door charge with availability of cheaper rates for some purchases. /+ indicates stated price is minimum.
Names of subscribers appear in bold, are underlined and, where applicable, include a live link to their websites. Advertisers' listings are in larger, highlighted type, include live link to website and also have ad icon included in listings.
416 - Toronto Central
*12-3> Laura Marks & Freinds @ The Rex, 194 Queen St. W., TO ~Jazz
2-6> Greg Godovitz Band @ Hard Rock Café, 283 Yonge St., TO ~Rock
3> Jamzac @ Tranzac Club (Southern Cross), 292 Brunswick Ave., TO
3:30> Paul Reddick @ The Rex, 194 Queen St. W., TO ~Blues
3:30> Steve Holt Quartet @ The Pilot, 22 Cumberland St., TO ~Jazz
4-7> Don River Blues Band @ Seven44, 744 Mount Pleasant Road, TO North ~Blues; $
*4-7> Climax Jazz Band @ Alleycatz, 2409 Yonge St., TO North ~Dixieland Jazz; $?
*4:40-7:30> The Happy Pals @ Grossman's, 379 Spadina Ave., TO ~New Orleans Jazz
6> Big Tobacco & The Pickers feat. Anne Werbitzky on pedal steel @ Cameron House (front), 408 Queen St. W., TO ~authentic Country
6:30-9:30> Joe Hall & Tony Quarrington @ Tranzac Club (Southern Cross), 292 Brunswick Ave., TO ~original Roots
7:30> The Bacchus Collective @ The Rex, 194 Queen St. W., TO ~ Jazz
7:30> Tomson Wilson; Whitney Rose @ Rivoli, 334 Queen St. W., TO; $10
8:30> Connor Newton & Sam Newton @ Free Times Café, 320 College St. TO ~Jazz
8:30> Art & Woodhouse; Lost Cousins; Ivory Hours; The Commoners; The Nursery @ Horseshoe Tavern, 370 Queen St. W., TO ~indie; $8
9> Something Extra @ Seven44, 744 Mount Pleasant Road, TO North ~Rock/Top 40; $
9> Tupper Ware remix party ep release; guests Sun K; Terror Pigeon @ Lee's Palace, 529 Bloor St. W., TO ~original Rock; $15
9> #HASHTAG @ Drums N Flats, 1980 Avenue Rd., TO North
9> Lost And Profound; Chris Tait @ C'est What, 67 Front St. E., TO ~indie; $10
9> Woodshed Orchestra @ Cameron House (rear), 408 Queen St. W., TO ~improvisational Roots Rock
9:30> Lady Kane @ Alleycatz, 2409 Yonge St., TO North ~Funk/Soul/R&B; $
9:45> Eric St. Laurent Group @ The Rex, 194 Queen St. W., TO ~Jazz
*9:45> Robin Banks @ Reservoir Lounge, 52 Wellington St. E., TO ~Jazz/Blues
10> Arsenals @ Orbit Room, 480 College St. TO ~Ska; $
10> Devin Cuddy Band @ Cameron House (front), 408 Queen St. W., TO
10> Abigail Lapell & guests @ Tranzac Club (Southern Cross), 292 Brunswick Ave., TO
10-2> Chloe Watkinson & Park Eddy @ Grossman's, 379 Spadina Ave., TO ~
10:30> Full Tilt @ Fionn MacCool's Esplanade, 70 The Esplanade
10:30> Luke Mcculloch; Ready The Prince;  @ The Hideout, 484 Queen St. W., TO ~indie Rock
416 - Toronto East
*3:30-6> Johnny Wright @ Outriggers, 2232 Queen St. E., TO East ~R&B
*4-7:30> Ronnie Hayward Trio @ McQueen's, 993 Queen St. E., TO E. ~Blues/Roots
6-8> The Cosmotones @ Castro's, 2116 Queen St. E., TO East ~Blues/Roots
7> Still Sunday featuring Jim Cornell @ The Green Dragon, 1032 Kingston Rd., TO East ~Rock/Blues
8> Blair Packham @ The Feathers, 962 Kingston Rd., TO East ~songwriter
9> Hey Loretta @ Dora Keogh, 141 Danforth Ave., TO East
9:30-11:30> William & Polly @ Relish, 2152 Danforth Ave., TO East ~acoustic duo
9:30> Holly Woods; Toronto @ The Duke Live, 1225 Queen St. E., TO East ~vintage Can-Rock; $
9:30> The Van Halen tribute @ Linsmore Tavern, 1298 Danforth Ave., TO East ~VH tribute; $
416 – Toronto Etobicoke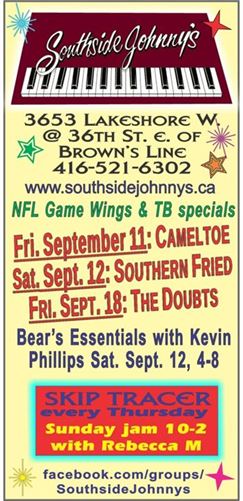 *3-6> Danny B Band @ Blue Goose, 1 Blue Goose St., Etobicoke South ~R&B/Blues
**4-8> The Bear's Essentials with guest singer Kevin Phillips @ Southside Johnny's, 3653 Lake Shore Blvd. W. Etobicoke South ~Rock-R&B
*4-8> The Meteors with guest Kevin Phillips @ Timothy's Pub, 344 Brown's Line, Etobicoke South ~Blues/Rock/R&B
7:30> Lina Allemano Quartet @ Old Mill Inn, 21 Old Mill Rd., Etobicoke ~Jazz; minimum table charge
9> George Pants @ Maple Leaf House, 2749 Lake Shore Boulevard West, Etobicoke ~Rock/Top 40/Blues
9:30> Taunted By Girls featuring Michelle Deneault @ Timothy's Pub, 344 Brown's Line, Etobicoke South ~Pop Rock/Top 40; $
10-2> Southern Fried @ Southside Johnny's, 3653 Lake Shore Blvd. W. Etobicoke South ~Rock/Top 40
416 – Toronto Scarborough
9-1> Fat Tony @ Black Dog Pub, 87 Island Rd., Scarborough ~acoustic Pop/soft Rock
*9:30-2> karaoke with The English Rose & The Mad Scotsman @ Winners, 2181 Lawrence Ave. E., Scarborough
9:30> Last Call @ Stone Cottage Pub, 3750 Kingston Rd., Scarborough ~Pop Rock
416 - Toronto West
*12-3> Julian Fauth's Blues Brunch @ Axis, 3048 Dundas St. W., TO West ~Blues
**2-6> open mic with host Philomene Hoffman @ Magic Oven, 347 Keele St., TO West
2:30-4:30> Kevin Wetherell @ Humble Beginnings, 3109 Dundas St. W., TO West ~acoustic Roots/Blues/Pop
**5-8> Bill Heffernan's Saturday Sessions with featured guest @ Gate 403, 403 Roncesvalles Ave. TO West –Jazz
5-8> Whitebrow @ The Local, 396 Roncesvalles Ave., TO West ~Folk
7:30> Aaron J Duo @ Brazen Head Pub, 165 East Liberty St., TO West ~acoustic Pop Rock
8:30> Friends Of Fiddler's Green album release for Old Inventions @ Hugh's Room, 2261 Dundas St. W., TO West ~Roots; $22.50
9-1> Tiffany Hanus Band @ Gate 403, 403 Roncesvalles Ave., TO West ~ Jazz
9> Jon & The Baptists @ The Local, 396 Roncesvalles Ave., TO West ~Country Blues
10-2> The Key Frames @ Dakota Tavern, 249 Ossington Ave., TO West; $
519
8> Neil Murray @ Fionn MacCool's Kitchener, 4287 King St. E., Kitchener
9> The O'Deadly's @ Fionn MacCool's Guelph, 494 Ediburgh Rd. S., Guelph
9:30> Ross Burant @ Fionn MacCool's Orangeville, 75 Fourth Ave., Orangeville
705
2-4> Chester Babcock @ The Garnet, 231 Hunter St. W., Peterborough
5> Rick & Gailie @ Black Horse Pub, 452 George St. N., Peterborough
8:30> Victoria Pierce & Mike Graham Band @ Black Horse Pub, 452 George St. N., Peterborough
9:30> Bang On @ Sticky Fingers Dunlop, 150 Dunlop St. W., Barrie
9:30> BA Johnson @ Red Dog Tavern, 189 Hunter St. W., Peterborough ~acoustic
10> Photogenics; David R. Elliot @ The Garnet, 231 Hunter St. W., Peterborough
905 East
*9-1> karaoke with Rob MacArthur @ Tudor Rose, 700 Harwood Ave. S., Ajax
9> Darren Hancock @ The Corral, 433 Simcoe St. S., Oshawa ~Country
9:30> The Bomb @ The Edge, 250 Bayly St., Ajax
9:30> Happy Pants @ West Shore, 877 Bayly St., Pickering ~Rock/Pop
905 North
6-10> Mark Yan & Barry Mulcahy @ Ray's 3rd Generation Bistro, 1475 Queen St. W., Alton ~acoustic Pop Rock originals and covers
9-1> MINT featuring Amanda Rose & Anthony Cee @ Fionn MacCool's Vaughan, 6110 Hwy #7, Vaughan
9-1> Outshine @ Oscar's Roadhouse, 1785 Queen St. E., Brampton ~Hard Rock/Metal
9> Lauren Knowles @ Fionn MacCool's Newmarket, 17315 Leslie St., Newmarket
9> Daniel Davies Band @ King Richard's Pub, 15570 Yonge St., Aurora ~Pop Rock
9:25> Bon Jovi Forever @ Col. Mustards Newmarket, 16925 Yonge St., Newmarket ~Bon Jovi tribute
9:30> Keep The Faith @ Spot One, 289 Rutherford Rd. S., Brampton ~Bon Jovi tribute; $5
9:30> I Heart @ Stewart Maguire's Landing, 15 Allan Rd., Bolton
9:30> Justin Time @ Jake's Boathouse Brampton, 59 First Gulf Rd., Brampton ~Pop Rock
9:30> Pop Machine @ Aw Shucks, 15230 Yonge St., Aurora ~Pop Rock
905 South
**2> Brant Parker Band with guest tba @ Donnelley's Pub, 54 Front St., Thorold ~Blues
**2:30> special guest with The Mighty Duck Band, The Duck, 244 Ontario St., St. Catharines ~R&B/Blues
9> Something Changes @ Coach & Lantern, 384 Wilson St E., Hamilton
9> Sianspheric; Customaries; Not Of; more @ This Ain't Hollywood, 345 James St. N., Hamilton
**9> Niagara Rhythm Section @ The Old Winery, 2228 Niagara Stone Rd., Niagara-On-The-Lake ~R&B/Blues
905 West
noon> 17th Annual Southside Shuffle in Port Credit with concerts on four stages in Memorial Park, at clubs and other venues in Port Credit ~Blues/Roots; $
**2-6> Sil Simone Band with special guest Suzanne Gratton @ Carrigan Arms, 2025 Upper Middle Rd., Burlington ~Rock/Blues
2-6> Southside Shuffle Street Shuffle with many live acts at 28 locations outside along Lakeshore Rd. Hurontario Ave. to Mississauga Rd. ~Blues/eclectic; free
*2-6> jam w. Tom Finocchio @ Sam's Place, Barton-Chestnut Sts., Hamilton
**2-6> Saturday Blues Sermon with James Anthony & special guests Kathy & Kelly Fleck @ Black Swan Pub Burlington, 4040 Palladium Way, Burlington ~Blues
*3-7> jam with Michelle Deneault & Redder @ Port Credit Legion, 35 Front St., Port Credit
4-8> Forever Man featuring Hervé Bassett (for Southside Shuffle) @ Roc'n Doc's, 105 Lakeshore Rd. E., Port Credit ~Clapton tribute
9> The Mushy Peez @ Carrigan Arms, 2025 Upper Middle Rd., Burlington
9> White Flags Down @ Fionn MacCool's Burlington, 2331 Appleby Line, Burlington
9:30> Soul Funkshun featuring Dave Girdlestone on guitar @ Sixth Line Pub, 1500 Sixth Line, Oakville
9:30> Southside Shuffle @ Shore Grill, 71 Lakeshore Rd. E., Port Credit ~Pop Rock/Top 40
9:30> Side B Vibe @ The Franklin House, 263 Queen St. S., Streetsville ~ Rock/Top 40
9:30> The Remnants @ Gator Ted's, 1505 Guelph Line, Burlington
10-2> Jerome Godboo Band @ Roc'n Doc's, 105 Lakeshore Rd. E., Port Credit ~Blues; $
Copyright © 2015 Toronto Moon Magazine. All Rights Reserved