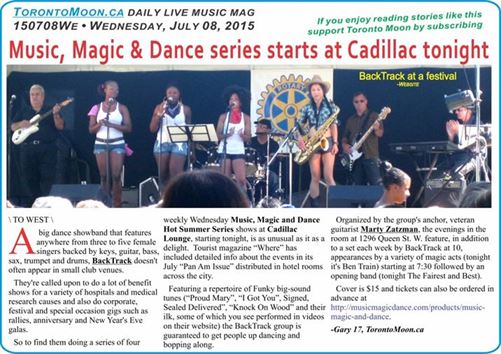 \ TO WEST \
A big dance showband that features anywhere from three to five female singers backed by keys, guitar, bass, sax, trumpet and drums, BackTrack doesn't often appear in small club venues.
They're called upon to do a lot of benefit shows for a variety of hospitals and medical research causes and also do corporate, festival and special occasion gigs such as rallies, anniversary and New Year's Eve galas.
So to find them doing a series of four weekly Wednesday Music, Magic and Dance Hot Summer Series shows at Cadillac Lounge, starting tonight, is as unusual as it as a delight.  Tourist magazine "Where" has included detailed info about the events in its July "Pan Am Issue" distributed in hotel rooms across the city.
Featuring a repertoire of Funky big-sound tunes ("Proud Mary", "I Got You", Signed, Sealed Delivered", "Knock On Wood" and their ilk, some of which you see performed in videos on their website) the BackTrack group is guaranteed to get people up dancing and bopping along.
Organized by the group's anchor, veteran guitarist Marty Zatzman, the evenings in the room at 1296 Queen St. W. feature, in addition to a set each week by BackTrack at 10, appearances by a variety of magic acts (tonight it's Ben Train) starting at 7:30 followed by an opening band (tonight The Fairest and Best).
Cover is $15 and tickets can also be ordered in advance at http://musicmagicdance.com/products/music-magic-and-dance.
-Gary 17, TorontoMoon.ca
SHOW LISTINGS for Wednesday, July 08, 2021
Listings are organized by area in which the shows occur and within each area field shows are listed chronologically.
Listings preceded by an asterisk (*) are repeating weekly events. (Double asterisk indicates repeating event with different hosts/guest/etc.) Admission prices followed by a slash and minus (/-) after the amount indicates door charge with availability of cheaper rates for some purchases. /+ indicates stated price is minimum.
Names of subscribers appear in bold and underlined and, where applicable, include a live link to their websites. Advertisers' listings are in larger, highlighted type, include live link to website and also have ad icon included in listings.
416 – Toronto Central
6> Ryan O'Shaughnessy @ Cameron House (front), 408 Queen St. W., TO
6:30> Nathan Hiltz Trio @ The Rex, 194 Queen St. W., TO ~Jazz
7> Patrick Panus Quartet featuring singer Kalya Ramu @ Monarchs Pub (Eaton Chelsea Hotel), 33 Gerrard St. W., TO ~Jazz
7:15-11> Calm Cool Collective; Natalie Fasheh; A Touch of Reosemary; David Shilman; Linda Lavender; Bikeman; @ Busker's Club, 581 Bloor St. W., TO ~eclectic
7:30> Kara Lockwood @ Tranzac Club (Southern Cross), 292 Brunswick Ave. TO
*8-1> open jam with Wednesday's Child feat. Johnny Bootz Hutt @ Lola, 40 Kensington Ave., TO
8> Reveal Me Burlesque @ Rivoli, 334 Queen St. W., TO ~$10
8:30> Best Of The Open Stage with Brian Kinney; Mani Eustis; Izzy Golden @ Free Times Cafe, 320 College St., TO ~songwriters
*8:30> Crazy Strings host High Lonesome Wednesdays with opening acoustic act @ Silver Dollar 486 Spadina Ave., TO ~Bluegrass
*8:45> Bradley & The Bouncers @ Reservoir Lounge, 52 Wellington St. E., TO ~Jazz/Blues/R&B
9> The Dreamboats @ Cameron House (rear), 408 Queen St. W., TO
9> The Disraelis; Hollowphonic; Kensington Hillbillies; Poppyseed & The Love Explosion @ Horseshoe Tavern, 370 Queen St. W., TO
*9> open mic with Sean Barker @ Monarch Tavern, 12 Clinton St., TO
*9:30-2> jam with B-Sides @ The Unicorn, 175 Eglinton Ave. E., TO North
9:30> Brian Dickinson & The Rhythm Method @ The Rex, 194 Queen St. W., TO ~Jazz
10> Weatherstone @ Cameron House (front), 408 Queen St. W., TO
10> Josh Cole & Friends @ Tranzac Club (Southern Cross), 292 Brunswick Ave. TO
*10-2> Blues-Rock jam with Bruce Domoney @ Grossman's, 379 Spadina Ave. TO
10> Crossdockers; Thecrates; Razzmatazz; Jagged @ Lee's Palace, 529 Bloor St. W., TO ~Rock; $5
10:30> Chatty Cathy @ The Hideout, 484 Queen St. W., TO ~indie Rock
*10:30> The LMT Connection @ Orbit Room, 580 College St. TO ~Funk/R&B; $10
416 – Toronto East
*6-11> Rock jam with Scar-Bro Pete & Lee Van Leer @ Melange, 172 Main St., TO East
*7:30-10:30> The BTBs @ Relish, 2152 Danforth Ave., TO East ~Jazz
8> Lzrszn @ The Only Café, 972 Danforth Ave., TO East ~space Jazz
8:30-10:30> WE-B3 @ Castro's, 2116 Queen St. E., TO East
*9:30> open stage with Nicola Vaughan @ Black Swan (downstairs), 154 Danforth Ave., TO East
416 – Toronto West
5-8> Michelle Rumball & guest @ Gate 403, 403 Roncesvalles Ave., TO West ~Jazz
5-8 & 9:30-12:30> Maddy Prior & Steeleyee Span @ Hugh's Room, 2261 Dundas St. W., TO West ~British Roots pioneers; $55
7:30> Music, Magic and Dance Hot Summer Series show with magician and two bands including feature BackTrack (at 10) @ Cadillac Lounge, 1296 Queen St. W., TO West; $15
*8-12> Girls Night Out Jazz singers jam with Lisa Particelli, Peter Hill et al @ Chalkers, 247 Marlee Ave., TO North-West
9-12> Blues Night with Julian Fauth & guests @ Gate 403, 403 Roncesvalles Ave., TO West ~original Juno-winning Blues
9> Angie Gunn @ The Local, 396 Roncesvalles Ave., TO West ~Honky Tonk
9> Emily Raquel; Niall & The Hostages; Dreamboat @ The Painted Lady, 218 Ossington Ave., TO West
9> Good Bad Kid; Eli and The Strawman @ Dakota Tavern, 249 Ossington Ave., TO West
416 – Etobicoke
8-1> Tony Paglia Duo @ Timothy's Pub, 344 Brown's Line, Etobicoke South ~Pop
416 – Scarborough
* 7> jam with Tommy Rocker's Classic Rock Band @ Fox at Scarborough Junction, 646 Danforth Rd., Scarborough
*8:30> Al Reilly's Catalyst @ Centro Pizza, 3408 Kingston Rd., Scarborough ~classic Rock
*8:30> open mic with Jadzia Skye & Michael Oesch @ Chez Helene's, 1437 Kingston Rd., Scarborough
905 East
*8> Howard Ross hosts "Big Mojo" Blues jam with guest performer Pat Carey @ Corner Pocket, 45 Prince St., Oshawa ~Blues
8-12> open mic night @ Fionn MacCool's Ajax, 32 Kingston Rd. E. Ajax
*8-11> open mic @ Frank's Pasta, 426 King St. E., Cobourg
*9-12> jam with Damage Control @ St. Louis Bar & Grill Ajax, 11 Harwood Ave. S., Ajax
905 West
*8-12> All-ages jam with band featuring Dave Girdlestone of Soul Funkshun on guitar & host Kevin Reid @ Sixth Line Pub, 1500 Sixth Line, Oakville
*8-2> Paul & Curtis @ Roc'n Doc's, 105 Lakeshore Rd. E., Port Credit ~Rock/Pop
8-1> Songbirds with host Sarah Beatty & guests @ Moonshine Café, 137 Kerr St., Oakville ~songwriters; $6 or pwyc
8:30> The Carson Freeman Diversion @ Shore Grill, 71 Lakeshore Rd. E., Port Credit ~Pop Rock
*9> open mic jam with Jack B Nimble @ Blarney's Gate, 1151 Dundas St. W., Mississauga
*9?> jam with Michael Zane or Pat Dowds @ Shakers, 580 Kerr St., Oakville
905 North
*7> open mic night with Tanya Joy Senior @ Col. McGrady's Pub, 44 Brock St. W., Uxbridge
*8-12> acoustic jam with Tony Paglia & Aaron Soloman @ Jake's Boathouse Brampton, 59 First Gulf Rd., Brampton
*8-12> open mic with Kevin Ker @ Aw Shucks, 15230 Yonge St., Aurora
*9-1> open mic jam with Whiskey Birds @ Sweetz Lounge, 5289 Hwy 7, Woodbridge-Vaughan
905 South
*8:30> Something Country @ The Endzone, 1900 King St. E., Hamilton ~Country
**8-1> "Country Pubkin" Night with Country artists tba @ Corktown Pub, 175 Young St., Hamilton
519
*9> The Phil & John Show feat. Phil Naro @ Molly Bloom's Waterloo, 170 University Ave., Waterloo ~acoustic Pop Rock
705
*7-11> open jam with Wayne Buttery Band @ The Beacon, 146 45th St., Wasaga Beach
7> Art Lajambe @ Black Horse Pub, 452 George St. N., Peterborough