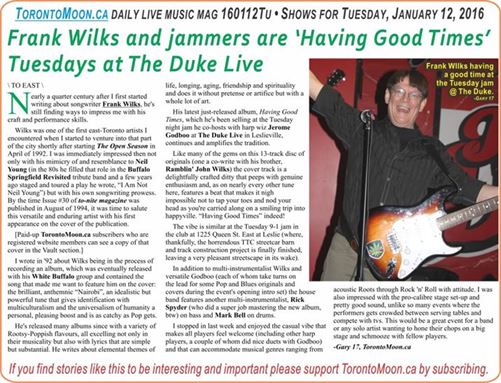 \ TO EAST \
Nearly a quarter century after I first started writing about songwriter Frank Wilks, he's still finding ways to impress me with his craft and performance skills.
Wilks was one of the first east-Toronto artists I encountered when I started to venture into that part of the city shortly after starting The Open Season in April of 1992. I was immediately impressed then not only with his mimicry of and resemblance to Neil Young (in the 80s he filled that role in the Buffalo Springfield Revisited tribute band and a few years ago staged and toured a play he wrote, "I Am Not Neil Young") but with his own songwriting prowess. By the time Issue #30 of to-nite magazine was published in August of 1994, it was time to salute this versatile and enduring artist with his first appearance on the cover of the publication.
[Paid-up
TorontoMoon.ca
subscribers who are registered website members can see
a copy of that cover in the Vault section
.]
I wrote in '92 about Wilks being in the process of recording an album, which was eventually released with his White Buffalo group and contained the song that made me want to feature him on the cover: the brilliant, anthemnic "Nairobi", an idealistic but powerful tune that gives identification with multiculturalism and the universalism of humanity a personal, pleasing boost and is as catchy as Pop gets.
He's released many albums since with a variety of Rootsy-Poppish flavours, all excelling not only in their musicality but also with lyrics that are simple but substantial. He writes about elemental themes of life, longing, aging, friendship and spirituality and does it without pretense or artifice but with a whole lot of art.
His latest just-released album, Having Good Times, which he's been selling at the Tuesday night jam he co-hosts with harp wiz Jerome Godboo at The Duke in Leslieville, continues and amplifies the tradition.
Like many of the gems on this 13-track disc of originals (one a co-write with his brother, Ramblin' John Wilks) the cover track is a delightfully crafted ditty that peeps with genuine enthusiasm and, as on nearly every other tune here, features a beat that makes it nigh impossible not to tap your toes and nod your head as you're carried along on a smiling trip into happyville. "Having Good Times" indeed!
The vibe is similar at the Tuesday 9-1 jam in the club at 1225 Queen St. East at Leslie (where, thankfully, the horrendous TTC streetcar barn and track construction project is finally finished, leaving a very pleasant streetscape in its wake).
In addition to multi-instrumentalist Wilks and versatile Godboo (each of whom take turns on the lead for some Pop and Blues originals and covers during the event's opening intro set) the house band features another multi-instrumentalist, Rick Spyder (who did a super job mastering the new album, btw) on bass and Mark Bell on drums.
I stopped in last week and enjoyed the casual vibe that makes all players feel welcome (including other harp players, a couple of whom did nice duets with Godboo) and that can accommodate musical genres ranging from acoustic Roots through Rock 'n' Roll with attitude. I was also impressed with the pro-calibre stage set-up and pretty good sound, unlike so many events where the performers gets crowded between serving tables and compete with tvs. This would be a great event for a band or any solo artist wanting to hone their chops on a big stage and schmooze with fellow players.
-Gary 17, TorontoMoon.ca
SHOW LISTINGS for Tuesday, January 12, 2022
Listings are organized by area in which the shows occur and within each area field shows are listed chronologically.
Listings preceded by an asterisk (*) are repeating weekly events. (Double asterisk indicates repeating event with different hosts/guest/etc.). Events preceded by question mark (?) usually take place but have not been confirmed. Admission prices followed by a slash and minus (/-) after the amount indicates door charge with availability of cheaper rates for some purchases. /+ indicates stated price is minimum.
Names of subscribers appear in bold, are underlined and, where applicable, include a live link to their websites. Advertisers' listings are in larger highlighted type, include live link to website and also have ad icon included in listings.
416 – Toronto Central
6> Charlotte Cornfield @ Cameron House (front), 408 Queen St. W., TO
6:30> Jake Koffman Quartet @ The Rex, 194 Queen St. W., TO ~Jazz; $
*7-11> Girls Night Out Jazz singers' Jazz jam with Lisa Particelli, Peter Hill et al @ 120 Diner, 120 Church St., TO
7:30> Aurochs @ Tranzac Club (Southern Cross), 292 Brunswick St., TO ~Jazz
8:30> Torres; Palehound @ Horseshoe Tavern, 370 Queen St. W., TO ~indie; $15
*8:45> Tyler Yarema & His Rhythm @ Reservoir Lounge, 52 Wellington St. E., TO ~Jazz/Blues; $
*9> Chris Caddell Blues Band @ Lou Dawgs, 598 King St. W., TO ~Blues
?9:30> open mic @ The Paddock, 178 Bathurst St., TO
**9:30> Jazz jam with Chris Gale @ The Rex, 194 Queen St. W., TO ~Jazz; $
*10-2> The Sattalites @ Orbit Room, 580 College St., TO ~original & cover Reggae/Funk; $
10> Bedroom @ Tranzac Club (Southern Cross), 292 Brunswick St., TO ~Jazz
*10> The Hit Pickers @ Cloak & Dagger, 294 College St., TO
10> The Sinners Choir @ Cameron House (front), 408 Queen St. W., TO
10:30> Don Campbell @ The Hideout, 484 Queen St. W., TO ~indie
416 – Toronto East
*6-9> Julian Fauth solo @ Sauce, 1376 Danforth Ave., TO East ~original Blues piano

7-10> Joanne Morra @ Relish, 2152 Danforth Ave., TO East ~songwriter
8> Matthew Layne; Scarlett's Hand; Manshun @ Linsmore Tavern, 1298 Danforth Ave., TO East ~indie; no cover
8-10> Carlos Lopes @ Castro's, 2116 Queen St. E., TO East
*9-1> Open jam with Frank Wilks, Jerome Godboo & Rick Spyder @ The Duke Live, 1225 Queen St. E., TO East
9> open mic @ Groove Bar, 1952 Danforth Ave., TO East
*9:30> Peter Verity @ Black Swan, 154 Danforth Ave., TO East ~Folk Roots
**9:30-12> open stage hosted by Jay Pennell or Kyle Duffin @ The Old Nick, 123 Danforth Ave., TO East
416 – Toronto Scarborough
*9:30> karaoke with The English Rose & The Mad Scotsman @ The Fossil & Haggis, 790 Military Trail, Scarborough
416 – Toronto West
5-8> Melissa Smeets & Friends @ Gate 403, 403 Roncesvalles Ave., TO West
8> Write On playwright showcase with music by Jessica Speziale @ Junction City Music Hall, 2907 Dundas St. W., TO West
8:30> Frog & Henry @ Fat City Blues, 890 College St., TO West ~$5
9> Mercy Flight feat. Steve York; Kobena; Henry Nozuka for Indie Tuesdays @ The Piston, 937 Bloor St. W., TO West ~indie; pwyc
9> MS @ The Local, 396 Roncesvalles Ave., TO West ~Urban/World
9> Arthur Renwick & Cowboy Crashing @ Gate 403, 403 Roncesvalles Ave., TO West ~Roots/Blues
9> Ben Kunder; Corrina Keeling; Jeff Giles @ The Painted Lady, 218 Ossington Ave., TO West ~indie; $5
**9:30> jam with Derek Downham or Cody McMillan @ Axis, 3048 Dundas St. W., TO West ~eclectic
905 East
*6:30-11> The Woodshed jam with Don Niblett & Frank Zochodne @ Simcoe Blues & Jazz, 926 Simcoe St. N., Oshawa
9> The Dukes @ The Corral, 433 Simcoe St. S., Oshawa ~Country Rock
*10> open mic with Josh Beaven @ The Atria, 59 King St. E., Oshawa
905 North
*8-11> jam with Matthew Kane & The Brews Brothers @ The Crown, 9580 Yonge St., Richmond Hill
*8:30> open mic @ Falcon & Firkin, 10300 Yonge St., Richmond Hill
*9> open mic with Manny D, Andy Earle & Dave Breckels @ Big Chris BBQ, 17380 Yonge St., Newmarket
905 South
*9> open stage @ This Ain't Hollywood, 345 James St. N., Hamilton
*9:30-1> Traditional Irish jam @ Corktown Pub, 175 Young St., Hamilton

905 West
*8> The Phil & John Show feat. Phil Naro @ Shore Grill, 71 Lakeshore Rd. E., Port Credit ~acoustic Pop Rock
*8-12> Groovestone @ Roc'n Doc's, 105 Lakeshore Rd. E., Port Credit ~Rock/Funk; $
*8 (sign up at 7:30)> open stage with host Neil McNaughton @ Moonshine Café, 137 Kerr St., Oakville; $2
*8:45> open mic with Matt Zadkovich @ Culchain's Irish Pub, 158 Queen St. S., Streetsville-Mississauga
*10> open mic @ The Dickens, 423 Elizabeth St., Burlington
Copyright © 2016 Toronto Moon Magazine. All Rights Reserved