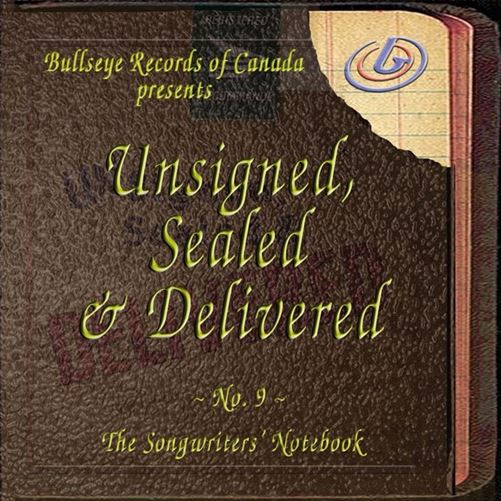 \ TO WEST \
After four years in limbo, Bullseye Records of Canada founder and president Jaimie Vernon was last year finally able to rescue the archives of his company and motivated by that has dramatically re-entered the music scene. He punctuates that return tonight with a 30th anniversary party at The Tennessee pub in Parkdale which also marks release of a new compilation album of 20 tracks by indie artists.
The saga of Bullseye's odyssey in the music business over the past 31 years —since initially forming as a vanity label for Vernon's own Moving Targetz band in 1985, through stellar heights dealing with some of Canada's most iconic Rock acts (Klaatu, The Kings, MOXY, Goddo and many more) and international stars (Ian Anderson, Guess Who et al) then into the depths of near oblivion during the past several years and now "redemption" as he puts it— is an epic Canadian music business tale.
We won't recount it here in full detail since an autobiographical account of the adventure he's calling "Bullsography" —which will cast a lot of light on the nature of the music business not just here but everywhere— is scheduled for release in June. (He's now taking online pre-orders for $39.99, btw.)
Suffice it to say, the history of Bullseye —and songwriter Vernon's personal journey— has paralleled the evolution of the industry as a whole in many ways. And, like many a checkered musical career, just when it all seemed to be over, it came back to life in a heartbeat.
Vernon, as we told you in January 2014, is probably best known as the author of the "Canadian Pop Music Encyclopedia," which was derived from the first-ever online database of Canadian music history that he had compiled for CANOE (Toronto Sun's original online identity) and remains an authoritative reference work which I have found to be an invaluable resource in researching the background of scores of Canadian music acts over the years.
But the changing music industry and the general economic collapse of 2008 led to a backing partner having to pull out of the company, then the bankruptcy of both the Canadian and American firms handling his distribution (and consequent loss of massive inventory) which combined to create a crisis he simply couldn't manage.  It ended up costing Jaimie and his wife Sharon their home, car, savings and credit rating and forced him to abandon a massive storehouse of business material and inventory when a landlord summarily evicted him and took the stock as payment against his debt.
Resigned to having lost everything, he spent the past several years basically just trying to stay alive —a struggle compounded by an accident at a day job he'd taken—labouring at a variety of menial jobs, including, ironically enough, working in a graveyard for a year, just to have rent money every month, until just before his company's resurrection.
Despite those woes, he had continued all along to keep a toe in the business by writing an occasional column as part of Bob Segarini's "Don't Believe A Word I Say" blog series and also, thanks to some advance sales of the encyclopedia and a benefit concert, was able to finally finish the tome and get it printed in 2013.
"But Bullseye was done," he told me in an online interview, and "it was eating my soul."
Then, in September, he learned that the archive he'd thought lost forever still existed and could be retrieved, though for a sum of money way beyond his means.
"I was determined get back to my first passion, music," he said, so launched a crowdfunding campaign that amazingly ended up raising over $20,000 —enough not only to retrieve the archives but also enabling him to turn his focus back to organizing the material, which consists of 25,000 physical cd/dvd recordings plus the masters, photos and promotional materials.
Since retrieving the archives Vernon has gradually been picking up steam and getting things back on track.  In December he was able to release the third 16-track volume of the Get Yer Fa La Las Out compilation series of original Canadian Christmas music and earlier this year also put out a digital collection of iconic classic Rock cover songs that he remixed: Mirror Image: Someone Else's Greatest Hits.
He also managed to strike a new distribution deal, with the Conveyor/UMG organization, that came into effect at the beginning of last month and has paved the way for full-ahead revitalization of the company.
Last month Bullseye released two new albums: a posthumous 12-track digital collection of tunes recorded by Keith Whittaker (who died 20 years ago of cancer after a brief but spectacular career as lead singer for seminal Canadian Punk band The Demics); and a digital 3-song ep by up-and-coming songwriter Hailee Rose, whose "Everything's Going To Be Allright" is also one of the 20 tracks on the newest physical cd album being celebrated tonight.
The future, of course, remains far from secure, as with Sharon on disability leave and a somewhat precarious income stream from Bullseye, "it's killing us, financially," he says.
But, like so many of the artists he represents, still a believer, he immediately adds that "the payoff is down the road."  Part of that could also come from another book he's doing, with Skip Procop, plus two other reissues of classic albums are slated for later this year.
The new Unsigned, Sealed and Delivered – No.9 – The Songwriters Notebook compilation being celebrated tonight (also available on Amazon, iTunes and other portals on Monday) is actually the ninth iteration in a series that Vernon and Bullseye began 25 years ago, adding extra oomph to this evening's landmark event just a few days shy of the 31st anniversary of the company.
The party in the room at 1554 Queen St. W. near Lansdowne starts at 8 p.m., runs till 1 a.m. and will feature performances by nine of the artists from the album: TOMMYGUNN; Sonny Boy Mick; Frank Marzano; Headframe; Synners of Truth; Hailee Rose with Dave Rave; Klutchfoot; Social Strife and Arson.  Cover is a measly $5.
Today, by the way, just also happens to be "Record Store Day" across Canada.  Truly, I cannot think of a better way for those who truly support original music to acknowledge and celebrate that occasion than by attending this event or, if you can't make it there, ordering a copy of the new album or something else from the Bullseye back catalogue online.
-Gary 17, TorontoMoon.ca
SHOW LISTINGS for Saturday, April 16, 2022
Listings are organized by area in which the shows occur and within each area field shows are listed chronologically.
Listings preceded by an asterisk (*) are repeating weekly events. (Double asterisk indicates repeating event with different hosts/guest/etc.). Events preceded by question mark (?) usually take place but have not been confirmed. Admission prices followed by a slash and minus (/-) after the amount indicates door charge with availability of cheaper rates for some purchases. /+ indicates stated price is minimum.
Names of subscribers appear in bold, are underlined and, where applicable, include a live link to their websites. Advertisers' listings are in larger, highlighted type, include live link to website and also have ad icon included in listings.
416 - Toronto Central
10 a.m. – 4:30> Uncover Your Voice singing workshop with Signe Miranda & Mary Michaela Weber @ Neville Austin Studio, 720 Bathurst St., Suite 402, TO ~workshop; $250
*12-3> The Sinners Choir @ The Rex, 194 Queen St. W., TO ~Jazz; $
*2> Dr. B's Acoustic Medicine Show open stage with Brian Gladstone @ Free Times Café, 320 College St. TO ~Roots
3> The Boxcar Boys, @ C'est What, 67 Front St. E., TO ~$5
3> Jamzac @ Tranzac Club (Southern Cross), 292 Brunswick Ave., TO
3-6> Turboprops @ The Pilot, 22 Cumberland St., TO ~Jazz
3:30> Mississauga Big Band @ The Rex, 194 Queen St. W., TO ~Jazz; $
4-7> Sin City Boys featuring Kevin Jollimore @ Graffiti's, 170 Baldwin St., TO ~vintage Rock 'n' Roll/Tex Mex originals
4-7> Pint 4 Pint charity event @ Seven44, 744 Mount Pleasant Road, TO North ~$
*4:40-7:30> The Happy Pals @ Grossman's, 379 Spadina Ave., TO ~New Orleans Jazz
*5-8> Blues & Troubles @ Déjà vu Bar, 389 College St., TO ~Blues
6> Benefit for Hastings House with kitchen jam; The Lost Anglers; The One Shot Band feat. Rory Cummings (9pm); The Martian Brothers @ Keating Channel Pub, 2 Villiers St. TO ~eclectic dance music; no cover
6-8> Brian Katz @ 120 Diner, 120 Church St., TO ~Jazz; $10/pwyc
6> Grier Coppins @ Cameron House (front), 408 Queen St. W., TO ~Roots-Rock
7:30> Ear Cam @ Tranzac Club (Southern Cross), 292 Brunswick Ave., TO
7:30> Nick Teehan Group @ The Rex, 194 Queen St. W., TO ~ Jazz; $
7:30> Zack Werner's Idol School showcase @ Free Times Café, 320 College St. TO ~eclectic Pop
8-1> UnRaveling lp release with Anti-Queens; more @ The Silver Dollar, 486 Spadina Ave., TO ~indie; $
8> Peter Walker; Ian Russell; Ivy Mairi @ Tranzac Club (Main Hall), 292 Brunswick Ave., TO
8:30> Lady Hamilton album release party with Aaron Andrews; Jammers Waffle House @ The Central, 603 Markham St., TO ~indie; $
*8:30-12:30> All Star Band feat. Joe Bowden & Brooke Blackburn @ Nawlins, 299 King St. W. TO ~Blues
9> Ron Hawkins & The Do Good Assassins @ Rivoli, 334 Queen St. W., TO ~Country Rock; $
9> Russell Leon @ Graffiti's, 170 Baldwin St., TO ~birthday Roots-Rock
9> Running Red Lights @ Dominion Pub, 500 Queen St. E., TO ~indie Pop
9> Chris Staig & The Marquee Players @ Drums N Flats, 1980 Avenue Rd., TO North ~Pop
9> Whitney Pea and Alyson McNamara @ Cameron House (rear), 408 Queen St. W., TO
9-11:30> Myriad 3 @ Jazz Bistro, 251 Victoria St., TO ~original contemporary Jazz; $
9> The Savilles; Canadian Shield; Bamboo; Sad Boys Glee Club; Jonesin & The Hurt @ Horseshoe Tavern, 370 Queen St. W., TO ~indie; $10
9-12> East Side West @ The Cavern Bar, 76 Church St., TO ~indie
9:30> The Dawgs @ Seven44, 744 Mount Pleasant Road, TO North ~Rock
9:30> Soular @ Alleycatz, 2409 Yonge St., TO North ~Funk/Soul/R&B; $10
9:45> Robert Occhipinti @ The Rex, 194 Queen St. W., TO ~Jazz; $
*9:45> Tyler Yarema & His Rhythm @ Reservoir Lounge, 52 Wellington St. E., TO ~Jazz/Blues; $
10> Ride The Tiger @ Orbit Room, 480 College St. TO ~Funk/Soul; $
10> Combo Royale @ Cameron House (front), 408 Queen St. W., TO
10> The Reid Henry Band @ Bier Markt Esplanade, 58 The Esplanade, TO ~Pop Rock
10-2> The Porch Dogs @ Grossman's, 379 Spadina Ave., TO ~Rockabilly
10> Lindsay Brohan @ Bier Markt King, 600 King St., West, TO ~Pop Rock
10:30> Shawn Brady & The Northern Sons @ The Hideout, 484 Queen St. W., TO ~indie Rock
10:30> The Gormley Brothers @ Fionn MacCool's Esplanade, 70 The Esplanade ~Pop Rock
10:30> Stephen Stanley Band with Mark Martyre @ C'est What, 67 Front St. E., TO ~indie; $12
11-2> Natasha Buckeridge @ 120 Diner, 120 Church St., TO
416 - Toronto East
*3:30-6> Johnny Wright @ Outriggers, 2232 Queen St. E., TO East ~R&B
6-8> Bossa Trés  @ Relish, 2152 Danforth Ave., TO East ~romantic Spanish/French love songs
6-8> Thelonious Hank @ Castro's, 2116 Queen St. E., TO East ~Country
*8:30> open mic with host Jenn Kee @ The Grover Pub, 676 Kingston Rd., TO East
9> Stiletto Flats featuring Elana Harte @ Old Nick Pub, 123 Danforth Ave., TO East ~retro & classic Rock
9-12> Lucas Stagg & Tanya Philipovich @ The Feathers, 962 Kingston Rd., TO East ~Roots/Pop
9> Paul Reddick Band @ Dora Keogh, 141 Danforth Ave., TO East ~Blues
9> Strome Danckert Duo @ Murphy's Law, 1702 Queen St. E., TO East ~Pop Rock
9> Second Wave @ Linsmore Tavern, 1298 Danforth Ave., TO East ~New Wave Pop; $
9> Wonderland @ The Eton House, 710 Danforth Ave., TO East ~Rock/Pop
9:30-11:30> Sean Poluk Band @ Relish, 2152 Danforth Ave., TO East ~songwriter
10> Brazen Angelz @ An Sibin Pub, 709 Queen St. E., TO East ~Pop Rock
10:30> Ballroom Babies @ Bier Markt Don Mills, 7 O'Neill Rd., TO East ~Pop Rock
416 – Toronto Etobicoke

*3-6> Danny B Band @ Blue Goose, 1 Blue Goose St., Etobicoke South ~R&B/Blues
**4-8> The Essentials with guest singer Suzanno Piano @ Southside Johnny's, 3653 Lake Shore Blvd. W. Etobicoke South ~Rock-R&B
*4-8> The Meteors with guest Danny Fisher @ Timothy's Pub, 344 Brown's Line, Etobicoke South ~Blues/Rock/R&B
7:30> Lou Pomanti Trio @ Old Mill Inn (Homesmith Bar), 21 Old Mill Rd., Etobicoke ~Jazz; minimum table charge
8> Teenage Head; openers Genepool @ The Rockpile, 5555 Dundas St. W., Etobicoke ~Can-Punk icons; $
9> Ron & The Corvairs @ Blue Goose Tavern, 1 Blue Goose Rd., Etobicoke South ~Pop Rock
9> K.T. Smith @ Maple Leaf House, 2749 Lake Shore Boulevard West, Etobicoke ~Rock/Top 40/Blues
9:30> Sam Taylor & The East End Love @ Refinery Public House, 3039 Lake Shore Blvd. W., Etobicoke ~original & cover Blues
9:30> Raquel & The Blue Tones @ Timothy's Pub, 344 Brown's Line, Etobicoke South ~Blues/R&B; $
10-2> Driver @ Southside Johnny's, 3653 Lake Shore Blvd. W. Etobicoke South ~Rock/Top 40
10> Sonic Tonic @ Bier Markt Etobicoke, 199 North Queen St., Etobicoke ~Pop Rock
416 – Toronto Scarborough
*3-6> Still Sunday hosts Rock/Blues jam with guest Jerome Godboo @ The Loaded Dog, 1921 Lawrence Ave. E., Scarborough
8:30> The David Love Band also featuring Darrell McNeill @ Tara Inn, 2365 Kingston Rd., Scarborough ~60s melodic Pop Rock
9-1> After U @ Black Dog Pub, 87 Island Rd., Scarborough ~ Pop Rock
9> KickBack @ The Loaded Dog, 1921 Lawrence Ave. E., Scarborough ~Rock/Top 40; $
9:30> Rock jam with Tommy Rocker Band @ Centro Pizza, 3406 Kingston Rd., Scarborough
*9:30-2> karaoke with The English Rose & The Mad Scotsman @ Winners, 2181 Lawrence Ave. E., Scarborough
9:30> Greg Wyard Band @ Stone Cottage Pub, 3750 Kingston Rd., Scarborough ~Pop Rock
416 - Toronto West
*12-3> Julian Fauth's Blues Brunch @ Axis, 3048 Dundas St. W., TO West ~Blues
**2-6> open mic with guest host Brian Jantzi @ Magic Oven, 347 Keele St., TO West
**5-8> Bill Heffernan's Saturday Sessions with featured guests Glen Hornblast Band with Mark Yan & Barry Mulcahy @ Gate 403, 403 Roncesvalles Ave. TO West ~Roots/Country/Pop
5-8> Zakary Miller @ The Local, 396 Roncesvalles Ave., TO West ~Canadiana
*5-8> Blues jam with Ken Yoshioka @ On Cue Billiards, 349 Jane St., TO West ~Blues
6:30> Ryan O'Reilly @ Burdock, 1184 Bloor St. W., TO West ~English/Irish songwriter; $10
7:30-9:30> Modern Laundry publication launch @ Holy Oak Café, 1241 Bloor St. W., TO West ~
7:30> Roxanne Potvin album release @ The Painted Lady, 218 Ossington Ave., TO West ~indie
8-1> Bullseye Records of Canada 30th anniversary celebration & album release for Unsigned, Sealed & Delivered Vol. 9 with several acts @ The Tennessee, 554 Queen St. W., TO West
8-10> Kirk Felix Trio @ Humble Beginnings, 3109 Dundas St. W., TO West ~acoustic Roots songwriter
8:30> Tom Rush with Matt Nakoa @ Hugh's Room, 2261 Dundas St. W., TO West ~iconic Roots songwriter; $50
9-1> Sweet Derrick Blues Band @ Gate 403, 403 Roncesvalles Ave., TO West ~Blues
9> Convoys; Goodnight Sunrise; Brutus Begins @ Junction City Music Hall, 2907 Dundas St. W., TO West ~$10
9> Laura Cole @ Burdock, 1184 Bloor St. W., TO West  ~Soul/Blues songwriter; $12
9> The Beverleys album release –night 2 @ Smiling Buddha, 961 College St., TO West ~indie; $
9> Dan Mock Band @ The Local, 396 Roncesvalles Ave., TO West
9:30> The Northern Greys @ The Cat, 3153 Dundas St. W., ~Pop Rock/Top 40
9:30> Charlie Jacobson @ Fat City Blues, 890 College St., TO West
10-2> Hot Wax Meltdown @ Dakota Tavern, 249 Ossington Ave., TO West
10> The Human Rights Live; Uplifting; Real-Deal @ 3030 Dundas West, 3030 Dundas St. W., TO West ~contemporary Roots/Reggae; no cover
10:30> El Quinto @ Lula Lounge, 1585 Dundas St. W., TO West ~Salsa; $15
519
3-6> The Conor Gains Band @ Brando's Beach House, 135 Market St., Brantford ~Blues
8> A Rebel Few @ Maxwell's, 35 University Ave. E., Waterloo
8> Carl Dixon @ Fionn MacCool's Kitchener, 4287 King St. E., Kitchener ~Pop
9> The Barriers @ Fionn MacCool's Guelph, 494 Ediburgh Rd. S., Guelph ~Pop
9:30> Ross Burant @ Fionn MacCool's Orangeville, 75 Fourth Ave., Orangeville ~Pop
705
5> Kelly McMichael @ Black Horse Pub, 452 George St. N., Peterborough
8> Limestone; Feathers & Fangs @ The Spill, 414 George St., Peterborough
8-11:45> Even Steven @ Harbour Street Fish Bar, 10 Keith Ave., Collingwood ~Rock
8:30> Briannah Cotton Band @ Black Horse Pub, 452 George St. N., Peterborough
9:30> Memphis Mudd @ Sticky Fingers Dunlop, 150 Dunlop St. W., Barrie
10> Circus Punk Party @ The Garnet, 231 Hunter St. W., Peterborough
905 East
*4> PRJ @ Simcoe Blues & Jazz, 926 Simcoe St., Oshawa ~Blues
*9-1> karaoke with Rob MacArthur @ Tudor Rose, 700 Harwood Ave. S., Ajax
9> Renegade Riders @ The Corral, 433 Simcoe St. S., Oshawa ~Country
9> Anniversary with In The Act of Violence; Aberrations; Voltang @ The Atria, 59 King St. E., Oshawa ~Hard Rock
9-1> Shane Scott Band @ Simcoe Blues & Jazz, 926 Simcoe St. N., Oshawa ~Blues
9-1> Groove Marmalade @ Tap and Tankard, 224 Brock Rd. S., Whitby ~Rock/Pop
9> The Drunk Jam Band @ The Moustache Club, 15 Simcoe St. N., Oshawa
9:30> Bone-Yard @ The Edge, 250 Bayly St., Ajax ~Rock/Top 40
10> Deuce @ Tartan Tavern, 555 Rossland Rd. E., Oshawa ~Pop Rock
10-2> Spitfire Kings @ Fionn MacCool's Ajax, 36 Kingston Rd. E., Ajax ~Pop Rock
10-2> Beneath Cherry @ Whisky John's, 843 King St. W., Oshawa ~Rock/Top 40
905 North
2-5> David Storey; Bruce Madole; Soozi Schlanger for Source Of The Song @ Glen Williams Town Hall, 1 Prince St., Glen Williams ~songwriters showcase
8-11> Swainsong @ Yogi's Bar, 1285 Elgin Mills Rd. E., Richmond Hill ~Roots-Rock
8:30> Glamour Assassins @ King Richard's Pub, 15570 Yonge St., Aurora ~Pop Rock
9> Bill Nadeau and the 21st Century Binary Band @ Muddy Water Hotel, 25 Main St. W., Beeton ~one-man band Pop Rock
9> Soroja @ Lake Simcoe Arms, 21089 Dalton Rd., Jackson's Point
9-1> Dufferin Country Line @ Oscar's Roadhouse, 1785 Queen St. E., Brampton ~Country Rock
9:30> Skip Tracer @ Jake's Boathouse Brampton, 59 First Gulf Rd., Brampton ~Pop Rock
9:30> Switch Beat @ Aw Shucks, 15230 Yonge St., Aurora ~Pop Rock
10> Notorious @ Village Inn, 2 Holland St. E., Bradford ~Duran Duran tribute
*11> DJ Ozne (Enzo Simone) @ Britannia Pub, 7359 Yonge St., Thornhill
905 South
**2-4:30> Davidson, Dicresce & Nero host jam with guests @ Pub Fiction, 1242 Garner Rd. W., Ancaster ~Rock/Top 40
**2> Brant Parker Band with guest Al Lerman @ Donnelley's Pub, 54 Front St., Thorold ~Blues
*2-6> jam w. Tom Finocchio @ Sam's Place, Barton-Chestnut Sts., Hamilton
**2:30> special guest Cheryl Lescom with The Mighty Duck Band @ The Golden Pheasant, 244 Ontario St., St. Catharines ~R&B/Blues
**2:30> Blues Matinée @ Coach & Lantern (upstairs), 384 Wilson St E., Hamilton ~Blues
8> Jude Johnson with Carl Horton & Mike Malone @ Artword Artbar, 15 Colbourne St., Hamilton ~Rootsy Blues
8> "Rockers for Knockers" benefit concert for breast cancer research @ Corktown Pub, 175 Young St., Hamilton
8> Public Eyes @ Pub Fiction, 1242 Garner Rd. W., Ancaster ~Rock/Top 40
9> Black Baron; Earring; Lizzie Boredem; Isolation Party @ Homegrown Hamilton, 27 King William St., Hamilton ~indie; $7/pwyc
9> The Dukes @ Coach & Lantern, 384 Wilson St E., Hamilton
9> Grey Lands; Scrap Heat; Odd Years; Good Anya @ This Ain't Hollywood, 345 James St. N., Hamilton ~indie alt-Rock; $
9> Dave Gould @ Rebel's Rock, 537 King St. E., Hamilton
**9> Niagara Rhythm Section @ The Old Winery, 2228 Niagara Stone Rd., Niagara-On-The-Lake ~R&B/Blues
9:30> Hi-Def Ignition @ Stonewalls Hamilton, 339 York Blvd., Hamilton ~Rock/Pop
9:30> Vinyl Flux @ Doc Magilligan's Irish Pub, 6400 Lundy's Lane, Niagara Falls ~Rock/Top 40
905 West
**2-6> Sil Simone Band with special guest Peter Graham @ Carrigan Arms, 2025 Upper Middle Rd., Burlington ~Rock/Blues
**2-6> Saturday Blues Sermon with James Anthony & special guest Lou Moore @ Black Swan Pub Burlington, 4040 Palladium Way, Burlington ~Blues
*3-7> jam with Michelle Deneault & Redder @ Port Credit Legion, 35 Front St., Port Credit
*3-7> open stage jam @ Moonshine Café, 137 Kerr St., Oakville; $2
*4-8> Gail Gunnis and the Dirty Roosters @ Roc'n Doc's, 105 Lakeshore Rd. E., Port Credit ~R&B
7-11> Little Peter & The Elegants @ Burlington Legion, 828 Legion Rd., Burlington ~50s/60s dance party Rock 'n' Roll; $20
8-12> Al Lerman @ Moonshine Café, 137 Kerr St., Oakville ~solo Blues; $10
8:30-12:30> Joe Reynolds Band & guest @ Red Lion Bar, 1077 North Service Rd., Mississauga ~Blues/R&B
9> Wasted Measures @ Fionn MacCool's Oakville, 350 Dundas St. E., Oakville ~Pop
9> The Dirty Pioneers @ Fionn MacCool's Burlington, 2331 Appleby Line, Burlington ~Pop
9> Biotonk @ Carrigan Arms, 2025 Upper Middle Rd., Burlington
9:30> Phil & John Show featuring Phil Naro @ The Franklin House, 263 Queen St. S., Streetsville ~Pop Rock
9:30> Hunter @ Sixth Line Pub, 1500 Sixth Line, Oakville ~Rock/Pop
9:30> Pat Hewitt @ Shore Grill, 71 Lakeshore Rd. E., Port Credit ~Pop Rock/Top 40
9:30> Tomahawk Love @ Cuchulainn's Irish Pub, 158 Queen St. S., Streetsville-Mississauga ~Pop Rock
9:30> Bare Blue Sea @ Gator Ted's, 1505 Guelph Line, Burlington
9:30> Carpenter Hospice charity fundraiser with Freedom Train @ Boston Manor, 4460 Fairview Ave., Burlington ~Rock/Top 40
9:30> Tom Barlow @ Jersey's Bar, 1450 Headon Rd., Burlington ~Rock/Top 40
10-2> Band of Fools @ Roc'n Doc's, 105 Lakeshore Rd. E., Port Credit ~Rock/Top 40; $
10> Shred Penner @ Bier Markt Mississauga, 55 City Centre Drive, Mississauga ~Pop Rock
10:15> The Sound Parade @ Failte, 201 City Centre Dr., Mississauga ~Rock/Top 40
10:30> The Zilis @ The Dickens, 423 Elizabeth St., Burlington ~Pop Rock
Copyright © 2016 Toronto Moon Magazine. All Rights Reserved