\ OSHAWA \
Oshawa may be at the extreme eastern end of the GTA and seem like a long drive to folks living in TO or points west, but Blues musicians and fans might well find it worth their while to make a mid-week jaunt along the 401 to check out the weekly Wed. Blues jam with iconic guitarist and songwriter Howard Ross.
Ross has been at the forefront of the Durham Region music scene for over 20 years that I know about personally and has helped give coherence and leadership to the music community in the region through his activities with the Durham Region Music Society.
Since going weekly last autumn the jam at a club known as The Hub (15 Simcoe St. North near the highway) has been doing very well, enough so that it now features extremely high-calibre special guests in addition to the talented members of his own Full Count house band.
Tonight, for example, singer/composer Marlene Clarke is the feature guest and upcoming nights showcase the talents of GTA artists such as Phil Manning (next week), double Blues Juno winner Jack deKeyzer (Feb. 4), sax master Pat Carey of Downchild Blues Band (Feb. 11), Gerry Archer (Feb. 18) and double-slide Blues guitar phenom Brian Cober (Feb. 25).
The action gets underway at 8:30 and there's no cover.
-Gary 17, TorontoMoon.ca
SHOW LISTINGS for Wednesday, January 21, 2022
Listings preceded by an asterisk (*) are repeating weekly events. (Double asterisk indicates repeating event with different hosts/guest/etc.) Admission prices followed by a slash and minus (/-) after the amount indicates door charge with availability of cheaper rates for some purchases. /+ indicates stated price is minimum.
Names of subscribers appear in bold, are underlined and, where applicable, include a live link to their websites. Advertisers' listings are in larger type, include live link to website and also have ad icon included in listings.
5-8> Paul O'Conner's Concord Jazz Quintet @ Gate 403, 403 Roncesvalles Ave., TO West ~Jazz
6> Acoustic Sessions with Greg Cockerill; Burke Carroll; Justin Ruppell; Anna Ruddick @ Cameron House (front), 408 Queen St. W., TO ~Roots-Pop
6-9> New Country Rehab @ Dakota Tavern, 249 Ossington Ave., TO West ~Country
6:30> Melissa Lauren Group @ The Rex, 194 Queen St. W., TO ~Jazz
*7> open mic night with Tanya Joy Senior @ Col. McGrady's Pub, 44 Brock St. W., Uxbridge
*7-11> open jam with Wayne Buttery Band @ The Beacon, 146 45th St., Wasaga Beach
*7:30-10:30> The BTBs @ Relish, 2152 Danforth Ave., TO East ~Jazz
7:30> JM Farr @ Tranzac Club (Southern Cross), 292 Brunswick Ave. TO
*8-12> Girls Night Out Jazz singers jam with Lisa Particelli, Peter Hill et al @ Chalkers, 247 Marlee Ave., TO North-West
**8> open stage with 9 p.m. feature by Bob Allen @ Fat Albert's, 25 Cecil St. (Steelworkers Hall), TO ~Roots
*8-1> open jam with Wednesday's Child feat. Johnny Bootz Hutt @ Lola, 40 Kensington Ave., TO
*8-10> The Mediterranean Stars @ Castro's, 2116 Queen St. E., TO East ~Jazz
*8-11> Fraser-Daley @ Inter Steer, 357 Roncesvalles Ave. TO West ~Roots/Blues
8-1> Three Dads @ Timothy's Pub, 344 Brown's Line, Etobicoke South ~Pop Rock
*8-2> Paul & Curtis @ Roc'n Doc's, 105 Lakeshore Rd. E., Port Credit ~Rock/Pop
8-1> Chris Martin & Eb Anderson @ Moonshine Café, 137 Kerr St., Oakville ~Rockabilly Swing-Blues; $7
*8-12> all-ages jam with The Brand New Low @ Sixth Line Pub, 1500 Sixth Line, Oakville
8-12> open mic @ Fionn MacCool's Ajax, 32 Kingston Rd. E. Ajax
*8-11> open mic @ Frank's Pasta, 426 King St. E., Cobourg
*8:30> Howard Ross hosts "Big Mojo" Blues jam with guest performer Marlene Clarke @ The Hub, 15 Simcoe St. N., Oshawa
8:30> Sue & Dwight; Michelle Rumball; Tony Laviola @ Free Times Cafe, 320 College St., TO ~Folk Song revival; $10
8:30> Janis Joplin's Birthday Bash (second show) with Jan Kudelka @ Hugh's Room, 2261 Dundas St. W., TO West ~tribute; $27.50
*8:30> Crazy Strings host High Lonesome Wednesdays with opening acoustic act @ Silver Dollar 486 Spadina Ave., TO ~Bluegrass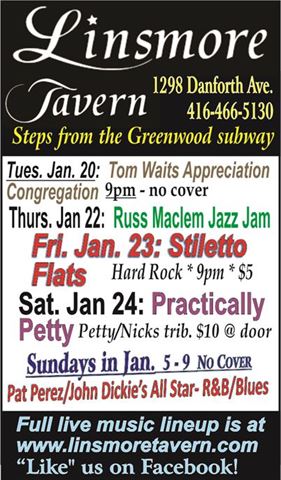 *8:30> open mic with Jenn Fiorentino @ Earl Of Whitchurch, 6204 Main St., Stouffville
*8:30> Something Country @ The Endzone, 1900 King St. E., Hamilton ~Country
*8:45> Bradley & The Bouncers @ Reservoir Lounge, 52 Wellington St. E., TO ~Jazz/Blues/R&B
9-12> Blues Night with Julian Fauth & guests @ Gate 403, 403 Roncesvalles Ave., TO West ~original Juno-winning Blues
9> NorthStar featuring Nelson Sobral & Shika Sehgal @ C'est What, 67 Front St. E., TO ~original Pop; pwyc

*9> The Phil & John Show feat. Phil Naro @ Molly Bloom's Waterloo, 170 University Ave., Waterloo ~acoustic Pop Rock
9> tba @ The Local, 396 Roncesvalles Ave., TO West
9> TWM/im; Vidyarthi; Audrey Junior; Field Days @ The Painted Lady, 218 Ossington Ave., TO West ~indie
*9> open mic with Sean Barker @ Monarch Tavern, 12 Clinton St., TO
9> Kelly McMichael & The Gloss with The Skeletons Four & The Gordon Brothers @ Dakota Tavern, 249 Ossington Ave., TO West
*9> open mic jam with Jack B Nimble @ Blarney's Gate, 1151 Dundas St. W., Mississauga
*9?> jam with Michael Zane @ Shakers, 580 Kerr St., Oakville
*9-12> jam with Damage Control @ St. Louis Bar & Grill Ajax, 11 Harwood Ave. S., Ajax
9> Bruce Gorrie @ Simcoe Blues & Jazz, 926 Simcoe St. N., Oshawa
*9-1> open mic jam with Whiskey Birds @ Sweetz Lounge, 5289 Hwy 7, Woodbridge-Vaughan
*9:30> open stage with Nicola Vaughan @ Black Swan (downstairs), 154 Danforth Ave., TO East
9:30> Buddy Aquilina Group @ The Rex, 194 Queen St. W., TO ~Jazz
*9:30-2> jam with B-Sides @ The Unicorn, 175 Eglinton Ave. E., TO North
9:30> The Carson Freeman Diversion @ Shore Grill, 71 Lakeshore Rd. E., Port Credit ~Pop Rock
10> Rucksack Willies @ Cameron House (front), 408 Queen St. W., TO
10> Josh Cole & Friends @ Tranzac Club (Southern Cross), 292 Brunswick Ave. TO
*10-2> Blues-Rock jam with Bruce Domoney @ Grossman's, 379 Spadina Ave. TO
10:30> The Undercovers @ The Hideout, 484 Queen St. W., TO ~indie Rock
*10:30> Sam Pomanti & The Flow @ Orbit Room, 580 College St. TO ~Soul; $10
Copyright © 2015 Toronto Moon Magazine. All Rights Reserved