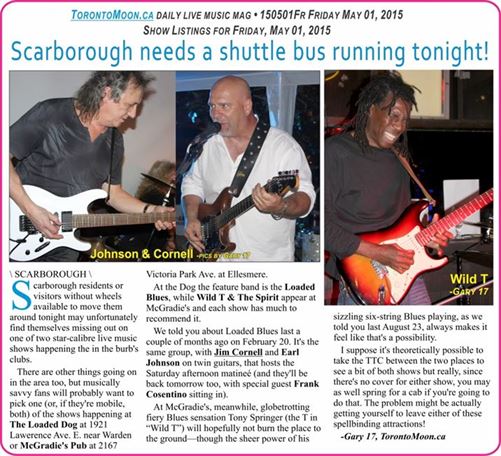 \ SCARBOROUGH \
Scarborough residents or visitors without wheels available to move them around tonight may unfortunately find themselves missing out on one of two star-calibre live music shows happening the in the burb's clubs.
There are other things going on in the area too, but musically savvy fans will probably want to pick one (or, if they're mobile, both) of the shows happening at The Loaded Dog at 1921 Lawerence Ave. E. near Warden or McGradie's Pub at 2167 Victoria Park Ave. at Ellesmere.
At the Dog the feature band is the Loaded Blues, while Wild T & The Spirit appear at McGradie's and each show has much to recommend it.
We told you about Loaded Blues last a couple of months ago on February 20. It's the same group, with Jim Cornell and Earl Johnson on twin guitars, that hosts the Saturday afternoon matineé (and they'll be back tomorrow too, with special guest Frank Cosentino sitting in).
At McGradie's, meanwhile, globetrotting fiery Blues sensation Tony Springer (the T in "Wild T") will hopefully not burn the place to the ground—though the sheer power of his sizzling six-string Blues playing, as we told you last August 23, always makes it feel like that's a possibility.
I suppose it's theoretically possible to take the TTC between the two places to see a bit of both shows but really, since there's no cover for either show, you may as well spring for a cab if you're going to do that. The problem might be actually getting yourself to leave either of these spellbinding attractions!
-Gary 17, TorontoMoon.ca
SHOW LISTINGS for Friday, May 01, 2022

:
Listings are now organized by area in which the shows occur and within each area field shows are listed chronologically.
Listings preceded by an asterisk (*) are repeating weekly events. (Double asterisk indicates repeating event with different hosts/guest/etc.). Admission prices followed by a slash and minus (/-) after the amount indicates door charge with availability of cheaper rates for some purchases. /+ indicates stated price is minimum.
Names of subscribers appear in bold, are underlined and, where applicable, include a live link to their websites. Advertisers' listings are in larger type, highlighted, include live link to website and also have ad icon included in listings.
(CMW = Canadian Music Week)
416 - Toronto Central
*3-7> acoustic jam with John Hutt @ Lola, 40 Kensington Ave., TO
*4-6> Hogtown Syncopators featuring Terra Hazelton @ The Rex, 194 Queen St. W., TO ~Jazz
*5-8> Kensington Kitchen Party with host Kevin Jollimore of Sin City Boys & guest musicians @ Graffiti's, 170 Baldwin St., TO ~Pop Rock with heart
6> David Celia @ Cameron House (front), 408 Queen St. W., TO ~indie Pop
6:30-9:30> Sandi Marie & Under The Bus also featuring Kevin Jeffrey on bass @ Grossman's, 379 Spadina Ave., TO ~Rootsy Pop/Country
6:30> Parker/Abbott Trio @ The Rex, 194 Queen St. W., TO ~Jazz
8> Patrick Brealey @ Cameron House (front), 408 Queen Street West, TO
8> Dan Warry-Smith; Jaren Binstock; Matt Ethan @ Free Times Café, 320 College St., TO
8:30> George Pliakes for 60s and 70s Music and Dance Night @ Harbour Club Lounge, 77 Harbour Square (10th floor), TO ~vintage Rock
9-1> The Dylan Tree @ Monarchs Pub in Eaton Chelsea Hotel, 33 Gerrard St. W., TO ~Bob Dylan tribute
9:30 Shawn Brady & Hervé Basset @ Irish Embassy, 49 Yonge St., TO ~Pop Rock
9:30> Taxi @ Alleycatz, 2409 Yonge St., TO North ~Funk/Soul/R&B; $10
9:45> Laura Swankey Group @ The Rex, 194 Queen St. W., TO ~Jazz
9:45> Mary McKay @ Reservoir Lounge, 52 Wellington St. E., TO ~Jazz/Blues
*10> karaoke with Randy Petrie @ Kramers, 1915 Yonge St., TO North
10> Dave Murphy Band @ Orbit Room, 480 College St. TO ~Rock/Funk/R&B
10> Kayla Howran @ Cameron House (front), 408 Queen Street West, TO ~Country
10:30> CMW, bands tba @ The Hideout, 484 Queen St. W., TO ~indie Rock
416 - Toronto East
5-7> The Straight 8s @ Castro's, 2116 Queen St. E., TO East
9> Molly Chambers @ Eton House, 710 Danforth Ave., TO East
*9:30> David Macmichael & Dean McKinnon @ Relish, 2152 Danforth Ave., TO East ~alt Pop originals and covers
9:30> nameless AC/DC tribute @ The Duke Live, 1225 Queen St. E., TO East
9:30> Jerome Tucker Band @ Linsmore Tavern, 1298 Danforth Ave., TO East ~Rock/Funk/R&B; $5
416 - Toronto West
5-8> Collette Savard Duo @ Gate 403, 403 Roncesvalles Ave., TO West ~Jazz
7:30-3 a.m.> CMW: Duncan Hood; Luca Fogale; 1977; Eli & The Strawman; Our Friends & The Spiders; Silver Creek; Redsteps @ Dakota Tavern, 249 Ossington Ave., TO West;
8:30> "Borrowed Tunes" Neil Young tribute (1st of 2 nights) with Dala; Hemingway Corner; Liam Titcomb; Brent Titcomb; John Cameron; more @ Hugh's Room, 2261 Dundas St. W., TO West ~$35/-
9> Brian Cober Band & NorthStar for Shikha Sehgal's birthday @ Tennesee, 1554 Queen St. West.
9-1> Fraser Melvin Blues Band @ Gate 403, 403 Roncesvalles Ave., TO West ~Blues
10-2> Blues Night with Ken Yoshioka Trio featuring Dave McManus @ The Hole In The Wall, 2867 Dundas St. W., TO West
416 - Etobicoke
9> Drive 3 @ Maple Leaf House, 2749 Lakeshore Boulevard East, Etobicoke ~Rock/Top 40/Blues
9:30> Parkside Drive @ Timothy's Pub, 344 Brown's Line, Etobicoke South ~Pop Rock/Top 40; $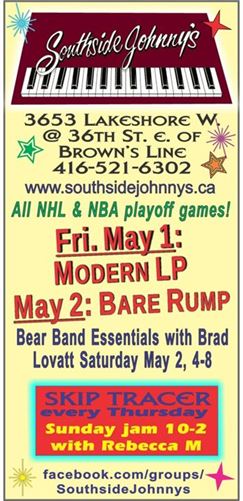 10-2> Modern LP @ Southside Johnny's, 3653 Lakeshore Blvd. W., Etobicoke South ~contemporary and classic Rock
416 – Scarborough
9> The Loaded Blues featuring Jim Cornell @ The Loaded Dog, 1921 Lawrence Ave. E., Scarborough ~Rock/Blues
9:30> Tony "Wild T" Springer & The Spirit @ McGradie's, 2167 Victoria Park Ave., Scarborough ~classic Rock/Top 40
9:30> Greg Cave @ Stone Cottage Pub, 3750 Kingston Rd., Scarborough ~Pop Rock
10> Valeriie & The Dreamcatcher featuring Tony Oldland @ The Fox at The Junction, 646 Danforth Rd., Scarborough
10> 333 @ Winners, 2181 Lawrence Ave. E., Scarborough ~Rock
705
5:30> Rick & Gailie @ Black Horse Pub, 452 George St. N., Peterborough
8:30> Terry Finn 4 Front @ Black Horse Pub, 452 George St. N., Peterborough
905 East
9> MINT featuring Amanda Rose & Anthony Cee @ The Courtyard in Pickering Home & Leisure Centre, 1755 Pickering Pkway (Highway #20), Pickering ~Rock/Pop
9-1> Jerome Godboo Band @ Simcoe Blues & Jazz, 926 Simcoe St., Oshawa ~Blues
9> Marshall Dane Band @ The Corral, 433 Simcoe St. S., Oshawa ~Country
10-2> Jack Hammer @ Whisky John's, 843 King St. W., Oshawa ~Rock
905 North
9> Twangsters @ King Richard's Pub, 15570 Yonge St., Aurora ~Pop Rock
9:30> Nine Times @ Jake's Boathouse Brampton, 59 First Gulf Rd., Brampton ~Pop Rock
9:30> Blueprint @ Oscar's Roadhouse, 1785 Queen St. E., Brampton ~Top 40/Rock
*9:30> open mic @ Big Daddy's, 460 Elgin Mills Rd., E, Richmond Hill
9:30> Tall Order @ Aw Shucks, 15230 Yonge St., Aurora ~Pop Rock
905 West
*5> Adam Ostrosser & Joel Guenther @ Carrigan Arms, 2025 Upper Middle Rd., Burlington ~Pop
8> Mike Branton live album release @ Moonshine Café, 137 Kerr St., Oakville ~Blues; $10
9> Pat Hewitt @ Blarney's Gate, 1151 Dundas St. W., Mississauga ~Rock/Pop
9:30-1> Kimberley Wetmore Band & Friends featuring Dave Girdlestone of Soul Funkshun on guitar @ Gator Ted's, 1505 Guelph Line, Burlington ~Pop Rock
9:30> Kenny V @ Shore Grill, 71 Lakeshore Rd. E., Port Credit ~Pop Rock/Top 40
9:30> Soulshaker @ Black Swan Pub Burlington, 4040 Palladium Way, Burlington ~Rock
---
Copyright © 2015 Toronto Moon Magazine. All Rights Reserved