\GTA\
Frankly I'm rather amazed at the number of clubs which regularly offer live music on Thursdays but that on New Years Day either offer no live entertainment —or don't even open at all.
While I'm sure staff at most places are somewhat bagged after an exceptionally long night accommodating those celebrating  the discarding of an old calendar and putting up a new one, surely the larger rooms, at least, have backup/alternative staff available for just such situations —these days it's hardly unusual for clubs to serve till 3 or 4 a.m., what with the various film, art and music festivals, international sporting events and a host of more specious events all managing to get extended license status for participating venues all throughout the year.
Some may assume that most patrons will also be nursing a hangover the day after the night before. But these days, also, there are plenty of people who no longer go to bars on New Year's Eve —avoiding them like there's a plague on, because in a way there is! "Amateur" drinkers who don't know their limits pack some places, hog the taxis, get rowdy on public transit or, even worse, get behind the wheel to become a menace —not to mention, it's expensive to attend a New Year's Eve show at most places. Those folks who choose a quiet night in, therefore, may well be ready to have some fun by the next evening.
At any rate, there are a few clubs still offering live shows and I happen to be part of one of them! Please note that in today's listings, because of the number of closed rooms and cancelled events, where clubs have not updated their websites or where clubs or musicians who normally have regular Thursday shows have given no indication whether or not it is on, I have deleted that listing for today.
-Gary 17, www.torontomoon.ca
SHOW LISTINGS for Thursday, January 01, 2022:
Listings preceded by an asterisk (*) are repeating weekly events. (Double asterisk indicates repeating event with different hosts/guest/etc.). Admission prices followed by a slash and minus (/-) after the amount indicates door charge with availability of cheaper rates for some purchases. /+ indicates stated price is minimum.
Names of subscribers appear in bold, are underlined and, where applicable, include a live link to their websites. Advertisers' listings are in larger type, include live link to website and also have ad icon included in listings.
4> open for drinks and sports on tv @ Linsmore Tavern, 1298 Danforth Ave., TO East
7-10> Songwriters In The Round with Nicole "Songbird" Coward, Harpin' Norm Lucien, Sharron Katz, Gary 17, Tony Newman, Colin Campbell @ Hirut, 2050 Danforth Ave., TO East ~indie acoustic; pwyc
*8-10:30> Jerry Leger & The Situation @ Castro's, 2116 Queen St. E., TO East ~Folk-Rock/Country
8-12> House Party @ Fionn MacCool's Ajax, 32 Kingston Rd. E. Ajax ~Pop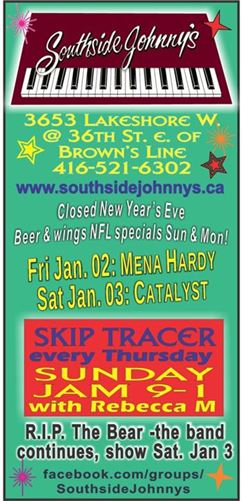 *9:30-2> Skip Tracer @ Southside Johnny's, 3653 Lakeshore Blvd., Etobicoke South ~Rock/Pop 
10> tba @ Orbit Room, 480 College St. TO ~
10> The Tonkas @ Roc'n Doc's, 105 Lakeshore Rd. E., Port Credit ~Blues-Rock
Copyright © 2015 Toronto Moon Magazine. All Rights Reserved