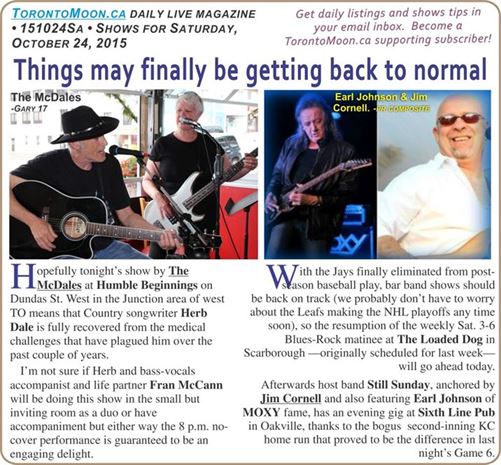 Hopefully tonight's show by The McDales at Humble Beginnings on Dundas St. West in the Junction area of west TO means that Country songwriter Herb Dale is fully recovered from the medical challenges that have plagued him over the past couple of years.
I'm not sure if Herb and bass-vocals accompanist and life partner Fran McCann will be doing this show in the small but inviting room as a duo or have accompaniment but either way the 8 p.m. no-cover performance is guaranteed to be an engaging delight.
With the Jays finally eliminated from post-season baseball play, bar band shows should be back on track (we probably don't have to worry about the Leafs making the NHL playoffs any time soon), so the resumption of the weekly Sat. 3-6 Blues-Rock matinee at The Loaded Dog in Scarborough —originally scheduled for last week— will go ahead today.
Afterwards host band Still Sunday, anchored by Jim Cornell and also featuring Earl Johnson of MOXY fame, has an evening gig at Sixth Line Pub in Oakville, thanks to the bogus second-inning KC home run that proved to be the difference in last night's Game 6.
-Gary 17, TorontoMoon.ca
SHOW LISTINGS for Saturday, October 24, 2021
Listings are organized by area in which the shows occur and within each area field shows are listed chronologically.
Listings preceded by an asterisk (*) are repeating weekly events. (Double asterisk indicates repeating event with different hosts/guest/etc.). Admission prices followed by a slash and minus (/-) after the amount indicates door charge with availability of cheaper rates for some purchases. /+ indicates stated price is minimum.
Names of subscribers appear in bold, are underlined and, where applicable, include a live link to their websites. Advertisers' listings are in larger, highlighted type, include live link to website and also have ad icon included in listings.
416 - Toronto Central
*12-3> The Sinners Choir @ The Rex, 194 Queen St. W., TO ~Jazz
*2> Dr. B's Acoustic Medicine Show open stage with Brian Gladstone @ Free Times Café, 320 College St. TO ~Roots
3> Jamzac @ Tranzac Club (Southern Cross), 292 Brunswick Ave., TO
3:30> Mississauga Big Band @ The Rex, 194 Queen St. W., TO ~Jazz
3:30> Steve Hall Quartet @ The Pilot, 22 Cumberland St., TO ~Jazz
4-7> The Sin City Boys featuring Kevin Jollimore @ Graffiti's, 170 Baldwin St. TO ~vintage Pop Rock/Tex Mex originals
4-7> Don River Blues Band @ Seven44, 744 Mount Pleasant Road, TO North ~$
*4-7> Climax Jazz Band @ Alleycatz, 2409 Yonge St., TO North ~Dixieland Jazz; $?
*4:40-7:30> The Happy Pals @ Grossman's, 379 Spadina Ave., TO ~New Orleans Jazz
*5-8> Blues & Troubles @ Déjà vu Bar, 389 College St., TO ~Blues
5> Carniflex; Within The Ruins; Black Tongue; The Last Ten Seconds of Life; more @ Sneaky Dee's, 431 College St., TO ~indie; $20
6-8> Brad Cormier @ 120 Diner, 120 Church St., TO
6> Swamperella @ Cameron House (front), 408 Queen St. W., TO ~Cajun stomp
6:30> Scott B. Sympathy @ Tranzac Club (Southern Cross), 292 Brunswick Ave., TO ~Roots-Rock
7:30> Nick Teehan Group @ The Rex, 194 Queen St. W., TO ~ Jazz
8> Arnold Faber @ Musideum, 401 Richmond St. W., #133, TO ~$20
8:30> D'Arcy Wickham & Son @ Free Times Café, 320 College St. TO ~fingerstyle Roots
9> Gudrun Welder @ May Café, 876 Dundas St. W., TO
9> Cece Pastor @ Seven44, 744 Mount Pleasant Road, TO North ~Rock/R&B
9> Lara Bidner album release @ C'est What, 67 Front St. E., TO ~$10
9> The Living Sattelites @ Cameron House (rear), 408 Queen St. W., TO
9> Alex G; Angel Dust; Give; Fiddlehead @ Horseshoe Tavern, 370 Queen St. W., TO ~Not Dead Yet Festival; $30
9> Windigo; Mamahawk Good Anya @ The Cavern Bar, 76 Church St., TO
9:30> Soular @ Alleycatz, 2409 Yonge St., TO North ~Funk/Soul/R&B; $
9:45> Humber Faculty Sextet @ The Rex, 194 Queen St. W., TO ~Jazz
*9:45> Robin Banks @ Reservoir Lounge, 52 Wellington St. E., TO ~Jazz/Blues; $
10-1> Carmen Toth (Social Potion); Jadzia Skye @ Amsterdam Bicycle Club, 54 The Esplanade, TO
10> Hot Fiyah @ Orbit Room, 480 College St. TO ~Funk/Soul; $
10> Paul Reddick @ Cameron House (front), 408 Queen St. W., TO ~Blues
10> LazerSuzan @ Tranzac Club (Southern Cross), 292 Brunswick Ave., TO
10-2> Mike McDonald Band @ Grossman's, 379 Spadina Ave., TO ~Blues-Rock
10> Hinds; Public Access TV; Goodby Honolulu @ Lee's Palace, 529 Bloor St. W., TO ~$13.50
10:30> The O'Deadlys @ Fionn MacCool's Esplanade, 70 The Esplanade
10:30> Chatty Cathy @ The Hideout, 484 Queen St. W., TO ~indie Rock
416 - Toronto East
*3:30-6> Johnny Wright @ Outriggers, 2232 Queen St. E., TO East ~R&B
*4-7:30> Ronnie Hayward Trio @ McQueen's, 993 Queen St. E., TO E. ~Blues/Roots
6-8> The Cosmotones @ Castro's, 2116 Queen St. E., TO East ~Blues/Roots
8> Michael Danckert @ The Feathers, 962 Kingston Rd., TO East ~songwriter
9> Al Woods & The Woodsmen @ Dora Keogh, 141 Danforth Ave., TO East
9:30-11:30> Cadre @ Relish, 2152 Danforth Ave., TO East ~Roots-Rock
9:30> 1977 Punk Rock Night with The Jammed; Gabba Heys; Blondee @ Linsmore Tavern, 1298 Danforth Ave., TO East ~tributes; $10
416 – Toronto Etobicoke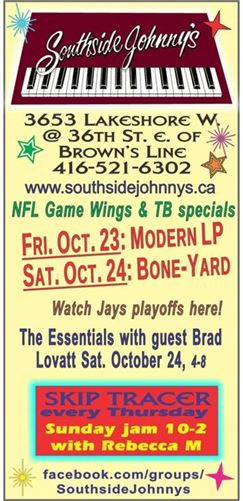 *3-6> Danny B Band @ Blue Goose, 1 Blue Goose St., Etobicoke South ~R&B/Blues
**4-8> The Bear's Essentials with guest singer Brad Lovatt @ Southside Johnny's, 3653 Lake Shore Blvd. W. Etobicoke South ~Rock-R&B
*4-8> The Meteors with guest Wendell Ferguson @ Timothy's Pub, 344 Brown's Line, Etobicoke South ~Blues/Rock/R&B
7> Rocking It Bald fundraiser for Wellspring with Cameljoe; Bare Rump; Lefty & The Goons @ The Irish Shebeen, 5555 Eglinton Ave. W., Etobicoke ~Rock
7:30> Don Vickery Trio @ Old Mill Inn, 21 Old Mill Rd., Etobicoke ~Jazz; minimum table charge
9> Nasty Habits @ Maple Leaf House, 2749 Lake Shore Boulevard West, Etobicoke ~Rock/Top 40/Blues
9:30> The Fabulous Knockouts @ Timothy's Pub, 344 Brown's Line, Etobicoke South ~Pop Rock/Top 40; $
10-2> Bone-Yard @ Southside Johnny's, 3653 Lake Shore Blvd. W. Etobicoke South ~Rock/Top 40
416 – Toronto Scarborough
*3-6> Still Sunday featuring Jim Cornell hosts invite Rock/Blues jam @ The Loaded Dog, 1921 Lawrence Ave. E., Scarborough
9> Valerie & The Dreamcatcher featuring Valerie Shearman & Tony Oldland @ Tara Inn, 2365 Kingston Rd., Scarborough ~cover & original Pop Rock
9-1> Colin Amey @ Black Dog Pub, 87 Island Rd., Scarborough ~ Country Rock
*9:30-2> karaoke with The English Rose & The Mad Scotsman @ Winners, 2181 Lawrence Ave. E., Scarborough
9:30> Loading Zone @ Stone Cottage Pub, 3750 Kingston Rd., Scarborough ~Pop Rock
416 - Toronto West
*12-3> Julian Fauth's Blues Brunch @ Axis, 3048 Dundas St. W., TO West ~Blues
**2-6> open mic with guest host Steve Raiken @ Magic Oven, 347 Keele St., TO West
**5-8> Bill Heffernan's Saturday Sessions with featured guest Michelle Rumball @ Gate 403, 403 Roncesvalles Ave. TO West ~Roots/Country/Pop
5-8> Sean Conway @ The Local, 396 Roncesvalles Ave., TO West ~original Country-Roots/Rockabilly
7-9> Hudson Station @ Dakota Tavern, 249 Ossington Ave., TO West ~free
8-10> The McDales featuring Herb Dale @ Humble Beginnings, 3109 Dundas St. W., TO West ~original & covers Country
8> Downward Funk @ The Painted Lady, 218 Ossington Ave., TO West
8:30> Maria Doyle Kennedy with Kieran Kennedy @ Hugh's Room, 2261 Dundas St. W., TO West ~Irish Roots-Rock ~$27.50
9-1> Brownman Akoustic Trio @ Gate 403, 403 Roncesvalles Ave., TO West ~ Jazz
9> Tim Bradford Band @ The Local, 396 Roncesvalles Ave., TO West ~Country/Roots
9:30> Bradley & The Bouncers @ Fat City Blues, 890 College St., TO West ~Jazz Rock/Blues
10-2> The Mercenaries @ Dakota Tavern, 249 Ossington Ave., TO West ~50s Soul Revival Rock
519
3-6> Screamin' Evil Blues Band @ Brando's Beach House, 135 Market St., Brantford ~rockin' Blues
9> Neil Murray @ Fionn MacCool's Kitchener, 4287 King St. E., Kitchener
9> Vinyl Sons @ Fionn MacCool's Guelph, 494 Ediburgh Rd. S., Guelph
9:30> The Happy Wanderers @ Fionn MacCool's Orangeville, 75 Fourth Ave., Orangeville
705
5> Robert Atyo @ Black Horse Pub, 452 George St. N., Peterborough
8> Super Funk Band of Awesome @ The Spill, 414 George St., Peterborough
8:30> Bobby Taylor Band @ Black Horse Pub, 452 George St. N., Peterborough
9:30> Susie Grooves & Co. @ Beaverton Motel Sports Bar, 510 Osborne St., Beaverton ~Rock/Top 40
9:30> Kid; Beaches @ Red Dog Tavern, 189 Hunter St. W., Peterborough
8> Charlie & Em; Glasspool @ The Garnet, 231 Hunter St. W., Peterborough
905 East
*9-1> karaoke with Rob MacArthur @ Tudor Rose, 700 Harwood Ave. S., Ajax
9> Ray Darren @ The Corral, 433 Simcoe St. S., Oshawa ~Country
9-1> Susan Latimer @ Simcoe Blues & Jazz, 926 Simcoe St. N., Oshawa ~Roots
9> Room 237 @ The Moustache Club, 15 Simcoe St. N., Oshawa
9:30> Taxi @ The Edge, 250 Bayly St., Ajax ~Rock/Funk/R&B
10> Rock Hard Classics @ West Shore, 877 Bayly St., Pickering ~classic Rock
10-2> Tamin' Thunder @ Fionn MacCool's Ajax, 36 Kingston Rd. E., Ajax ~Rock/R&B/Dance
10-2> Aerosal X @ Whisky John's, 843 King St. W., Oshawa
905 North
9> The Shiny Things @ Fionn MacCool's Newmarket, 17315 Leslie St., Newmarket
9> Side B Vibe @ Brooks Sports Bar, 12774 Highway 50, Bolton
9> Glenn Marais Band @ King Richard's Pub, 15570 Yonge St., Aurora ~Pop Rock
9:30> Midnight Jewel featuring Brian Potts on bass @ Aw Shucks, 15230 Yonge St., Aurora ~Pop Rock
9:30> Front Cover Band @ Stewart Maguire's Landing, 15 Allan Rd., Bolton
9:30> Itchy & Scratchy @ Jake's Boathouse Brampton, 59 First Gulf Rd., Brampton ~Pop Rock
*11> DJ Ozne (Enzo Simone) @ Britannia Pub, 7359 Yonge St., Thornhill
905 South
*2-6> jam w. Tom Finocchio @ Sam's Place, Barton-Chestnut Sts., Hamilton
**2:30> special guest with The Mighty Duck Band, The Duck, 244 Ontario St., St. Catharines ~R&B/Blues
9> Ric Taylor's Masquerade Party @ This Ain't Hollywood, 345 James St. N., Hamilton
9> Teenage Head; Delusions of Grandeur; Detour @ Casbah Lounge, 306 King St. W., Hamilton ~Punk; $20
**9> Niagara Rhythm Section @ The Old Winery, 2228 Niagara Stone Rd., Niagara-On-The-Lake ~R&B/Blues
9:30> Minus Everything @ Corktown Pub, 175 Young St., Hamilton ~indie; $
10> 351 Cleveland @ Doc Magilligan's Irish Pub, 6400 Lundy's Lane, Niagara Falls
905 West
**2-6> Sil Simone Band with special guests Dave Girdlestone of Soul Funkshun & Suzanne O Piano @ Carrigan Arms, 2025 Upper Middle Rd., Burlington ~Rock/Blues
**2-6> Saturday Blues Sermon with James Anthony & special guest Rob Reed @ Black Swan Pub Burlington, 4040 Palladium Way, Burlington ~Blues
*3-7> jam with Michelle Deneault & Redder @ Port Credit Legion, 35 Front St., Port Credit
*3-7> open stage jam @ Moonshine Café, 137 Kerr St., Oakville; $2
*6-9> Victoria & Bobby Keys @ Roc'n Doc's, 105 Lakeshore Rd. E., Port Credit ~soft Pop
9> The Doozies @ Fionn MacCool's Oakville, 350 Dundas St. E., Oakville
9> The Steppers @ Fionn MacCool's Burlington, 2331 Appleby Line, Burlington
9:30> Still Sunday featuring Jim Cornell @ Sixth Line Pub, 1500 Sixth Line, Oakville ~Rock/Blues/R&B
9:30> Kenny V @ Shore Grill, 71 Lakeshore Rd. E., Port Credit ~Pop Rock/Top 40
9:30> Souled Out @ The Franklin House, 263 Queen St. S., Streetsville ~Pop Rock
9:30> Tim Park Trio @ Gator Ted's, 1505 Guelph Line, Burlington
9:30> Fleetwood Mix @ Boston Manor, 4460 Fairview Ave., Burlington ~Fleetwood Mac tribute; $
10-2> Smoke In The Cockpit @ Roc'n Doc's, 105 Lakeshore Rd. E., Port Credit ~Rock/Top 40; $
10:15> 17th anniversary party @ Failte, 201 City Centre Dr., Mississauga
Copyright © 2015 Toronto Moon Magazine. All Rights Reserved