Roots songwriter Bill Heffernan is the host of the weekly 5-9 showcase at Gate 403 in West TO but this afternoon prior to that engagement he'll be one of several talents appearing at the monthly 1:30-4:30 p.m. Words & Music salon at Vino Rosso on Avenue Rd. downtown.
Rock/Blues guitarist and jam host Jim Cornell [with guitar at left] has two shows in Scarborough today. This afternoon his Still Sunday band welcomes Tony "Wild T" Springer as special guest at their 3-6 weekly event at The Loaded Dog then the group is featured from 9:30 at the Stone Cottage Pub on Kingston Rd. Further east on the same street singer Tommy Rocker [right in pic] and his band host a weekly Saturday night jam at Centro Pizza.
Members of Soul Funkshun are likely to become teary-eyed at some point in tonight's return to Boston Manor in Burlington, where they did the New Year's Eve show to start 2016. Since then they've lost their tenor sax player Mike Sartor, who last week passed away after a six-month battle with pancreatic cancer. Group guitarist Dave Girdlestone said he'll be missed as much for his warm personality as for his superb musical skills.
SHOW LISTINGS for Saturday, February 06, 2022
Listings are organized by area in which the shows occur and within each area field shows are listed chronologically.
Listings preceded by an asterisk (*) are repeating weekly events. (Double asterisk indicates repeating event with different hosts/guest/etc.). Events preceded by question mark (?) usually take place but have not been confirmed. Admission prices followed by a slash and minus (/-) after the amount indicates door charge with availability of cheaper rates for some purchases. /+ indicates stated price is minimum.
Names of subscribers appear in bold, are underlined and, where applicable, include a live link to their websites. Advertisers' listings are in larger, highlighted type, include live link to website and also have ad icon included in listings.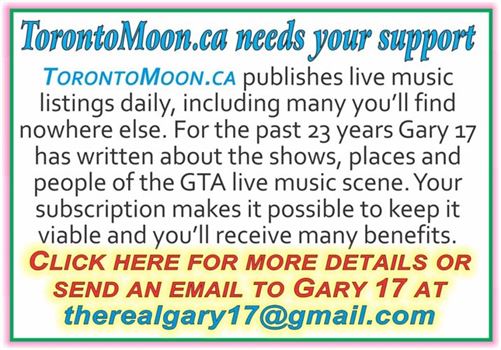 416 - Toronto Central
*12-3> The Sinners Choir @ The Rex, 194 Queen St. W., TO ~Jazz; $
1:30-4:30 1st Saturday> Words & Music with hosts Linda Stitt + guests Bill Heffernan; Philomene Hoffman; Norm Cristofoli; Glen Hornblast @ Vino Rosso, 995 Bay St. TO ~eclectic original mix
*2> Dr. B's Acoustic Medicine Show open stage with Brian Gladstone @ Free Times Café, 320 College St. TO ~Roots
3> The Boxcar Boys @ C'est What, 67 Front St. E., TO ~old-time; $5
3> Jamzac @ Tranzac Club (Southern Cross), 292 Brunswick Ave., TO
3:30> Composers Collective @ The Rex, 194 Queen St. W., TO ~Jazz; $
3:30> Norman Marshall Villeneuve @ The Pilot, 22 Cumberland St., TO ~Jazz
4> Sin City Boys featuring Kevin Jollimore @ Graffiti's, 170 Baldwin St., TO ~vintage Rock/Tex Mex originals
4-7> One King @ Seven44, 744 Mount Pleasant Road, TO North ~vintage Pop; $
*4:40-7:30> The Happy Pals @ Grossman's, 379 Spadina Ave., TO ~New Orleans Jazz
*5-8> Blues & Troubles @ Déjà vu Bar, 389 College St., TO ~Blues
6-8> Natasha Buckeridge @ 120 Diner, 120 Church St., TO ~Jazz; $10/pwyc
*6-8> Eli Pasic @ Jazz Bistro, 251 Victoria St., TO ~solo Blues piano
6> Rattlesnake Choir @ Cameron House (front), 408 Queen St. W., TO ~ROckabilly
7> Nags Players present "Alice In Wonderland" @ Tranzac Club (Main Hall), 292 Brunswick Ave., TO ~theatrical
7:30> Abigail Lapell and friends @ Tranzac Club (Southern Cross), 292 Brunswick Ave., TO
7:30> Nick Teehan Group @ The Rex, 194 Queen St. W., TO ~ Jazz; $
8> Gene on Jean @ Cameron House (front), 408 Queen St. W., TO
8> Jaguar; Vince Strand @ Free Times Café, 320 College St. TO
8:30> House of David Gang & friends @ Lee's Palace, 529 Bloor St. W., TO ~Bob Marley tribute; $
8:30> Ben Sures; Kat Goldman @ C'est What, 67 Front St. E., TO ~songwriters ~$
9> Jason Wilson Reggae-Jazz Quartet feat. Brownman Ali @ May Café, 876 Dundas St. W., TO ~Bob Marley tribute; $
9> The Milkman and the 2% @ Dominion Pub, 500 Queen St. E., TO ~cover Pop Rock
9> Pontune 5 @ Seven44, 744 Mount Pleasant Road, TO North ~$
9> The Clearing @ Drums N Flats, 1980 Avenue Rd., TO North
9> Adam Smale @ Jazz Bistro, 251 Victoria St., TO ~Jazz; $
9> Joel Battle; Amber; Brodie Dakin @ Cameron House (rear), 408 Queen St. W., TO
9> Megan Lane with guest tba @ Monarch Tavern, 12 Clinton St., TO ~lumberjane Roots-Rock
9> ill Scarlett; Darenots @ Horseshoe Tavern, 370 Queen St. W., TO ~indie; $20
9> Steady Hustle @ The Cavern Bar, 76 Church St., TO
9:30-12:30> The Kelvinators @ 120 Diner, 120 Church St., TO ~Jazz; $15
9:30> Soular @ Alleycatz, 2409 Yonge St., TO North ~Funk/Soul/R&B; $10
9:45> Jacey Falk Quartet @ The Rex, 194 Queen St. W., TO ~Jazz; $
*9:45> Tyler Yarema & His Rhythm @ Reservoir Lounge, 52 Wellington St. E., TO ~Jazz/Blues; $
10> Ride The Tiger @ Orbit Room, 480 College St. TO ~Funk/Soul; $
10> QuiQui Escamilla @ Cameron House (front), 408 Queen St. W., TO ~Latin
10> Fools Paradise @ Scruffy Murphy's, 150 Eglinton Ave. E., TO North ~Rock/Top 40
10> Colin Fisher & guests @ Tranzac Club (Southern Cross), 292 Brunswick Ave., TO
10-2> The Fullertons with Neil Chapman @ Grossman's, 379 Spadina Ave., TO ~Blues
10:30> Wasted Measures @ Fionn MacCool's Esplanade, 70 The Esplanade ~Pop Rock
10:30> Side B Vibe @ Rose & Crown, 2335 Yonge St., TO North ~Rock/Pop
10:30> Frank Ryan @ The Hideout, 484 Queen St. W., TO ~indie Rock
416 - Toronto East
3-7> The Grown Men @ Salty Dog Bar & Grill, 1980 Queen St. E., TO East ~vintage Pop Rock
*3:30-6> Johnny Wright @ Outriggers, 2232 Queen St. E., TO East ~R&B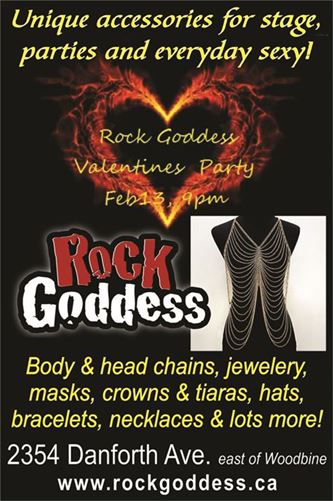 *4-7:30> Ronnie Hayward Trio @ McQueen's, 993 Queen St. E., TO E. ~Blues/Roots
6-9> Fergus Hambleton & Don Stevenson @ Relish, 2152 Danforth Ave., TO East ~Jazz/Rock/Roots
6-8> Thelonius Hank @ Castro's, 2116 Queen St. E., TO East ~Country
7> The Sheepdogs @ The Danforth Music Hall, 147 Danforth Ave., TO East ~$45.50+
8> Mudpunch @ The Only Café, 972 Danforth Ave., TO East ~Blues Rock duo
9-12> Lucas Stagg @ The Feathers, 962 Kingston Rd., TO East ~roots-Rock songwriter
9> Don Valley Outlaws @ Old Nick, 123 Danforth Ave., TO East ~Country/Rockabilly
9> Grace @ The Eton House, 710 Danforth Ave., TO East ~Rock/Pop
9:30-11:30> Jennifer Foster @ Relish, 2152 Danforth Ave., TO East ~
9:30> The Neil Young'uns @ Linsmore Tavern, 1298 Danforth Ave., TO East ~Neil Young tribute; $10
416 – Toronto Etobicoke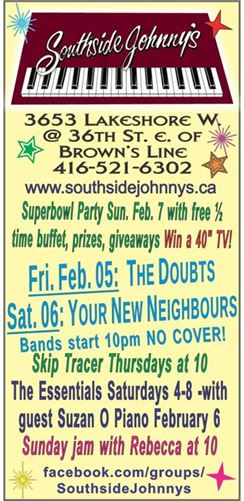 *3-6> Danny B Band @ Blue Goose, 1 Blue Goose St., Etobicoke South ~R&B/Blues
**4-8> The Essentials with guest singer Suzan O Piano @ Southside Johnny's, 3653 Lake Shore Blvd. W. Etobicoke South ~Rock-R&B
*4-8> The Meteors with guest Michael Danckert @ Timothy's Pub, 344 Brown's Line, Etobicoke South ~Blues/Rock/R&B
7:30> Artie Roth Trio @ Old Mill Inn, 21 Old Mill Rd., Etobicoke ~Jazz; minimum table charge
8> Madchild @ The Rockpile, 5555 Dundas St. W., Etobicoke ~$
9> Donnie Meeker @ Blue Goose Tavern, 1 Blue Goose Rd., Etobicoke South ~Pop Rock
9> Nasty Habbits @ Maple Leaf House, 2749 Lake Shore Boulevard West, Etobicoke ~Rock/Top 40/Blues
9:30> Community Soul Project @ Timothy's Pub, 344 Brown's Line, Etobicoke South ~Pop Rock/Top 40; $
9:30> Soda Blue @ Refinery Public House, 3039 Lake Shore Blvd. W., Etobicoke ~Pop Rock
10-2> Your New Neighbours @ Southside Johnny's, 3653 Lake Shore Blvd. W. Etobicoke South ~Rock/Top 40
416 – Toronto Scarborough
*3-6> Still Sunday featuring Jim Cornell hosts invite Rock/Blues jam with special guest Tony Springer @ The Loaded Dog, 1921 Lawrence Ave. E., Scarborough
9-1> The Pedlers @ Black Dog Pub, 87 Island Rd., Scarborough ~ Pop Rock
9:30> Still Sunday featuring Jim Cornell @ Stone Cottage Pub, 3750 Kingston Rd., Scarborough ~Rock/Blues
9:30> Rock jam with Tommy Rocker Band @ Centro Pizza, 3406 Kingston Rd., Scarborough
*9:30-2> karaoke with The English Rose & The Mad Scotsman @ Winners, 2181 Lawrence Ave. E., Scarborough
9:30> EZ Rock @ Kornerstones, 1601 Birchmount Ave., Scarborough ~Rock/Top 40
416 - Toronto West

*12-3> Julian Fauth's Blues Brunch @ Axis, 3048 Dundas St. W., TO West ~Blues
**2-6> open mic with guest host Robert Cooney @ Magic Oven, 347 Keele St., TO West
**5-8> Bill Heffernan's Saturday Sessions with featured guest Graham Howes Trio @ Gate 403, 403 Roncesvalles Ave. TO West ~Roots/Country/Pop
5-8> Chris Culgin @ The Local, 396 Roncesvalles Ave., TO West ~alt Country
7> Kayt Lucas Band with opening sets by Loren Hicks, Jennifer Noble, Gus Apostolos @ Magic Oven, 347 Keele St., TO West ~original Roots-Pop; pwyc
8-10> Heidi Lange @ Humble Beginnings, 3109 Dundas St. W., TO West ~Jazz
8:30> Elizabeth Shepherd with Kevin Breit @ Hugh's Room, 2261 Dundas St. W., TO West ~Soul-Jazz; $32.50
8:30> Never No More! @ Burdock, 1184 Bloor St. W., TO West ~world Jazz/Greek improve; $10
9-1> Danny Marks & Alec Fraser @ Gate 403, 403 Roncesvalles Ave., TO West ~ Jazz/Blues
9> Jack Marks's Lost Wages @ The Local, 396 Roncesvalles Ave., TO West ~Roots-Rock
9:30> Pudding Band @ Fat City Blues, 890 College St., TO West ~Blues
9:30> Southbound Soul @ Brazen Head Pub, 165 East Liberty St., TO West ~Pop Rock
10-2> Big Tobacco & The Pickers featuring Anne Werbitsky on pedal steel @ Dakota Tavern, 249 Ossington Ave., TO West ~original Country; $10
10:30> Conjuto Lacalu @ Lula Lounge, 1585 Dundas St. W., TO West ~Salsa; $15
519
3-6> The Conor Gains Band @ Brando's Beach House, 135 Market St., Brantford ~Blues
8> Turk & The Hobbits @ Fionn MacCool's Kitchener, 4287 King St. E., Kitchener ~Pop
9> Descendants of Dunn @ Fionn MacCool's Guelph, 494 Ediburgh Rd. S., Guelph ~Pop
705
5> Rick & Gailie @ Black Horse Pub, 452 George St. N., Peterborough
8:30> House Brand @ Black Horse Pub, 452 George St. N., Peterborough
9:30> Paul James Band @ Sticky Fingers Dunlop, 150 Dunlop St. W., Barrie ~Blues/Rockabilly; $5
10> Flannel Boom Jack; Stacey Green Jumps @ The Garnet, 231 Hunter St. W., Peterborough
905 East
*3-5> The Quartet @ Tartan Tavern, 555 Rossland Rd. E., Oshawa ~Pop Rock
*4> PRJ @ Simcoe Blues & Jazz, 926 Simcoe St., Oshawa ~Blues
8> Hell N Back featuring James Alcock @ Frank's Pasta, 426 King St. E., Cobourg ~AC/DC tribute
*9-1> karaoke with Rob MacArthur @ Tudor Rose, 700 Harwood Ave. S., Ajax
9> Renegade Riders @ The Corral, 433 Simcoe St. S., Oshawa ~Country
9:30> Howard Ross & Full Count Blues Band @ West Shore, 877 Bayly St., Pickering ~Blues
9:30> Bone-Yard @ The Edge, 250 Bayly St., Ajax ~Rock
10> Deuce @ Tartan Tavern, 555 Rossland Rd. E., Oshawa ~Pop Rock
10-2> Cece Pastor & Word Of Mouth @ Fionn MacCool's Ajax, 36 Kingston Rd. E., Ajax ~Pop Rock
905 North
6-9> Dinner Jazz @ Lake Simcoe Arms, 21089 Dalton Rd., Jackson's Point ~Jazz
8:30> Soroja @ Lake Simcoe Arms, 21089 Dalton Rd., Jackson's Point ~Blues
9-1> Outshine @ Oscar's Roadhouse, 1785 Queen St. E., Brampton ~Pop Rock/Top 40
9> Of Gentlemen and Cowards @ Fionn MacCool's Newmarket, 17315 Leslie St., Newmarket ~Pop
9:30> Marc Joseph Band @ Jake's Boathouse Brampton, 59 First Gulf Rd., Brampton ~Pop Rock
9:30> Pop Machine @ Aw Shucks, 15230 Yonge St., Aurora ~Pop Rock
10> Fat Cat Jamboree @ C.J. Barley's, 213 The Queensway, Keswick ~Rock/R&B
*11> DJ Ozne (Enzo Simone) @ Britannia Pub, 7359 Yonge St., Thornhill
905 South
**2> Brant Parker Band with guest Cheryl Lescom @ Donnelley's Pub, 54 Front St., Thorold ~Blues
*2-6> jam w. Tom Finocchio @ Sam's Place, Barton-Chestnut Sts., Hamilton
**2:30> special guests John Finley & Lance Anderson for Mardi Gras show with The Mighty Duck Band, @ The Golden Pheasant, 244 Ontario St., St. Catharines ~New Orleans Blues tribute
**2:30> Blues Matinée @ Coach & Lantern (upstairs), 384 Wilson St E., Hamilton ~Blues
9> The Dukes @ Coach & Lantern, 384 Wilson St E., Hamilton ~Blues
9> Sarah Beatty; Shari & Johnny; Mississippi Bends; Matty Simpson @ This Ain't Hollywood, 345 James St. N., Hamilton ~$10
9> Risky Business @ Casbah Lounge, 306 King St. W., Hamilton ~80s tribute; no cover
**9> Niagara Rhythm Section @ The Old Winery, 2228 Niagara Stone Rd., Niagara-On-The-Lake ~R&B/Blues
9:30> Minus Everything & guests @ Corktown Pub, 175 Young St., Hamilton
10> Fear The Worst @ Doc Magilligan's Irish Pub, 6400 Lundy's Lane, Niagara Falls
905 West
**2-6> Sil Simone Band with special guest Sabrina Weeks @ Carrigan Arms, 2025 Upper Middle Rd., Burlington ~Rock/Blues
**2-6> Saturday Blues Sermon with James Anthony & special guest Jeanine Mackie @ Black Swan Pub Burlington, 4040
Palladium Way, Burlington ~Blues
*3-7> jam with Michelle Deneault & Redder @ Port Credit Legion, 35 Front St., Port Credit
*3-7> open stage jam @ Moonshine Café, 137 Kerr St., Oakville; $2
*4-8> Gail Gunnis & The Dirty Roosters @ Roc'n Doc's, 105 Lakeshore Rd. E., Port Credit ~Blues
8> Elana Harte; M.J. Mazur @ American House, 324 Dundas St. E., Waterdown ~songwriters; no cover
8-12> Mike Branton Band @ Moonshine Café, 137 Kerr St., Oakville ~Blues; $10
9> Mardi Gras show with Kevin Phillips & The Stew @ Mulligan's, 2428 Dundas St. W., Mississauga ~New Orleans Blues/R&B
9> Fire When Ready @ Fionn MacCool's Burlington, 2331 Appleby Line, Burlington ~Pop
9> Tom Anthony & The Dealbreakers @ Carrigan Arms, 2025 Upper Middle Rd., Burlington
9:30> Soul Funkshun featuring Dave Girdlestone @ Boston Manor, 4460 Fairview Ave., Burlington
9:30> Groove Hammer @ Sixth Line Pub, 1500 Sixth Line, Oakville ~Rock/Blues
9:30> Tom Barlow Band @ Shore Grill, 71 Lakeshore Rd. E., Port Credit ~Pop Rock/Top 40
9:30> Tianna Woods @ The Franklin House, 263 Queen St. S., Streetsville ~Pop Rock
9:30> Cocktail Rock @ Gator Ted's, 1505 Guelph Line, Burlington
10-2> Sonny Boy Mick @ Roc'n Doc's, 105 Lakeshore Rd. E., Port Credit ~Rock/Top 40; $
10:15> The Doubts @ Failte, 201 City Centre Dr., Mississauga ~Rock/Pop
Copyright © 2016 Toronto Moon Magazine. All Rights Reserved