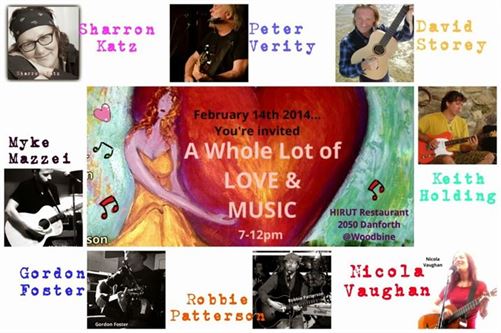 While the lion's share of media attention may have gone to this weekend's Winterfolk Blues & Roots Festival, which kicks off in rooms on Danforth Ave. near Broadview on Fri. Feb. 14, that gathering isn't the only quality Roots-based multi-artist event taking place on Danforth Ave. that night.
Enterprising artist and songwriter Sharron Katz, who's a regular at a Sunday open stage at cozy Hirut Restaurant on the strip near Woodbine Ave., is also putting on a show featuring at least eight talents and that has some unique features and a very special appeal of its own.
A Whole Lot Of Love & Music will take place on the very nicely appointed stage in the restaurant at 2050 Danforth Ave. from 7 through midnight. In addition to Katz's own talents it will also feature others you'd expect to find on a Winterfolk stage, such as award-winning Folk songwriter Peter Verity and delightful balladeer David Storey.
Others on the bill include Nicola Vaughan (who hosts the room's Sunday afternoon open stage and will also be running one at Winterfolk the following day) Mike Mazzei (who often also backs Katz for her performances) as well as Robbie Patterson, Keith Holding and Gordon Foster.
There's no mention of a cover charge so you'll have dough to spend on some of the restaurant's superb Ethiopian dishes or on picking up copies of albums that Katz, Storey and Verity have all released and possibly even one of Katz's delightful art works, some of which are bound to be on display for the show as well. -Gary 17