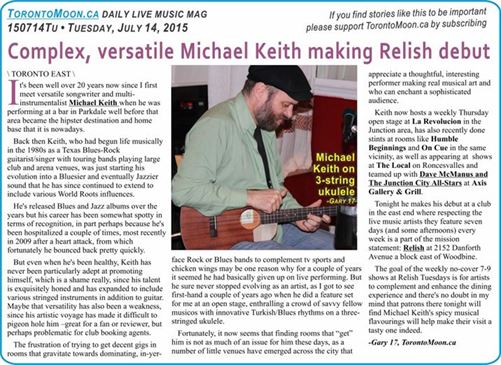 \ TORONTO EAST \
It's been well over 20 years now since I first meet versatile songwriter and multi-instrumentalist Michael Keith when he was performing at a bar in Parkdale well before that area became the hipster destination and home base that it is nowadays.
Back then Keith, who had begun life musically in the 1980s as a Texas Blues-Rock guitarist/singer with touring bands playing large club and arena venues, was just starting his evolution into a Bluesier and eventually Jazzier sound that he has since continued to extend to include various World Roots influences.
He's released Blues and Jazz albums over the years but his career has been somewhat spotty in terms of recognition, in part perhaps because he's been hospitalized a couple of times, most recently in 2009 after a heart attack, from which fortunately he bounced back pretty quickly.
But even when he's been healthy, Keith has never been particularly adept at promoting himself, which is a shame really, since his talent is exquisitely honed and has expanded to include various stringed instruments in addition to guitar. Maybe that versatility has also been a weakness, since his artistic voyage has made it difficult to pigeon hole him –great for a fan or reviewer, but perhaps problematic for club booking agents.
The frustration of trying to get decent gigs in rooms that gravitate towards dominating, in-yer-face Rock or Blues bands to complement tv sports and chicken wings may be one reason why for a couple of years it seemed he had basically given up on live performing. But he sure never stopped evolving as an artist, as I got to see first-hand a couple of years ago when he did a feature set for me at an open stage, enthralling a crowd of savvy fellow musicos with innovative Turkish/Blues rhythms on a three-stringed ukulele.
Fortunately, it now seems that finding rooms that "get" him is not as much of an issue for him these days, as a number of little venues have emerged across the city that appreciate a thoughtful, interesting performer making real musical art and who can enchant a sophisticated audience.
Keith now hosts a weekly Thursday open stage at La Revolucion in the Junction area, has also recently done stints at rooms like Humble Beginnings and On Cue in the same vicinity, as well as appearing at  shows at The Local on Roncesvalles and teamed up with Dave McManus and The Junction City All-Stars at Axis Gallery & Grill.
Tonight he makes his debut at a club in the east end where respecting the live music artists they feature seven days (and some afternoons) every week is a part of the mission statement: Relish at 2152 Danforth Avenue a block east of Woodbine.
The goal of the weekly no-cover 7-9 shows at Relish Tuesdays is for artists to complement and enhance the dining experience and there's no doubt in my mind that patrons there tonight will find Michael Keith's spicy musical flavourings will help make their visit a tasty one indeed.
-Gary 17, TorontoMoon.ca
SHOW LISTINGS for Tuesday, July 14, 2021
Listings are organized by area in which the shows occur and within each area field shows are listed chronologically.
Listings preceded by an asterisk (*) are repeating weekly events. (Double asterisk indicates repeating event with different hosts/guest/etc.). Admission prices followed by a slash and minus (/-) after the amount indicates door charge with availability of cheaper rates for some purchases. /+ indicates stated price is minimum.
Names of subscribers appear in bold, are underlined and, where applicable, include a live link to their websites. Advertisers' listings are in larger highlighted type, include live link to website and also have ad icon included in listings.
416 – Toronto Central
6> Melanie Brulée @ Cameron House (front), 408 Queen St. W., TO ~Jazz
6:30> Jim Gelcer Group @ The Rex, 194 Queen St. W., TO ~Jazz
*7> open mic @ The Central, 603 Markham St., TO
7:30> Aurochs @ Tranzac Club (Southern Cross), 292 Brunswick St., TO ~Jazz
*8:45> Tyler Yarema & His Rhythm @ Reservoir Lounge, 52 Wellington St. E., TO ~Jazz/Blues
9> House Art Collective; Small Town Lungs; Komorebi @ Rivoli, 334 Queen St. W., TO; $8
9> Total Runout; Sad Boys Glee Club; Rey Pila; The Folk @ Horseshoe Tavern, 370 Queen St. W., TO ~indie
9:30> Django Gypsy Jam @ Grossman's, 379 Spadina Ave., TO
9:30> Jazz jam with host Chris Gale @ The Rex, 194 Queen St. W., TO
*10-2> The Sattalites @ Orbit Room, 580 College St., TO ~orig. & cover Reggae/Funk
10> Bedroom @ Tranzac Club (Southern Cross), 292 Brunswick St., TO ~Jazz
10> Friendly Rich @ Cameron House (front), 408 Queen St. W., TO
10:30> The World Is Yours Unplugged @ The Hideout, 484 Queen St. W., TO ~indie Rock
416 – Toronto East
*6-9> Julian Fauth solo @ Sauce, 1376 Danforth Ave., TO East ~original Blues piano
7-9> Michael Keith @ Relish, 2152 Danforth Ave., TO East ~songwriter
8> FingerStyleGuitar.ca open stage @ Hirut, 2050 Danforth Ave., TO East ~Roots
8:30-10:30> Carolos Lopes @ Castro's, 2116 Queen St. E., TO East
9> open mic @ Groove Bar, 1952 Danforth Ave., TO East
*9:30> Peter Verity @ Black Swan, 154 Danforth Ave., TO East ~Folk Roots
*9:30-12> open stage hosted by Jennifer Brewer @ The Old Nick, 123 Danforth Ave., TO East
416 – Toronto West
5-8> Sarah Kennedy & Matt Pines Duo @ Gate 403, 403 Roncesvalles Ave., TO West ~Jazz
6-9> Ariana Gillis; Steve Strongman @ Dakota Tavern, 249 Ossington Ave., TO West ~Roots/Blues songwriters; $
9> Mercy Flight feat. Steve York; Big Horn Sheep for Indie Tuesdays @ The Piston, 937 Bloor St. W., TO West ~indie; pwyc
9> Orit Shimoni @ The Local, 396 Roncesvalles Ave., TO West ~Jazz/Folk
9> Nick Arseneau Quartet @ Gate 403, 403 Roncesvalles Ave., TO West ~Jazz
**9> aBabe Music presents Mattie Leon; Monique Barry; Jacquelyn Tober & The Rose County Ramblers; Kylo @ The Painted Lady, 218 Ossington Ave., TO West ~indie showcase; $5
*9:30> jam with Derek Downham @ Axis, 3048 Dundas St. W., TO West ~eclectic
416 – Scarborough
*9:30> karaoke with The English Rose & The Mad Scotsman @ The Fossil & Haggis, 790 Military Trail, Scarborough
705
7> Kerry Jayne @ Black Horse Pub, 452 George St. N., Peterborough
8/9/10> Kappa Chow; Severed Feathers; Beef Boys @ The Garnet, 231 Hunter St. W., Peterborough
905 East
*6:30-11> The Woodshed jam with Don Niblett & Frank Zochodne @ Simcoe Blues & Jazz, 926 Simcoe St. N., Oshawa
9> Ray Darren @ The Corral, 433 Simcoe St. S., Oshawa ~Country Rock
*10> open mic with Josh Beaven @ The Atria, 59 King St. E., Oshawa
905 North
*8-11> jam with Matthew Kane & The Brews Brothers @ The Crown, 9580 Yonge St., Richmond Hill
*8:30> open mic @ Falcon & Firkin, 10300 Yonge St., Richmond Hill
*9> open mic with Manny D, Andy Earle & Dave Breckels @ Big Chris BBQ, 17380 Yonge St., Newmarket
905 South
*8-11> Michael Keys & Friends @ The Ale House, 802 Upper Gage Ave., Hamilton ~Pop/Jazz
*9:30-1> Traditional Irish jam @ Corktown Pub, 175 Young St., Hamilton
905 West
*8> The Phil & John Show feat. Phil Naro @ Shore Grill, 71 Lakeshore Rd. E., Port Credit ~acoustic Pop Rock
*8-12> Marshall Dane Trio @ Roc'n Doc's, 105 Lakeshore Rd. E., Port Credit ~New Country/Pop
*8> open stage with host Neil MacNaughton @ Moonshine Café, 137 Kerr St., Oakville; $2
*8:45> open mic with Matt Zadkovich @ Culchain's Irish Pub, 158 Queen St. S., Streetsville-Mississauga
*10> open mic @ The Dickens, 423 Elizabeth St., Burlington
Copyright © 2015 Toronto Moon Magazine. All Rights Reserved