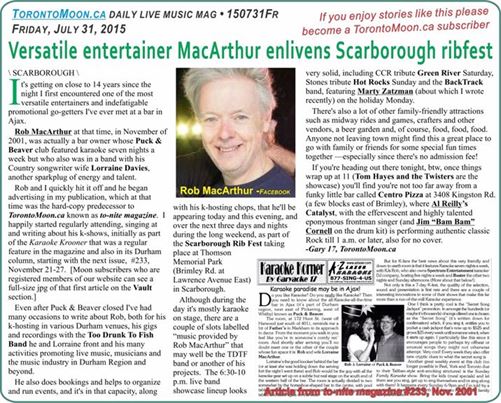 \ SCARBOROUGH \
It's getting on close to 14 years since the night I first encountered one of the most versatile entertainers and indefatigable promotional go-getters I've ever met at a bar in Ajax.
Rob MacArthur at that time, in November of 2001, was actually a bar owner whose Puck & Beaver club featured karaoke seven nights a week but who also was in a band with his Country songwriter wife Lorraine Davies, another sparkplug of energy and talent.
Rob and I quickly hit it off and he began advertising in my publication, which at that time was the hard-copy predecessor to TorontoMoon.ca known as to-nite magazine.  I happily started regularly attending, singing at and writing about his k-shows, initially as part of the Karaoke Krooner that was a regular feature in the magazine and also in its Durham column, starting with the next issue,  #233, November 21-27.  [Moon subscribers who are registered members of our website can see a full-size jpg of that first article on the Vault section.]
Even after Puck & Beaver closed I've had many occasions to write about Rob, both for his k-hosting in various Durham venues, his gigs and recordings with the Too Drunk To Fish Band he and Lorraine front and his many activities promoting live music, musicians and the music industry in Durham Region and beyond.
He also does bookings and helps to organize and run events, and it's in that capacity, along with his k-hosting chops, that he'll be appearing today and this evening, and over the next three days and nights during the long weekend, as part of the Scarborough Ribfest taking place at Thomson Memorial Park (Brimley Rd. at Lawrence Avenue East) in Scarborough.
Although during the day it's mostly karaoke on stage, there are a couple of slots labelled "music provided by Rob MacArthur" that may well be the TDTF band or another of his projects.  The 6:30-10 p.m. live band showcase lineup looks very solid, including CCR tribute Green River Saturday, Stones tribute Hot Rocks Sunday and the BackTrack band, featuring Marty Zatzman (about which I wrote recently) on the holiday Monday.
There's also a lot of other family-friendly attractions such as midway rides and games, crafters and other vendors, a beer garden and, of course, food, food, food.  Anyone not leaving town might find this a great place to go with family or friends for some special fun times together —especially since there's no admission fee!
If you're heading out there tonight, btw, once things wrap up at 11 (Tom Hayes and the Twisters are the showcase) you'll find you're not too far away from a funky little bar called Centro Pizza at 3408 Kingston Rd. (a few blocks east of Brimley), where Al Reilly's Catalyst, with the effervescent and highly talented eponymous frontman singer (and Jim "Bam Bam" Cornell on the drum kit) is performing authentic classic Rock till 1 a.m. or later, also for no cover.
-Gary 17, TorontoMoon.ca
SHOW LISTINGS for Friday, July 31, 2021

:

Listings are organized by area in which the shows occur and within each area field shows are listed chronologically.

Listings preceded by an asterisk (*) are repeating weekly events. (Double asterisk indicates repeating event with different hosts/guest/etc.). Admission prices followed by a slash and minus (/-) after the amount indicates door charge with availability of cheaper rates for some purchases. /+ indicates stated price is minimum.

Names of subscribers appear in bold, are underlined and, where applicable, include a live link to their websites. Advertisers' listings are in larger type, highlighted, include live link to website and also have ad icon included in listings.

416 - Toronto Central

*3-7> acoustic jam with John Hutt @ Lola, 40 Kensington Ave., TO

*4-6> Hogtown Syncopators featuring Terra Hazelton @ The Rex, 194 Queen St. W., TO ~Jazz

*5-8> Kensington Kitchen Party with host Kevin Jollimore of Sin City Boys & guest musicians @ Graffiti's, 170 Baldwin St., TO ~Pop Rock with heart

*5-7> Friends Of Hugh Oliver @ Tranzac Club (Southern Cross), 292 Brunswick Ave., TO ~Folk

6:30> Artie Roth Group @ The Rex, 194 Queen St. W., TO ~Jazz

7:30> Dust: The Quietest Big Band In The World @ Tranzac Club (Southern Cross), 292 Brunswick Ave., TO

8:30> Sydney Delong @ Free Times Café, 320 College St., TO ~songwriter

9> Washed Up/Word Out with DJ VikiVaki & Womananimal @ Tranzac Club (Tiki Room), 292 Brunswick Ave., TO ~80s dance party

9> Royal Tusk & guests @ Rivoli, 334 Queen St. W., TO ~ $12

9> The Mahones; Plan 37; Irish Nails @ Horseshoe Tavern, 370 Queen St. W., TO ~original Rootsy/Celtic Rock; $12

9-1> The Kat Kings @ Monarchs Pub in Eaton Chelsea Hotel, 33 Gerrard St. W., TO ~Rockabilly

9:30> Sound Parade @ Seven44, 744 Mount Pleasant Rd., TO North

9:30> Lady Kane @ Alleycatz, 2409 Yonge St., TO North ~Funk/Soul/R&B; $10

9:30> Rory McLeod @ C'est What, 67 Front St. E., TO ~songwriter; $15

9:45> Vaughan Misener Group @ The Rex, 194 Queen St. W., TO ~Jazz

9:45> Dee Dee & The Dirty Martinis @ Reservoir Lounge, 52 Wellington St. E., TO ~60s R&B

*10> karaoke with Randy Petrie @ Kramers, 1915 Yonge St., TO North

10> Dave Murphy Band @ Orbit Room, 480 College St. TO ~Rock/Funk/R&B

10> Frankie Foo & The Yoyo Smugglers @ Grossman's, 379 Spadina Ave., TO ~Ska

10> The Ryan Driver Sextet @ Tranzac Club (Southern Cross), 292 Brunswick Ave., TO ~Jazz

10> Scratch; Ginger Gray; Alter Kakers @ Lee's Palace, 529 Bloor St. W., TO; $7

10:30> The Disco Rebels @ The Hideout, 484 Queen St. W., TO ~indie Rock

416 - Toronto East
5-7> The Straight 8s @ Castro's, 2116 Queen St. E., TO East
9> Mark Yan & Barry Mulcahy @ Black Swan Tavern, 154 Danforth Ave., TO East ~acoustic Pop Rock covers & originals
9> The Del Fi's @ Linsmore Tavern, 1298 Danforth Ave., TO East ~tribute to 50s/60s Rock; $5
*9:30> David Macmichael & The $5 Tall Boys @ Relish, 2152 Danforth Ave., TO East ~alt Pop originals and covers
9:30> James Clark Institute featuring Chris Bennett @ Dora Keogh, 141 Danforth Ave., TO East ~Rootsy indie alt-Pop
9:30> The Walleys @ The Duke Live, 1225 Queen St. E., TO East ~Pop Rock
416 - Toronto West
5-8> Roam @ Gate 403, 403 Roncesvalles Ave., TO West ~Jazz
8-10> The Curries @ Humble Beginnings, 3109 Dundas St. W., TO West ~ Roots-Pop
8> Pierson Ross with Dopamine Machine @ The Painted Lady, 218 Ossington Ave., TO West
9-1> Jennis Blues Duo @ Gate 403, 403 Roncesvalles Ave., TO West ~Blues
9> Gillian Nicola; DUTCH; Borders @ The Tennessee, 1554 Queen St. W., TO West
10-2> The Double Cuts @ Dakota Tavern, 249 Ossington Ave., TO W. ~Country; $
416 - Etobicoke
7:30> Dave Dunlop Trio @ Old Mill Inn, 21 Old Mill Rd., Etobicoke ~Jazz; min table charge
9> Amanda Rose Band @ Refinery Public House, 3039 Lake Shore Blvd. W., Etobicoke ~Pop/Rock
9> Cadillac Daddies @ Blue Goose Tavern, 1 Blue Goose Rd., Etobicoke South ~Pop Rock/R&B
9> The Kindred Trio @ Maple Leaf House, 2749 Lakeshore Boulevard East, Etobicoke ~Rock/Top 40/Blues
9:30> Freedom Train @ Timothy's Pub, 344 Brown's Line, Etobicoke South ~Pop Rock/Top 40
10-2> The Holograms @ Southside Johnny's, 3653 Lakeshore Blvd. W., Etobicoke South ~classic & modern Rock
416 – Scarborough
11am-11pm> karaoke with host Rob MacArthur and various acts including Tom Hayes and The Twisters (6:30-10) for Scarborough Ribfest @ Tomson Memorial Park, Brimley Rd. at Lawrence Ave. E., Scarborough
9:30> Rick N Bomber @ Stone Cottage Pub, 3750 Kingston Rd., Scarborough ~Pop Rock
9:30> Tamin' Thunder @ Kornerstones, 1601 Birchmount Ave., Scarborough ~Rock/R&B
10> Al Reilly's Catalyst feat. Jim Cornell on drums @ Centro Pizza, 3408 Kingston Rd., Scarborough
705
5:30> Rick & Gailie @ Black Horse Pub, 452 George St. N., Peterborough
7-9> Communities For Veterans Ride Across Canada welcome party featuring Party of Three; The Swampstompers featuring Ted Rusk; Our Shotgun Wedding; Dave Hawkins @ RCL Owen Sound, 1450 2nd Ave. W., Owen Sound ~Country/Blues/Rockabilly; $10
8:30> Pop Machine @ Black Horse Pub, 452 George St. N., Peterborough
9:30> The Breakfast Club; The Unmistakable 80s @ Sticky Fingers Dunlop, 150 Dunlop St. W., Barrie
10> Gregory Pepper & His Problems @ The Garnet, 231 Hunter St. W., Peterborough
905 East
9-1> Paper Bag Blues @ Simcoe Blues & Jazz, 926 Simcoe St. N., Oshawa ~Blues
9> Paul Nathan @ The Corral, 433 Simcoe St. S., Oshawa ~Country
905 North
5> tba on the patio @ Lake Simcoe Arms, 21089 Dalton Rd., Jackson's Point ~acoustic Pop
8:30> AGM Jazz Trio @ Lake Simcoe Arms patio, 21089 Dalton Rd., Jackson's Point ~Jazz
9> The David Love Band also featuring Darrell McNeill @ Stewart Maguire's Landing, 15 Allan Rd., Bolton ~melodic vintage Pop Rock
9:30> The Soul Condition @ Jake's Boathouse Brampton, 59 First Gulf Rd., Brampton ~Pop Rock
9:30> tba @ Oscar's Roadhouse, 1785 Queen St. E., Brampton ~Top 40/Rock
*9:30> open mic @ Big Daddy's, 460 Elgin Mills Rd., E, Richmond Hill
10> Michael Danckert Band @ Aw Shucks, 15230 Yonge St., Aurora ~Pop Rock
905 – South
9> The Vaudevillian; The Red Hill Valleys; Little Hypocrites @ This Ain't Hollywood, 345 James St. N., Hamilton ~indie; $
9> Brooke & Kristin Nicholls @ Coach & Lantern, 384 Wilson St E., Hamilton
9:30> Chris Strei; Dre Pao; Hurricane Wayne @ Corktown Pub, 175 Young St., Hamilton ~indie; $
905 West
*5> Adam Ostrosser & Joel Guenther @ Carrigan Arms, 2025 Upper Middle Rd., Burlington ~Pop
*6-9> Rebelljo Duo @ Roc'n Doc's, 105 Lakeshore Rd. E., Port Credit ~acoustic Pop Rock
8> GCDC album release @ Moonshine Café, 137 Kerr St., Oakville ~jug band; $10
9:30> John Chantry @ Shore Grill, 71 Lakeshore Rd. E., Port Credit ~Pop Rock/Top 40
9:30> Second Sky @ The Franklin House, 263 Queen St. S., Streetsville ~Pop Rock
9:30> The Tryst @ Gator Ted's, 1505 Guelph Line, Burlington ~Pop Rock
9:30> The Treble Men @ Black Swan Pub Burlington, 4040 Palladium Way, Burlington ~Pop Rock
10-2> Tom Barlow Band @ Roc'n Doc's, 105 Lakeshore Rd. E., Port Credit ~Pop Rock; $
10:15> The Doubts @ Failte, 201 City Centre Dr., Mississauga ~Pop Rock