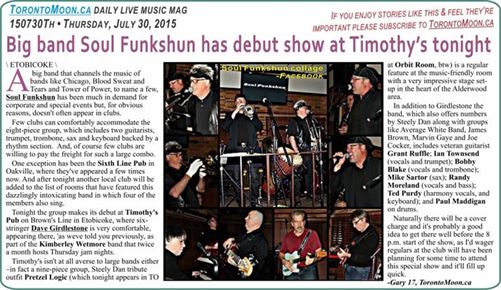 \ ETOBICOKE \
A big band that channels the music of bands like Chicago, Blood Sweat and Tears and Tower of Power, to name a few, Soul Funkshun has been much in demand for corporate and special events but, for obvious reasons, doesn't often appear in clubs.
Few clubs can comfortably accommodate the eight-piece group, which includes two guitarists, trumpet, trombone, sax and keyboard backed by a rhythm section.  And, of course few clubs are willing to pay the freight for such a large combo.
One exception has been the Sixth Line Pub in Oakville, where they've appeared a few times now. And after tonight another local club will be added to the list of rooms that have featured this dazzlingly intoxicating band in which four of the members also sing.
Tonight the group makes its debut at Timothy's Pub on Brown's Line in Etobicoke, where six-stringer Dave Girdlestone is very comfortable, appearing there, as we've told you previously, as part of the Kimberley Wetmore band that twice a month hosts Thursday jam nights.
Timothy's isn't at all averse to large bands either –in fact a nine-piece group, Steely Dan tribute outfit Pretzel Logic (which tonight appears in TO at Orbit Room, btw) is a regular feature at the music-friendly room with a very impressive stage set-up in the heart of the Alderwood area.
In addition to Girdlestone the band, which also offers numbers by Steely Dan along with groups like Average White Band, James Brown, Marvin Gaye and Joe Cocker, includes veteran guitarist Grant Ruffle; Ian Townsend (vocals and trumpet); Bobby Blake (vocals and trombone);
Mike Sartor (sax); Randy Moreland (vocals and bass);
Ted Purdy (harmony vocals, and keyboard); and Paul Maddigan on drums.
Naturally there will be a cover charge and it's probably a good idea to get there well before the 8 p.m. start of the show, as I'd wager regulars at the club will have been planning for some time to attend this special show and it'll fill up quick.
-Gary 17, TorontoMoon.ca
SHOW LISTINGS for Thursday, July 30, 2021
Listings are organized by area in which the shows occur and within each area field shows are listed chronologically.
Listings preceded by an asterisk (*) are repeating weekly events. (Double asterisk indicates repeating event with different hosts/guest/etc.). Admission prices followed by a slash and minus (/-) after the amount indicates door charge with availability of cheaper rates for some purchases. /+ indicates stated price is minimum.
Names of subscribers appear in bold and underlined and, where applicable, include a live link to their websites or event page. Advertisers' listings are in larger type and highlighted, include a live link to their website and also have a copy of the ad included in listings.
416 - Toronto Central
6> Joy Phillips @ Cameron House (front), 408 Queen St. W., TO
6:30> Kevin Quain @ The Rex, 194 Queen St. W., TO ~moody Blues
7> The Speck Brothers @ Drums N Flats, 1980 Avenue Rd., TO North
*7> open mic with Derek Mok @ Kensington Lodge, 21 Kensington Ave., TO
*7:30-9:30> Bluegrass Thursdays with Houndstooth @ Tranzac Lounge (Southern Cross), 292 Brunswick Ave., TO
*8-1> open mic with Alicia Porter @ The Local Gest, 424 Parliament St., TO
8-12> R&B/Blues @ Nawlin's, 299 King St. W. TO
8> Our Shotgun Wedding; Piper Hayes @ No One Writes To The Colonel, 460 College St. ~indie Pop/Roots
8> Teza; Q Like the Letter; Jocelyn Alice; T-Stylez @ The Rivoli, 334 Queen St. W., TO ~indie; $10
8:30> comedy night @ Free Times Café, 320 College St. TO
8:30> Jesse Parent @ Fionn MacCool's Uptown, 1867 Yonge St., TO North
8:40> Shore Thing; Johnson Crook; Meredith Shaw; Travis Woods @ Horseshoe Tavern, 370 Queen St. W., TO ~indie; $5
9-1> Jack de Keyzer Band @ Monarchs Pub (Eaton Chelsea Hotel), 33 Gerrard St. W., TO ~Blues
*9-1> Blackburn @ Jo Mamas, 317 King St. W., TO ~Blues
9:30> Aubrey Dayle's My ID @ The Rex, 194 Queen St. W., TO ~Jazz
9:30> Innocent Guns; NLP @ C'est What, 67 Front St. E., TO ~pwyc
*9:45> Mary Mckay @ Reservoir Lounge, 52 Wellington St. E., TO ~Jazz/Blues
10> Callan Furlong @ Cameron House (front), 408 Queen St. W., TO
10> Bard From The Club @ Grossman's, 379 Spadina Ave., TO
10> Audiopollination @ Tranzac Lounge (Southern Cross), 292 Brunswick Ave., TO
10> Better Lates; Interior Castle; Veil Unknown; 9 Lives and Counting @ Lee's Palace, 529 Bloor St. W., TO ~indie Rock; $6
10> Pretzel Logic @ Orbit Room, 480 College St. TO ~Steely Dan tribute; $
10:30> Parkside Drive @ The Hideout, 484 Queen St. W., TO ~indie Rock

416 - Toronto East
7:30-9:30> Jeff Hewer Trio @ Relish, 2152 Danforth Ave., TO East ~Jazz
*8:30-10:30> Jerry Leger & The Situation @ Castro's, 2116 Queen St. E., TO East ~Folk-Rock/Country
8> Trace Minerals @ The Only Café, 972 Danforth Ave., TO East
9> Ayerhart Roofing Co. @ Linsmore Tavern, 1298 Danforth Ave., TO East ~Country
*10-2> karaoke with Shane Taylor @ Relish, 2152 Danforth Ave., TO East
416 - Toronto West
5-8> Camden Blues Band @ Gate 403, 403 Roncesvalles Ave., TO West ~from Thunder Bay
6-9> Mike Butler @ Dakota Tavern, 249 Ossington Ave., TO West; $
*8-11> Tinderbox Thursdays open stage with Michael Keith @ La Revolucion, 2848 Dundas St. W., TO West ~eclectic
8> David Macmichael; Chloe Dolores and Dreamboat; Sam Taylor & The East End Love @ The Tennessee, 1554 Queen St. W., TO West ~indie; $10
*9-12> open mic night @ DeSoto's, 1079 St. Clair Ave. W., TO West
*9-1:30> open stage with Jay Pennell @ Dave's On St. Clair, 730 St. Clair West, TO West ~eclectic
9-12> Root Down Trio @ Gate 403, 403 Roncesvalles Ave., TO West ~Roots
9> Eyes Of Giant album release with Rebel Hero; Return For Refund @ The Painted Lady, 218 Ossington Ave., TO West ~indie
9> Tich Maredza @ The Local, 396 Roncesvalles Ave., TO West ~Zimbabwe Roots
10> The Rucksack Willies; Kirty @ Dakota Tavern, 249 Ossington Ave., TO West ~alt-Country; $
416 - Etobicoke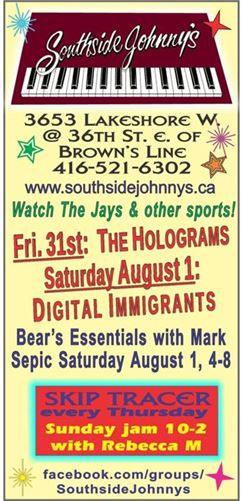 8> Soul Funkshun featuring Dave Girdlestone on guitar @ Timothy's Pub, 344 Brown's Line, Etobicoke South ~Soul/Funk/R&B; $
*9:30-2> Skip Tracer @ Southside Johnny's, 3653 Lakeshore Blvd., Etobicoke South ~Rock/Pop
416 – Scarborough
*7-11> Johnson & Cornell (Earl Johnson & Jim Cornell) on the patio @ The Loaded Dog, 1921 Lawrence Ave. E., Scarborough ~acoustic Blues-Rock duo
*9> Tommy Rocker's Classic Rock Band host jam @ Centro Pizza, 3406 Kingston Rd., Scarborough
9:30> High Rollers @ Black Dog Pub, 87 Island Rd., Scarborough ~Pop Rock
519
*7:30-12> open mic with K.M. Smith @ Molly Bloom's Guelph, 91 Wyndham St. N., Guelph
*8-11> open mic with Sandy MacDonald @ Williamsburg Arms, 1187 Fischer Hallman Rd., Kitchener
705
*7:30> Rob Phillips Trio with Chelsea Bennett @ Black Horse Pub, 452 George St. N., Peterborough
*9> jam with Ted Rusk @ The Sauble Dunes, 11 Southampton Parkway, Sauble Beach
10> Darren Eedens @ The Garnet, 231 Hunter St. W., Peterborough
905 - East
*5-8> Nelson Denis @ Frank's Pasta, 42 King Street E., Cobourg ~eclectic mix (Folk, Jazz, soft Rock, Latin)
8-12> David Leask @ Fionn MacCool's Ajax, 32 Kingston Rd. E. Ajax ~Pop
*?> jam with Darren Smith & Shayne Thomas @ The Corner Pocket, 45 Prince St., Oshawa
*9> jam @ The Wee Pub, 371 Wilson Rd. South, Oshawa
9> Bruce Goriness; Paul @ Simcoe Blues & Jazz, 926 Simcoe St. N., Oshawa
*9:30> jam with Billick @ Harp & Crown, 300 Kingston Rd., Pickering
905 - North
**7-11> Rebelljo Band & guests @ Fionn MacCool's Brampton, 11 Ray Lawson Blvd., Brampton ~Pop Rock
*8> open mic with Kevin Ker @ Duchess of Markham, 53 Main St., Markham
905 - South
*9> TG & The Swampbusters; Shawn "The Krooked Kowboy" Brush @ This Ain't Hollywood, 345 James St. N., Hamilton
*9> open mic night with rotating hosts @ Coach & Lantern, 384 Wilson St E., Hamilton
905 – West
8-12> Freedom Train @ Roc'n Doc's, 105 Lakeshore Rd. E., Port Credit ~Rock/Pop
*8-12> open mic & jam @ Black Swan Pub Burlington, 4040 Palladium Way, Burlington
*8-12> jam hosted by The Personics @ Carrigan Arms, 2025 Upper Middle Rd., Burlington
8:30> Roger Marin @ Moonshine Café, 137 Kerr St. Oakville
*8:45> open mic with Matt Zady @ Failte, 201 City Centre Dr., Mississauga
9> Side B Vibe @ Tilted Kilt, 285 Enfield Place, Mississauga ~Rock
9:30> Glenn Groves @ Shore Grill, 71 Lakeshore Rd. E., Port Credit ~Pop Rock
*9:30> jam with Jack B Nimble @ Abbey Road Pub, 3200 Erin Mills Parkway, Mississauga
Copyright © 2015 Toronto Moon Magazine. All Rights Reserved