\ TO WEST \
It's been almost two years since I first wrote about energetic songwriter of Pop substance Iliya Vee and his band The Dreadful Starlings as part of a little note with the show listings for Tuesday March 25, 2022.
As I wrote at the time, my interest had been piqued by the name of the group so I checked out their website and discovered a couple of tracks that mightily impressed me, to the point where I declared that Vee (born Iliya Vukadinovic) "is a budding songwriting alt-Pop star you want to hear right now."
A tune that particularly caught my ears and brain then was "The Regime", one of the numbers from the group's debut album Murmurations, released the previous year, when the outfit was still a trio.
[You can hear the tune on the
Featured Tracks
page of our website and
download the entire album on bandcamp.com
for just $10.]
Since reconstituting the group in 2014, original members Vee and drummer Steve Asselbergs (aka Steve White) continue as part of it (with Dave Sufrin often filling in for White, who lives in the Oshawa area) but the group is now a four-piece, with bassist/vocalist Matthew Stamegna (aka Dr. Keys) and electric guitarist/vocalist Nate Davis (aka N. Wilson) added. Throughout that year Vee performed a number of shows with the new lineup such as the Painted Lady stint and a residency at Not My Dog, as well as doing solo appearances, as when he did a special guest stint with Sam Taylor and The East End Love I wrote about in August that year. As the new combo performed more together things gelled and it quickly developed into "a very collaborative project" Vee tells me.
Indeed, in addition to Vee most of the other members are also songwriters, plus they've utilized material from fellow traveller Tim Clarke (Rory Fireplace) all combining to give the group a unique identity "without ever feeling like it becomes monotonous or predictable," as Vee puts it.
By early last year, Vee says, "it became clear that this was a configuration worth recording, so we set to work on that," which ended up involving a lot of experimentation in the studio and resulting in the group having since been mostly absent from the scene —until now.
Tonight that all changes as the band unveils its new five-song ep of originals with a show at the Junction Music Hall at 2907 Dundas St. West.
I've had a chance to check out a couple of Vee's tunes from the new collection, titled Shack Up With The Downside, and have to say that my 2014 predictions about his future seem a pretty presciently safe bet.
His lyrics are clever, with creative rhyming and have punchy substance, while the tunes are catchy and have a familiar construction while also feeling fresh and often innovative, keeping the songs moving in a natural way that feels inevitable and fulfilling.
"Rigamarole Rock" is a cheeky, light-Pop infused number about the ambivalent relationship with work and money that many people, especially creative folks, inevitably develop. "I don't want your money; but I need money," the chorus wails with a bit of a 60s feel in the melody and beat, calling to mind a kind of edgier, rawer "Paperback Writer" sensibility.
"Bridges Burn" is a somewhat plaintive yet not mournful art-Pop ballad that for some reason reminds me of David Bowie, even though it doesn't really sound at all like him —maybe it's because the song has a kind of theatrical Pop feel, particularly in its exceptionally interesting lines and rhymes and the vocal delivery, conveying a sense of regret and emotional confusion while sounding ironic rather than soppy.
You can check out those, the other three tunes from the disc, other Starlings' originals and the two other young acts at tonight's release show in the club near Keele St. in the Junction area. It kicks off at 9:45 with the opening set by The Innocent Guns, followed by the Starlings at 10:45 and rounded out by Taylor's East End Love from 11:45. Cover is just $10.
-Gary 17, TorontoMoon.ca
SHOW LISTINGS for Thursday, February 18, 2022
Listings are organized by area in which the shows occur and within each area field shows are listed chronologically.
Listings preceded by an asterisk (*) are repeating weekly events. (Double asterisk indicates repeating event with different hosts/guest/etc.). Events preceded by question mark (?) usually take place but have not been confirmed. Admission prices followed by a slash and minus (/-) after the amount indicates door charge with availability of cheaper rates for some purchases. /+ indicates stated price is minimum.
Names of subscribers appear in bold and underlined and, where applicable, include a live link to their websites or event page. Advertisers' listings are in larger type and highlighted, include a live link to their website and also have a copy of the ad included in listings.
416 - Toronto Central
6> Chris Weatherstone @ Cameron House (front), 408 Queen St. W., TO
6-8> Eli Pasic @ Jazz Bistro, 251 Victoria St., TO ~solo Blues piano
6-8> Ori Dagan & Dave Young @ 120 Diner, 120 Church St., TO ~Jazz; $10
6:30> Yuka @ The Rex, 194 Queen St. W., TO ~Jazz
*7> open mic with Derek Mok @ Kensington Lodge, 21 Kensington Ave., TO
*7:30-9:30> Bluegrass Thursdays with Houndstooth @ Tranzac Lounge (Southern Cross), 292 Brunswick Ave., TO
*8-1> open mic with Alicia Porter @ The Local Gest, 424 Parliament St., TO
8> Carl Lorusso Jr. and Erik Bleich @ Graffiti's, 170 Baldwin St., TO
8> Lee Dweyze; Wakey Wakey @ Lee's Palace, 529 Bloor St. W., TO $15-$60
8> Andrew Fetterly Duo @ Dominion Pub, 500 Queen St. E., TO ~cover Pop Rock
8-12> R&B/Blues @ Nawlin's, 299 King St. W. TO
8:30> Franc'open mic @ Free Times Café, 320 College St. TO ~French open mic
8:30> Aurora; Big Frasier; The Marwills @ Silver Dollar 486 Spadina Ave., TO ~indie; $
9> The Celebration Army; Kompany; Graham Ko @ Rivoli, 334 Queen St. W., TO ~indie; $
9> The High Streets; Sight By City @ The Cavern Bar, 76 Church St., TO ~indie; $
9> Laila Biali Trio @ Jazz Bistro, 251 Victoria St., TO ~Jazz; $25
9> The Besnard Lakes; Heat @ Horseshoe Tavern, 370 Queen St. W., TO ~$12.50
*9-1> Blackburn @ Jo Mamas, 317 King St. W., TO ~Blues
9:30> Soul Stew @ The Rex, 194 Queen St. W., TO ~R&B; $
*9:45> Stacey Kaniuk @ Reservoir Lounge, 52 Wellington St. E., TO ~Jazz/Blues; $
10> Conor Gains @ Cameron House (front), 408 Queen St. W., TO ~Blues
10> Starship Experience @ Grossman's, 379 Spadina Ave., TO
10> The Special Interest Group @ Tranzac Lounge (Southern Cross), 292 Brunswick Ave., TO
10> Dixie Chicken @ Orbit Room, 480 College St. TO ~Little Feat tribute; $
10:30> Daylight for Deadeyes @ The Hideout, 484 Queen St. W., TO ~indie Rock
416 - Toronto East
7-9> The Horables @ Relish, 2152 Danforth Ave., TO East ~Klezmer/Django Jazz
8> Peter Eastmure & The Animal Kyngdom @ The Only Café, 972 Danforth Ave., TO East ~indie
*8:30-10:30> Jerry Leger & The Situation @ Castro's, 2116 Queen St. E., TO East ~Folk-Rock/Country
9> Jordan Abrams; Jonny Starkes; Lucy; Mandala; Scarlett's Hand for Heart and Stroke Foundation fundraiser @ Linsmore Tavern, 1298 Danforth Ave., TO East ~indie; $5 donation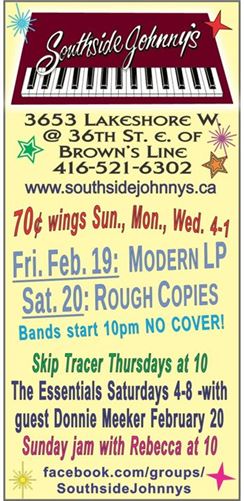 *9:30> open jam @ Sportsters, 1430 Danforth Ave., TO East
*10-2> karaoke with Shane Taylor @ Relish, 2152 Danforth Ave., TO East
416 – Toronto Etobicoke
7:30> Sealy/Novotny Duo @ Old Mill Inn, 21 Old Mill Rd., Etobicoke ~Jazz; min table charge
9> Petzel Logic @ Timothy's Pub, 344 Brown's Line, Etobicoke South ~Steely Dan tribute; $10
*9:30-2> Skip Tracer @ Southside Johnny's, 3653 Lakeshore Blvd., Etobicoke South ~Rock/Pop
416 – Toronto Scarborough
7-11> jam night @ The Birchmount, 462 Birchmount Rd., Scarborough
9:30> Straight Shooter @ Black Dog Pub, 87 Island Rd., Scarborough ~Pop Rock
416 - Toronto West
5-8> Concord Jazz Quintet @ Gate 403, 403 Roncesvalles Ave., TO West ~Jazz
7:30> Global Carnival with Samba Squad @ Lula Lounge, 1585 Dundas St. W., TO West ~Samba; $15
8:30> Almeta Speaks album release @ Hugh's Room, 2261 Dundas St. W., TO West ~Blues; $30
8:30> Graeme Stephen Trio; Harley Card Trio @ Burdock, 1184 Bloor St. W., TO West ~$

9> Katey Morley; Steve York; Noah Solomon @ Folly Brewpub, 928 College St., TO
*9-12> open mic night @ DeSoto's, 1079 St. Clair Ave. W., TO West
*9-1:30> open stage with Jay Pennell @ Dave's On St. Clair, 730 St. Clair West, TO West ~eclectic
9-12> Tiffany Hanus Jazz Band @ Gate 403, 403 Roncesvalles Ave., TO West ~Jazz
9> Growing Fins; Stayce; E VA; Grant Ulysses @ Smiling Buddha, 961 College St., TO West ~$
9> Bruce Domoney; The Responsables @ The Painted Lady, 218 Ossington Ave., TO West ~Blues-Rock; $?
9> Mighty Big Word @ The Local, 396 Roncesvalles Ave., TO West ~songwriter
9> Blimp Rock @ Holy Oak Café, 1241 Bloor St. W., TO West
9:30> The Dreadful Starlings featuring Iliya Vee with guests Sam Taylor & The East End Love & Innocent Guns for ep release for Shack Up With The Downside @ Junction City Music Hall, 2907 Dundas St. W., TO West ~indie Pop Rock; $10
9:30> Tyler Yarema & The Fat Boys @ Fat City Blues, 890 College St., TO West ~Blues; $5
10> Steers & Queers @ Dakota Tavern, 249 Ossington Ave., TO West
519
*7:30-12> open mic with K.M. Smith @ Molly Bloom's Guelph, 91 Wyndham St. N., Guelph
7:30> Tony Paglia @ Fionn MacCool's Orangeville, 75 Fourth Ave., Orangeville ~Pop Rock
8> Classic Albums Live featuring David Love perform The Beatles' Let It Be @ Centre In The Square, 101 Queen St. N., Kitchener ~note-for-note tribute; $
*8-11> open mic with Sandy MacDonald @ Williamsburg Arms, 1187 Fischer Hallman Rd., Kitchener
705
*7:30> open stage with Rob Phillips and Marsala Likianchuk Band @ Black Horse Pub, 452 George St. N., Peterborough
*9> jam with Ted Rusk @ The Sauble Dunes, 11 Southampton Parkway, Sauble Beach
10> Beuller; New Love Underground; Sheila Beach @ The Garnet, 231 Hunter St. W., Peterborough
905 - East
*5-8> Nelson Denis @ Frank's Pasta, 42 King Street E., Cobourg ~eclectic mix (Folk, Jazz, soft Rock, Latin)
8-11> Mellowdee and Aria Royal @ Rum Diaries, 368 Bayly St. W., Ajax
*?> jam with Darren Smith & Shayne Thomas @ The Corner Pocket, 45 Prince St., Oshawa
*9> jam @ The Wee Pub, 371 Wilson Rd. South, Oshawa
*9-1> Juggernaut Jam Band @ Tap and Tankard, 224 Brock Rd. S., Whitby ~Rock/Blues
*9:30> jam with Billick @ Harp & Crown, 300 Kingston Rd., Pickering
*10> Karaoke with Rob MacArthur @ St. Louis Ajax, 11 Harwood Ave., Ajax
10> Barley & Hopps @ Tartan Tavern, 555 Rossland Rd. E., Oshawa
905 - North
*6:30-10:30> jam with Faces for Radio @ Coasters, 55 Rutherford Rd. S., Brampton
*8> open mic with Kevin Ker @ Duchess of Markham, 53 Main St., Markham
*8-11> Jam with Jayme Lynn Reed @ Offsides Sports Bar, 200 Simcoe Ave., Keswick
*9> open stage jam night @ Memphis North, 18947 Woodbine Ave., East Gwillimbury
9> Andrew Grady @ Fionn MacCool's Newmarket, 17315 Leslie St., Newmarket ~Pop
905 - South
8> Operators; Little Scream @ Casbah Lounge, 306 King St. W., Hamilton ~$
*9> LMT Connection @ Doc Magilligan's Irish Pub, 6400 Lundy's Lane, Niagara Falls ~R&B/Funk
9> The Vaudevillian; Piper Hayes; Emma Vandyk @ This Ain't Hollywood, 345 James St. N., Hamilton ~Roots/Pop
*9> open mic night with rotating hosts @ Coach & Lantern, 384 Wilson St E., Hamilton
905 – West
*7-10> Michael Keys & George Baumann @ Black Bull Burlington, 1124 Guelph Line, Burlington ~easy listening Swing/Boogie Woogie
8-12> Freedom Train @ Roc'n Doc's, 105 Lakeshore Rd. E., Port Credit ~Rock/Pop
*8-12> open mic jam with James Anthony @ Black Swan Pub Burlington, 4040 Palladium Way, Burlington
*8-12> jam hosted by The Personics @ Carrigan Arms, 2025 Upper Middle Rd., Burlington
*8> Celtic Night @ Fionn MacCool's Burlington, 2331 Appleby Line
8:30> Corin Raymond @ Moonshine Café, 137 Kerr St. Oakville ~Roots/Country; $10
*8:45> open mic with Matt Zady @ Failte, 201 City Centre Dr., Mississauga
9> Johnnie X @ Fionn MacCool's Clarkson, 970 Southdown Rd., Mississauga ~Pop Rock
9:30> Glenn Groves @ Shore Grill, 71 Lakeshore Rd. E., Port Credit ~Honky Tonk
*9:30> jam with Jack B Nimble @ Abbey Road Pub, 3200 Erin Mills Parkway, Mississauga
Copyright © 2016 Toronto Moon Magazine. All Rights Reserved