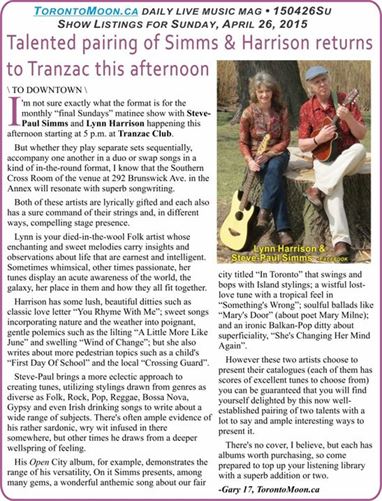 \ TO DOWNTOWN \
I'm not sure exactly what the format is for the monthly "final Sundays" matinee show with Steve-Paul Simms and Lynn Harrison happening this afternoon starting at 5 p.m. at Tranzac Club.
But whether they play separate sets sequentially, accompany one another in a duo or swap songs in a kind of in-the-round format, I know that the Southern Cross Room of the venue at 292 Brunswick Ave. in the Annex will resonate with superb songwriting.
Both of these artists are lyrically gifted and each also has a sure command of their strings and, in different ways, compelling stage presence.
Lynn is your died-in-the-wool Folk artist whose enchanting and sweet melodies carry insights and observations about life that are earnest and intelligent. Sometimes whimsical, other times passionate, her tunes display an acute awareness of the world, the galaxy, her place in them and how they all fit together.
Harrison has some lush, beautiful ditties such as classic love letter "You Rhyme With Me"; sweet songs incorporating nature and the weather into poignant, gentle polemics such as the lilting "A Little More Like June" and swelling "Wind of Change"; but she also writes about more pedestrian topics such as a child's "First Day Of School" and the local "Crossing Guard".
Steve-Paul brings a more eclectic approach to creating tunes, utilizing stylings drawn from genres as diverse as Folk, Rock, Pop, Reggae, Bossa Nova, Gypsy and even Irish drinking songs to write about a wide range of subjects. There's often ample evidence of his rather sardonic, wry wit infused in there somewhere, but other times he draws from a deeper wellspring of feeling.
His Open City album, for example, demonstrates the range of his versatility, On it Simms presents, among many gems, a wonderful anthemic song about our fair city titled "In Toronto" that swings and bops with Island stylings; a wistful lost-love tune with a tropical feel in "Something's Wrong"; soulful ballads like "Mary's Door" (about poet Mary Milne); and an ironic Balkan-Pop ditty about superficiality, "She's Changing Her Mind Again".
However these two artists choose to present their catalogues (each of them has scores of excellent tunes to choose from) you can be guaranteed that you will find yourself delighted by this now well-established pairing of two talents with a lot to say and ample interesting ways to present it.
There's no cover, I believe, but each has albums worth purchasing, so come prepared to top up your listening library with a superb addition or two.
-Gary 17, TorontoMoon.ca
SHOW LISTINGS for Sunday, April 26, 2022

:
Listings preceded by an asterisk (*) are repeating weekly events. (Double asterisk indicates repeating event with different hosts/guest/etc.). Admission prices followed by a slash and minus (/-) after the amount indicates door charge with availability of cheaper rates for some purchases. /+ indicates stated price is minimum.
Names of subscribers appear in bold, are underlined and, where applicable, include a live link to their websites. Advertisers' listings are in larger highlighted type, include live link to website and also have ad icon included in listings.
11-2> Lian Fainsinger for Jazz brunch @ Relish, 2152 Danforth Ave. TO East
11am-2pm> Tio Chorinho for Jazz brunch @ Free Times Café, 320 College St., TO
11> Michael Johnston Music Studio recitals @ Hugh's Room, 2261 Dundas St. W., TO West ~instrumental; $15/-
*12-3> Julian Fauth's Blues brunch @ Axis, 3048 Dundas St. W., TO West ~Blues
12-3> Excelsior Dixieland Jazz Band @ The Rex, 194 Queen St. W., TO ~Jazz
* 12-3> The Cosmotones @ Dakota Tavern, 249 Ossington Ave., TO West ~Rockabilly
*2-5> Lisa Particelli's Girls Night Out jam @ Morgan's, 1282 Danforth Ave., TO East ~Jazz
2-6> The McGrath Family @ Carrigan Arms, 2025 Upper Middle Rd., Burlington ~Country
*3-6> open mic with Nicola Vaughan @ Hirut, 2050 Danforth Ave., TO East
3-5:30> Lazy Cat open stage with hosts Linda Lavender & David Shilman & feature by Aurora Lavender @ Bain Co-op Community Centre, 100 Bain Ave. (enter off Sparhall Ave.), TO East
3> Cadre @ C'est What, 69 Front St. E., TO ~Blues/Rock
*3-6> Michael Brennan @ Graffiti's, 170 Baldwin St. TO ~East Coast Rock/Blues Roots
*3-7> open stage with Kevin Ker @ The Earl Of Whitchurch, 6204 Main St., Stouffville
*3-7> jam at CJ Barleys, 213 The Queensway, Keswick
3> Terry Finn @ Black Horse Pub, 452 George St. N., Peterborough
3:30-6:30> Freeway Dixieland Band @ The Rex, 194 Queen St. W., TO ~Jazz
*3:30-7:30> jam @ Black Bear, 1125 O'Connor Drive, TO East
4-8> The Pie Guys with Marshall Dane @ Timothy's Pub, 344 Brown's Line, Etobicoke ~Pop Rock
4-8> Ronnie & The Corvairs with guests Bill Speer & Doug Dixon @ Blue Goose Tavern, 1 Blue Goose Rd., Etobicoke South ~vintage Pop
4> Samantha Martin & The Delta Sugar @ Cameron House (front), 408 Queen St. W., TO ~Country
4> David Celia @ Castro's Lounge, 2116 Queen St. E., TO East ~indie Pop
*4:30-8> New Orleans Connection All Stars & guests @ Grossman's, 379 Spadina Ave., TO ~New Orleans Jazz
*4:30-8> Chuck Jackson's All Stars @ Roc'n Doc's, 105 Lakeshore Rd. E., Port Credit ~Blues
*5-9> All ages open jam with Juggernaut Jam Band featuring Andy Narsingh @ West Shore Bar & Grill, 877 Bayly St., Pickering
5> Steve-Paul Simms & Lynn Harrison @ Tranzac Club (Southern Cross), 292 Brunswick Ave., TO
**5-8> John Borra & Sam Ferrara w. guest @ The Communist's Daughter, 1149 Dundas St. W. TO West ~Country
5-9> tba @ Seven44, 744 Mount Pleasant Road, TO North ~vintage Rock/R&B; $10
5-8> Pigeonhawk @ The Local, 396 Roncesvalles Ave., TO West ~old time Country
*5-9> John Dickie/Pat Perez Band @ Linsmore Tavern, 1298 Danforth Ave, TO East ~R&B/Blues
5-8> Cheryl White Band @ Gate 403, 403 Roncesvalles Ave., TO West ~R&B
**5-8> The Stew @ Mulligan's, 2458 Dundas St. W., Mississauga ~R&B/Rock
*5-9> open mic with feature guest @ Sgt. Pepper's Aurora, Walmart Plaza (Hwy 404 & Aurora Rd.), Aurora
*6-10> jam with Tommy Rocker, John Robbie @ Scarborough Junction, 646 Danforth Rd., Scarborough
6> Sean Ashby @ Dakota Tavern, 249 Ossington Ave., TO West
6> Al Mathews @ Simcoe Blues & Jazz, 926 Simcoe St. N., Oshawa
*7-1> Freefall Sundays open stage with hosts Steve York & Tony Rabalao (2 songs each -signup @ 7 or pre-sign online) @ The Supermarket, 268 Augusta St., TO
*7-11> Karaoke with Rob MacArthur @ The Edge, 250 Bayly St. W., Ajax
7> Bad Luck Woman @ Cameron House (front), 408 Queen St. W., TO
7-9:30> Sly Juhas trio @ The Rex, 194 Queen St. W., TO ~Jazz
*7-11> open jam @ McGradie's, 2167 Victoria Park Ave., Scarborough
**7-11> The Nomads @ Shore Grill, 71 Lakeshore Rd. E., Port Credit
*7> open jam with Mike Shotton & The Flying Squirrels @ Black Swan Pub Burlington, 4040 Palladium Way, Burlington
7:30> The Piano Salon featuring Gavin Gardiner & Edward Huizinga of Wooden Sky & host Soozi Schlanger @ Soozi's Art Studio, 648 Bloor St. W. ~neo-classical Roots-Pop; $10-20 suggested donation
*8-10:30> Michael Keith @ On Cue Billiards, 349 Jane St., TO West ~eclectic acoustic solo
8> Nashville Bound showcase with Glen Hornblast; Annette Shaffer; Terry Jones; Dean Cavill; Emily Coulston @ Free Times Café, 320 College St., TO ~Roots songwriters; $10/pwyc
8> One City Social Boogie @ The Only Café, 972 Danforth Ave., TO East
*8:30-12:30> karaoke with The English Rose & The Mad Scotsman @ Gryphon Pub, 114 Dundas St. E., Whitby
8:30> "Dark Angel: The Music of Roy Orbison" featuring Patrick Brealey @ Hugh's Room, 2261 Dundas St. W., TO West ~tribute; $25/-
9-1> Cat Bernardi Quartet @ Gate 403, 403 Roncesvalles Ave., TO West ~Jazz
9> Watch This Sound @ Castro's Lounge, 2116 Queen St. E., TO East ~vintage Jamaican music
9> jam with Jay Pennell @ Scruffy Murphy's, 150 Eglinton Ave. E., TO North
9> Mr. Rick & The Biscuits @ The Local, 396 Roncesvalles Ave., TO West ~Roots
*9> Rob Hiemstra solo @ The Unicorn, 175 Eglinton Ave. E., TO North ~Rock/Pop
*9-1> The Tonkas @ Roc'n Doc's, 105 Lakeshore Rd. E., Port Credit ~Rock/Top 40
*9-1> jam @ Ivy Arms Pub, 201 Main Street East, Milton
*9:30-1> jam with the Stir It Up Band featuring Bryan Van Dusen & David Macmichael @ Relish, 2152 Danforth Ave., TO East
9:30> Chris Gord's Skeleton Crew @ The Rex, 194 Queen St. W., TO ~Jazz
*10> Horshack feat. Chris Caddell @ Orbit Room, 580 College St., TO ~Bluesy contemporary & classic Rock
10> SATE with special guests Hill & The Sky Heroes @ Dakota Tavern, 249 Ossington Ave., TO West
10> Jay Swinnerton Band @ Cameron House (front), 408 Queen St. W., TO ~Blues
**10> Blues jam with Brian Cober, Bill Hedefine & guest bassist @ Grossman's, 379 Spadina Ave., TO
10:30> Scott Baragar @ The Hideout, 484 Queen St. W., TO ~Pop Rock
*10:30> Adam Cooke & The Adams Family @ The Dickens, 423 Elizabeth St., Burlington
Copyright © 2015 Toronto Moon Magazine. All Rights Reserved