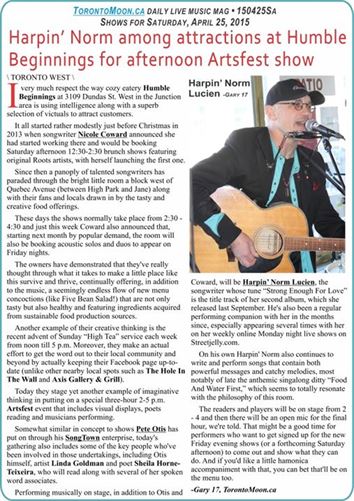 \ TORONTO WEST \
I very much respect the way cozy eatery Humble Beginnings at 3109 Dundas St. West in the Junction area is using intelligence along with a superb selection of victuals to attract customers.
It all started rather modestly just before Christmas in 2013 when songwriter Nicole Coward announced she had started working there and would be booking Saturday afternoon 12:30-2:30 brunch shows featuring original Roots artists, with herself launching the first one.
Since then a panoply of talented songwriters has paraded through the bright little room a block west of Quebec Avenue (between High Park and Jane) along with their fans and locals drawn in by the tasty and creative food offerings.
These days the shows normally take place from 2:30 - 4:30 and just this week Coward also announced that, starting next month by popular demand, the room will also be booking acoustic solos and duos to appear on Friday nights.
The owners have demonstrated that they've really thought through what it takes to make a little place like this survive and thrive, continually offering, in addition to the music, a seemingly endless flow of new menu concoctions (like Five Bean Salad!) that are not only tasty but also healthy and featuring ingredients acquired from sustainable food production sources.
Another example of their creative thinking is the recent advent of Sunday "High Tea" service each week from noon till 5 p.m. Moreover, they make an actual effort to get the word out to their local community and beyond by actually keeping their Facebook page up-to-date (unlike other nearby local spots such as The Hole In The Wall and Axis Gallery & Grill).
Today they stage yet another example of imaginative thinking in putting on a special three-hour 2-5 p.m. Artsfest event that includes visual displays, poets reading and musicians performing.
Somewhat similar in concept to shows Pete Otis has put on through his SongTown enterprise, today's gathering also includes some of the key people who've been involved in those undertakings, including Otis himself, artist Linda Goldman and poet Sheila Horne-Teixeira, who will read along with several of her spoken word associates.
Performing musically on stage, in addition to Otis and Coward, will be Harpin' Norm Lucien, the songwriter whose tune "Strong Enough For Love" "Strong Enough For Love" is the title track of her her second album, which she released last September. He's also been a regular performing companion with her in the months since, especially appearing several times with her on her weekly online Monday night live shows on Streetjelly.com.
On his own Harpin' Norm also continues to write and perform songs that contain both powerful messages and catchy melodies, most notably of late the anthemic singalong ditty "Food And Water First," which seems to totally resonate with the philosophy of this room.
The readers and players will be on stage from 2 - 4 and then there will be an open mic for the final hour, we're told. That might be a good time for performers who want to get signed up for the new Friday evening shows (or a forthcoming Saturday afternoon) to come out and show what they can do. And if you'd like a little harmonica accompaniment with that, you can bet that'll be on the menu too.
-Gary 17, TorontoMoon.ca
SHOW LISTINGS for Saturday, April 25, 2022
Listings preceded by an asterisk (*) are repeating weekly events. (Double asterisk indicates repeating event with different hosts/guest/etc.). Admission prices followed by a slash and minus (/-) after the amount indicates door charge with availability of cheaper rates for some purchases. /+ indicates stated price is minimum.
Names of subscribers appear in bold, are underlined and, where applicable, include a live link to their websites. Advertisers' listings are in larger, highlighted type, include live link to website and also have ad icon included in listings.
*12-3> Julian Fauth's Blues Brunch @ Axis, 3048 Dundas St. W., TO West ~Blues
*12-3> Danny Marks & friends @ The Rex, 194 Queen St. W., TO ~Jazz
*2-5> Dr. B's Acoustic Medicine Show open stage with host Brian Gladstone @ Free Times Café, 320 College St. TO ~Roots; pwyc
2-5> Artsfest Words, Music and Poetry with Nicole Coward, Harpin' Norm Lucien, host Sheila Horne-Teixeira & open mic 4-5 p.m. @ Humble Beginnings, 3109 Dundas St. W., TO West ~eclectic
**2-6> Sil Simone Band with special guest Virgil Scott @ Carrigan Arms, 2025 Upper Middle Rd., Burlington ~Rock/Blues
**2-6> open mic with a different weekly host @ Magic Oven, 347 Keele St., TO West
*2-6> jam w. Tom Finocchio @ Sam's Place, Barton-Chestnut Sts., Hamilton
**2-6> Saturday Blues Sermon with James Anthony & special guest Jay Douglas @ Black Swan Pub Burlington, 4040 Palladium Way, Burlington ~Blues
*3-6> Danny B Band @ Blue Goose, 1 Blue Goose St., Etobicoke South ~R&B/Blues
*3-7> jam with Michelle Deneault & Redder @ Port Credit Legion, 35 Front St., Port Credit
3> The Boxcar Boys @ C'est What, 67 Front St. E., TO ~$5
3> Jamzac @ Tranzac Club (Southern Cross), 292 Brunswick Ave., TO
*3-7> open stage jam @ Moonshine Café, 137 Kerr St., Oakville; $2
3:30-6:30> Loaded Blues matinée featuring Jim Cornell of Still Sunday @ The Loaded Dog, 1921 Lawrence Ave. E., Scarborough
*3:30-6> Johnny Wright @ Outriggers, 2232 Queen St. E., TO East ~R&B
3:30> Go Freddie Go @ Eton House,  710 Danforth Ave., TO E ~vintage Pop Rock; $
3:30> Swing Shift Big Band @ The Rex, 194 Queen St. W., TO ~Jazz
3:30> Richard Underhill Quartet @ The Pilot, 22 Cumberland St., TO ~Jazz
**4-8> Bear Band Essentials with guest singer Penny Skolski @ Southside Johnny's, 3653 Lakeshore Blvd. W. Etobicoke South ~Rock-R&B
4-7> York Jazz Ensemble @ Seven44, 744 Mount Pleasant Road, TO North ~Jazz; $
*4-7:30> Ronnie Hayward Trio @ McQueen's, 993 Queen St. E., TO E. ~Blues/Roots
*4-8> The Meteors with guest George Olliver @ Timothy's Pub, 344 Brown's Line, Etobicoke South ~Blues/Rock/R&B
*4> Susan Latimer @ Simcoe Blues & Jazz, 926 Simcoe St., Oshawa ~Roots
**5-8> Bill Heffernan & Friends featuring guest Jon Brooks @ Gate 403, 403 Roncesvalles Ave. TO West –Rootsy Pop
5-8> Ryan Kerr @ The Local, 396 Roncesvalles Ave., TO West ~alternative Roots
6-8> Colonel Tom & The American Pour @ Cameron House (front), 408 Queen St. W., TO ~Americana
6-8> David Celia @ Castro's, 2116 Queen St. E., TO East ~indie Pop
6-9> Blimp Rock with Tyson's Casio Fiasco @ Dakota Tavern, 249 Ossington Ave., TO West
*6-9> Rebeljo Duo @ Roc'n Doc's, 105 Lakeshore Rd. E., Port Credit ~soft Pop
7:30> Nick Teehan Group @ The Rex, 194 Queen St. W., TO ~ Jazz
8> David Leask @ The Feathers, 962 Kingston Rd., TO East ~songwriter
8> Howard Ross & Full Count Blues Band with guests Pat Carey & Paul Reddick @ Dominion Hotel, 113 Main St., Minden ~Blues; $20
8> Joanne Mackell @ Cameron House (front), 408 Queen St. W., TO ~Country
8:30> Levon Helm Celebration with The Weber Brothers, John Mays, Lance Anderson, Jim Bowskill, Angela Penfound-Wilson; more @ Hugh's Room, 2261 Dundas St. W., TO West ~tribute; $35
8:30> A Song Of My Own student showcase @ Free Times Café, 320 College St. TO ~eclectic
8:30> Judged @ Black Horse Pub, 452 George St. N., Peterborough
*9-1> karaoke with Rob MacArthur @ Tudor Rose, 700 Harwood Ave. S., Ajax
9-1> Colin Amey @ Black Dog Pub, 87 Island Rd., Scarborough ~acoustic Country Pop
9-1> Donné Roberts Band @ Gate 403, 403 Roncesvalles Ave., TO West ~ Jazz
9> Cece Pastor @ Seven44, 744 Mount Pleasant Road, TO North ~Rock/Top 40; $
9> The 45s @ Eton House, 710 Danforth Ave., TO East ~Pop Rock
9> Lost Hologram @ C'est What, 67 Front St. E., TO
9> Chris Staig & The Marquee Players @ The Local, 396 Roncesvalles Ave., TO West ~Rock
9> Fried Angels @ Blue Goose Tavern, 1 Blue Goose Rd., Etobicoke South ~Pop Rock
9> Harvest @ Maple Leaf House, 2749 Lakeshore Boulevard East, Etobicoke ~Rock/Top 40/Blues
9> Robin Loren & Rainbow Dance @ Carrigan Arms, 2025 Upper Middle Rd., Burlington
9> Brad James Band @ The Corral, 433 Simcoe St. S., Oshawa ~Country
9> Second Pass @ The Atria, 59 King St. E., Oshawa ~Rock
9-1> tba @ Oscar's Roadhouse, 1785 Queen St. E., Brampton ~Pop Rock/Top 40
9> Bernadette Connors @ King Richard's Pub, 15570 Yonge St., Aurora ~Pop Rock
**9> Niagara Rhythm Section @ The Old Winery, 2228 Niagara Stone Rd., Niagara-On-The-Lake ~R&B/Blues
9:30-11:30> Kirsten Jones with Chris Bennett, Nancy Dutra @ Relish, 2152 Danforth Ave., TO East ~songwriters
*9:30-2> karaoke with The English Rose & The Mad Scotsman @ Winners, 2181 Lawrence Ave. E., Scarborough
9:30> Soular @ Alleycatz, 2409 Yonge St., TO North ~Funk/Soul/R&B
9:30> The Digital Immigrants @ The Duke Live, 1225 Queen St. E., TO East ~Pop Rock
9:30> Universal Juveniles @ Linsmore Tavern, 1298 Danforth Ave., TO East ~Max Webster Band tribute; $10
9:30> Sonic Square @ Stone Cottage Pub, 3750 Kingston Rd., Scarborough ~Pop Rock
9:30> Motown Mania @ Timothy's Pub 344 Brown's Line, Etobicoke South ~Motown hits; $5
9:30> Paul & Curtis @ Shore Grill, 71 Lakeshore Rd. E., Port Credit ~Pop Rock/Top 40
9:30> The Doubts @ Jake's Boathouse Brampton, 59 First Gulf Rd., Brampton ~Pop Rock
9:30> Steve Clark jam night @ Shakers, 580 Kerr St., Oakville
9:30> Skip Tracer @ Sixth Line Pub, 1500 Sixth Line, Oakville ~Pop Rock
9:30> Ric Jacobs @ Gator Ted's, 1505 Guelph Line, Burlington
9:30> Shawn Steinhart Band @ Aw Shucks, 15230 Yonge St., Aurora ~Pop Rock
9:45> Alex Pangman Group @ The Rex, 194 Queen St. W., TO ~Jazz
*9:45> Tyler Yarema & His Rhythm @ Reservoir Lounge, 52 Wellington St. E., TO ~Jazz/Blues
10-2> Kick Back @ Southside Johnny's, 3653 Lakeshore Blvd. W. Etobicoke South ~Rock/Top 40
*10> karaoke with Randy Petrie @ Kramers, 1915 Yonge St., TO North
10> Ride The Tiger @ Orbit Room, 480 College St. TO ~Funk/Soul
10> The Mercenaries @ Cameron House (front), 408 Queen St. W., TO ~Country
10> Alun Piggins & Warboner @ Tennessee, 1554 Queen St. W., TO West ~original Roots-Pop
10> tba @ Tranzac Club (Southern Cross), 292 Brunswick Ave., TO
10-2> Shane Murphy @ Dakota Tavern, 249 Ossington Ave., TO West
10-2> Covered In Paint @ Roc'n Doc's, 105 Lakeshore Rd. E., Port Credit ~Rock/Top 40
10> The Hit Disturbers @ West Shore Bar, 877 Bayly St., Pickering ~cover Pop Rock
10-2> Tamin' Thunder @ Whisky John's, 843 King St. W., Oshawa
10> Emily J. West & band @ The Garnet, 231 Hunter St. W., Peterborough
10:30> tribute to Chicago Blues/Chess Records with Dave McManus, Julian Fauth & Ken Yoshioka @ On Cue, 349 Jane St., TO West ~Blues; $5
10:30> Backtrack featuring Marty Zatzman @ Bier Markt Don Mills, 7 O'Neill Rd., TO North ~Motown/R&B/Rock
10:30> The Disco Rebels @ The Hideout, 484 Queen St. W., TO ~indie Rock
10:30> Killin' Time @ The Dickens, 423 Elizabeth St., Burlington ~Pop Rock
Copyright © 2015 Toronto Moon Magazine. All Rights Reserved