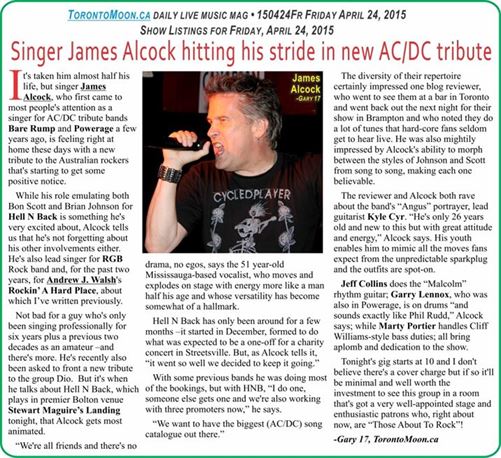 It's taken him almost half his life, but singer James Alcock, who first came to most people's attention as a singer for AC/DC tribute bands Bare Rump and Powerage a few years ago, is feeling right at home these days with a new tribute to the Australian rockers that's starting to get some positive notice.
While his role emulating both Bon Scott and Brian Johnson for Hell N Back is something he's very excited about, Alcock tells us that he's not forgetting about his other involvements either. He's also lead singer for RGB Rock band and, for the past two years, for Andrew J. Walsh's Rockin' A Hard Place, about which I've written previously.
Not bad for a guy who's only been singing professionally for six years plus a previous two decades as an amateur –and there's more. He's recently also been asked to front a new tribute to the group Dio.  But it's when he talks about Hell N Back, which plays in premier Bolton venue Stewart Maguire's Landing tonight, that Alcock gets most animated.
"We're all friends and there's no drama, no egos, says the 51 year-old Mississauga-based vocalist, who moves and explodes on stage with energy more like a man half his age and whose versatility has become somewhat of a hallmark.
Hell N Back has only been around for a few months –it started in December, formed to do what was expected to be a one-off for a charity concert in Streetsville. But, as Alcock tells it, "it went so well we decided to keep it going."
With some previous bands he was doing most of the bookings, but with HNB, "I do one, someone else gets one and we're also working with three promoters now," he says.
"We want to have the biggest (AC/DC) song catalogue out there."
The diversity of their repertoire certainly impressed one blog reviewer, who went to see them at a bar in Toronto and went back out the next night for their show in Brampton and who noted they do a lot of tunes that hard-core fans seldom get to hear live. He was also mightily impressed by Alcock's ability to morph between the styles of Johnson and Scott from song to song, making each one believable.
The reviewer and Alcock both rave about the band's "Angus" portrayer, lead guitarist Kyle Cyr. "He's only 26 years old and new to this but with great attitude and energy," Alcock says. His youth enables him to mimic all the moves fans expect from the unpredictable sparkplug and the outfits are spot-on.
Jeff Collins does the "Malcolm" rhythm guitar; Garry Lennox, who was also in Powerage, is on drums "and sounds exactly like Phil Rudd," Alcock says; while Marty Portier handles Cliff Williams-style bass duties; all bring aplomb and dedication to the show.
Tonight's gig starts at 10 and I don't believe there's a cover charge but if so it'll be minimal and well worth the investment to see this group in a room that's got a very well-appointed stage and enthusiastic patrons who, right about now, are "Those About To Rock"!
-Gary 17, TorontoMoon.ca
SHOW LISTINGS for Friday, April 24, 2022

:
Listings preceded by an asterisk (*) are repeating weekly events. (Double asterisk indicates repeating event with different hosts/guest/etc.). Admission prices followed by a slash and minus (/-) after the amount indicates door charge with availability of cheaper rates for some purchases. /+ indicates stated price is minimum.
Names of subscribers appear in bold, are underlined and, where applicable, include a live link to their websites. Advertisers' listings are in larger type, highlighted, include live link to website and also have ad icon included in listings.
*3-7> acoustic jam with John Hutt @ Lola, 40 Kensington Ave., TO
*4-6> Hogtown Syncopators featuring Terra Hazelton @ The Rex, 194 Queen St. W., TO ~Jazz
*5-8> Kensington Kitchen Party with host Kevin Jollimore of Sin City Boys & guest musicians @ Graffiti's, 170 Baldwin St., TO ~Pop Rock with heart
*5-7> open mic with The Foolish Things @ Tranzac Club (Southern Cross), 292 Brunswick Ave., TO ~original Pop
5-7> The Straight 8s @ Castro's, 2116 Queen St. E., TO East
5-8> Whitney Ross Barris Band @ Gate 403, 403 Roncesvalles Ave., TO West ~Jazz
*5> Adam Ostrosser & Joel Guenther @ Carrigan Arms, 2025 Upper Middle Rd., Burlington ~Pop
5:30> Rick & Gailie @ Black Horse Pub, 452 George St. N., Peterborough
6> David Celia @ Cameron House (front), 408 Queen St. W., TO
6:30> Boom For Rent @ The Rex, 194 Queen St. W., TO ~Jazz
7-9> Norman Blake; Joe Pernice; guests @ Dakota Tavern, 249 Ossington Ave., TO West; $14
7> Nags Players present "Bedtime Stories" by Norman Foster @ Tranzac Club (Main Hall), 292 Brunswick Ave., TO ~theatre?
7:30> Mark Godfrey @ Tranzac Club (Southern Cross), 292 Brunswick Ave., TO
8> Sebastian Brown @ Cameron House (front), 408 Queen Street West, TO
8> Charlie Jacklin birthday bash @ Moonshine Café, 137 Kerr St., Oakville
8:30> Soozi Schlanger and David Baxter @ Free Times Café, 320 College St., TO ~original eclectic Pop
8:30> Ghost Town Blues Band @ Hugh's Room, 2261 Dundas St. W., TO West ~Blues; $22.50/-
8:30> Kelly McMichael & Dave Tough @ Black Horse Pub, 452 George St. N., Peterborough
9> Dunn featuring Dee Flat @ TJ's, 449 Welland Ave., St. Catharines ~Rock/Pop
9-1> Lisa Hutchinson Blues Quartet @ Gate 403, 403 Roncesvalles Ave., TO West ~Blues
9> Bone-Yard @ Eton House, 710 Danforth Ave., TO East ~Rock
9> The Weber Brothers @ Cadillac Lounge 1296 Queen St. W., TO West ~Blues; $10
9> Matty Powell @ The Local, 396 Roncesvalles Ave., TO West
9-1> Sun K @ Monarchs Pub in Eaton Chelsea Hotel, 33 Gerrard St. W., TO ~original & cover Rock
9> Cadillac Daddies @ Blue Goose Tavern, 1 Blue Goose Rd., Etobicoke South ~R&B/Rock
9> G-String @ Maple Leaf House, 2749 Lakeshore Boulevard East, Etobicoke ~Rock/Top 40/Blues
9-1> PRJ @ Simcoe Blues & Jazz, 926 Simcoe St., Oshawa ~Blues
9> Mechanical Bull all request DJ @ The Corral, 433 Simcoe St. S., Oshawa ~Country
9> Chelsea Crites @ Boston Manor, 4400 Fairview St., Burlington ~Country
9> Jack de Keyzer Band @ Stonewalls, 339 York Blvd., Hamilton; $20
9> Glamour Assassins @ King Richard's Pub, 15570 Yonge St., Aurora ~Pop Rock
*9:30> David Macmichael & Dean McKinnon @ Relish, 2152 Danforth Ave., TO East ~alt Pop originals and covers
9:30> The Plaza Ratz featuring Kevin Huckell & Henry Thaler on keys @ The Queen's Legs, 286 Eglinton Ave. West, TO North ~classic Rock
9:30> Harvest Moon @ Timothy's Pub, 344 Brown's Line, Etobicoke South ~Pop Rock/Top 40; $5
9:30> Voodoo Walters & The Rhythm Method @ Axis Gallery & Grill, 3048 Dundas St. W., TO West ~Blues/R&B/Rock
9:30> Nine Times Band @ Alleycatz, 2409 Yonge St., TO North ~Funk/Soul/R&B; $10
9:30> Melody MacDougall @ The Duke Live, 1225 Queen St. E., TO East ~Pop Rock
9:30> Groovestone @ Linsmore Tavern, 1298 Danforth Ave., TO East ~Rock/Pop; $5
9:30> Greg Wyard @ Stone Cottage Pub, 3750 Kingston Rd., Scarborough ~Pop Rock
9:30> John Chantry @ Shore Grill, 71 Lakeshore Rd. E., Port Credit ~Pop Rock/Top 40
9:30> The Doubts @ Jake's Boathouse Brampton, 59 First Gulf Rd., Brampton ~Pop Rock
9:30> Hipkings @ Oscar's Roadhouse, 1785 Queen St. E., Brampton ~Top 40/Rock
*9:30> open mic @ Big Daddy's, 460 Elgin Mills Rd., E, Richmond Hill
9:30> Shawn Steinhart Band @ Aw Shucks, 15230 Yonge St., Aurora ~Pop Rock
9:30> Candice Sand @ Shakers, 580 Kerr St., Oakville ~Pop Rock
9:30> Tim Park @ Gator Ted's, 1505 Guelph Line, Burlington ~Pop Rock
9:30> IN2U @ Black Swan Pub Burlington, 4040 Palladium Way, Burlington ~Pop Rock
9:45> Phil Dwyer Combo featuring Larnell Lewis @ The Rex, 194 Queen St. W., TO ~Vancouver Jazz
9:45> Dee Dee & The Dirty Martinis @ Reservoir Lounge, 52 Wellington St. E., TO ~Jazz/Blues
10> The Dirty Rottens featuring Anthony Cee @ Smiling Jack's, 3482 Lawrence Ave. E., Scarborough ~classic Rock
10> Hell N Back featuring James Alcock @ Stewart Maguire's Landing, 15 Allan Dr., Bolton ~ AC/DC tribute
10-2> Pop Cherry @ Southside Johnny's, 3653 Lakeshore Blvd. W., Etobicoke South ~vintage Rock
*10> karaoke with Randy Petrie @ Kramers, 1915 Yonge St., TO North
10> Nick Teehan @ Cameron House (front), 408 Queen Street West, TO
10-2> Shane Murphy @ Dakota Tavern, 249 Ossington Ave., TO W. ~$10
10> The Ryan Driver Sextet @ Tranzac Club (Southern Cross), 292 Brunswick Ave., TO ~Jazz
10-2> Tom Barlow Band @ Roc'n Doc's, 105 Lakeshore Rd. E., Port Credit ~Pop/contemporary Rock
10> Diesel Dog @ Jimmy Jazz, 52 MacDonell St., Guelph ~Rock
10-2> Mena Hardy Band @ Whisky John's, 843 King St. W., Oshawa ~Southern Rock
10> Soda Pony; Eagle Tears @ The Garnet, 231 Hunter St. W., Peterborough
10:30> Paige Armstrong @ The Hideout, 484 Queen St. W., TO ~indie Rock/Blues
10:30> Full Circle @ The Dickens, 423 Elizabeth St., Burlington ~Pop Rock
Copyright © 2015 Toronto Moon Magazine. All Rights Reserved