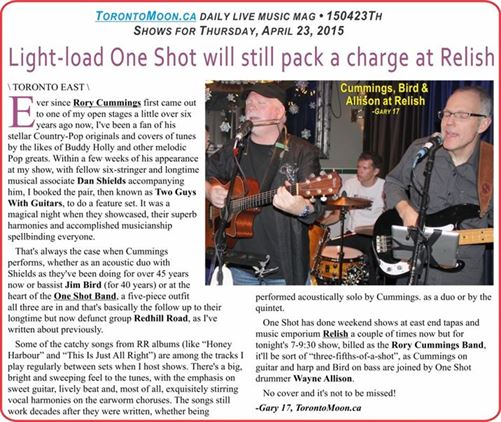 \ TORONTO EAST \
Ever since Rory Cummings first came out to one of my open stages a little over six years ago now, I've been a fan of his stellar Country-Pop originals and covers of tunes by the likes of Buddy Holly and other melodic Pop greats. Within a few weeks of his appearance at my show, with fellow six-stringer and longtime musical associate Dan Shields accompanying him, I booked the pair, then known as Two Guys With Guitars, to do a feature set. It was a magical night when they showcased, their superb harmonies and accomplished musicianship spellbinding everyone.
That's always the case when Cummings performs, whether as an acoustic duo with Shields as they've been doing for over 45 years now or bassist Jim Bird (for 40 years) or at the heart of the One Shot Band, a five-piece outfit all three are in and that's basically the follow up to their longtime but now defunct group Redhill Road, as I've written about previously.
Some of the catchy songs from RR albums (like "Honey Harbour" and "This Is Just All Right") are among the tracks I play regularly between sets when I host shows. There's a big, bright and sweeping feel to the tunes, with the emphasis on sweet guitar, lively beat and, most of all, exquisitely stirring vocal harmonies on the earworm choruses. The songs still work decades after they were written, whether being performed acoustically solo by Cummings, as a duo or by the quintet.
One Shot has done weekend shows at east end tapas and music emporium Relish a couple of times now but for tonight's 7-9:30 show, billed as the Rory Cummings Band, it'll be sort of "three-fifths-of-a-shot", as Cummings on guitar and harp and Bird on bass are joined by One Shot drummer Wayne Allison.
No cover and it's not to be missed!
-Gary 17, TorontoMoon.ca
SHOW LISTINGS for Thursday, April 23, 2022
Listings preceded by an asterisk (*) are repeating weekly events. (Double asterisk indicates repeating event with different hosts/guest/etc.). Admission prices followed by a slash and minus (/-) after the amount indicates door charge with availability of cheaper rates for some purchases. /+ indicates stated price is minimum.
Names of subscribers appear in bold and underlined and, where applicable, include a live link to their websites or event page. Advertisers' listings are in larger type and highlighted, include a live link to their website and also have a copy of the ad included in listings.
*5-8> Kirsten Jones @ Richtree Restaurant, Eaton Centre (14 Queen St. West), TO ~Country originals & Pop covers
5-8> Felix Wong Jazz Trio @ Gate 403, 403 Roncesvalles Ave., TO West ~Jazz
*5-8> Nelson Denis @ Frank's Pasta, 42 King Street E., Cobourg ~eclectic mix (Folk, Jazz, soft Rock, Latin)
6> Kevin Quain @ Cameron House (front), 408 Queen St. W., TO ~moody Blues
6-9> Old Man Luedecke @ Dakota Tavern, 249 Ossington Ave., TO West ~songwriter; $20
6:30> Ernesto Cervini Group @ The Rex, 194 Queen St. W., TO ~Jazz
7> Larra Skye; Ben Kunder @ Toronto Centre For The Arts, 5040 Yonge St., TO North ~songwriters; $10
*7> open mic with Derek Mok @ Kensington Lodge, 21 Kensington Ave., TO
7-9:30> Rory Cummings Band @ Relish, 2152 Danforth Ave., TO East ~Country-Pop originals & Pop covers
*7:30-9:30> Bluegrass Thursdays with Houndstooth @ Tranzac Lounge (Southern Cross), 292 Brunswick Ave., TO
7:30> Anvil; openers The Dead Sexy @ Oshawa Music Hall, 39 King St. E., Oshawa ~original Rock; $
*7:30> open stage with Rob Phillips Band and Chelsea Bennett @ Black Horse Pub, 452 George St. N., Peterborough
*7:30-12> open mic with K.M. Smith @ Molly Bloom's Guelph, 91 Wyndham St. N., Guelph
*8-11> Tinderbox Thursdays open stage with Michael Keith @ La Revolucion, 2848 Dundas St. W., TO West ~eclectic
8> jam hosted by Kimberley Wetmore & Co. featuring Dave Girdlestone of Soul Funkshun @ Timothy's Pub, 344 Brown's Line, Etobicoke South
*8-10:30> Jerry Leger & The Situation @ Castro's, 2116 Queen St. E., TO East ~Folk-Rock/Country
*8-1> open mic with Alicia Porter @ The Local Gest, 424 Parliament St., TO
8-12> R&B/Blues @ Nawlin's, 299 King St. W. TO
8-12> Russ Macklem's Jazz Jam @ Linsmore Tavern, 1298 Danforth Ave., TO East ~Jazz
8> Trace Minerals @ The Only Café, 972 Danforth Ave., TO East
8-12> Freedom Train @ Roc'n Doc's, 105 Lakeshore Rd. E., Port Credit
*8> open mic with Kevin Ker @ Duchess of Markham, 53 Main St., Markham
*8-12> open mic & jam @ Black Swan Pub Burlington, 4040 Palladium Way, Burlington
*8-12> jam hosted by The Personics @ Carrigan Arms, 2025 Upper Middle Rd., Burlington
*8-11> open mic with Sandy MacDonald @ Williamsburg Arms, 1187 Fischer Hallman Rd., Kitchener
8:30> The Jazz Side of Bing Crosby with Tony Quarrington, George Koller, Drew Jurecka, Gavin Hope @ Hugh's Room, 2261 Dundas St. W., TO West ~tribute; $40/-
8:30> Mark Ripp; Joseph Mavilia; Bob Hamlyn @ C'est What, 67 Front St. E., TO ~songwriters; $10
8:30> Morgan Davis & Chris Whiteley @ Free Times Café, 320 College St. TO ~Blues; $15
8:30> Torry @ Moonshine Café, 137 Kerr St. Oakville ~
*9> Tommy Rocker's Classic Rock Band  with Jonny Rock on bass host jam @ Centro Pizza, 3406 Kingston Rd., Scarborough
9> Glen Hornblast & The 8th Avenue Band @ Grossman's, 379 Spadina Ave., TO ~Folk/Country originals & covers
*9> jam with Ted Rusk @ The Sauble Dunes, 11 Southampton Parkway, Sauble Beach
*9-1:30> open stage with Jay Pennell @ Dave's On St. Clair, 730 St. Clair West, TO West ~eclectic
9-12> Kristin Lindell jazz Band @ Gate 403, 403 Roncesvalles Ave., TO West ~Jazz
*9-1> Blackburn @ Jo Mamas, 317 King St. W., TO ~Blues
9> Soulsonic @ The Painted Lady, 218 Ossington Ave., TO West
9> Ray Whimsey @ The Local, 396 Roncesvalles Ave., TO West ~romantic Pop
9-1> The Distillery @ Monarchs Pub (Eaton Chelsea Hotel), 33 Gerrard St. W., TO ~Blues
9> Animal Parts with Skye Wallace & Basements @ Dakota Tavern, 249 Ossington Ave., TO West; $
*9> jam @ The Wee Pub, 371 Wilson Rd. South, Oshawa
9> Eric Lambier @ Simcoe Blues & Jazz, 926 Simcoe St. N., Oshawa ~smooth Pop
*9:30-2> Skip Tracer @ Southside Johnny's, 3653 Lakeshore Blvd., Etobicoke South ~Rock/Pop
9:30> open mic with Rob & Matt @ Stone Cottage Pub, 3750 Kingston Rd., Scarborough
9:30> Scott Driscoll @ Black Dog Pub, 87 Island Rd., Scarborough ~Pop Rock
9:30> Jessica Speziale @ Not My Dog, 1510 Queen St. W., TO West ~songwriter
9:30> Glenn Groves @ Shore Grill, 71 Lakeshore Rd. E., Port Credit ~Pop Rock
*9:30> jam with Billick @ Harp & Crown, 300 Kingston Rd., Pickering
*9:30> jam with Jack B Nimble @ Abbey Road Pub, 3200 Erin Mills Parkway, Mississauga
*9:45> Tony Paglia @ Reservoir Lounge, 52 Wellington St. E., TO ~Jazz/Blues
9:45> Vancouver's Phil Dwyer featuring Larnell Lewis @ The Rex, 194 Queen St. W., TO ~Jazz
*10-2> karaoke with Shane Taylor @ Relish, 2152 Danforth Ave., TO East
10> Janes Party @ Cameron House (front), 408 Queen St. W., TO
10> The Special Interest Group @ Tranzac Lounge (Southern Cross), 292 Brunswick Ave., TO
10> Soulstack @ Orbit Room, 480 College St. TO ~Soul/Funk
10:30> Don Campbell @ The Hideout, 484 Queen St. W., TO ~indie Rock
Copyright © 2015 Toronto Moon Magazine. All Rights Reserved