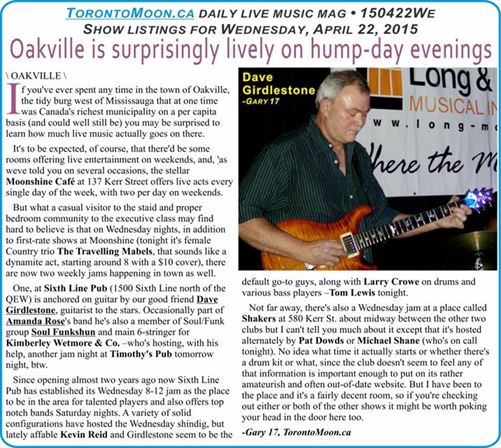 \ OAKVILLE \
If you've ever spent any time in the town of Oakville, the tidy burg west of Mississauga that at one time was Canada's richest municipality on a per capita basis (and could well still be) you may be surprised to learn how much live music actually goes on there.
It's to be expected, of course, that there'd be some rooms offering live entertainment on weekends, and, as we've told you on several occasions, the stellar Moonshine Café at 137 Kerr Street offers live acts every single day of the week, with two per day on weekends.
But what a casual visitor to the staid and proper bedroom community to the executive class may find hard to believe is that on Wednesday nights, in addition to first-rate shows at Moonshine (tonight it's female Country trio The Travelling Mabels, that sounds like a dynamite act, starting around 8 with a $10 cover), there are now two weekly jams happening in town as well.
One, at Sixth Line Pub (1500 Sixth Line north of the QEW) is anchored on guitar by our good friend Dave Girdlestone, guitarist to the stars. Occasionally part of Amanda Rose's band he's also a member of Soul/Funk group Soul Funkshun and main 6-stringer for Kimberley Wetmore & Co. –who's hosting, with his help, another jam night at Timothy's Pub tomorrow night, btw.
Since opening almost two years ago now Sixth Line Pub has established its Wednesday 8-12 jam as the place to be in the area for talented players and also offers top notch bands Saturday nights. A variety of solid configurations have hosted the Wednesday shindig, but lately affable Kevin Reid and Girdlestone seem to be the default go-to guys, along with Larry Crowe on drums and various bass players –Tom Lewis tonight.
Not far away, there's also a Wednesday jam at a place called Shakers at 580 Kerr St. about midway between the other two clubs but I can't tell you much about it except that it's hosted alternately by Pat Dowds or Michael Shane (who's on call tonight). No idea what time it actually starts or whether there's a drum kit or what, since the club doesn't seem to feel any of that information is important enough to put on its rather amateurish and often out-of-date website. But I have been to the place and it's a fairly decent room, so if you're checking out either or both of the other shows it might be worth poking your head in the door here too.
-Gary 17, TorontoMoon.ca
SHOW LISTINGS for Wednesday, April 22, 2022
Listings preceded by an asterisk (*) are repeating weekly events. (Double asterisk indicates repeating event with different hosts/guest/etc.) Admission prices followed by a slash and minus (/-) after the amount indicates door charge with availability of cheaper rates for some purchases. /+ indicates stated price is minimum.
Names of subscribers appear in bold and underlined and, where applicable, include a live link to their websites. Advertisers' listings are in larger, highlighted type, include live link to website and also have ad icon included in listings.
5-8> Dan Pitt Jazz Duo @ Gate 403, 403 Roncesvalles Ave., TO West ~Jazz
6> Jenie Thai @ Cameron House (front), 408 Queen St. W., TO
6:30> Ethan Ardelli Quartet @ The Rex, 194 Queen St. W., TO ~Jazz
6:30-12:30> Nuno Miller; Mary Bennet; Will Gillespie; Darknesses; MWQ @ Graffiti's, 170 Baldwin St., TO ~eclectic songwriters; $10 or pwyc
* 7> jam with Tommy Rocker's Classic Rock Band @ Fox at Scarborough Junction, 646 Danforth Rd., Scarborough
7> Pram Trio @ Monarchs Pub (Eaton Chelsea Hotel), 33 Gerrard St. W., TO ~edgy Jazz
7-8> Munroe @ Dakota Tavern, 249 Ossington Ave., TO West ~$10
*7> open mic night with Tanya Joy Senior @ Col. McGrady's Pub, 44 Brock St. W., Uxbridge
*7-11> open jam with Wayne Buttery Band @ The Beacon, 146 45th St., Wasaga Beach
7> Tom Eastland @ Black Horse Pub, 452 George St. N., Peterborough
*7:30-10:30> The BTBs @ Relish, 2152 Danforth Ave., TO East ~Jazz
**8-10:30> Hump Night Blues with Dave McManus & Cleave Anderson + special guest Jake Chisholm @ On Cue Billiards, 349 Jane St., TO West ~Blues
*8-12> Girls Night Out Jazz singers jam with Lisa Particelli, Peter Hill et al @ Chalkers, 247 Marlee Ave., TO North-West
*8-12> All-ages jam with band featuring Dave Girdlestone of Soul Funkshun on guitar & host Kevin Reid @ Sixth Line Pub, 1500 Sixth Line, Oakville
*8> Howard Ross hosts "Big Mojo" Blues jam with guest performer Paul Reddick @ The Hub, 15 Simcoe St. N., Oshawa
**8> open stage with 9 p.m. feature by Linda Stitt @ Fat Albert's, 25 Cecil St. (Steelworkers Hall), TO ~Roots
*8-1> open jam with Wednesday's Child feat. Johnny Bootz Hutt @ Lola, 40 Kensington Ave., TO
8> Sugar Brown @ Cameron House (front), 408 Queen St. W., TO
8> Lzrszn @ The Only Café, 972 Danforth Ave., TO East ~Space Jazz
*8-11> Fraser-Daley @ Inter Steer, 357 Roncesvalles Ave. TO West ~Roots/Blues
8-1> Nancy B Duo @ Timothy's Pub, 344 Brown's Line, Etobicoke South ~Pop
*8-2> Paul & Curtis @ Roc'n Doc's, 105 Lakeshore Rd. E., Port Credit ~Rock/Pop
8-1> The Travelling Mabels @ Moonshine Café, 137 Kerr St., Oakville ~Folk/Country trio; $10
*8-12> acoustic jam with Tony Paglia & Aaron Soloman @ Jake's Boathouse Brampton, 59 First Gulf Rd., Brampton
8> Big Wind @ Simcoe Blues & Jazz, 926 Simcoe St. N., Oshawa
*8-12> open mic with Kevin Ker @ Aw Shucks, 15230 Yonge St., Aurora
*8-11> open mic @ Frank's Pasta, 426 King St. E., Cobourg
*8:30> Al Reilly's Catalyst @ Centro Pizza, 3408 Kingston Rd., Scarborough ~classic Rock
8:30> Nicole Coward & Harpin' Norm Lucien online live @ WWW.STREETJELLY.COM/SONGBIRDLIVE  ~Roots
8:30> Love, Loss & Luck with Jessie Cox, Megan Poole and Stephen Armn @ Free Times Cafe, 320 College St., TO ~original; pwyc
*8:30-10:30> The Wanted @ Castro's, 2116 Queen St. E., TO East
8:30> Jeffery Straker album release for North Star Falling @ Hugh's Room, 2261 Dundas St. W., TO West ~piano man songwriter; $20
*8:30> open mic with Jadzia Skye & Michael Oesch @ Chez Helene's, 1437 Kingston Rd., Scarborough
*8:30> Crazy Strings host High Lonesome Wednesdays with opening acoustic act @ Silver Dollar 486 Spadina Ave., TO ~Bluegrass
*8:30> Something Country @ The Endzone, 1900 King St. E., Hamilton ~Country
*8:45> Bradley & The Bouncers @ Reservoir Lounge, 52 Wellington St. E., TO ~Jazz/Blues/R&B
9-12> Blues Night with Julian Fauth & guests @ Gate 403, 403 Roncesvalles Ave., TO West ~original Juno-winning Blues
*9> The Phil & John Show feat. Phil Naro @ Molly Bloom's Waterloo, 170 University Ave., Waterloo ~acoustic Pop Rock
9> The Rucksack Willies @ The Local, 396 Roncesvalles Ave., TO West ~Country/Folk
*9> open mic with Sean Barker @ Monarch Tavern, 12 Clinton St., TO
9> Tim Bradford Band @ Dakota Tavern, 249 Ossington Ave., TO West ~Country-Pop
*9> open mic jam with Jack B Nimble @ Blarney's Gate, 1151 Dundas St. W., Mississauga
*9?> jam with Michael Zane @ Shakers, 580 Kerr St., Oakville
*9-12> jam with Damage Control @ St. Louis Bar & Grill Ajax, 11 Harwood Ave. S., Ajax
*9-1> open mic jam with Whiskey Birds @ Sweetz Lounge, 5289 Hwy 7, Woodbridge-Vaughan
*9:30> open stage with Nicola Vaughan @ Black Swan (downstairs), 154 Danforth Ave., TO East
9:30> Gene Smith with David Braid @ The Rex, 194 Queen St. W., TO ~Nova Scotia Jazz
*9:30-2> jam with B-Sides @ The Unicorn, 175 Eglinton Ave. E., TO North
9:30> Darcy Windover @ C'est What, 67 Front St. E., TO ~indie; pwyc
9:30> The Carson Freeman Diversion @ Shore Grill, 71 Lakeshore Rd. E., Port Credit ~Pop Rock
10> Joey Wright @ Cameron House (front), 408 Queen St. W., TO
*10-2> Blues-Rock jam with Bruce Domoney @ Grossman's, 379 Spadina Ave. TO
10:30> The Sons of Jameson @ The Hideout, 484 Queen St. W., TO ~indie Rock
*10:30> The LMT Connection @ Orbit Room, 580 College St. TO ~Funk/R&B; $10
Copyright © 2015 Toronto Moon Magazine. All Rights Reserved