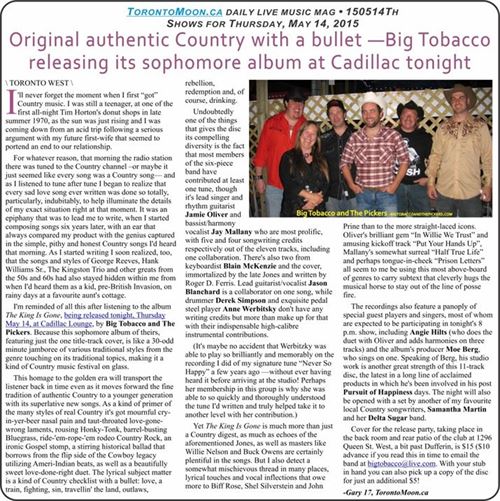 \ TORONTO WEST \
I'll never forget the moment when I first "got" Country music. I was still a teenager, at one of the first all-night Tim Horton's donut shops in late summer 1970, as the sun was just rising and I was coming down from an acid trip following a serious argument with my future first-wife that seemed to portend an end to our relationship.
For whatever reason, that morning the radio station there was tuned to the Country channel –or maybe it just seemed like every song was a Country song— and as I listened to tune after tune I began to realize that every sad love song ever written was done so totally, particularly, indubitably, to help illuminate the details of my exact situation right at that moment. It was an epiphany that was to lead me to write, when I started composing songs six years later, with an ear that always compared my product with the genius captured in the simple, pithy and honest Country songs I'd heard that morning. As I started writing I soon realized, too, that the songs and styles of George Reeves, Hank Williams Sr., The Kingston Trio and other greats from the 50s and 60s had also stayed hidden within me from when I'd heard them as a kid, pre-British Invasion, on rainy days at a favourite aunt's cottage.
I'm reminded of all this after listening to the album The King Is Gone, being released tonight, Thursday May 14, at Cadillac Lounge, by Big Tobacco and The Pickers. Because this sophomore album of theirs, featuring just the one title-track cover, is like a 30-odd minute jamboree of various traditional styles from the genre touching on its traditional topics, making it a kind of Country music festival on glass.
This homage to the golden era will transport the listener back in time even as it moves forward the fine tradition of authentic Country to a younger generation with its superlative new songs. As a kind of primer of the many styles of real Country it's got mournful cry-in-yer-beer nasal pain and taut-throated love-gone-wrong laments, rousing Honky-Tonk, barrel-busting Bluegrass, ride-'em-rope-'em rodeo Country Rock, an ironic Gospel stomp, a stirring historical ballad that borrows from the flip side of the Cowboy legacy utilizing Ameri-Indian beats, as well as a beautifully sweet love-done-right duet. The lyrical subject matter is a kind of Country checklist with a bullet: love, a train, fighting, sin, travellin' the land, outlaws, rebellion, redemption and, of course, drinking.
Undoubtedly one of the things that gives the disc its compelling diversity is the fact that most members of the six-piece band have contributed at least one tune, though it's lead singer and rhythm guitarist Jamie Oliver and bassist/harmony vocalist Jay Mallany who are most prolific, with five and four songwriting credits respectively out of the eleven tracks, including one collaboration. There's also two from keyboardist Blain McKenzie and the cover, immortalized by the late Jones and written by Roger D. Ferris. Lead guitarist/vocalist Jason Blanchard is a collaborator on one song, while drummer Derek Simpson and exquisite pedal steel player Anne Werbitsky don't have any writing credits but more than make up for that with their indispensable high-calibre instrumental contributions.
(It's maybe no accident that Werbitzky was able to play so brilliantly and memorably on the recording I did of my signature tune "Never So Happy" a few years ago —without ever having heard it before arriving at the studio! Perhaps her membership in this group is why she was able to so quickly and thoroughly understood the tune I'd written and truly helped take it to another level with her contribution.)
Yet The King Is Gone is much more than just a Country digest, as much as echoes of the aforementioned Jones, as well as masters like Willie Nelson and Buck Owens are certainly plentiful in the songs. But I also detect a somewhat mischievous thread in many places, lyrical touches and vocal inflections that owe more to Biff Rose, Shel Silverstein and John Prine than to the more straight-laced icons. Oliver's brilliant gem "In Willie We Trust" and amusing kickoff track "Put Your Hands Up", Mallany's somewhat surreal "Half True Life" and perhaps tongue-in-cheek "Prison Letters" all seem to me be using this most above-board of genres to carry subtext that cleverly hugs the musical horse to stay out of the line of posse fire.
The recordings also feature a panoply of special guest players and singers, most of whom are expected to be participating in tonight's 8 p.m. show, including Angie Hilts (who does the duet with Oliver and adds harmonies on three tracks) and the album's producer Moe Berg, who sings on one. Speaking of Berg, his studio work is another great strength of this 11-track disc, the latest in a long line of acclaimed products in which he's been involved in his post Pursuit of Happiness days. The night will also be opened with a set by another of my favourite local Country songwriters, Samantha Martin and her Delta Sugar band.
Cover for the release party, taking place in the back room and rear patio of the club at 1296 Queen St. West, a bit past Dufferin, is $15 ($10 advance if you read this in time to email the band at [email protected]. With your stub in hand you can also pick up a copy of the disc for just an additional $5!
SHOW LISTINGS for Thursday, May 14, 2022
Listings are now organized by area in which the shows occur and within each area field shows are listed chronologically.
Listings preceded by an asterisk (*) are repeating weekly events. (Double asterisk indicates repeating event with different hosts/guest/etc.). Admission prices followed by a slash and minus (/-) after the amount indicates door charge with availability of cheaper rates for some purchases. /+ indicates stated price is minimum.
Names of subscribers appear in bold and underlined and, where applicable, include a live link to their websites or event page. Advertisers' listings are in larger type and highlighted, include a live link to their website and also have a copy of the ad included in listings.
416 - Toronto Central
12> MusicFest @ The Rex, 194 Queen St. W., TO ~Jazz
6> Corin Raymond @ Cameron House (front), 408 Queen St. W., TO ~indie Root-Pop
6:30> Youth Jazz Canada; 2015 National Combo @ The Rex, 194 Queen St. W., TO ~Jazz
7> Second Pass; Black Pussy @ Sneaky Dees, 431 College St., TO
*7> open mic with Derek Mok @ Kensington Lodge, 21 Kensington Ave., TO
7> Mega City Swing Band @ Seven44, 744 Mount Pleasant Road, TO North
*7:30-9:30> Bluegrass Thursdays with Houndstooth @ Tranzac Lounge (Southern Cross), 292 Brunswick Ave., TO
*8-1> open mic with Alicia Porter @ The Local Gest, 424 Parliament St., TO
8-12> R&B/Blues @ Nawlin's, 299 King St. W. TO
8:30> Songwriters Circle of Jerks with Nelson Sobral; Hugh Wilson; Bradley James McGoey; Mary Stewart; Mattie Leon @ Free Times Café, 320 College St. TO ~
9-1> Mark "Bird" Stafford @ Monarchs Pub (Eaton Chelsea Hotel), 33 Gerrard St. W., TO ~Blues harmonica ace
*9-1> Blackburn @ Jo Mamas, 317 King St. W., TO ~Blues
9:30> Kirk MacDonald Quartet @ The Rex, 194 Queen St. W., TO ~Jazz
*9:45> Mary Mckay @ Reservoir Lounge, 52 Wellington St. E., TO ~Jazz/Blues
10> Jean on Gene @ Cameron House (front), 408 Queen St. W., TO
10> Indo Saravanja @ Tranzac Lounge (Southern Cross), 292 Brunswick Ave., TO
10> Oakland Stroke @ Orbit Room, 480 College St. TO ~Tower Of Power tribute; $
10:30> tba @ The Hideout, 484 Queen St. W., TO ~indie Rock
416 - Toronto East
7:30-9:30> David Macmichael & The $5 Tall Boys @ Relish, 2152 Danforth Ave., TO East ~songwriter
7:30> The Wreck @ Eton House, 710 Danforth Ave., TO East; pwyc
*8-10:30> Jerry Leger & The Situation @ Castro's, 2116 Queen St. E., TO East ~Folk-Rock/Country
9> The Kat Kings @ Linsmore Tavern, 1298 Danforth Ave., TO East ~Rockabilly
*10-2> karaoke with Shane Taylor @ Relish, 2152 Danforth Ave., TO East
416 - Toronto West
5-8> Roger Chong Band @ Gate 403, 403 Roncesvalles Ave., TO West ~Jazz
8> Big Tobacco & The Pickers album release for The King Is Gone @ Cadillac Lounge, 1296 Queen St. W., TO West ~authentic original Country; $15
*8-11> Tinderbox Thursdays open stage with Michael Keith @ La Revolucion, 2848 Dundas St. W., TO West ~eclectic
8> Sun Parlour Players @ Dakota Tavern, 249 Ossington Ave., TO West
8:30> Jewish Music Week presents Burt Bacharach/Hal David Songbook revue @ Hugh's Room, 2261 Dundas St. W., TO West ~tribute; $35/-
9> Swamperella featuring Soozi Schlanger @ The Local, 396 Roncesvalles Ave., TO West ~Swamp Pop
*9-1:30> open stage with Jay Pennell @ Dave's On St. Clair, 730 St. Clair West, TO West ~eclectic
9-12> Kevin Laliberte Jazz & Flamenco Trio @ Gate 403, 403 Roncesvalles Ave., TO West ~Jazz/Flamenco
9> Esquire Fresh; Waiting For Dorothy; @ The Painted Lady, 218 Ossington Ave., TO West
416 - Etobicoke

9> Kimberly Wetmore & Co. featuring Dave Girdlestone of Soul Funkshun @ Timothy's Pub, 344 Brown's Line, Etobicoke South ~Pop Rock
*9:30-2> Skip Tracer @ Southside Johnny's, 3653 Lakeshore Blvd., Etobicoke South ~Rock/Pop
416 – Scarborough
*9> Tommy Rocker's Classic Rock Band host jam @ Centro Pizza, 3406 Kingston Rd., Scarborough
519
*7:30-12> open mic with K.M. Smith @ Molly Bloom's Guelph, 91 Wyndham St. N., Guelph
*8-11> open mic with Sandy MacDonald @ Williamsburg Arms, 1187 Fischer Hallman Rd., Kitchener
705
*7:30> Rob Phillips Jazz/Blues Trio with Chelsea Bennett @ Black Horse Pub, 452 George St. N., Peterborough
*9> jam with Ted Rusk @ The Sauble Dunes, 11 Southampton Parkway, Sauble Beach
905 - East
*5-8> Nelson Denis @ Frank's Pasta, 42 King Street E., Cobourg ~eclectic mix (Folk, Jazz, soft Rock, Latin)
8> Classified @ Simcoe Blues & Jazz, 926 Simcoe St. N., Oshawa
*9> jam @ The Wee Pub, 371 Wilson Rd. South, Oshawa
*9:30> jam with Billick @ Harp & Crown, 300 Kingston Rd., Pickering
905 - North
*8> open mic with Kevin Ker @ Duchess of Markham, 53 Main St., Markham
905 - West
8-12> Freedom Train @ Roc'n Doc's, 105 Lakeshore Rd. E., Port Credit
*8-12> open mic & jam @ Black Swan Pub Burlington, 4040 Palladium Way, Burlington
*8-12> jam hosted by The Personics @ Carrigan Arms, 2025 Upper Middle Rd., Burlington
8:30> Craig Cardiff @ Moonshine Café, 137 Kerr St. Oakville ~troubadour songwriter; $15
9:30> Glenn Groves @ Shore Grill, 71 Lakeshore Rd. E., Port Credit ~Pop Rock
*9:30> jam with Jack B Nimble @ Abbey Road Pub, 3200 Erin Mills Parkway, Mississauga
Copyright © 2015 Toronto Moon Magazine. All Rights Reserved