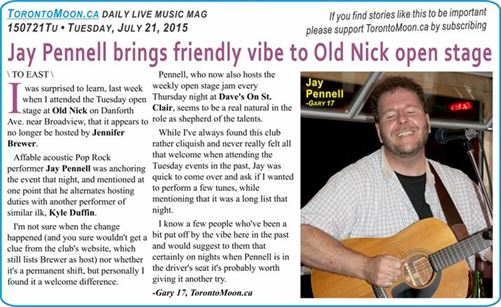 \ TO EAST \
I was surprised to learn, last week when I attended the Tuesday open stage at Old Nick on Danforth Ave. near Broadview, that it appears to no longer be hosted by Jennifer Brewer.
Affable acoustic Pop Rock performer Jay Pennell was anchoring the event that night, and mentioned at one point that he alternates hosting duties with another performer of similar ilk, Kyle Duffin.
I'm not sure when the change happened (and you sure wouldn't get a clue from the club's website, which still lists Brewer as host) nor whether it's a permanent shift, but personally I found it a welcome difference.
Pennell, who now also hosts the weekly open stage jam every Thursday night at Dave's On St. Clair, seems to be a real natural in the role as shepherd of the talents.
While I've always found this club rather cliquish and never really felt all that welcome when attending the Tuesday events in the past, Jay was quick to come over and ask if I wanted to perform a few tunes, while mentioning that it was a long list that night.
I know a few people who've been a bit put off by the vibe here in the past and would suggest to them that certainly on nights when Pennell is in the driver's seat it's probably worth giving it another try.
-Gary 17, TorontoMoon.ca
SHOW LISTINGS for Tuesday, July 21, 2021
Listings are organized by area in which the shows occur and within each area field shows are listed chronologically.
Listings preceded by an asterisk (*) are repeating weekly events. (Double asterisk indicates repeating event with different hosts/guest/etc.). Admission prices followed by a slash and minus (/-) after the amount indicates door charge with availability of cheaper rates for some purchases. /+ indicates stated price is minimum.
Names of subscribers appear in bold, are underlined and, where applicable, include a live link to their websites. Advertisers' listings are in larger highlighted type, include live link to website and also have ad icon included in listings.
416 – Toronto Central
6> tba @ Cameron House (front), 408 Queen St. W., TO
6:30> Jim Gelcer Group @ The Rex, 194 Queen St. W., TO ~Jazz
*7> open mic @ The Central, 603 Markham St., TO
7:30> Carlie Howell @ Tranzac Club (Southern Cross), 292 Brunswick St., TO
8> tba @ Cameron House (front), 408 Queen St. W., TO
8> The Strangemakers; Devan & Khalid; Honey Beard; Chasing Jane; Common Deer @ Rivoli, 334 Queen St. W., TO ~indie; $10
8-12> Nashville Bound with host Glen Hornblast + Laura Robinson; Meg Tennant; Tony Hanik; Debra Alexander; Don Graham; Bob Cohen @ Free Times Café, 320 College St., TO ~songwriters in the round; $10
*8:45> Tyler Yarema & His Rhythm @ Reservoir Lounge, 52 Wellington St. E., TO ~Jazz/Blues
9> The OM Sound; Television Road; Kyper Kliff; Cyprian @ Horseshoe Tavern, 370 Queen St. W., TO ~indie; $5
9> tba @ Cameron House (rear), 408 Queen St. W., TO
9:30> Django Gypsy Jam @ Grossman's, 379 Spadina Ave., TO
9:30> Jazz jam with host Chris Gale @ The Rex, 194 Queen St. W., TO ~Jazz
*10-2> The Sattalites @ Orbit Room, 580 College St., TO ~orig. & cover Reggae/Funk
10> Ken MacDonald Quartet & guests @ Tranzac Club (Southern Cross), 292 Brunswick St., TO
10> tba @ Cameron House (front), 408 Queen St. W., TO
10:30> The World Is Yours Unplugged @ The Hideout, 484 Queen St. W., TO ~acoustic indie Rock
416 – Toronto East
*6-9> Julian Fauth solo @ Sauce, 1376 Danforth Ave., TO East ~original Blues piano
7:30-9:30> The Oh Chays @ Relish, 2152 Danforth Ave., TO East ~Rockabilly Folk-Roots duo
8> Ryan Carr; Northern Roads; Little Coyote @ Linsmore Tavern, 1298 Danforth Ave., TO East ~indie
8> The Laughing Monkey @ The Only Café, 972 Danforth Ave., TO East ~comedy
8:30-10:30> TWAC @ Castro's, 2116 Queen St. E., TO East
9> open mic @ Groove Bar, 1952 Danforth Ave., TO East
*9:30> Peter Verity @ Black Swan, 154 Danforth Ave., TO East ~Folk Roots
*9:30-12> open stage hosted by Kyle Duffin @ The Old Nick, 123 Danforth Ave., TO East
416 – Toronto West
5-8> Andy Malette solo piano @ Gate 403, 403 Roncesvalles Ave., TO West ~Jazz
9> Mercy Flight feat. Steve York; tba for Indie Tuesdays @ The Piston, 937 Bloor St. W., TO West ~indie; pwyc
9> Mike Nagoda @ The Local, 396 Roncesvalles Ave., TO West ~Blues Rock
9> Ilios Steryannis Trio @ Gate 403, 403 Roncesvalles Ave., TO West ~Jazz
6-9> Scenic Route to Alaska; Torero @ Dakota Tavern, 249 Ossington Ave., TO West
**9> aBabe Music presents The Dakabats; Kendal Thompson; Luke McCulloch; The Histrionics; Big Name Actors @ The Painted Lady, 218 Ossington Ave., TO West ~indie showcase; $5
*9:30> jam with Derek Downham @ Axis, 3048 Dundas St. W., TO West ~eclectic
416 – Scarborough
*9:30> karaoke with The English Rose & The Mad Scotsman @ The Fossil & Haggis, 790 Military Trail, Scarborough
705
7> tba @ Black Horse Pub, 452 George St. N., Peterborough
905 East
*6:30-11> The Woodshed jam with Don Niblett & Frank Zochodne @ Simcoe Blues & Jazz, 926 Simcoe St. N., Oshawa
9> Kris Barclay @ The Corral, 433 Simcoe St. S., Oshawa ~Country Rock
*10> open mic with Josh Beaven @ The Atria, 59 King St. E., Oshawa
905 North
*8-11> jam with Matthew Kane & The Brews Brothers @ The Crown, 9580 Yonge St., Richmond Hill
*8:30> open mic @ Falcon & Firkin, 10300 Yonge St., Richmond Hill
*9> open mic with Manny D, Andy Earle & Dave Breckels @ Big Chris BBQ, 17380 Yonge St., Newmarket
905 South
*8-11> Michael Keys & Friends @ The Ale House, 802 Upper Gage Ave., Hamilton ~Pop/Jazz
*9:30-1> Traditional Irish jam @ Corktown Pub, 175 Young St., Hamilton
*9> Dave Nicolof & Doug Smith host open stage @ This Ain't Hollywood, 345 James St. N., Hamilton
905 West
*8> The Phil & John Show feat. Phil Naro @ Shore Grill, 71 Lakeshore Rd. E., Port Credit ~acoustic Pop Rock
*8-12> Marshall Dane Trio @ Roc'n Doc's, 105 Lakeshore Rd. E., Port Credit ~New Country/Pop
*8> open stage with host Iain Leslie @ Moonshine Café, 137 Kerr St., Oakville; $2
*8:45> open mic with Matt Zadkovich @ Culchain's Irish Pub, 158 Queen St. S., Streetsville-Mississauga
*10> open mic @ The Dickens, 423 Elizabeth St., Burlington
Copyright © 2015 Toronto Moon Magazine. All Rights Reserved