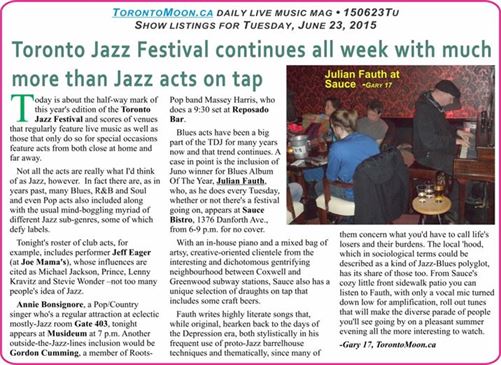 Today is about the half-way mark of this year's edition of the Toronto Jazz Festival and scores of venues that regularly feature live music as well as those that only do so for special occasions feature acts from both close at home and far away.
Not all the acts are really what I'd think of as Jazz, however.  In fact there are, as in years past, many Blues, R&B and Soul and even Pop acts also included along with the usual mind-boggling myriad of different Jazz sub-genres, some of which defy labels.
Tonight's roster of club acts, for example, includes performer Jeff Eager (at Joe Mama's), whose influences are cited as Michael Jackson, Prince, Lenny Kravitz and Stevie Wonder –not too many people's idea of Jazz.
Annie Bonsignore, a Pop/Country singer who's a regular attraction at eclectic mostly-Jazz room Gate 403, tonight appears at Musideum at 7 p.m. Another outside-the-Jazz-lines inclusion would be Gordon Cumming, a member of Roots-Pop band Massey Harris, who does a 9:30 set at Reposado Bar.
Blues acts have been a big part of the TDJ for many years now and that trend continues. A case in point is the inclusion of Juno winner for Blues Album Of The Year, Julian Fauth, who, as he does every Tuesday, whether or not there's a festival going on, appears at Sauce Bistro, 1376 Danforth Ave., from 6-9 p.m. for no cover.
With an in-house piano and a mixed bag of artsy, creative-oriented clientele from the interesting and dichotomous gentrifying neighbourhood between Coxwell and Greenwood subway stations, Sauce also has a unique selection of draughts on tap that includes some craft beers.
Fauth writes highly literate songs that, while original, hearken back to the days of the Depression era, both stylistically in his frequent use of proto-Jazz barrelhouse techniques and thematically, since many of them concern what you'd have to call life's losers and their burdens. The local 'hood, which in sociological terms could be described as a kind of Jazz-Blues polyglot, has its share of those too. From Sauce's cozy little front sidewalk patio you can listen to Fauth, with only a vocal mic turned down low for amplification, roll out tunes that will make the diverse parade of people you'll see going by on a pleasant summer evening all the more interesting to watch.
-Gary 17, TorontoMoon.ca
SHOW LISTINGS for Tuesday, June 23, 2021
Listings are organized by area in which the shows occur and within each area field shows are listed chronologically.
Listings preceded by an asterisk (*) are repeating weekly events. (Double asterisk indicates repeating event with different hosts/guest/etc.). Admission prices followed by a slash and minus (/-) after the amount indicates door charge with availability of cheaper rates for some purchases. /+ indicates stated price is minimum.
Names of subscribers appear in bold, are underlined and, where applicable, include a live link to their websites. Advertisers' listings are in larger highlighted type, include live link to website and also have ad icon included in listings.
TDJ: Toronto Jazz Festival -for today's full listings (mix of free and ticketed) see website schedule
416 – Toronto Central
6> Liam Titcomb @ Cameron House (front), 408 Queen St. W., TO ~original Roots-Pop
6> TDJ: Jeff Eager @ Joe Mama's, 317 King St. W., TO ~electro Pop/Funk; free
6:30> TDJF Worst Pop Band Ever @ The Rex, 194 Queen St. W., TO ~Jazz; $
*7> open mic @ The Central, 603 Markham St., TO
7> TDJ: Annie Bonsignore @ Musideum, 401 Richmond St. W., TO ~Country Pop
7:30> Mike McCormick & Angela Turone tribute to Molly Drake @ Tranzac Club (Southern Cross), 292 Brunswick St., TO ~Jazz
8> Carolyn Mark @ Cameron House (front), 408 Queen St. W., TO
8> The Shoeless @ Tranzac Club (Tiki Room), 292 Brunswick St., TO
8:30> JoJo Worthington; Victoria Marie; Kara Purto; Michelle Cavaleri @ The Rivoli, 334 Queen St. W., TO; ~indie $10
8:30> Sue & Dwight; Michele Rumball @ Free Times Café, 320 College St., TO ~Folk; $10
*8:45> TDJ: Tyler Yarema & His Rhythm @ Reservoir Lounge, 52 Wellington St. E., TO ~Jazz/Blues; $
9> Kilmore & Rafim @ The Hideout, 484 Queen St. W., TO ~indie Rock
9:30> TDJ: Django Gypsy jam @ Grossman's, 379 Spadina Ave., TO
9:30> Jazz Jam with Chris Gale @ The Rex, 194 Queen St. W., TO ~Jazz
9:30> Rita DiGhent @ Musideum, 401 Richmond St. W., TO ~poetic Hip-Hop Jazz Blues
*10-2> The Sattalites @ Orbit Room, 580 College St., TO ~orig. & cover Reggae/Funk
10> Mob Job @ Tranzac Club (Southern Cross), 292 Brunswick St., TO ~NYC Metal/Jazz
10> Raven Shields @ Cameron House (front), 408 Queen St. W., TO
Midnight> TDJ: Late Night Jazz jam with the Chis Gale Quartet @ Jazz Bistro, 251 Victoria St., TO ~Jazz; $
416 – Toronto East
*6-9> TDJ: Julian Fauth solo @ Sauce, 1376 Danforth Ave., TO East ~original Blues piano; free
7-9> TDJ: Jazz Moustache @ Relish, 2152 Danforth Ave., TO East ~Jazz; free
8> FingerStyleGuitar.ca open stage @ Hirut, 2050 Danforth Ave., TO East ~Roots
8:30-10:30> Rob London @ Castro's, 2116 Queen St. E., TO East
**9> open mic with host Jody Ferrer & 10 p.m. feature by tba @ Groove Bar, 1952 Danforth Ave., TO East
*9:30> Peter Verity @ Black Swan, 154 Danforth Ave., TO East ~Folk Roots
*9:30-12> open stage hosted by Jennifer Brewer @ The Old Nick, 123 Danforth Ave., TO East
*9:30> jam with Frank Wilks & Friends @ The Duke Live, 1225 Queen St. E., TO East
416 – Toronto West
5-8> TDJ: Concord Jazz Quintet @ Gate 403, 403 Roncesvalles Ave., TO West ~Jazz; free
7:30-10 (first Tuesdays)> open mic with hosts North Of Queen @ Emmanuel Howard Park United Church, 214 Wright Ave., TO West; $2
9> Mercy Flight feat. Steve York; Gary Black; Costume Party for Indie Tuesdays @ The Piston, 937 Bloor St. W., TO West ~indie; pwyc
9> Crooked Beat @ The Local, 396 Roncesvalles Ave., TO West ~Clash tribute
9> TDJ: Tiffany Hanus Jazz Band @ Gate 403, 403 Roncesvalles Ave., TO West ~Jazz; free
9:30> TDJ: Gord Cumming @ Reposado, 136 Ossington Ave., TO West ~Roots-Pop; pwyc
**10> TDJ: Divas Jazz It Up @ The Painted Lady, 218 Ossington Ave., TO West ~Jazz
*9:30> jam with Derek Downham @ Axis, 3048 Dundas St. W., TO West ~eclectic
416 – Scarborough
*9:30> karaoke with The English Rose & The Mad Scotsman @ The Fossil & Haggis, 790 Military Trail, Scarborough
705
7> Randy Hill @ Black Horse Pub, 452 George St. N., Peterborough
905 East
*6:30-11> The Woodshed jam with Don Niblett & Frank Zochodne @ Simcoe Blues & Jazz, 926 Simcoe St. N., Oshawa
9> Bryce Moore Band @ The Corral, 433 Simcoe St. S., Oshawa ~Country Rock
*10> open mic with Josh Beaven @ The Atria, 59 King St. E., Oshawa
905 North
*8-11> jam with Matthew Kane & The Brews Brothers @ The Crown, 9580 Yonge St., Richmond Hill
*8:30> open mic @ Falcon & Firkin, 10300 Yonge St., Richmond Hill
*9> open mic with Manny D, Andy Earle & Dave Breckels @ Big Chris BBQ, 17380 Yonge St., Newmarket
905 South
*8-11> Michael Keys & Friends @ The Ale House, 802 Upper Gage Ave., Hamilton ~Pop/Jazz
*9:30-1> Traditional Irish jam @ Corktown Pub, 175 Young St., Hamilton
*9> Hello Cat Piano hosts open stage @ This Ain't Hollywood, 345 James St. N., Hamilton
905 West
*8> The Phil & John Show feat. Phil Naro @ Shore Grill, 71 Lakeshore Rd. E., Port Credit ~acoustic Pop Rock
*8-12> Marshall Dane Trio @ Roc'n Doc's, 105 Lakeshore Rd. E., Port Credit ~New Country/Pop
*8> open stage with host Iain Leslie @ Moonshine Café, 137 Kerr St., Oakville; $2
*8:45> open mic with Matt Zadkovich @ Culchain's Irish Pub, 158 Queen St. S., Streetsville-Mississauga
*10> open mic @ The Dickens, 423 Elizabeth St., Burlington
Copyright © 2015 Toronto Moon Magazine. All Rights Reserved