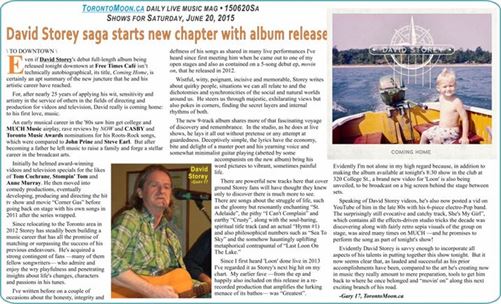 \ TO DOWNTOWN \
Even if David Storey's debut full-length album being released tonight downtown at Free Times Café isn't technically autobiographical, its title, Coming Home, is certainly an apt summary of the new juncture that he and his artistic career have reached.
For after nearly 25 years of applying his wit, sensitivity and artistry in the service of others in the fields of directing and production for videos and television, David really is coming home: to his first love, music.
An early musical career in the '80s saw him get college and MUCH Music airplay, rave reviews by NOW and CASBY and Toronto Music Awards nominations for his Roots-Rock songs, which were compared to John Prine and Steve Earl.  But after becoming a father he left music to raise a family and forge a stellar career in the broadcast arts.
Initially he helmed award-winning videos and television specials for the likes of Tom Cochrane, Stompin' Tom and Anne Murray. He then moved into comedy productions, eventually developing, producing and directing the hit tv show and movie "Corner Gas" before going back on stage with his own songs in 2011 after the series wrapped.
Since relocating to the Toronto area in 2012 Storey has steadily been building a music career that has all the promise of matching or surpassing the success of his previous endeavours.  He's acquired a strong contingent of fans —many of them fellow songwriters— who admire and enjoy the wry playfulness and penetrating insights about life's changes, characters and passions in his tunes.
I've written before on a couple of occasions about the honesty, integrity and deftness of his songs as shared in many live performances I've heard since first meeting him when he came out to one of my open stages and also as contained on a 5-song debut ep, movin on, that he released in 2012.
Wistful, witty, poignant, incisive and memorable, Storey writes about quirky people, situations we can all relate to and the dichotomies and synchronicities of the social and natural worlds around us.  He steers us through majestic, exhilarating views but also pokes in corners, finding the secret layers and internal rhythms of both.
The new 9-track album shares more of that fascinating voyage of discovery and remembrance.  In the studio, as he does at live shows, he lays it all out without pretense or any attempt at guardedness. Deceptively simple, the lyrics have the economy, bite and delight of a master poet and his yearning voice and somewhat minimalist guitar playing (abetted by some accompanists on the new album) bring his word pictures to vibrant, sometimes painful life.
There are powerful new tracks here that cover ground Storey fans will have thought they knew only to discover there is much more to see. There are songs about the struggle of life, such as the gloomy but resonantly enchanting "St. Adelaide", the pithy "I Can't Complain" and earthy "Crusty", along with the soul-baring, spiritual title track (and an actual "Hymn #1) and also philosophical numbers such as "Sea To Sky" and the somehow hauntingly uplifting metaphorical contrapuntal of "Last Loon On The Lake."
Since I first heard 'Loon' done live in 2013 I've regarded it as Storey's next big hit on my chart.  My earlier fave —from the ep and happily also included on this release in a re-recorded production that amplifies the lurking menace of its bathos— was "Greatest".  Evidently I'm not alone in my high regard because, in addition to making the album available at tonight's 8:30 show in the club at 320 College St., a brand new video for 'Loon' is also being unveiled, to be broadcast on a big screen behind the stage between sets.
Speaking of David Storey videos, he's also now posted a vid on YouTube of him in the late 80s with his 6-piece electro-Pop band. The surprisingly still evocative and catchy track, She's My Girl", which contains all the effects-driven studio tricks the decade was discovering along with fairly retro sepia visuals of the group on stage, was aired many times on MUCH —and he promises to perform the song as part of tonight's show!
Evidently David Storey is savvy enough to incorporate all aspects of his talents in putting together this show tonight.  But it now seems clear that, as lauded and successful as his prior accomplishments have been, compared to the art he's creating now in music they really amount to mere preparation, tools to get him back to where he once belonged and "movin' on" along this next exciting branch of his road.
-Gary 17, TorontoMoon.ca
SHOW LISTINGS for Saturday, June 20, 2021
Listings are organized by area in which the shows occur and within each area field shows are listed chronologically.
Listings preceded by an asterisk (*) are repeating weekly events. (Double asterisk indicates repeating event with different hosts/guest/etc.). Admission prices followed by a slash and minus (/-) after the amount indicates door charge with availability of cheaper rates for some purchases. /+ indicates stated price is minimum.
Names of subscribers appear in bold, are underlined and, where applicable, include a live link to their websites. Advertisers' listings are in larger, highlighted type, include live link to website and also have ad icon included in listings.
EXEE = East By East East Festival (free admission)
NXNE = North By North East Festival ($ or pass admission)
TDJ = Toronto Downtown Jazz Festival
416 - Toronto Central
10am-10pm: Open Tuning Festival in Seaton Village with various artists including Reid Pickering (2-2:30 @ Palmerston Market, 721 Palmerston Ave. and 5:30-6 @ The Karma Co-op, 739 Palmerston Ave.) ~free
*12-3> TDJ: Danny Marks & friends @ The Rex, 194 Queen St. W., TO ~Jazz
3> Jamzac @ Tranzac Club (Southern Cross), 292 Brunswick Ave., TO
3:30> TDJ: Swing Shift Big Band @ The Rex, 194 Queen St. W., TO ~Jazz
3:30> Dave Rubel Quartet @ The Pilot, 22 Cumberland St., TO ~Jazz
4-7> York Jazz @ Seven44, 744 Mount Pleasant Road, TO North ~Jazz; $
*4-7> Climax Jazz Band @ Alleycatz, 2409 Yonge St., TO North ~Dixieland Jazz; $?
*4:40-7:30> The Happy Pals @ Grossman's, 379 Spadina Ave., TO ~New Orleans Jazz
6-8> Grier Coppins @ Cameron House (front), 408 Queen St. W., TO
7> NXNE: Logan Venderlic; Paper Aeroplanes; Indicator Indicator; Taylor Know; Sc Mira; Cairo; The Revival; Sun K; more @ The Rivoli, 334 Queen St. W., TO
7:30> Michelle McAdorey @ Tranzac Club (Southern Cross), 292 Brunswick Ave., TO
8> NXNE: Ben Rogers; J. Allen; Tara Holloway; Shivering Timbers; Harpacash & The Morals @ Cameron House (rear), 408 Queen St. W., TO
8> NXNE: The Dirty Heat; Bamboo; The Gories; Heartless Bastards; Slim Twig; Fast Romantics; Craig Finn @ Horseshoe Tavern, 370 Queen St. W., TO
8> TDJ: Kevin Turcotte @ The Rex, 194 Queen St. W., TO ~ Jazz
8:30> David Storey album release for Coming Home & video debut for "Last Loon On The Lake" @ Free Times Café, 320 College St. TO ~original Roots;
9> Tamin' Thunder @ Seven44, 744 Mount Pleasant Road, TO North ~Rock/R&B/Dance; $
9> Jane's Party @ Cameron House (front), 408 Queen St. W., TO
9:30> Lady Kane @ Alleycatz, 2409 Yonge St., TO North ~Funk/Soul/R&B; $
*9:45> Tyler Yarema & His Rhythm @ Reservoir Lounge, 52 Wellington St. E., TO ~Jazz/Blues
*10> karaoke with Randy Petrie @ Kramers, 1915 Yonge St., TO North
10> TDJ: Brooklyn's Huntertones @ The Rex, 194 Queen St. W., TO ~ Jazz
10> Ride The Tiger @ Orbit Room, 480 College St. TO ~Funk/Soul
10-2> Chloe Watkinston Jam @ Grossman's, 379 Spadina Ave., TO
10> Shaky Knees @ Tranzac Club (Southern Cross), 292 Brunswick Ave., TO
10:30> NXNE: tba @ The Hideout, 484 Queen St. W., TO ~indie Rock
11> Ferraro @ Cameron House (front), 408 Queen St. W., TO
1 a.m.> Special Guest @ Cameron House (front), 408 Queen St. W., TO
416 - Toronto East
*3:30-6> Johnny Wright @ Outriggers, 2232 Queen St. E., TO East ~R&B
*4-7:30> Ronnie Hayward Trio @ McQueen's, 993 Queen St. E., TO E. ~Blues/Roots
6-8> The Cosmotones @ Castro's, 2116 Queen St. E., TO East ~Blues/Roots
8> Lucas Stagg @ The Feathers, 962 Kingston Rd., TO East ~songwriter
6:30> EXEE: Midnight Lemonade; Lucas Hunter; G. Mark Weston; The Reservoir Tip; Tommy Hawk & The Outlaw Surfers featuring Ron Christian on keys @ The Only Café, 972 Danforth Ave., TO East
9> Trish O'Brien Band @ Dora Keogh, 141 Danforth Ave., TO East
8> Sandra Bouza & Redbrick finale show @ Relish, 2152 Danforth Ave., TO East ~original & cover Rock/Pop

9:30> The Starlite Band @ Eton House, 710 Danforth Ave., TO East ~Country & Rock
9:30> Groove Stone @ Linsmore Tavern, 1298 Danforth Ave., TO East ~Pop Rock; $5
416 - Etobicoke
*3-6> Danny B Band @ Blue Goose, 1 Blue Goose St., Etobicoke South ~R&B/Blues
**4-8> The Bear's Essentials with guest singer Kevin Phillips @ Southside Johnny's, 3653 Lakeshore Blvd. W. Etobicoke South ~Rock-R&B
*4-8> The Meteors with guest Kimberley Wetmore @ Timothy's Pub, 344 Brown's Line, Etobicoke South ~Blues/Rock/R&B
9> Big Machine @ Blue Goose Tavern, 1 Blue Goose Rd., Etobicoke South ~Pop Rock
9> Rebeljo @ Maple Leaf House, 2749 Lakeshore Boulevard East, Etobicoke ~Rock/Top 40/Blues
9:30> Taunted By Girls featuring Michelle Deneault @ Timothy's Pub 344 Brown's Line, Etobicoke South ~Pop Rock/Top 40; $
10-2> Switch Beat @ Southside Johnny's, 3653 Lakeshore Blvd. W. Etobicoke South ~Rock/Top 40
416 – Scarborough
9-1> Tyler Schwende @ Black Dog Pub, 87 Island Rd., Scarborough ~acoustic Pop/soft Rock
*9:30-2> karaoke with The English Rose & The Mad Scotsman @ Winners, 2181 Lawrence Ave. E., Scarborough
10> Al Reilly's Catalyst @ Centro Pizza 3408 Kingston Rd., Scarborough
416 - Toronto West
*12-3> Julian Fauth's Blues Brunch @ Axis, 3048 Dundas St. W., TO West ~Blues
**2-6> open mic with host Will Wall @ Magic Oven, 347 Keele St., TO West
2-6> Cadillac Lounge 15th anniversary party with Hey Loretta @ Cadillac Lounge, 1296 Queen St. W., TO West ~Country/Rockabilly
2:30-4:30> Quincy LePalm @ Humble Beginnings, 3109 Dundas St. W., TO West ~acoustic Roots/Blues/Pop
**5-8> TDJ: Bill Heffernan & Friends season finale with guests The Junction City All-Stars & Roots 'n' Branches team-up featuring Dave McManus and George Baumann @ Gate 403, 403 Roncesvalles Ave. TO West –eclectic Blues/Roots/Jazz; free
5-8> Arthur Renwick & David Celia @ The Local, 396 Roncesvalles Ave., TO West ~original Roots/Pop
7-9> Nicole Coward for Junction Summer Solstice Festival @ Humble Beginnings, 3109 Dundas St. W., TO West ~acoustic Roots/Blues/Pop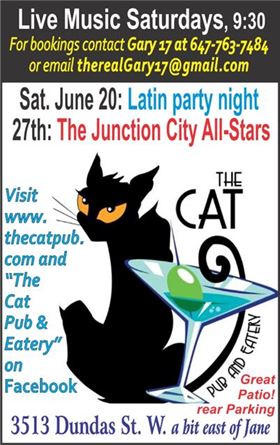 8:30> Dar Williams album release for Emerald @ Hugh's Room, 2261 Dundas St. W., TO West ~songwriter; $35/-
9-1> Sweet Derrick Blues Band @ Gate 403, 403 Roncesvalles Ave., TO West ~Blues
9> Jamie Oliver @ The Local, 396 Roncesvalles Ave., TO West
9:30> Mexican/Latin dj @ The Cat, 3153 Dundas St. W., ~Pop Rock/Top 40
10> Tribute to Jake & Elwood with Dave McManus & friends including George Baumann, Ken Yoshioka, Voodoo Walters, David Craig, Cleave Anderson & more @ On Cue Billiards, 348 Jane St., TO West ~Blues
10-2> Hot Wax Meltdown @ Dakota Tavern, 249 Ossington Ave., TO West
905 East
*4> PRJ @ Simcoe Blues & Jazz, 926 Simcoe St., Oshawa ~Blues
*9-1> karaoke with Rob MacArthur @ Tudor Rose, 700 Harwood Ave. S., Ajax
9> Kristin Hawley @ The Corral, 433 Simcoe St. S., Oshawa ~Country
9-1> Last Chance @ Simcoe Blues & Jazz, 926 Simcoe St. N., Oshawa
9> Timeless @ West Short Bar & Grill, 877 Bayly St., Pickering ~Rock
9> Jackson Fox @ Fionn MacCool's Ajax, 36 Kingston Rd. E., Ajax ~Pop Rock
905 North
9:30 a.m. – 11 a.m.> Mark Yan & Barry Mulcahy @ Brampton Farmer's Market, Main/Queen, Brampton ~acoustic Pop
11:15 a.m. – 9> Markham Village Music Festival with various acts on four outdoor stages (including Ron Christian on keys with Lisa Williams Band 1-2:30 on South Stage and with Kelly Jamieson & The Keepers 6-6:45 p.m.) along Main St., Markham ~eclectic; free
7-11> Whatever Sticks featuring Susan Martin @ Crabby Joe's, 125 Pederson Drive, Aurora ~Pop Rock
9-1> Freebyrd @ Oscar's Roadhouse, 1785 Queen St. E., Brampton ~Pop Rock/Top 40
9:30> The Dueling Divas @ Jake's Boathouse Brampton, 59 First Gulf Rd., Brampton ~Pop Rock
9:30> Pop Machine @ Aw Shucks, 15230 Yonge St., Aurora ~Pop Rock
905 South
2> Brant Parker Band with guest Jerome Godboo @ Donnelley's Pub, 54 Front St., Thorold ~Blues
**2:30> special guest with The Mighty Duck Band, The Duck, 244 Ontario St., St. Catharines ~R&B/Blues
**2:30> tba @ Coach & Lantern (upstairs), 384 Wilson St E., Hamilton ~Blues
9> tba @ Coach & Lantern, 384 Wilson St E., Hamilton
9> Stardust @ This Ain't Hollywood, 345 James St. N., Hamilton ~David Bowie tribute
**9> Niagara Rhythm Section @ The Old Winery, 2228 Niagara Stone Rd., Niagara-On-The-Lake ~R&B/Blues
9:30> Sinburn & guests Punishment; Spin Dizzy @ Corktown Pub, 175 Young St., Hamilton ~indie; $
905 West
**2-6> Sil Simone Band with special guest Mike Ferfolia @ Carrigan Arms, 2025 Upper Middle Rd., Burlington ~Rock/Blues
*2-6> jam w. Tom Finocchio @ Sam's Place, Barton-Chestnut Sts., Hamilton
**2-6> Saturday Blues Sermon with James Anthony & special guest Jay Zanier @ Black Swan Pub Burlington, 4040 Palladium Way, Burlington ~Blues
*3-7> jam with Michelle Deneault & Redder @ Port Credit Legion, 35 Front St., Port Credit
*6-9> Victoria & Bobby Keys @ Roc'n Doc's, 105 Lakeshore Rd. E., Port Credit ~soft Pop
8-12> Beckon & Friends @ Moonshine Café, 137 Kerr St., Oakville ~$10
9> Boneyard @ Carrigan Arms, 2025 Upper Middle Rd., Burlington
9:30> Pat Hewitt @ Shore Grill, 71 Lakeshore Rd. E., Port Credit ~Pop Rock/Top 40
9:30> Dustin Jones & The Rising Tide @ The Franklin House, 263 Queen St. S., Streetsville ~Pop Rock
9:30> Groove Hammer @ Sixth Line Pub, 1500 Sixth Line, Oakville ~Rock/Funk
9:30> The Tryst @ Gator Ted's, 1505 Guelph Line, Burlington
10-2> Hair Of The Dog @ Roc'n Doc's, 105 Lakeshore Rd. E., Port Credit ~Rock/Top 40
705
5> Tonya Bosch @ Black Horse Pub, 452 George St. N., Peterborough
8:30> Doug Dynesty @ Black Horse Pub, 452 George St. N., Peterborough
Copyright © 2015 Toronto Moon Magazine. All Rights Reserved