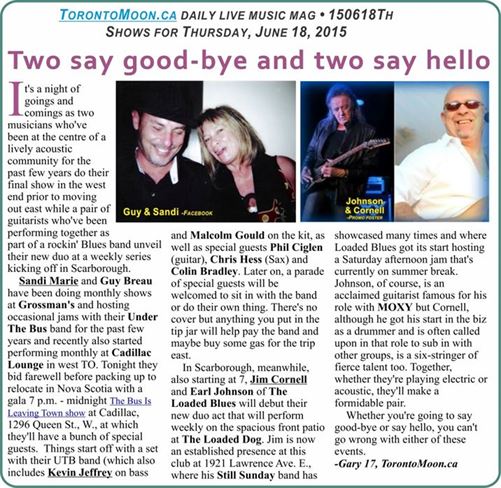 It's a night of goings and comings as two musicians who've been at the centre of a lively acoustic community for the past few years do their final show in the west end prior to moving out east while a pair of guitarists who've been performing together as part of a rockin' Blues band unveil their new duo at a weekly series kicking off in Scarborough.
Sandi Marie and Guy Breau have been doing monthly shows at Grossman's and hosting occasional jams with their Under The Bus band for the past few years and recently also started performing monthly at Cadillac Lounge in west TO. Tonight they bid farewell before packing up to relocate in Nova Scotia with a gala 7 p.m. - midnight The Bus Is Leaving Town show at Cadillac, 1296 Queen St., W., at which they'll have a bunch of special guests.  Things start off with a set with their UTB band (which also includes Kevin Jeffrey on bass and Malcolm Gould on the kit, as well as special guests Phil Ciglen (guitar), Chris Hess (Sax) and Colin Bradley. Later on, a parade of special guests will be welcomed to sit in with the band or do their own thing. There's no cover but anything you put in the tip jar will help pay the band and maybe buy some gas for the trip east.
In Scarborough, meanwhile, also starting at 7, Jim Cornell and Earl Johnson of The Loaded Blues will debut their new duo act that will perform weekly on the spacious front patio at The Loaded Dog. Jim is now an established presence at this club at 1921 Lawrence Ave. E., where his Still Sunday band has showcased many times and where Loaded Blues got its start hosting a Saturday afternoon jam that's currently on summer break.  Johnson, of course, is an acclaimed guitarist famous for his role with MOXY but Cornell, although he got his start in the biz as a drummer and is often called upon in that role to sub in with other groups, is a six-stringer of fierce talent too. Together, whether they're playing electric or acoustic, they'll make a formidable pair.
Whether you're going to say good-bye or say hello, you can't go wrong with either of these events.
-Gary 17, TorontoMoon.ca
SHOW LISTINGS for Thursday, June 18, 2021
Listings are organized by area in which the shows occur and within each area field shows are listed chronologically.
Listings preceded by an asterisk (*) are repeating weekly events. (Double asterisk indicates repeating event with different hosts/guest/etc.). Admission prices followed by a slash and minus (/-) after the amount indicates door charge with availability of cheaper rates for some purchases. /+ indicates stated price is minimum.
Names of subscribers appear in bold and underlined and, where applicable, include a live link to their websites or event page. Advertisers' listings are in larger type and highlighted, include a live link to their website and also have a copy of the ad included in listings.
416 - Toronto Central
2> NXNE: Austin ATX6 showcase with Brian Kenner; Jana Horn; Silas Lowe; Elsa Cross; Jonathan Terrell; Gina Chavez @ The Rivoli, 334 Queen St. W., TO ~$/pass
3:30> The Jessica Stuart Few for Great Heart Festival @ Trinity Bellwoods Park, 155 Crawford St., TO ~original Pop
5> TD Jazz Fest: Morgan Childs Quartet @ The Rex, 194 Queen St. W., TO ~Jazz; $
6> Corin Raymond @ Cameron House (front), 408 Queen St. W., TO ~Country-Roots/Pop
6:30> Open + Refine @ Free Times Café, 320 College St. TO
6:30> NXNE: Manitoba Music showcase with Crooked Brothers; JP Hoe; The Lytics; Attica Riots @ The Rivoli, 334 Queen St. W., TO ~$/pass
*7> open mic with Derek Mok @ Kensington Lodge, 21 Kensington Ave., TO
7> Side 3 for charity event @ Seven44, 744 Mount Pleasant Road, TO North
*7:30-9:30> Bluegrass Thursdays with Houndstooth @ Tranzac Lounge (Southern Cross), 292 Brunswick Ave., TO
7:30> NXNE: Beta Frontiers; Health; HSY; Fake Palms; Bad Channels; Whimm @ Horseshoe Tavern, 370 Queen St. W., TO ~indie; $/pass
*8-1> open mic with Alicia Porter @ The Local Gest, 424 Parliament St., TO
8> TD Jazz Fest: Mike Murley's Kenny Wheeler tribute @ The Rex, 194 Queen St. W., TO ~Jazz; $
8-12> R&B/Blues @ Nawlin's, 299 King St. W. TO
8> NXNE: KYLO; Scott Shea; Dan Bettridge; Carson Mchone; Josh Geddis; Jessica Stuart Few @ Cameron House (rear), 408 Queen St. W., TO ~indie; $/pass
8-1> Wild T & The Spirit @ Monarchs Pub (Eaton Chelsea Hotel), 33 Gerrard St. W., TO ~Blues
8:30> Andrew Fetterley @ Fionn MacCool's Uptown, 1867 Yonge St., TO North
9> Asha Pieper; Emma Hewson @ Free Times Café, 320 College St. TO ~songwriters
9> Paint @ Rancho Relaxo, 300 College St., TO ~original & cover modern Rock
*9-1> Blackburn @ Jo Mamas, 317 King St. W., TO ~Blues
*9:45> Mary Mckay @ Reservoir Lounge, 52 Wellington St. E., TO ~Jazz/Blues
10> Arl Hoenig Trio @ The Rex, 194 Queen St. W., TO ~NYC Jazz
10> Luke Bill @ Cameron House (front), 408 Queen St. W., TO
10> The Special Interest Group @ Tranzac Lounge (Southern Cross), 292 Brunswick Ave., TO
10> Soulstack album release @ Orbit Room, 480 College St. TO
10:30> NXNE: YYC Music Showcase with 36>; Highkicks; Beach Season; Sergio Levels; Overland @ The Rivoli, 334 Queen St. W., TO ~$/pass
10:30> Parkside Drive @ The Hideout, 484 Queen St. W., TO ~indie Rock
416 - Toronto East
6> Four Chords and the Truth @ Dakota Tavern, 249 Ossington Ave., TO West ~songwriters in the round; $12
7:30-9:30> TD Jazz Fest: Liane Fainsinger @ Relish, 2152 Danforth Ave., TO East ~Jazz; free
7:30> EXEE: Battle of The Beer Bands @ The Only Café, 972 Danforth Ave., TO East
*8-10:30> Jerry Leger & The Situation @ Castro's, 2116 Queen St. E., TO East ~Folk-Rock/Country
8> TD Jazz Fest: Russ Maclem's Jazz Jam @ Linsmore Tavern, 1298 Danforth Ave., TO East ~Jazz; free
*10-2> karaoke with Shane Taylor @ Relish, 2152 Danforth Ave., TO East
416 - Toronto West
5-8> Roger Chong Jazz Band @ Gate 403, 403 Roncesvalles Ave., TO West ~Jazz
7-12> The Bus Is Leaving Town: Sandi Marie & Under The Bus farewell show @ Cadillac Lounge, 1296 Queen St. W., TO West ~Roots-Pop/Country
*8-11> Tinderbox Thursdays open stage with Michael Keith @ La Revolucion, 2848 Dundas St. W., TO West ~eclectic
8> NXNE: A is for Atom; Do Tell; Bride & Groom; Slow Leaves; Brace; Pick a Piper; Revolution; I Love You @ The Painted Lady, 218 Ossington Ave., TO West ~indie
8:30> Red Dirt Skinners with opening set by Alfie Smith & Nicole Christian @ Hugh's Room, 2261 Dundas St. W., TO West ~Blues; $
*9-1:30> open stage with Jay Pennell @ Dave's On St. Clair, 730 St. Clair West, TO West ~eclectic
9-12> Annie Bonsignore Duo or Trio @ Gate 403, 403 Roncesvalles Ave., TO West ~Jazz
9> Steve Gleason @ The Local, 396 Roncesvalles Ave., TO West ~Folk/Country
9> Leroy Stagger & Dennis Ellsworth with Lindy Vopnfjord @ Dakota Tavern, 249 Ossington Ave., TO West ~originals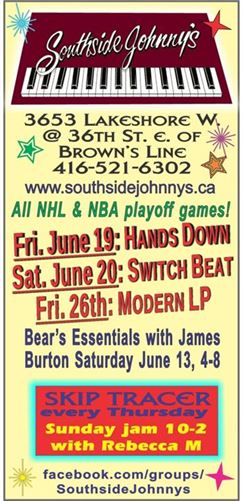 416 - Etobicoke
9> Pretzel Logic @ Timothy's Pub, 344 Brown's Line, Etobicoke South ~Steely Dan tribute; $10
*9:30-2> Skip Tracer @ Southside Johnny's, 3653 Lakeshore Blvd., Etobicoke South ~Rock/Pop
416 – Scarborough
*7-11> Johnson & Cornell (Earl Johnson & Jim Cornell) on the patio @ The Loaded Dog, 1921 Lawrence Ave. E., Scarborough ~acoustic Blues-Rock duo
*9> Tommy Rocker's Classic Rock Band host jam @ Centro Pizza, 3406 Kingston Rd., Scarborough
*9-1> jam with Frank Wilks & Freedom Express @ The Birchmount, 462 Birchmount Rd., Scarborough
9:30> Straight Shooter @ Black Dog Pub, 87 Island Rd., Scarborough ~Pop Rock
519
*7:30-12> open mic with K.M. Smith @ Molly Bloom's Guelph, 91 Wyndham St. N., Guelph
*8-11> open mic with Sandy MacDonald @ Williamsburg Arms, 1187 Fischer Hallman Rd., Kitchener
705
*7:30> open stage with Rob Phillips Band and Chelsey Bennett @ Black Horse Pub, 452 George St. N., Peterborough
*9> jam with Ted Rusk @ The Sauble Dunes, 11 Southampton Parkway, Sauble Beach
10> Le Stack; Tony Gravyboat @ The Garnet, 231 Hunter St. W., Peterborough
905 - East
*5-8> Nelson Denis @ Frank's Pasta, 42 King Street E., Cobourg ~eclectic mix (Folk, Jazz, soft Rock, Latin)
7> Paper Bag Blues Band @ Simcoe Blues & Jazz, 926 Simcoe St. N., Oshawa
8-12> Enzo @ Fionn MacCool's Ajax, 32 Kingston Rd. E. Ajax ~Pop
*?> jam with Darren Smith & Shayne Thomas @ The Corner Pocket, 45 Prince St., Oshawa
*9> jam @ The Wee Pub, 371 Wilson Rd. South, Oshawa
*9:30> jam with Billick @ Harp & Crown, 300 Kingston Rd., Pickering
905 - North
7:30-9> Mark Yan + 3 other Roots acts @ Gage Park, Wellington & Main Streets, Brampton ~Roots
*8> open mic with Kevin Ker @ Duchess of Markham, 53 Main St., Markham
905 - South
*9> Matty Simpson & guests @ This Ain't Hollywood, 345 James St. N., Hamilton
*9> open mic night with rotating hosts @ Coach & Lantern, 384 Wilson St E., Hamilton
10> Adam Cook @ Slainte Irish Pub, 33 Bowen St., Hamilton ~acoustic Pop
905 – West
8-12> Freedom Train @ Roc'n Doc's, 105 Lakeshore Rd. E., Port Credit ~Rock/Pop
*8-12> open mic & jam @ Black Swan Pub Burlington, 4040 Palladium Way, Burlington
*8-12> jam hosted by The Personics @ Carrigan Arms, 2025 Upper Middle Rd., Burlington
8:30> Kevin Breit & Mark Lalama @ Moonshine Café, 137 Kerr St. Oakville ~eclectic Fusion; $15
9:30> Glenn Groves @ Shore Grill, 71 Lakeshore Rd. E., Port Credit ~Pop Rock
*9:30> jam with Jack B Nimble @ Abbey Road Pub, 3200 Erin Mills Parkway, Mississauga
Copyright © 2015 Toronto Moon Magazine. All Rights Reserved