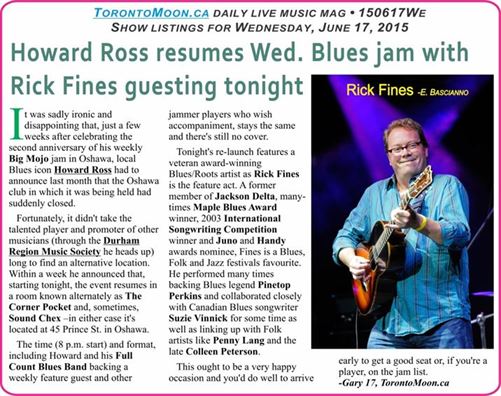 \ OSHAWA \
It was sadly ironic and disappointing that, just a few weeks after celebrating the second anniversary of his weekly Big Mojo jam in Oshawa, local Blues icon Howard Ross had to announce last month that the Oshawa club in which it was being held had suddenly closed.
Fortunately, it didn't take the talented player and promoter of other musicians (through the Durham Region Music Society he heads up) long to find an alternative location. Within a week he announced that, starting tonight, the event resumes in a room known alternately as The Corner Pocket and, sometimes, Sound Chex –in either case it's located at 45 Prince St. in Oshawa.
The time (8 p.m. start) and format, including Howard and his Full Count Blues Band backing a weekly feature guest and other jammer players who wish accompaniment, stays the same and there's still no cover.
Tonight's re-launch features a veteran award-winning Blues/Roots artist as Rick Fines is the feature act. A former member of Jackson Delta, many-times Maple Blues Award winner, 2003 International Songwriting Competition winner and Juno and Handy awards nominee, Fines is a Blues, Folk and Jazz festivals favourite. He performed many times backing Blues legend Pinetop Perkins and collaborated closely with Canadian Blues songwriter Suzie Vinnick for some time as well as linking up with Folk artists like Penny Lang and the late Colleen Peterson.
This ought to be a very happy occasion and you'd do well to arrive early to get a good seat or, if you're a player, on the jam list.
-Gary 17, TorontoMoon.ca
SHOW LISTINGS for Wednesday, June 17, 2021
Listings are organized by area in which the shows occur and within each area field shows are listed chronologically.
Listings preceded by an asterisk (*) are repeating weekly events. (Double asterisk indicates repeating event with different hosts/guest/etc.) Admission prices followed by a slash and minus (/-) after the amount indicates door charge with availability of cheaper rates for some purchases. /+ indicates stated price is minimum.
Names of subscribers appear in bold and underlined and, where applicable, include a live link to their websites. Advertisers' listings are in larger, highlighted type, include live link to website and also have ad icon included in listings.
416 – Toronto Central
5-10> NXNE, bands tba @ The Hideout, 484 Queen St. W., TO ~indie Rock
6> Dave Borins @ Cameron House (front), 408 Queen St. W., TO
6> Comhaltas Irish Slow Session @ Tranzac Club (Tiki Room), 292 Brunswick Ave. TO ~folk dancing
6:30> Brian de Lima's Bud Powell tribute @ The Rex, 194 Queen St. W., TO ~Jazz
6:30> Open + Refine @ Free Times Cafe, 320 College St., TO
6:30> Raconteurs (Main Hall), 292 Brunswick Ave. TO ~storytelling
7> Snag @ Monarchs Pub (Eaton Chelsea Hotel), 33 Gerrard St. W., TO ~Jazz Fusion
7:30> Avesta Nakhaei's Collective Improvisations Jam @ Tranzac Club (Southern Cross), 292 Brunswick Ave. TO
**8> open stage with 9 p.m. feature by Brian Morgan @ Fat Albert's, 25 Cecil St. (Steelworkers Hall), TO ~Roots
8> NXNE: KYLO; Scott Shea; Dan Bettridge; Carson Mchone; Josh Geddis; Jessica Stuart Few @ Cameron House (rear), 408 Queen St. W., TO ~indie
*8-1> open jam with Wednesday's Child feat. Johnny Bootz Hutt @ Lola, 40 Kensington Ave., TO
8> NXNE @ The Rivoli, 334 Queen St. W., TO ~$
*8:30> Crazy Strings host High Lonesome Wednesdays with opening acoustic act @ Silver Dollar 486 Spadina Ave., TO ~Bluegrass
*8:45> Bradley & The Bouncers @ Reservoir Lounge, 52 Wellington St. E., TO ~Jazz/Blues/R&B
9> Asha Pieper; Emma Hewson @ Free Times Cafe, 320 College St., TO ~
9> NXNE: For Exmé; Lower Dens; Moon King; Jacco Gardner; Boyfriends & Girlfriends; Kiwi Jr. @ Horseshoe Tavern, 370 Queen St. W., TO ~indie; $20/pass
*9> open mic with Sean Barker @ Monarch Tavern, 12 Clinton St., TO
*9:30-2> jam with B-Sides @ The Unicorn, 175 Eglinton Ave. E., TO North
10> Johnson Crook @ Cameron House (front), 408 Queen St. W., TO
10> Ken Aldcroft & Scott Thomson: Red & Blue album release concert @ Tranzac Club (Southern Cross), 292 Brunswick Ave. TO
*10-2> Blues-Rock jam with Bruce Domoney @ Grossman's, 379 Spadina Ave. TO
10:30> Logan Sutherland Band; The Undercovers @ The Hideout, 484 Queen St. W., TO ~indie Rock
*10:30> The LMT Connection @ Orbit Room, 580 College St. TO ~Funk/R&B; $10
416 – Toronto East
*6-11> Rock jam with Scar-Bro Pete & Lee Van Leer @ Melange, 172 Main St., TO East
*7:30-10:30> The BTBs @ Relish, 2152 Danforth Ave., TO East ~Jazz
7:30> EXEE: Battle Of The Brew Bands @ The Only Café, 972 Danforth Ave., TO East
8:30-10:30> Mediterranean Stars @ Castro's, 2116 Queen St. E., TO East ~Mediterranean Jazz/Pop
*9:30> open stage with Nicola Vaughan @ Black Swan (downstairs), 154 Danforth Ave., TO East
416 – Toronto West
5-8> Concord Jazz Quintet @ Gate 403, 403 Roncesvalles Ave., TO West ~Jazz
**8-10:30> Hump Night Blues with Dave McManus & Cleave Anderson + special guest Michael Keith @ On Cue Billiards, 349 Jane St., TO West ~Blues
*8-12> Girls Night Out Jazz singers jam with Lisa Particelli, Peter Hill et al @ Chalkers, 247 Marlee Ave., TO North-West
8> NXNE: The Royal Foundry; The Show; Teen Violence; Big Lonely Orero; Love Darling; Art Woodhouse @ The Painted Lady, 218 Ossington Ave., TO West ~indie; $/pass
9-12> Blues Night with Julian Fauth & guests @ Gate 403, 403 Roncesvalles Ave., TO West ~original Juno-winning Blues
9> Joey Wright @ The Local, 396 Roncesvalles Ave., TO West
9> Sweet Alibi; Samantha Martin & Delta Sugar @ Dakota Tavern, 249 Ossington Ave., TO West ~Country
416 – Etobicoke
8-1> Three Dads @ Timothy's Pub, 344 Brown's Line, Etobicoke South ~Pop
416 – Scarborough
* 7> jam with Tommy Rocker's Classic Rock Band @ Fox at Scarborough Junction, 646 Danforth Rd., Scarborough
*8:30> Al Reilly's Catalyst @ Centro Pizza, 3408 Kingston Rd., Scarborough ~classic Rock
*8:30> open mic with Jadzia Skye & Michael Oesch @ Chez Helene's, 1437 Kingston Rd., Scarborough
905 East
*8> Howard Ross hosts "Big Mojo" Blues jam with guest performer Rick Fines @ Corner Pocket, 45 Prince St., Oshawa
*8-11> open mic @ Frank's Pasta, 426 King St. E., Cobourg
9> Bruce Gorrie @ Simcoe Blues & Jazz, 926 Simcoe St. N., Oshawa
*9-12> jam with Damage Control @ St. Louis Bar & Grill Ajax, 11 Harwood Ave. S., Ajax
905 West
*8-12> All-ages jam with band featuring Dave Girdlestone of Soul Funkshun on guitar & host Kevin Reid @ Sixth Line Pub, 1500 Sixth Line, Oakville
*8-2> Paul & Curtis @ Roc'n Doc's, 105 Lakeshore Rd. E., Port Credit ~Rock/Pop
8-1> EB Anderson & The Resolutes @ Moonshine Café, 137 Kerr St., Oakville ~Rootsy Country Blues; $5
8:30> The Carson Freeman Diversion @ Shore Grill, 71 Lakeshore Rd. E., Port Credit ~Pop Rock
*9> open mic jam with Jack B Nimble @ Blarney's Gate, 1151 Dundas St. W., Mississauga
*9?> jam with Michael Zane or Pat Dowds @ Shakers, 580 Kerr St., Oakville
905 North
*7> open mic night with Tanya Joy Senior @ Col. McGrady's Pub, 44 Brock St. W., Uxbridge
*8-12> acoustic jam with Tony Paglia & Aaron Soloman @ Jake's Boathouse Brampton, 59 First Gulf Rd., Brampton
*8-12> open mic with Kevin Ker @ Aw Shucks, 15230 Yonge St., Aurora
*9-1> open mic jam with Whiskey Birds @ Sweetz Lounge, 5289 Hwy 7, Woodbridge-Vaughan
905 South
8-10> Mark Yan & Barry Mulcahy Duo with Karl Widmeyer for Folk Night @ Coffee Culture, 9 Queen St. E., Brampton ~acoustic Roots/Pop; $5
*8:30> Something Country @ The Endzone, 1900 King St. E., Hamilton ~Country
**8-1> "Country Pubkin" Night with Country artists tba @ Corktown Pub, 175 Young St., Hamilton
*9> Sour Notes; Grey Lands @ This Ain't Hollywood, 345 James St. N., Hamilton
519
*9> The Phil & John Show feat. Phil Naro @ Molly Bloom's Waterloo, 170 University Ave., Waterloo ~acoustic Pop Rock
705
*7-11> open jam with Wayne Buttery Band @ The Beacon, 146 45th St., Wasaga Beach
7:30> Christine Atril Band @ Black Horse Pub, 452 George St. N., Peterborough ~Blues
10> Noisy Locomotive @ The Garnet, 231 Hunter St. W., Peterborough
Copyright © 2015 Toronto Moon Magazine. All Rights Reserved