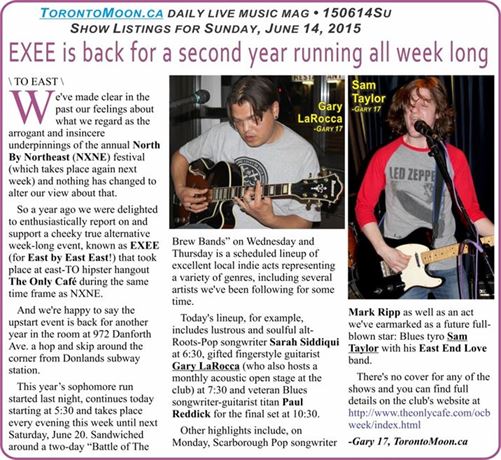 \ TO EAST \
We've made clear in the past our feelings about what we regard as the arrogant and insincere underpinnings of the annual North By Northeast (NXNE) festival (which takes place again next week) and nothing has changed to alter our view about that.
So a year ago we were delighted to enthusiastically report on and support a cheeky true alternative week-long event, known as EXEE (for East by East East!) that took place at east-TO hipster hangout The Only Café during the same time frame as NXNE.
And we're happy to say the upstart event is back for another year in the room at 972 Danforth Ave. a hop and skip around the corner from Donlands subway station.
This year's sophomore run started last night, continues today starting at 5:30 and takes place every evening this week until next Saturday, June 20. Sandwiched around a two-day "Battle of The Brew Bands" on Wednesday and Thursday is a scheduled lineup of excellent local indie acts representing a variety of genres, including several artists we've been following for some time.
Today's lineup, for example, includes lustrous and soulful alt-Roots-Pop songwriter Sarah Siddiqui at 6:30, gifted fingerstyle guitarist Gary LaRocca (who also hosts a monthly acoustic open stage at the club) at 7:30 and veteran Blues songwriter-guitarist titan Paul Reddick for the final set at 10:30.
Other highlights include, on Monday, Scarborough Pop songwriter Mark Ripp as well as an act we've earmarked as a future full-blown star: Blues tyro Sam Taylor with his East End Love band.
There's no cover for any of the shows and you can find full details on the club's website at http://www.theonlycafe.com/ocbweek/index.html
-Gary 17, TorontoMoon.ca
SHOW LISTINGS for Sunday, June 14, 2021

:
Listings are organized by area in which shows take place and listed chronologically within each area field.
Listings preceded by an asterisk (*) are repeating weekly events. (Double asterisk indicates repeating event with different hosts/guest/etc.). Admission prices followed by a slash and minus (/-) after the amount indicates door charge with availability of cheaper rates for some purchases. /+ indicates stated price is minimum.
Names of subscribers appear in bold, are underlined and, where applicable, include a live link to their websites. Advertisers' listings are in larger highlighted type, include live link to website and also have ad icon included in listings.
416 – Toronto Central
11am-2pm> Gypsy Jive Band for Jazz brunch @ Free Times Café, 320 College St., TO
12-3> Excelsior Dixieland Jazz Band @ The Rex, 194 Queen St. W., TO ~Jazz
1> Toronto Improvisers Orchestra @ Tranzac Club (Southern Cross), 292 Brunswick Ave., TO
2> Don Campbell on the patio @ The Hideout, 484 Queen St. W., TO ~acoustic Pop
3-5> Sue & Dwight with Dave Lang @ Tranzac Club (Southern Cross), 292 Brunswick Ave., TO ~Folk
3> The Wintergreen Orchestra @ C'est What, 69 Front St. E., TO ~
*3-6> Michael Brennan @ Graffiti's, 170 Baldwin St. TO ~East Coast Rock/Blues Roots
3:30-6:30> Red Hot Ramble @ The Rex, 194 Queen St. W., TO ~Jazz
*4:30-8> New Orleans Connection All Stars & guests @ Grossman's, 379 Spadina Ave., TO ~New Orleans Jazz
5> Max Layton & Robert Priest @ Tranzac Club (Southern Cross), 292 Brunswick Ave., TO ~songwriters
*7-1> Freefall Sundays open stage with hosts Steve York & Tony Rabalao (2 songs each -signup @ 7 or pre-sign online) @ The Supermarket, 268 Augusta St., TO
7> Bad Luck Woman @ Cameron House (front), 408 Queen St. W., TO
7-9:30> Frank Rooney Group @ The Rex, 194 Queen St. W., TO ~Jazz
8> Best Of The Open Stage with Kalyna Rakel; Brian Sasaki; Laura & Eric; Will Bhaskar @ Free Times Café, 320 College St., TO ~songwriters; $6
8:30> Jenna Glatt; Elcee; Avah Coco @ The Rivoli, 334 Queen St. W., TO; $10
9> jam with Jay Pennell @ Scruffy Murphy's, 150 Eglinton Ave. E., TO North
*9> Rob Hiemstra solo @ The Unicorn, 175 Eglinton Ave. E., TO North ~Rock/Pop
9:30> Scott Marshall Group @ The Rex, 194 Queen St. W., TO ~Jazz
*10> Horshack feat. Chris Caddell @ Orbit Room, 580 College St., TO ~Bluesy contemporary & classic Rock
10> The Lina Allemano Four @ Tranzac Club (Southern Cross), 292 Brunswick Ave., TO ~Jazz
10> Thelonius Hank @ Cameron House (front), 408 Queen St. W., TO
**10> Blues jam with Brian Cober, Bill Hedefine & guest bassist Stan Miczek @ Grossman's, 379 Spadina Ave., TO
10:30> Scott Baragar @ The Hideout, 484 Queen St. W., TO ~indie Rock
416 – Toronto East
11-2> Evan Desaulnier for Jazz brunch @ Relish, 2152 Danforth Ave. TO East
*2-5> Steve Amiralut featuring Mark Kieswetter @ Morgan's, 1282 Danforth Ave., TO East ~Jazz
*3-6> open mic with Nicola Vaughan @ Hirut, 2050 Danforth Ave., TO East
*3:30-7:30> jam @ Black Bear, 1125 O'Connor Drive, TO East
4> Winnie Brave @ Castro's Lounge, 2116 Queen St. E., TO East
5-7> Cadre @ Relish, 2152 Danforth Ave., TO East ~Blues/Rock
*5-9> John Dickie/Pat Perez Band @ Linsmore Tavern, 1298 Danforth Ave, TO East ~R&B/Blues
5:30-11:30> EXEE Festival with Dirty Dishes; Sarah Siddique; Gary LaRocca (at 7:30); Lawrence Cotton; One Drop; Paul Reddick @ The Only Café, 972 Danforth Ave., TO East ~eclectic songwriters
*8-9> Sam Taylor & The East End Love @ Relish, 2152 Danforth Ave., TO East ~original Blues
9> Watch This Sound @ Castro's Lounge, 2116 Queen St. E., TO East ~vintage Jamaican music
*9:30-1> jam with the Stir It Up Band featuring Bryan Van Dusen & David Macmichael @ Relish, 2152 Danforth Ave., TO East
416 – Toronto West
*12-3> Julian Fauth's Blues brunch @ Axis, 3048 Dundas St. W., TO West ~Blues
* 12-3> The Cosmotones @ Dakota Tavern, 249 Ossington Ave., TO West ~Rockabilly
**5-8> John Borra & Sam Ferrara w. guest @ The Communist's Daughter, 1149 Dundas St. W. TO West ~Country
5-8> Cowboy Crashing @ The Local, 396 Roncesvalles Ave., TO West ~swampy County Blues
5-8> Carter Brodkorb Jazz Quintet @ Gate 403, 403 Roncesvalles Ave., TO West ~Jazz
7/9?> tba @ The Tennessee, 1554 Queen St. W., TO West
8:30> Fraser & Girard album release @ Hugh's Room, 2261 Dundas St. W., TO West ~original Roots; $25
9-1> Johnny Cox & The Magnetic Line @ Gate 403, 403 Roncesvalles Ave., TO West ~Blues
9> The Wanted @ The Local, 396 Roncesvalles Ave., TO West ~Roots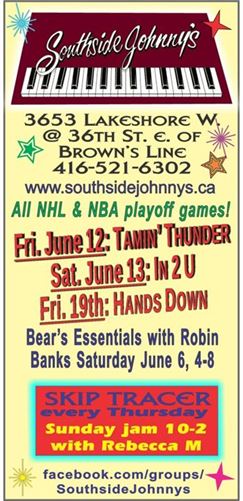 10> The Mercenaries @ Dakota Tavern, 249 Ossington Ave., TO West
416- Etobicoke
4-8> Lost Patients @ Timothy's Pub, 344 Brown's Line, Etobicoke ~Pop Rock
*10-2> jam with Rebecca Matiesen & Phoenix @ Southside Johnny's, 3653 Lakeshore Blvd. W., Etobicoke South
416 – Scarborough
*6-10> jam with Tommy Rocker @ Scarborough Junction, 646 Danforth Rd., Scarborough
*7-11> open jam @ McGradie's, 2167 Victoria Park Ave., Scarborough
519
*9-1> jam @ Ivy Arms Pub, 201 Main Street East, Milton
705
*3-7> jam at CJ Barleys, 213 The Queensway, Keswick
3> Chicken Pot Pi @ Black Horse Pub, 452 George St. N., Peterborough
*7> open mic with Randy Hill @ Black Horse Pub, 452 George St. N., Peterborough
905 East
4> Trac 4 @ Simcoe Blues & Jazz, 926 Simcoe St. N., Oshawa
*5-9> All ages open jam with Juggernaut @ West Shore Bar & Grill, 877 Bayly St., Pickering
*7-11> Karaoke with Rob MacArthur @ The Edge, 250 Bayly St. W., Ajax
*8:30-12:30> karaoke with The English Rose & The Mad Scotsman @ Gryphon Pub, 114 Dundas St. E., Whitby
905 North
*3-7> open stage with Kevin Ker @ The Earl Of Whitchurch, 6204 Main St., Stouffville
*5-9> open mic with feature guest @ Sgt. Pepper's Aurora, Walmart Plaza (Hwy 404 & Aurora Rd.), Aurora
905 South
2-6> Bay City Blues Band & guest Cheryl Lescom @ Bay City Music Hall, 50 Leander Drive, Hamilton ~Blues; $5
9> tba @ Coach & Lantern, 384 Wilson St E., Hamilton
905 West
**2-6> with host Colin Connors and guest Ray Darren @ Carrigan Arms, 2025 Upper Middle Rd., Burlington ~Country
*4:30-8> Chuck Jackson's All Stars @ Roc'n Doc's, 105 Lakeshore Rd. E., Port Credit ~Blues
**5-8> The Stew @ Mulligan's, 2458 Dundas St. W., Mississauga ~R&B/Rock
**7-11> The Nomads @ Shore Grill, 71 Lakeshore Rd. E., Port Credit
*7> open jam with Mike Shotton & The Flying Squirrels @ Black Swan Pub Burlington, 4040 Palladium Way, Burlington
*7:30> open jam hosted by Troy Harmer @ The Brown Barrel, 1515 Upper Ottawa St., Hamilton
*9-1> Love Supreme @ Roc'n Doc's, 105 Lakeshore Rd. E., Port Credit ~Rock/Top 40
*10:30> Adam Cooke & The Adams Family @ The Dickens, 423 Elizabeth St., Burlington