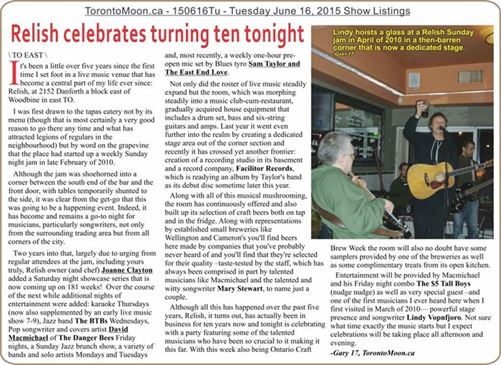 \ TO EAST \
It's been a little over five years since the first time I set foot in a live music venue that has become a central part of my life ever since: Relish, at 2152 Danforth a block east of Woodbine in east TO.
I was first drawn to the tapas eatery not by its menu (though that is most certainly a very good reason to go there any time and what has attracted legions of regulars in the neighbourhood) but by word on the grapevine that the place had started up a weekly Sunday night jam in late February of 2010.
Although the jam was shoehorned into a corner between the south end of the bar and the front door, with tables temporarily shunted to the side, it was clear from the get-go that this was going to be a happening event. Indeed, it has become and remains a go-to night for musicians, particularly songwriters, not only from the surrounding trading area but from all corners of the city.
Two years into that, largely due to urging from regular attendees at the jam, including yours truly, Relish owner (and chef) Joanne Clayton added a Saturday night showcase series that is now coming up on 181 weeks!  Over the course of the next while additional nights of entertainment were added: karaoke Thursdays (now also supplemented by an early live music show 7-9), Jazz band The BTBs Wednesdays, Pop songwriter and covers artist David Macmichael of The Danger Bees Friday nights, a Sunday Jazz brunch show, a variety of bands and solo artists Mondays and Tuesdays and, most recently, a weekly one-hour pre-open mic set by Blues tyro Sam Taylor and The East End Love.
Not only did the roster of live music steadily expand but the room, which was morphing steadily into a music club-cum-restaurant, gradually acquired house equipment that includes a drum set, bass and six-string guitars and amps. Last year it went even further into the realm by creating a dedicated stage area out of the corner section and recently it has crossed yet another frontier: creation of a recording studio in its basement and a record company, Facilitor Records, which is readying an album by Taylor's band as its debut disc sometime later this year.
Along with all of this musical mushrooming, the room has continuously offered and also built up its selection of craft beers both on tap and in the fridge. Along with representations by established small breweries like Wellington and Cameron's you'll find beers here made by companies that you've probably never heard of and you'll find that they're selected for their quality —taste-tested by the staff, which has always been comprised in part by talented musicians like Macmichael and the talented and witty songwriter Mary Stewart, to name just a couple.
Although all this has happened over the past five years, Relish, it turns out, has actually been in business for ten years now and tonight is celebrating with a party featuring some of the talented musicians who have been so crucial to it making it this far. With this week also being Ontario Craft Brew Week the room will also no doubt have some samplers provided by one of the breweries as well as some complimentary treats from its open kitchen.
Entertainment will be provided by Macmichael and his Friday night combo The $5 Tall Boys (nudge nudge) as well as very special guest –and one of the first musicians I ever heard here when I first visited in March of 2010— powerful stage presence and songwriter Lindy Vopnfjoro. Not sure what time exactly the music starts but I expect celebrations will be taking place all afternoon and evening.
-Gary 17, TorontoMoon.ca
SHOW LISTINGS for Tuesday, June 16, 2021
Listings are organized by area in which the shows occur and within each area field shows are listed chronologically.
Listings preceded by an asterisk (*) are repeating weekly events. (Double asterisk indicates repeating event with different hosts/guest/etc.). Admission prices followed by a slash and minus (/-) after the amount indicates door charge with availability of cheaper rates for some purchases. /+ indicates stated price is minimum.
Names of subscribers appear in bold, are underlined and, where applicable, include a live link to their websites. Advertisers' listings are in larger highlighted type, include live link to website and also have ad icon included in listings.
416 – Toronto Central
6:30> Julia Cleveland Quintet @ The Rex, 194 Queen St. W., TO ~Jazz
6:30> Russell Leon @ Free Times Café, 320 College St., TO ~electric-acoustic Roots/Rock *7> open mic @ The Central, 603 Markham St., TO
7:30> The Bridge open mic with Lynn Harrison @ Tranzac Club (Tiki Room), 292 Brunswick St., TO ~Roots
7:30> Dan Pitt & guests @ Tranzac Club (Southern Cross), 292 Brunswick St., TO ~Jazz
8:30> Lindsay Foote; Northern Sainits; Bodhi Jar @ The Rivoli, 334 Queen St. W., TO; $10
*8:45> Tyler Yarema & His Rhythm @ Reservoir Lounge, 52 Wellington St. E., TO ~Jazz/Blues
9> The Sour Notes; First You Get The Sugar; The Beauts; The Pink Flowers; Danny Oliver @ Horseshoe Tavern, 370 Queen St. W., TO ~indie
9:30> Django Gypsy Jam @ Grossman's, 379 Spadina Ave., TO
9:30> Jazz jam hosted by Chris Gale @ The Rex, 194 Queen St. W., TO ~Jazz
*10-2> The Sattalites @ Orbit Room, 580 College St., TO ~orig. & cover Reggae/Funk
10> Stefan Hegerat @ Tranzac Club (Southern Cross), 292 Brunswick St., TO ~Jazz
10:30> The World Is Yours @ The Hideout, 484 Queen St. W., TO ~acoustic duo
416 – Toronto East
*6-9> Julian Fauth solo @ Sauce, 1376 Danforth Ave., TO East ~original Blues piano
7-?> Lindy Vopnfjoro with David Macmichael & The $5 Tall Boys @ Relish, 2152 Danforth Ave., TO East ~songwriter
7:30> EXEE Festival: comedy showcase; Nigjor; Lzrszn; Catfish @ The Only Café, 972 Danforth Ave., TO East
8:30-10:30> Johnson Crook @ Castro's, 2116 Queen St. E., TO East
**9> open mic with host Jody Ferrer & 10 p.m. feature by tba @ Groove Bar, 1952 Danforth Ave., TO East
9> Tom Waits Appreciation Congregation @ Linsmore Tavern, 1298 Danforth Ave., TO East ~Tom Waits tribute
*9:30> Peter Verity @ Black Swan, 154 Danforth Ave., TO East ~Folk Roots
*9:30-12> open stage hosted by Jennifer Brewer @ The Old Nick, 123 Danforth Ave., TO East
*9:30> jam with Frank Wilks & Friends @ The Duke Live, 1225 Queen St. E., TO East
416 – Toronto West
5-8> Sarah Kennedy & Matt Pines Duo @ Gate 403, 403 Roncesvalles Ave., TO West ~Jazz
8:30> Kristina Minchopoulos Music Studio Recital @ Hugh's Room, 2261 Dundas St. W., TO West ~$15/-
9> Dante Matas; Shaemara; Erika Werry and The Alphabet for Indie Tuesdays @ The Piston, 937 Bloor St. W., TO West ~indie; pwyc
9> The Split @ The Local, 396 Roncesvalles Ave., TO West ~
9> Nomad's Groove Duo @ Gate 403, 403 Roncesvalles Ave., TO West ~Latin Jazz
**9-4> aBabe Music presents Luke McColloch; Ginger Gray; The Resolutes; Midnight Lemonade; Agatha LaFaye @ The Painted Lady, 218 Ossington Ave., TO West ~indie showcase; $5
*9:30> jam with Derek Downham @ Axis, 3048 Dundas St. W., TO West ~eclectic
416 – Scarborough
*9:30> karaoke with The English Rose & The Mad Scotsman @ The Fossil & Haggis, 790 Military Trail, Scarborough
705
7> Kerry Jayne @ Black Horse Pub, 452 George St. N., Peterborough
8/9/10> Ginger St. James @ The Garnet, 231 Hunter St. W., Peterborough ~Rockabilly/Blues
905 East
*6:30-11> The Woodshed jam with Don Niblett & Frank Zochodne @ Simcoe Blues & Jazz, 926 Simcoe St. N., Oshawa
9> tba @ The Corral, 433 Simcoe St. S., Oshawa ~Country Rock
*10> open mic with Josh Beaven @ The Atria, 59 King St. E., Oshawa
905 North
*8-11> jam with Matthew Kane & The Brews Brothers @ The Crown, 9580 Yonge St., Richmond Hill
*8:30> open mic @ Falcon & Firkin, 10300 Yonge St., Richmond Hill
*9> open mic with Manny D, Andy Earle & Dave Breckels @ Big Chris BBQ, 17380 Yonge St., Newmarket
905 South
*8-11> Michael Keys & Friends @ The Ale House, 802 Upper Gage Ave., Hamilton ~Pop/Jazz
*9:30-1> Traditional Irish jam @ Corktown Pub, 175 Young St., Hamilton
*9> Hello Cat Piano hosts open stage @ This Ain't Hollywood, 345 James St. N., Hamilton
905 West
*8-12> Marshall Dane Trio @ Roc'n Doc's, 105 Lakeshore Rd. E., Port Credit ~New Country/Pop
*8> open stage with host Iain Leslie @ Moonshine Café, 137 Kerr St., Oakville; $2
*8:45> open mic with Matt Zadkovich @ Culchain's Irish Pub, 158 Queen St. S., Streetsville-Mississauga
*9:30> The Phil & John Show feat. Phil Naro @ Shore Grill, 71 Lakeshore Rd. E., Port Credit ~acoustic Pop Rock
*10> open mic @ The Dickens, 423 Elizabeth St., Burlington
Copyright © 2015 Toronto Moon Magazine. All Rights Reserved