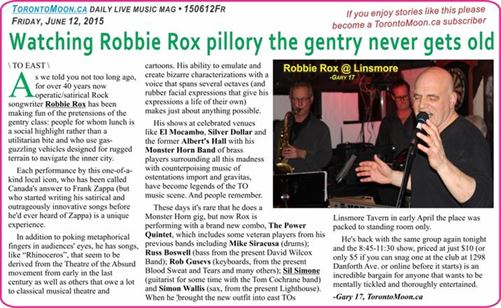 \ TO EAST \
As we told you not too long ago, for over 40 years now operatic/satirical Rock songwriter Robbie Rox has been making fun of the pretensions of the gentry class: people for whom lunch is a social highlight rather than a utilitarian bite and who use gas-guzzling vehicles designed for rugged terrain to navigate the inner city.
Each performance by this one-of-a-kind local icon, who has been called Canada's answer to Frank Zappa (but who started writing his satirical and outrageously innovative songs before he'd ever heard of Zappa) is a unique experience.
In addition to poking metaphorical fingers in audiences' eyes, he has songs, like "Rhinoceros", that seem to be derived from the Theatre of the Absurd movement from early in the last century as well as others that owe a lot to classical musical theatre and cartoons. His ability to emulate and create bizarre characterizations with a voice that spans several octaves (and rubber facial expressions that give his expressions a life of their own) makes just about anything possible.
His shows at celebrated venues like El Mocambo, Silver Dollar and the former Albert's Hall with his Monster Horn Band of brass players surrounding all this madness with counterpoising music of ostentations import and gravitas, have become legends of the TO music scene. And people remember.
These days it's rare that he does a Monster Horn gig, but now Rox is performing with a brand new combo, The Power Quintet, which includes some veteran players from his previous bands including Mike Siracusa (drums); Russ Boswell (bass from the present David Wilcox Band); Rob Gusevs (keyboards, from the present Blood Sweat and Tears and many others); Sil Simone (guitarist for some time with the Tom Cochrane band) and Simon Wallis (sax, from the present Lighthouse). When he brought the new outfit into east TO's Linsmore Tavern in early April the place was packed to standing room only.
He's back with the same group again tonight and the 8:45-11:30 show, priced at just $10 (or only $5 if you can snag one at the club at 1298 Danforth Ave. or online before it starts) is an incredible bargain for anyone that wants to be mentally tickled and thoroughly entertained.
-Gary 17, TorontoMoon.ca
SHOW LISTINGS for Friday, June 12, 2021

:
Listings are organized by area in which the shows occur and within each area field shows are listed chronologically.
Listings preceded by an asterisk (*) are repeating weekly events. (Double asterisk indicates repeating event with different hosts/guest/etc.). Admission prices followed by a slash and minus (/-) after the amount indicates door charge with availability of cheaper rates for some purchases. /+ indicates stated price is minimum.
Names of subscribers appear in bold, are underlined and, where applicable, include a live link to their websites. Advertisers' listings are in larger type, highlighted, include live link to website and also have ad icon included in listings.
416 - Toronto Central
*3-7> acoustic jam with John Hutt @ Lola, 40 Kensington Ave., TO
*4-6> Hogtown Syncopators featuring Terra Hazelton @ The Rex, 194 Queen St. W., TO ~Jazz
*5-8> Kensington Kitchen Party with host Kevin Jollimore of Sin City Boys & guest musicians @ Graffiti's, 170 Baldwin St., TO ~Pop Rock with heart
*5-7> The Friends Of Hugh Oliver @ Tranzac Club (Southern Cross), 292 Brunswick Ave., TO ~Folk
6> David Celia @ Cameron House (front), 408 Queen St. W., TO ~original Pop
6:30> The Jive Bombers @ The Rex, 194 Queen St. W., TO ~Jazz
7> The Queen's Players Toronto presents "The Jurassic Games" @ Tranzac Club (Main Room ), 292 Brunswick Ave., TO
7:30> Ben Walker Project @ Tranzac Club (Southern Cross), 292 Brunswick Ave., TO ~Jazz
7:30> Breaking Bands Toronto Grand Finale @ The Hideout, 484 Queen St. W., TO ~indie Rock showcase/competition
8> NASHVILLE BOUND Songwriters In The Round featuring Glen Hornblast, Michael Laderoute, Brian Gladstone & Tony Quarrington;  Mr. Rick; Sozzie Schlanger @ Free Times Café, 320 College St., TO ~Roots/Country songwriters; $10 or pwyc
8> Patrick Brealey @ Cameron House (front), 408 Queen Street West, TO ~Country
9> New Row; The Celebration Army; Big Name Actors; Summer & Youth @ The Rivoli, 334 Queen St. W., TO ~indie; $12
9> Lady Face; Midday Swim; Cardinal Dream; The Commoneers; Levi Stephenson @ Horseshoe Tavern, 370 Queen St. W., TO ~indie; $10
9-1> Turbo Street Funk @ Monarchs Pub in Eaton Chelsea Hotel, 33 Gerrard St. W., TO ~Funk/R&B
9:30> Taxi @ Alleycatz, 2409 Yonge St., TO North ~Funk/Soul/R&B; $10
9:45> Kirk MacDonald Jazz Orchestra @ The Rex, 194 Queen St. W., TO ~Jazz
9:45> Dee Dee and the Dirty Martinis @ Reservoir Lounge, 52 Wellington St. E., TO ~Jazz/Blues
10> Dave Murphy Band @ Orbit Room, 480 College St. TO ~Rock/Funk/R&B
10> Melvin Colacino Blues Band @ Cameron House (front), 408 Queen Street West, TO
10> Drums Organ album release @ Tranzac Club (Southern Cross), 292 Brunswick Ave., TO
416 - Toronto East
5:30-7:30> The Straight 8s @ Castro's, 2116 Queen St. E., TO East
9> Robbie Rox & The Power Quintet @ Linsmore Tavern, 1298 Danforth Ave., TO East ~outrageous operatic proto-Punk
9> The Circumstantialists @ Dora Keogh, 141 Danforth Ave., TO East
9> Elana Harte's Stiletto Flats @ Eton House, 710 Danforth Ave., TO East ~Rockafilly
*9:30> David Macmichael & The $5 Tall Boys @ Relish, 2152 Danforth Ave., TO East ~alt Pop originals and covers
9:30> You Will Need Oxygen @ The Duke Live, 1225 Queen St. E., TO East ~comedy
10-3> I Hate You Rob @ Castro's, 2116 Queen St. E., TO East ~dynamic original Pop
416 - Toronto West
5-8> Ken Taylor's Fixin's Jazz Trio @ Gate 403, 403 Roncesvalles Ave., TO West ~Jazz
8-10> The Allnighters Blues Duo @ Humble Beginnings, 3109 Dundas St. W., TO West ~acoustic Blues
8:30> China Crisis @ Hugh's Room, 2261 Dundas St. W., TO West ~original Brit Pop; $30/-
9-1> Hell N Back featuring James Alcock @ The Rockpile, 5555 Dundas St. W., Etobicoke ~AC/DC tribute; $
9-1> The Sleaper Group @ Gate 403, 403 Roncesvalles Ave., TO West ~Jazz
9> Jake Chisholm @ The Local, 396 Roncesvalles Ave., TO West ~Blues
10-2> The Double Cuts @ Dakota Tavern, 249 Ossington Ave., TO W. ~Country; $10
416 - Etobicoke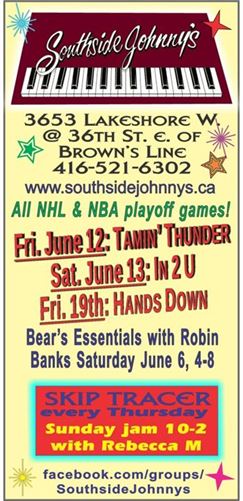 9> North Of 49 @ Blue Goose Tavern, 1 Blue Goose Rd., Etobicoke South ~Pop Rock/Top 40
9> The Riot Kings @ Maple Leaf House, 2749 Lakeshore Boulevard East, Etobicoke ~Rock/Top 40/Blues
9> Fleetwood Mix @ Timothy's Pub, 344 Brown's Line, Etobicoke South ~Fleetwood Mac tribute; $
10-2> Tamin' Thunder @ Southside Johnny's, 3653 Lakeshore Blvd. W., Etobicoke South ~Rock/R&B/Dance
416 – Scarborough
9:30> Al Reilly's Catalyst also featuring Josh Gordon @ McGradie's, 2167 Victoria Park Ave., Scarborough ~classic Rock
9:30> Rick n Bomber @ Stone Cottage Pub, 3750 Kingston Rd., Scarborough ~Pop Rock
9:30> Rough and Ready @ Winners, 2181 Lawrence Ave. E., Scarborough ~Rock
9:30> Rebel Joe @ Kornerstones, 1601 Birchmount Ave., Scarborough
705
5:30> Rick and Gailie @ Black Horse Pub, 452 George St. N., Peterborough
8:30> Kelly McMichael's Green and Gold @ Black Horse Pub, 452 George St. N., Peterborough
10> Killgood; The Nasties @ The Garnet, 231 Hunter St. W., Peterborough
905 East
8:30> Devon Allman @ St. Francis Centre Theatre, 78 Church St. S., Ajax ~Blues/Rockabilly; $55
9-1> Jabel @ Simcoe Blues & Jazz, 926 Simcoe St. N., Oshawa
9> Darren Hancock @ The Corral, 433 Simcoe St. S., Oshawa ~Country
10-2> Billik @ Fionn MacCool's Ajax, 36 Kingston Rd., E., Ajax ~Pop Rock/Top 40
10-2> Philcos @ Whisky John's, 843 King St. W., Oshawa
905 North
9> Sons Of Ringo @ King Richard's Pub, 15570 Yonge St., Aurora ~Pop Rock
9:30> MINT featuring Amanda Rose & Anthony Cee @ Shangri-La, 305 Charolais Blvd., Brampton
9:30> The Nomads @ Jake's Boathouse Brampton, 59 First Gulf Rd., Brampton ~Pop Rock
*9:30> open mic @ Big Daddy's, 460 Elgin Mills Rd., E, Richmond Hill
9:30> Switch Beat @ Aw Shucks, 15230 Yonge St., Aurora ~Pop Rock
10> Fifteen Stone featuring Darrell McNeill @ Oscar's Roadhouse, 1785 Queen St. E., Brampton ~Top 40/Rock
905 – South
9> BA Johnson with The Boogies & guests @ This Ain't Hollywood, 345 James St. N., Hamilton ~$8
9> Cash @ Corktown Pub, 175 Young St., Hamilton ~Johnny Cash tribute
905 West
*5> Adam Ostrosser & Joel Guenther @ Carrigan Arms, 2025 Upper Middle Rd., Burlington ~Pop
*6-9> Krista Blondin @ Roc'n Doc's, 105 Lakeshore Rd. E., Port Credit ~acoustic Pop Rock
7-8:30> Mark Yan & Barry Mulcahy @ Silvercreek Bistro, 112 Main St. S., Georgetown
8> Alfie Smith with John Marlatt @ Moonshine Café, 137 Kerr St., Oakville ~Blues; $5
9:30> Glenn Groves @ Shore Grill, 71 Lakeshore Rd. E., Port Credit ~Pop Rock/Top 40
9:30> Shjaane Glover @ Shakers, 580 Kerr St., Oakville ~Pop Rock
9:30> Daryl Gray @ Gator Ted's, 1505 Guelph Line, Burlington ~Pop Rock
9:30> Green Party open mic & jam night @ Black Swan Pub Burlington, 4040 Palladium Way, Burlington
10-2> Skip Tracer @ Roc'n Doc's, 105 Lakeshore Rd. E., Port Credit ~Pop Rock; $