\ TO EAST \
I've written a few times now about the remarkably diverse talents of Tony Quarrington, a composer, arranger/producer, guitar virtuoso, singer-songwriter and ubiquitous musical sidekick to highly regarded artists like Noah Zacharin, Brian Gladstone and Soozi Schlanger among many others.
The Juno-winning "renaissance artist" —as I described him in an article about his unique six-song operatic Jazz composition "Emily's Songs" in October 2014— is about to see his public profile get another much deserved boost tonight as fifteen powerhouse artists come together to record a selection of his songs live in concert.
Despite winning the Juno in 1999 for his production expertise on the late Willie P. Bennett's album "Heartstrings" and his own remarkable creative achievements such as the "Emily's Song" opus and its progenitor "Group of Seven Suite" in 2001, until recently Tony has largely remained an understated presence on the scene.
Perhaps that in part is due to a somewhat taciturn or shy nature or maybe it's just that he doesn't suffer fools gladly —many of his songs display a sardonic, ruthless wit that appeals to the likes of Sebastian Agnello and Joe Hall, both of whom do covers of his tunes.
Tony's seeming reticence to take the spotlight may also have origins in how for many years he was somewhat overshadowed by his much better known and more outgoing brother, multi-disciplinary author and songwriter Paul Quarrington. Since Paul's untimely passing in 2010, however, whether by coincidence or a change of focus, Tony's own talents have been getting more attention.
In 2014 he was feted by his musical peers (assuming it's true to say that he actually has any!) at an Honouring Our Own concert toasting him staged by Pete Otis and SongTown as part of that year's Winterfolk Festival. At that time I wrote that Tony's "days of being part of the background may be ending" and tonight's concert, at which fifteen stellar artists will be recorded as they perform covers of his tunes, certainly seems to bear that prediction out.
The list of performers is a kind of all-star team of Roots and Jazz songwriters, many of whom were also involved in the Honouring Our Own show, held, like tonight's event, at Black Swan Tavern at 154 Danforth Ave. The roster includes: Laura Fernandez, HOTCHA!, Stuart Laughton, Wayne Neon, Isabel Fryszberg, Soozi Schlanger, Wendell Ferguson, Fraser & Girard, Jon Brooks, Joe Hall, Glen Hornblast, Brian Gladstone, David Storey, Howard Gladstone and Sebastian Agnello.
The result of the recording will be released as a live album at next year's fifteenth edition of Winterfolk, so if you can get into tonight's show (arrive early as capacity in the room is only around 100 and it should fill up fast) you may hear yourself on the disc as you applaud, cheer or sing along in the background.  Doors are scheduled to open around 6, with the show slated to start at 7:30 and tickets are $25 at the door or may still be available in advance.
Here's the set list:
| | | | |
| --- | --- | --- | --- |
| 1 | | Glen Hornblast |  "Blue Cadillac" |
| 2 | | Brian Gladstone |  "Lightning Man" |
| 3 | | David Storey |  "When Townes Sang Em Down" |
| 4 | | Howard Gladstone |  "Big One on the Way" |
| 5 | | Seb Agnello |  "Full Moon and Welfare Cheques" |
| 6 | | Laura Fernandez & Noah Zacharin |  "Frida and Diego" |
| 7 | | HOTCHA! |   "Jubilee" |
| 8 | | Stuart Laughton |   "Heartstrings" |
| 9 | | Wayne Neon |   "I Wanna Be a Blues Guy" |
| 10 | | Isabel Frysberg |   "Broken" |
| 11 | | Soozi Schlanger |   "Gee But It's Drunk Out Tonight" |
| 12 | | Wendell Fergusson |   "Jimmie's Last Blue Yodel" |
| 13 | | Fraser and Girard |   "Hell Hound on My Lawn" |
| 14 | | Jon Brooks |   "Love Has Left the Building" |
| 15 | | Joe Hall |    "How Many Miles to Babylon" |
-Gary 17, TorontoMoon.ca
SHOW LISTINGS for Saturday, August 27, 2021
Listings are organized by area in which the shows occur and within each area field shows are listed chronologically.
Listings preceded by an asterisk (*) are repeating weekly events. (Double asterisk indicates repeating event with different hosts/guest/etc.). Events preceded by question mark (?) usually take place but have not been confirmed. Admission prices followed by a slash and minus (/-) after the amount indicates door charge with availability of cheaper rates for some purchases. /+ indicates stated price is minimum.
Names of subscribers appear in bold, are underlined and, where applicable, include a live link to their websites. Advertisers' listings are in larger, highlighted type, include live link to website and also have ad icon included in listings.
416 – TORONTO CENTRAL
*12-3> The Sinners Choir @ The Rex, 194 Queen St. W., TO ~Jazz; $
3> Jamzac @ Tranzac Club (Southern Cross), 292 Brunswick Ave., TO
3-6> Steve Holt Quartet @ The Pilot, 22 Cumberland St., TO ~Jazz
3-7> Gypsy Rebels @ Lola, 40 Kensington Ave., TO
3:30> The Cookers @ The Rex, 194 Queen St. W., TO ~Jazz; $
4-7> York Jazz Ensemble @ Seven44, 744 Mount Pleasant Road, TO North ~$
*4:40-7:30> The Happy Pals @ Grossman's, 379 Spadina Ave., TO ~New Orleans Jazz
*5-8> Blues & Troubles @ Déjà vu Bar, 389 College St., TO ~Blues
6> Colonel Tom & The American Pour featuring Peter Hill on keys @ Cameron House (front), 408 Queen St. W., TO ~original Honky Tonk
6-8> 4SkÖr @ 120 Diner, 120 Church St., TO ~Jazz; $10-20/pwyc
6:30> Scott B Sympathy @ Tranzac Club (Southern Cross), 292 Brunswick Ave., TO ~songwriter
7> Dylan Hennessy @ Sneaky Dees, 431 College St., TO
7:30> Lester McLean Trio @ The Rex, 194 Queen St. W., TO ~ Jazz; $
8-11> David Macmichael with Thomas Richard MacGilliveray & Marky Beats @ Toronto Island Marina, Centre Island, TO ~cover & original Pop
8> Sebastian Brown @ Cameron House (front), 408 Queen St. W., TO
8> The Night Time; Long Road Act @ Free Times Café, 320 College St. TO
*8:30-12:30> All Star Band feat. Joe Bowden & Brooke Blackburn @ Nawlins, 299 King St. W. TO ~Blues
9> "Night of The Living Bob" with Bob Segarani & Friends @ Cherry Cola's, 200 Bathurst St., TO ~Blues/Rock; no cover/pwyc
9> Phusion Trio @ Dominion Pub, 500 Queen St. E., TO ~cover Pop Rock
9> The Fiscals @ Cameron House (rear), 408 Queen St. W., TO
9> Kalabash @ Jazz Bistro, 251 Victoria St., TO ~6-piece steel drum Jazz band; $15
9-2> Ol'CD; Orangabang; Bad Buzz; Our Father Star @ The Silver Dollar, 486 Spadina Ave., TO ~indie; $
9> Weaves lp release; Poster Boy; She-Devils @ Horseshoe Tavern, 370 Queen St. W., TO ~indie; $10
9> The Almighty Rhombus; Big Lonely @ The Central, 603 Markham St., TO
9> Skyjumper @ Lola, 40 Kensington Ave. TO
9> Big Evil; Ominous; The Witch King; BBomit @ Crown & Tiger, 416 College St., TO
9-1> 120 Diner 2nd Anniversary with open stage hosted by Lisa Particelli @ 120 Diner, 120 Church St., TO
9:30> Rich Cloke and The Sturgeons @ The Cavern Bar, 76 Church St., TO  ~indie
9:30> Blush @ Seven44, 744 Mount Pleasant Road, TO North
9:30> James King @ Alleycatz, 2409 Yonge St., TO North ~Funk/Soul/R&B; $10
9:45> Hotfoot Orchestra @ The Rex, 194 Queen St. W., TO ~Jazz; $
*9:45> Tyler Yarema & His Rhythm @ Reservoir Lounge, 52 Wellington St. E., TO ~Jazz/Blues; $
10> Carlos Morgan @ Orbit Room, 580 College St. TO ~Funk/Soul; $
10> Zeppelinesque @ Cameron House (front), 408 Queen St. W., TO ~Led Zeppelin tunes
10> Colin Fisher & guests @ Tranzac Club (Southern Cross), 292 Brunswick Ave., TO
10> The Wrong Kids @ Bier Markt Esplanade, 58 The Esplanade, TO ~Pop Rock
10-2> Caution Jam @ Grossman's, 379 Spadina Ave., TO ~Grateful Dead style jam band
8:30> Lost Generation; Munizo; Broken Arrows; Erika Werry @ Lee's Palace, 529 Bloor St. W., TO ~original; $7
10> Taxi @ Bier Markt King, 600 King St., West, TO ~Pop Rock
10:30> The Soul Kicks @ The Hideout, 484 Queen St. W., TO ~indie Rock
416 – TORONTO EAST
*3:30-6> Johnny Wright @ Outriggers, 2232 Queen St. E., TO East ~R&B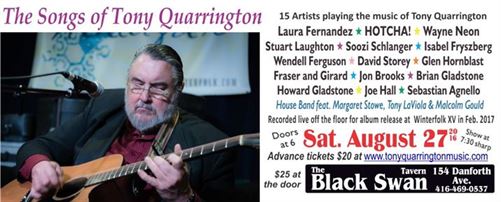 6-8> Lily Frost & Thelonious Hank @ Castro's, 2116 Queen St. E., TO East ~Country
7-9> Linda Lavender @ Relish, 2152 Danforth Ave., TO East ~Roots-Pop songwriter
7> EPMD @ The Danforth Music Hall, 147 Danforth Ave., TO East ~$35
7:30-12> The Songs of Tony Quarrington with fifteen artists recording Tony Quarrington songs @ Black Swan, 154 Danforth Ave., TO East ~$25
8> One City Social Boogie @ The Only Café, 972 Danforth Ave., TO East
*8:30-1> open mic with host Carmen Toth @ The Grover, 676 Kingston Rd., TO East
9-12> David Leask @ The Feathers, 962 Kingston Rd., TO East ~songwriter
9> Tim Bovaconti Big Band @ Dora Keogh, 141 Danforth Ave., TO East ~Pop Rock
9-12> The 501 East Band @ Morgan's On The Danforth, 1282 Danforth Ave. ~Jazz; no cover
9:30-11:30> tba @ Relish, 2152 Danforth Ave., TO East ~
9:30> StrummerJam with CID; Bad Raven Lucy; T.C. Folkpunk @ Linsmore Tavern, 1298 Danforth Ave., TO East ~Folk/Punk/Rock
10:30> Nice Boys @ Bier Markt Don Mills, 7 O'Neill Rd., TO East ~Pop Rock
416 – TORONTO ETOBICOKE

*3-6> Whitey & The Roulettes @ Blue Goose, 1 Blue Goose St., Etobicoke South ~R&B/Blues
**4-8> The Essentials with guest singer Chris Partland @ Southside Johnny's, 3653 Lake Shore Blvd. W. Etobicoke South ~Rock-R&B
*4-8> The Meteors with guest Chris Plock @ Timothy's Pub, 344 Brown's Line, Etobicoke South ~Blues/Rock/R&B
7:30> Rosemary Galloway Quartet @ Old Mill Inn (Homesmith Bar), 21 Old Mill Rd., Etobicoke ~Jazz; minimum table charge
8:30> The Clarkson Brothers @ Albatros Pub, 3057 Lake Shore Blvd. W., Etobicoke South ~original Roots-Pop
9> Strictly Sabbath; Justice Priest; Dirty Rottens featuring Anthony Cee @ The Rockpile, 5555 Dundas St. W., Etobicoke ~tributes to Black Sabbath, Judas Priest & Led Zeppelin; $15
9> Karnival @ Maple Leaf House, 2749 Lake Shore Boulevard West, Etobicoke ~Rock/Top 40/Blues
9:30> The Dreamboats @ Timothy's Pub, 344 Brown's Line, Etobicoke South ~early Rock tribute; $
9:30> The Coveralls @ Refinery Public House, 3039 Lake Shore Blvd. W., Etobicoke ~
10-2> Confidential Sources @ Southside Johnny's, 3653 Lake Shore Blvd. W. Etobicoke South ~Rock/R&B/Funk
10> Rain Beat @ Bier Markt Etobicoke, 199 North Queen St., Etobicoke ~Pop Rock
416 – TORONTO SCARBOROUGH
9-1> Scott Free @ Black Dog Pub, 87 Island Rd., Scarborough ~Pop Rock
9:30> Rock jam with Tommy Rocker Band @ Centro Pizza, 3406 Kingston Rd., Scarborough
*9:30-2> karaoke with The English Rose & The Mad Scotsman @ Winners, 2181 Lawrence Ave. E., Scarborough
416 – TORONTO WEST
*noon-3> Julian Fauth solo @ Axis, 3048 Dundas St. W., TO West ~Blues
*Noon-3> Danny Marks @ Cadillac Lounge, 1296 Queen St. W., TO West ~Blues/Jazz
1-5> Rob Foreman Trio @ The Wine Garden, Canadian National Exhibition Grounds, Lake Shore Blvd. West, TO, TO West ~R&B/Swing; no cover with CNE admission
1:30-5:30> Kenny V @ Casino patio/stage Canadian National Exhibition Grounds, Lake Shore Blvd. West, TO West ~Pop Rock; no cover with CNE admission
**2-5> Yor Magic Open Mic with host Pete Janes @ La Rev, 2848 Danforth Ave., TO West
3-7> Plectrified Blues @ TO Lounge, 1384 Queen St. W., TO West ~Blues
3-6> Sons of Rhythm @ CNE Midway Stage, Canadian National Exhibition Grounds, Lake Shore Blvd. West, TO West ~modern Blues; no cover with CNE admission
3-6> Kelly Prescott @ CNE Northern Comfort Stage, Canadian National Exhibition Grounds, Lake Shore Blvd. West, TO West ~Country Pop; no cover with CNE admission
4> Chris Lord Ideal @ The Rhino Bar, 1249 Queen St. W., TO West ~Blues
**5-8> Elizabeth Martins Trio @ Gate 403, 403 Roncesvalles Ave. TO West ~Jazz
5-8> Carver Baronda @ The Local, 396 Roncesvalles Ave., TO West ~
*5-8> Blues jam with Ken Yoshioka @ On Cue Billiards, 349 Jane St., TO West ~Blues
5-9> Club Django @ The Wine Garden, Canadian National Exhibition Grounds, Lake Shore Blvd. West, TO West ~Jazz; no cover with CNE admission
7-11> Phil & John Show @ Casino patio/stage Canadian National Exhibition Grounds, Lake Shore Blvd. West, TO West ~acoustic Pop Rock; no cover with CNE admission
7:30-11> The Rattles @ CNE Midway Stage, Canadian National Exhibition Grounds, Lake Shore Blvd., TO West ~Beatles tribute; no cover with CNE admission
7:30-11> Tristan Horncastle @ CNE Northern Comfort Stage, Canadian National Exhibition Grounds, Lake Shore Blvd. West, TO West ~Country; no cover with CNE admission
7:30> Dean Brody; Jessica Mitchell opening @ CNE Bandshell, Canadian National Exhibition Grounds, Lake Shore Blvd., TO West ~Country; no cover with CNE admission
8:30> Ptarmigan @ Burdock, 1184 Bloor St. W., TO West
9-1> Donné Roberts Band @ Gate 403, 403 Roncesvalles Ave., TO West ~Jazz
9> Common Deer; Last of The Bandits @ Junction City Music Hall, 2907 Dundas St. W., TO West ~$10
9> Bénédicte; GG Love; Akage No Anne; Valued Customer @ Smiling Buddha, 961 College St., TO West ~indie; $
10> Jacqui Brown @ Cadillac Lounge, 1296 Queen St. W., TO West ~Pop/Soul
9> Chris Staig @ The Local, 396 Roncesvalles Ave., TO West ~indie Pop
9> Shikha Sehgal; Jay Richards; Stacey Dowswell; Arthur Renwick @ Not My Dog, 1510 Queen St. W., TO West ~indie Pop
9:30> Steve Perron @ Axis, 3048 Dundas St. W., TO West
9:30> Uprise @ Brazen Head Pub, 165 East Liberty St., TO West ~Pop Rock
10-2> The Del Fi's @ Dakota Tavern, 249 Ossington Ave., TO West ~Country
10> Aaron Berger & The Blue Stars; Evan Freeman @ 3030 Dundas West, 3030 Dundas St. W., TO West ~no cover
10:30> Orquesta Fantasia @ Lula Lounge, 1585 Dundas St. W., TO West ~Salsa; $15
519
8> Stoney Lonesome @ Ethel's Lounge, 114 King St. N., Waterloo ~Country/Folk Rock
2:30-midnight> KW Freshtival with Last Minute; Jesse Treneer; Shy Harry; To the Trees; Safe As Houses; Xprime; Flowers For Daniel; Texas King; Ivory Hours; Alex Price with Pocket City @ Maxwell's, 35 University Ave. E., Waterloo ~indie
8> Corey Heuvel @ Fionn MacCool's Kitchener, 4287 King St. E., Kitchener ~Pop
9:30> Organized Chaos @ Fionn MacCool's Orangeville, 75 Fourth Ave., Orangeville ~Pop
705
5> Rick & Gailie @ Black Horse Pub, 452 George St. N., Peterborough
8:30> Brianna Cotton Band @ Black Horse Pub, 452 George St. N., Peterborough
9> Pat Maloney @ The Huron Club, 94 Pine St., Collingwood
9> Adler; Yaronton @ The Spill, 414 George St., Peterborough ~Jazz
9:30> The Stephanie Gregg Band @ Sticky Fingers Dunlop, 150 Dunlop St. W., Barrie
10> Hillsburn @ The Garnet, 231 Hunter St. W., Peterborough
905 EAST
4> Susan Latimer @ Simcoe Blues & Jazz, 926 Simcoe St., Oshawa ~original Roots
8> Tamin' Thunder; Juggernaut @ Annandale Golf & Curling Club, 221 Church St., Ajax ~Rock/R&B/Dance
8> Phillips Sayce for Music by the Bay Live @ St. Francis Centre, 78 Church St., Ajax ~original Blues; $
*9-1> karaoke with Rob MacArthur @ Tudor Rose, 700 Harwood Ave. S., Ajax
9> Ben Hudson @ The Corral, 433 Simcoe St. S., Oshawa ~Country
9> Abiotic; Vesperiea; SludgeHammer @ The Atria, 59 King St. E., Oshawa ~
9-1> Kevin McKendrick @ Simcoe Blues & Jazz, 926 Simcoe St. N., Oshawa
9-1> Full Tilt @ Tap and Tankard, 224 Brock Rd. S., Whitby ~Rock/Pop
9> Fish Head Phil; Bloody Diamonds; The Way Out @ The Moustache Club, 15 Simcoe St. N., Oshawa ~indie; $5
10-2> Suppa Natty @ Whisky John's, 843 King St. W., Oshawa ~Rock/Top 40
905 NORTH
7-9> Mark Yan & Barry Mulcahy @ La Catrina Restaurant, 35 Queen St. W., Brampton ~cover & original acoustic Pop
8-11> Henry Lees-Lawrie Ingles Duo @ Yogi's Bar, 1285 Elgin Mills Rd. E., Richmond Hill ~acoustic Pop Rock
8> Secret Broadcast; July; Hot Lips @ Spot One, 289 Rutherford Rd. S., Brampton ~alt-Rock; $10
9-1> Audio Taxi @ Oscar's Roadhouse, 1785 Queen St. E., Brampton ~Pop Rock/Top 40
9:30> Bone-Yard @ CJ Barley's, 213 The Queensway S., Keswick ~Rock/Top 40
9:30> Skip Tracer @ Jake's Boathouse Brampton, 59 First Gulf Rd., Brampton ~Pop Rock
9:30> Synsonic @ Aw Shucks, 15230 Yonge St., Aurora ~Pop Rock
905 SOUTH
1pm-11pm> Hamilton Cookout music and food festival with A.F.R.O.; Marco Polo; Elzhi; more @ Bay City Music Hall, 50 Leander Drive, Hamilton ~eclectic; $
**2-4:30> Davidson, Dicresce & Nero host jam with guests @ Pub Fiction, 1242 Garner Rd. W., Ancaster ~Rock/Top 40
**2> Brant Parker Band with guest Dylan WIckens @ Donnelley's Pub, 54 Front St., Thorold ~Blues
*2-6> jam w. Tom Finocchio @ Sam's Place, Barton-Chestnut Sts., Hamilton
**2:30> Blues Matinée @ Coach & Lantern (upstairs), 384 Wilson St E., Hamilton ~Blues
8> Rothwell @ Pub Fiction, 1242 Garner Rd. W., Ancaster ~Rock/Top 40
9> TG & The Swampbusters @ The Gladstone Tavern, 1385 Main St. E., Hamilton ~Rockabilly/Country
9> Kestrels; Black Baron; Sensei @ This Ain't Hollywood, 345 James St. N., Hamilton ~indie; $10
9> Harrison Kennedy with Jesse O'Brien @ Rebel's Rock, 537 King St. E., Hamilton ~Blues
**9> Niagara Rhythm Section & guests Joel Johnson @ The Old Winery, 2228 Niagara Stone Rd., Niagara-On-The-Lake ~R&B/Blues
9:30> Queen Flash @ Corktown Pub, 175 Young St., Hamilton ~tribute to Queen
9:30> Less Than Three @ Stonewalls Hamilton, 339 York Blvd., Hamilton ~acoustic love Pop duo
9:30> Vinyl Flux @ Doc Magilligan's Irish Pub, 6400 Lundy's Lane, Niagara Falls ~Rock/Top 40
905 WEST
**2-6> Sil Simone Band with special guest Heather Katz @ Carrigan Arms, 2025 Upper Middle Rd., Burlington ~Rock/Blues
**2-6> Saturday Blues Sermon with James Anthony & special guest Jay Douglas @ Black Swan Pub Burlington, 4040 Palladium Way, Burlington ~Blues
*3-7> jam with Michelle Deneault & Redder @ Port Credit Legion, 35 Front St., Port Credit
*3-7> open stage jam @ Moonshine Café, 137 Kerr St., Oakville; $2
4-8> Victoria Young @ Roc'n Doc's, 105 Lakeshore Rd. E., Port Credit ~Pop Rock/Jazz
8-12> Jerome Godboo Band @ Moonshine Café, 137 Kerr St., Oakville ~Blues; $10
8> Augustus Da Funkus @ Shaker's, 580 Kerr St., Oakville
9:30> Peter Lafferty @ Shore Grill, 71 Lakeshore Rd. E., Port Credit ~Pop Rock/Top 40
9:30> Souled Out @ The Franklin House, 263 Queen St. S., Streetsville ~Pop Rock
9:30> Dirty Pioneers @ Gator Ted's, 1505 Guelph Line, Burlington ~Rock/Top 40
9:30-11:45> Ronn James @ The Purple Heather, 3600 Dundas St. W., Burlington ~Pop
9:30> Virtual Journey @ Boston Manor, 4460 Fairview Ave., Burlington ~Journey tribute; $
10-2> Matt Zady & The Infringements @ Roc'n Doc's, 105 Lakeshore Rd. E., Port Credit ~Rock/Top 40; $
10> Phoenix5 @ Bier Markt Mississauga, 55 City Centre Drive, Mississauga ~Pop Rock
10:15> The Ballroom Babies @ Failte, 201 City Centre Dr., Mississauga
10:30> Lazy Slang @ The Dickens, 423 Elizabeth St., Burlington ~Pop Rock
Copyright © 2016 Toronto Moon Magazine. All Rights Reserved