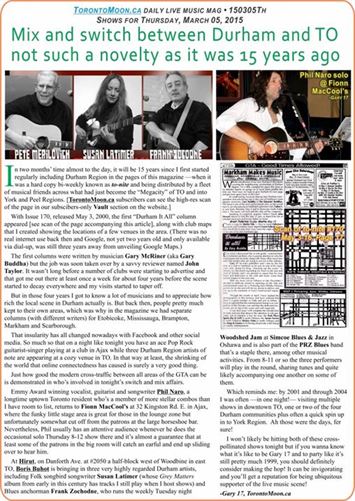 \ In two months' time almost to the day, it will be 15 years since I first started regularly including Durham Region in the pages of this magazine —when it was a hard copy bi-weekly known as to-nite and being distributed by a fleet of musical friends across what had just become the "Megacity" of TO and into York and Peel Regions. [TorontoMoon.ca subscribers can see the high-res scan of the page in our subscibers-only Vault section on the website.]
With Issue 170, released May 3, 2000, the first "Durham It All" column appeared [see scan of the page accompanying this article], along with club maps that I created showing the locations of a few venues in the area. (There was no real internet use back then and Google, not yet two years old and only available via dial-up, was still three years away from unveiling Google Maps.)
The first columns were written by musician Gary McRiner (aka Gary Buddha) but the job was soon taken over by a savvy reviewer named John Taylor. It wasn't long before a number of clubs were starting to advertise and that got me out there at least once a week for about four years before the scene started to decay everywhere and my visits started to taper off.
But in those four years I got to know a lot of musicians and to appreciate how rich the local scene in Durham actually is. But back then, people pretty much kept to their own areas, which was why in the magazine we had separate columns (with different writers) for Etobicoke, Mississauga, Brampton, Markham and Scarborough.
That insularity has all changed nowadays with Facebook and other social media. So much so that on a night like tonight you have an ace Pop Rock guitarist-singer playing at a club in Ajax while three Durham Region artists of note are appearing at a cozy venue in TO. In that way at least, the shrinking of the world that online connectedness has caused is surely a very good thing.
Just how good the modern cross-traffic between all areas of the GTA can be is demonstrated in who's involved in tonight's switch and mix affairs.
Emmy Award winning vocalist, guitarist and songwriter Phil Naro, a longtime uptown Toronto resident who's a member of more stellar combos than I have room to list, returns to Fionn MacCool's at 32 Kingston Rd. E. in Ajax, where the funky little stage area is great for those in the lounge zone but unfortunately somewhat cut off from the patrons at the large horseshoe bar. Nevertheless, Phil usually has an attentive audience whenever he does the occasional solo Thursday 8-12 show there and it's almost a guarantee that at least some of the patrons in the big room will catch an earful and end up sliding over to hear him.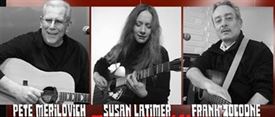 At Hirut, on Danforth Ave. at #2050 a half-block west of Woodbine in east TO, Boris Buhot is bringing in three very highly regarded Durham artists, including Folk songbird songwriter Susan Latimer (whose Grey Matters album from early in this century has tracks I still play when I host shows) and Blues anchorman Frank Zochodne, who runs the weekly Tuesday night Woodshed Jam at Simcoe Blues & Jazz in Oshawa and is also part of the PRZ Blues band that's a staple there, among other musical activities. From 8-11 or so the three performers will play in the round, sharing tunes and quite likely accompanying one another on some of them.
Which reminds me: by 2001 and through 2004 I was often —in one night!— visiting multiple shows in downtown TO, one or two of the four Durham communities plus often a quick spin up in to York Region.  Ah those were the days, fer sure!
I won't likely be hitting both of these cross-pollinated shows tonight but if you wanna know what it's like to be Gary 17 and to party like it's still pretty much 1999, you should definitely consider making the hop! It can be invigorating and you'll get a reputation for being ubiquitous supporter of the live music scene!
-Gary 17, TorontoMoon.ca
SHOW LISTINGS for Thursday, March 05, 2022
Listings preceded by an asterisk (*) are repeating weekly events. (Double asterisk indicates repeating event with different hosts/guest/etc.). Admission prices followed by a slash and minus (/-) after the amount indicates door charge with availability of cheaper rates for some purchases. /+ indicates stated price is minimum.
Names of subscribers appear in bold and underlined and, where applicable, include a live link to their websites or event page. Advertisers' listings are in larger type and highlighted, include a live link to their website and also have a copy of the ad included in listings.
*5-8> Kirsten Jones @ Richtree Restaurant, Eaton Centre (14 Queen St. West), TO ~Country originals & Pop covers
5-8> Claire Lee Jazz Trio @ Gate 403, 403 Roncesvalles Ave., TO West ~Jazz
*5-8> Nelson Denis @ Frank's Pasta, 42 King Street E., Cobourg ~eclectic mix (Folk, Jazz, soft Rock, Latin)
6> Corin Raymond @ Cameron House (front), 408 Queen St. W., TO ~Rootsy indie-Pop
6> Whitebrow @ Dakota Tavern, 249 Ossington Ave., TO West ~Folk
6:30> Kevin Quain @ The Rex, 194 Queen St. W., TO ~moody Blues
6:30> Ryerson Community Theatre showcase @ Tranzac Lounge (Main Hall), 292 Brunswick Ave., TO
7-9> Roots and Branches @ Relish, 2152 Danforth Ave., TO East ~Rootsy Blues
*7> open mic with Derek Mok @ Kensington Lodge, 21 Kensington Ave., TO
7> Elmer Ferrer Band @ Timothy's Pub, 344 Brown's Line, Etobicoke South ~Pop Rock
*7-10> Zone Music Youth jam with hosts Chasing Shadows @ West Shore Bar & Grill, 877 Bayly St., Pickering
7-9> Mike Burns with guest Raina Krangle @ The Cornerhouse, 6403 Main St., Stouffville ~Roots Pop
*7:30-9:30> Bluegrass Thursdays with Houndstooth @ Tranzac Lounge (Southern Cross), 292 Brunswick Ave., TO
*7:30> open stage with Rob Phillips @ Black Horse Pub, 452 George St. N., Peterborough
*7:30-12> open mic with K.M. Smith @ Molly Bloom's Guelph, 91 Wyndham St. N., Guelph
8> Masters In The Round with host Boris Buhot and Pete Merilovitch; Susan Latimer; Frank Zocodne @ Hirut, 2050 Danforth Ave., TO East ~acoustic Roots songwriter circle; pwyc
*8-11> Tinderbox Thursdays open stage with Michael Keith @ La Revolucion, 2848 Dundas St. W., TO West ~eclectic
8> James Clark solo; Maria Ryan & Chris Bennett; Sean Poluk @ Graffiti's, 170 Baldwin St., TO ~indie Pop
8-12> Phil Naro solo @ Fionn MacCool's Ajax, 32 Kingston Rd. E. Ajax ~acoustic Pop/Rock
*8-10:30> Jerry Leger & The Situation @ Castro's, 2116 Queen St. E., TO East ~Folk-Rock/Country
8-12> R&B/Blues @ Nawlin's, 299 King St. W. TO
8> In Between Sounds @ The Only Café, 972 Danforth Ave., TO East ~psych soundscapes
8-12> Alexander Quail @ Roc'n Doc's, 105 Lakeshore Rd. E., Port Credit ~acoustic Pop
*8-12> open mic & jam @ Black Swan Pub Burlington, 4040 Palladium Way, Burlington
*8-12> jam hosted by The Personics @ Carrigan Arms, 2025 Upper Middle Rd., Burlington
*8-11> open mic with Sandy MacDonald @ Williamsburg Arms, 1187 Fischer Hallman Rd., Kitchener
8:30> Rent Party @ Linsmore Tavern, 1298 Danforth Ave., TO East
8:30> Love Overnight; Mark Humenik; Thieves Thieves; Every Second; James Favron @ Free Times Café, 320 College St. TO ~indie; $5
8:30> Brock Zeman @ Moonshine Café, 137 Kerr St. Oakville ~songwriter; $10
*9> Tommy Rocker's Classic Rock Band  with Jonny Rock on bass host jam @ Centro Pizza, 3406 Kingston Rd., Scarborough
*9> jam with Ted Rusk @ The Sauble Dunes, 11 Southampton Parkway, Sauble Beach
*9-1:30> open stage with Jay Pennell @ Dave's On St. Clair, 730 St. Clair West, TO West ~eclectic
9-12> Melanie Brulee Band @ Gate 403, 403 Roncesvalles Ave., TO West ~Jazz
*9-1> Blackburn @ Jo Mamas, 317 King St. W., TO ~Blues
9> Flohill's Playhouse: Kat Goldman; Samantha Martin & Delta Sugar; Tom Wilson @ The Painted Lady, 218 Ossington Ave., TO West ~eclectic; $20
9> David Celia @ The Local, 396 Roncesvalles Ave., TO West ~indie Pop
9> Soulidified Band @ Alleycatz, 2409 Yonge St., TO North ~Funk/Soul/R&B
9> Freeman Dre & The Rucksack Willies @ Dakota Tavern, 249 Ossington Ave., TO West ~indie Countrified Pop
*9> jam @ The Wee Pub, 371 Wilson Rd. South, Oshawa
10> @ Simcoe Blues & Jazz, 926 Simcoe St. N., Oshawa
*9:30-2> Skip Tracer @ Southside Johnny's, 3653 Lakeshore Blvd., Etobicoke South ~Rock/Pop
9:30> The Celebration Army featuring Nelson Sobral @ C'est What, 67 Front St. E., TO
*9:30> karaoke with Shane Taylor @ Relish, 2152 Danforth Ave., TO East
9:30> The Speck Brothers @ Black Dog Pub, 87 Island Rd., Scarborough ~Pop Rock
9:30> Glenn Groves @ Shore Grill, 71 Lakeshore Rd. E., Port Credit ~Pop Rock
*9:30> jam with Billick @ Harp & Crown, 300 Kingston Rd., Pickering
*9:30> jam with Jack B Nimble @ Abbey Road Pub, 3200 Erin Mills Parkway, Mississauga
*9:45> Mary Mckay @ The Reservoir Lounge, 52 Wellington St. E., TO ~Jazz/Blues
9:45> Joel Harrison Quartet + David Braid @ The Rex, 194 Queen St. W., TO ~NYC Jazz
10> Sam Cash @ Cameron House (front), 408 Queen St. W., TO
10> New Civilization with Alex Lukachevsky @ Tranzac Lounge (Southern Cross), 292 Brunswick Ave., TO
10> Soulstack @ Orbit Room, 480 College St. TO ~Soul/Funk/R&B; $10
10> Richard Burnett; Don Kerr; Lewis McCleod @ The Garnet, 231 Hunter St. W., Peterborough
10:30> Matt Morgan & The Mayday @ The Hideout, 484 Queen St. W., TO ~indie Rock
Copyright © 2015 Toronto Moon Magazine. All Rights Reserved