By Mike Beggs, Special to TorontoMoon.ca
\ PORT CREDIT-MISSISSAUGA \
One of the stars of the fertile Port Credit club scene, Gracie continues her weekly solo residency tonight at Spice Lounge & Tapas, 52 Lakeshore Rd. E.
More often than not sitting down with her Gretsch electric guitar, she wows people as she soars, swoons, scats, and belts on Rock (The Police, Nirvana), Jazz ("I Remember You", Amy Winehouse), and several of her originals —on which the moods range all the way from upbeat and Urban, to brooding (with Jeff Buckleyesque overtones).
One club-goer accurately described her presentation as, "ultra-cool, but real."  And she definitely has added polish since launching this gig three years back —and from also working the circuit with Jazz pianist Tyler Yarema and Rocker (and four-time Juno nominee) Tom Barlow.
This charming, fun-loving Oakville native (a.k.a. Grace-Anne Marino) may soon be playing bigger stages, further afield.  She's on the cusp of signing a publishing deal with the new Montreal boutique label Centre Street Records, under Warner Music, after a couple of years of talks with the majors.  If all goes as planned, it will be a 10-song per year deal, where she will retain half of the publishing rights as they start dropping singles.
What makes Gracie different from the zillions of alt singer/songwriters out there is the Jazz chops she acquired through three years spent at York University, and the exposure she received to greats like Sarah Vaughan and Etta James.  Filter that through a weakness for instrumental Jazz (Wes Montgomery, Pat Metheney), and modern day R&B/Soul sirens like Erykah Badu and Jill Scott, and —she agrees— you have an Old School meets New School thing going on.
"I would compare my style to Leon Bridges' latest album. I would also compare myself to Amy Winehouse, although a lot of people do that for me," she laughs.
"(Ultimately), it's about being who I am.  That definitely is turning out to be sounding Motowny, but with modern (sonics).  We'll see what happens."
Gracie more recently returned from an exciting co-writing trip to L.A., which was arranged by heavyweight U.S. music exec Jeff Fenster (credited with signings like Nirvana, and Britney Spears), and Centre Street's Francois Lachance.  Now, she's writing every day, laying down rough cuts at the home studio of Barlow (whom she credits with, "introducing me to every single person I've met in the music industry") gigging solo a lot and rehearsing with the scary good players she's slowly assembling into a band.
She's one of three solo acts presented weekly at Spice, which, over the past decade, has become one of the coolest venues along PC's Lakeshore Road strip.
Brothers Ryan and Andrew Long recently completed a reno —adding an understated downtown chic, and, more importantly, a dedicated stage in the corner.  As Ryan puts it: "This is definitely a chill, listening room."
Of late, the start time for Gracie's residency has been moved up from 10, to a more agreeable 8:30 p.m. There's never a cover at Spice.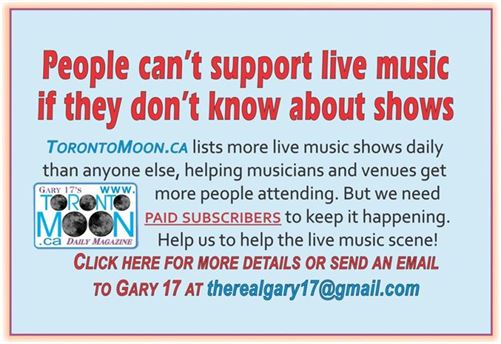 -For more information about Toronto Moon contact Gary 17, TorontoMoon.ca
[email protected] * [email protected]
SHOW LISTINGS for

Monday, June 11, 2022
For KEY to listings codes and schemata see note at end of shows list.
Names of subscribers appear in bold, are underlined and, where applicable, include a live link to their Home or Event url.  FOR SUBSCRIPTION DETAILS VISIT: http://www.torontomoon.ca/subscribe/
Advertisers' listings are in larger, highlighted type, include live link to website and also have ad icon included in listings.  FOR ADVERTISING INFO VISIT:
http://www.torontomoon.ca/advertise-with-toronto-moon/
ON AIR/ONLINE
*6> "Underplayed and Underpaid" interviews and performances by Guelph area bands on CFRU 93.3 FM broadcast and online
6> "Soundcheck with Sabrina" with Sabrina Fallah @ Jungle 77.3 & online at http://www.jungle773.com/ ~eclectic tracks, interviews etc.
416 – TORONTO CENTRAL
12:15-1:15> Junctquin Keyboard Collective @ Holy Trinity Church, 10 Trinity Square

*5-9> Jim Heineman Trio @ Mirto Italian Restaurant, 25 Toronto St. ~Jazz
6> Tom Power & John Showman @ Cameron House (front), 408 Queen St. W.
6-8> Victoria Staff @ Tranzac Club (Southern Cross), 292 Brunswick St. ~songwriter
6:30

> Peter Hill Quintet @ The Rex, 194 Queen St. W. ~Jazz; $
**7-1 (sign-up at 7, show starts 7:30)> open stage with host Brian Sasaki @ Free Times Café, 320 College St.
*7-10> open stage with Brad Scott @ Lola, 40 Kensington Ave.
7:30> Tafelmusik Baroque Orchestra @ Trinity-St. Paul's Centre in Jeanne Lamon Hall, 427 Bloor St. W. ~Classical; $0
7:30> Depeche Mode @ Air Canada Centre, 40 Bay St. ~contemporary iconic originals; $
**8> open mic with Don Myers @ Rose & Crown, 2335 Yonge St.
**8> open mic (2 songs; sign-up starts 8 p.m.) with host Sarah Greene @ Tranzac Lounge (Southern Cross), 292 Brunswick Ave.
8-10> Pavlo's 20th anniversary concert (Night 2 of 20) @ Jazz Bistro, 251 Victoria St. ~Jazz; $ includes nightly guitar giveaway to one audience member
8> Slow Mass; Chris; Poor You; Little Kid @ Handlebar, 159 Augusta Ave. ~eclectic indie; $
8> Matt Groopie; Phoenix Hale; Richard Malouin; Avenue Road; Raina Krangle; Solstice; Pulse in Tempo; James Marrin & The Midnight Riders @ Cherry Cola's, 200 Bathurst St. ~eclectic indie; $
8> Ukulele jam @ Tranzac Lounge (Main Hall), 292 Brunswick Ave.
8> Cold Cave; Black Marble; Choir Boy @ Lee's Palace, 529 Bloor St. W.
8> open mic with Frank Moyo and Friends @ Revival, 783 College St.
8:30> Mother Tongues; Blue Dream; Wave of Terror; Crazy Bones @ Horseshoe Tavern, 370 Queen St. W. ~indie; $/wb
**9-1:30> open mic/jam with host Sam Sundar-Singh & feature by Drew Sweetwood @ Grossman's, 379 Spadina Ave.
*9:30> open mic @ Amsterdam Bicycle Club, 54 The Esplanade
9:30> Big City Big Band @ The Rex, 194 Queen St. W. ~Jazz; $
10> Jordan John @ The Orbit Room, 580 College St. ~R&B/Blues; $
416 - TORONTO EAST
4:30> Danforth East Pub Crawl to seven pubs Cedarvale west to Donlands, starting @ Relish, 2152 Danforth Ave. ~prizes & $5 pints at each stop
7:30> "Revolution Mondays" @ The Old Nick, 123 Danforth Ave. ~songwriters; 0$
*7:30> The Advocats Big Band @ The Duke Live, 1225 Queen St. E. ~big band Swing Jazz/Soul; $10
8:30-10:30> Lotus Wight @ Castro's, 2116 Queen St. E. ~songwriter
*8:45-12> Riverboat Mondays acoustic open stage jam with Tyler Ellis @ Dora Keogh, 141 Danforth Ave.
*9-12> The Out of Towners @ Sauce on Danforth, 1376 Danforth Ave.
416 – TORONTO ETOBICOKE
416 – TORONTO SCARBOROUGH
7:30> Uke jam/workshop @ Stone Cottage Pub, 3750 Kingston Rd.
*8-12> open jam with All or Nothing @ Newfoundlander Tavern, 472 Danforth Road
416 – TORONTO WEST
6-8:30> Emma Dilemma; Morgan Orion; Dana Sipos @ Burdock, 1184 Bloor St. W. ~songwriters; $10
8> Quiet Slang; Abi Reimold @ Drake Hotel Lounge, 1150 Queen St. W.
8> LastxCall @ The Great Hall, 1078 Queen St. W. ~acoustic Pop covers & originals
*8> open mic/jam with Klooch @ The Wicket Pub, 1671 Bloor St. W.
*8-11> open mic with Jean Baptiste De Collier @ Station Ale House, 2457 Bloor St. W.
8> Nichol Robertson's Boogaloo Boys @ Reposado, 136 Ossington Ave. ~Rock/Top 40 covers; 0$
8:30> Rachel Romu; TIKA; Witch Project; Vaughan @ The Garrison, 1197 Dundas St. W. ~eclectic indie; $
*9-1> Hamstrung Stringband @ The Local, 396 Roncesvalles Ave. ~Bluegrass
*9-1> eclectic open stage/jam with host Nelson Sobral @ The Painted Lady, 218 Ossington Ave.
9> Major Love; The O'Pears; Charlotte Cornfield; Dani Nash @ Dakota Tavern, 249 Ossington Ave. ~eclectic indie; $
9> Pat Robitaille @ Burdock, 1184 Bloor St. W.  ~songwriter; $12
9:30> Tune Town @ The Emmet Ray, 924 College St. ~Jazz; pwyc
*10-11> The Skyliners @ Skyline Restaurant, 1426 Queen St. W. ~low-fi Soul/Blues
*10> open mic with host Liam Kearney @ The Hole In The Wall, 2867 Dundas St. W.
519
*5> open mic with Dennis Napper @ Rhapsody Barrel Bar, 179 King St. W., Kitchener
*7:30-12> open mic with Anthony Schmanthony @ The Cornerstone, 1 Wyndham St. N., Guelph
*8-12> open stage @ The Boathouse, 57 Jubilee Drive, Kitchener
*9-2> James Murray @ Jimmy Jazz, 52 Macdonell St., Guelph ~acoustic Pop covers & originals
9:30> Hunter Sheridan @ McCabe's Irish Pub, 9 Wyndham St. N., Guelph ~acoustic Pop covers & originals
705
*7> Rick & Gailie @ Black Horse Pub, 452 George St. N., Peterborough
8-12> jam night with Rob Drake @ Sticky Fingers Dunlop, 199 Essa Rd.
10> Morgan Orion @ The Garnet, 231 Hunter St. W., Peterborough
905 EAST
*6-10> poetry open mic @ Simcoe Blues & Jazz, 926 Simcoe St. N., Oshawa
905 NORTH
7-1> open mic @ The Barrel, 2180 Steeles Ave. W., Vaughan
9:25-1:05> jam/open stage with backline @ Sneakers Uptown, 18025 Yonge St., Newmarket
905 SOUTH
Noon-1> My Will @ Hamilton City Hall outdoors, 71 Main St. W., Hamilton ~acoustic Pop covers & originals; $0
6> Michael Wainwright & Rick Labrie @ Innsville, 1141 Highway 8, Stoney Creek ~Beatles covers
*8> The New Rebel Westerners @ Cat 'n' Fiddle, 174 John St. S., Hamilton ~Country
905 WEST
*7-10> open mic with Chris Partland @ 5 West Brewpub, 3600 Dundas St. W., Burlington
8> Lauren Knowles @ Roc'n Doc's, 105 Lakeshore Rd. E., Port Credit-Mississauga ~Pop covers & originals
*8-12> jam with Tom Barlow @ Shore Grill, 71 Lakeshore Rd. E., Port Credit-Mississauga
**8-12> BBQ & jam night with Daniel LeBlanc @ Moonshine Café, 137 Kerr St., Oakville; ($8.95 with BBQ dinner special starts at 6)
*8:30> Gracie @ Spice Lounge, 52 Lakeshore Rd. E., Port Credit-Mississauga ~Pop covers & originals
9-12> "Sound of Music Festival Club Series" with King Park; Holy Smokes @ The Dickens, 423 Elizabeth St., Burlington ~indie; $
LISTINGS KEY
Listings are organized by area in which the shows occur and within each area field shows are listed chronologically.
Listings preceded by an asterisk (*) are repeating weekly events. (Double asterisk indicates repeating event with different hosts/guest/etc.). Events preceded by question mark (?) usually take place but have not been confirmed. Admission prices followed by a slash and minus (/-) after the amount indicates door charge with availability of cheaper rates for some purchasers (eg. students, seniors, members, etc.). /+ indicates stated price is minimum.
-Copyright © 2018 by Gary "17" Webb-Proctor & TorontoMoon.ca. All Rights Reserved