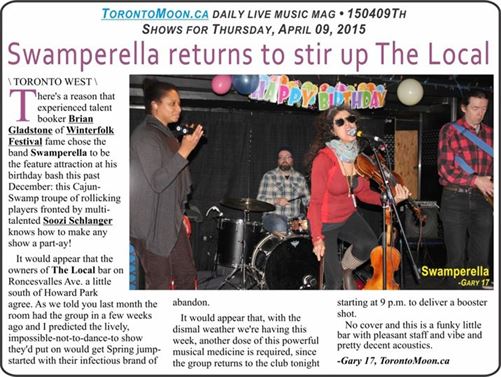 \ TORONTO WEST \
There's a reason that experienced talent booker Brian Gladstone of Winterfolk Festival fame chose the band Swamperella to be the feature attraction at his birthday bash this past December: this Cajun-Swamp troupe of rollicking players fronted by multi-talented Soozi Schlanger knows how to make any show a part-ay!
It would appear that the owners of The Local bar on Roncesvalles Ave. a little south of Howard Park agree. As we told you last month the room had the group in a few weeks ago and I predicted the lively, impossible-not-to-dance-to show they'd put on would get Spring jump-started with their infectious brand of abandon.
It would appear that, with the dismal weather we're having this week, another dose of this powerful musical medicine is required, since the group returns to the club tonight starting at 9 p.m. to deliver a booster shot.
No cover and this is a funky little bar with pleasant staff and vibe and pretty decent acoustics.
-Gary 17, TorontoMoon.ca
SHOW LISTINGS for Thursday, April 09, 2022
Listings preceded by an asterisk (*) are repeating weekly events. (Double asterisk indicates repeating event with different hosts/guest/etc.). Admission prices followed by a slash and minus (/-) after the amount indicates door charge with availability of cheaper rates for some purchases. /+ indicates stated price is minimum.
Names of subscribers appear in bold and underlined and, where applicable, include a live link to their websites or event page. Advertisers' listings are in larger type and highlighted, include a live link to their website and also have a copy of the ad included in listings.
*5-8> Kirsten Jones @ Richtree Restaurant, Eaton Centre (14 Queen St. West), TO ~Country originals & Pop covers
5-8> Mr. Rick Duo @ Gate 403, 403 Roncesvalles Ave., TO West ~Americana
*5-8> Nelson Denis @ Frank's Pasta, 42 King Street E., Cobourg ~eclectic mix (Folk, Jazz, soft Rock, Latin)
6> Corin Raymond @ Cameron House (front), 408 Queen St. W., TO ~Roots-Pop
6:30> Ernesto Cervini Group @ The Rex, 194 Queen St. W., TO ~Jazz
7> Wellington Brewery beer tasting with host Randy Petrie & G String Duo @ Kramers, 1915 Yonge St., TO North ~acoustic Pop
*7> open mic with Derek Mok @ Kensington Lodge, 21 Kensington Ave., TO
7> Mega City Swing Band @ Seven44, 744 Mount Pleasant Road, TO North ~Swing/R&B
7:30-9:30> Piper Hayes @ Relish, 2152 Danforth Ave., TO East ~songwriter
*7:30-9:30> Bluegrass Thursdays with Houndstooth @ Tranzac Lounge (Southern Cross), 292 Brunswick Ave., TO
*7:30> open stage with Rob Phillips Band and Chelsea Bennett @ Black Horse Pub, 452 George St. N., Peterborough
*7:30-12> open mic with K.M. Smith @ Molly Bloom's Guelph, 91 Wyndham St. N., Guelph
*8-11> Tinderbox Thursdays open stage with Michael Keith @ La Revolucion, 2848 Dundas St. W., TO West ~eclectic
8> Circle of Jerks 30 with host Nelson Sobral and sets by Mary Stewart; Hugh Wilson; Nick Verona; David Hustler @ Free Times Café, 320 College St. TO ~indie; pwyc
*8-10:30> Jerry Leger & The Situation @ Castro's, 2116 Queen St. E., TO East ~Folk-Rock/Country
*8-1> open mic with Alicia Porter @ The Local Gest, 424 Parliament St., TO
8-12> R&B/Blues @ Nawlin's, 299 King St. W. TO
8> Elmer Ferrer Band @ Timothy's Pub, 344 Brown's Line, Etobicoke South ~Pop Rock
8-12> Freedom Train @ Roc'n Doc's, 105 Lakeshore Rd. E., Port Credit ~Pop Rock
8-12> Wing & A Prayer @ Fionn MacCool's Ajax, 32 Kingston Rd. E. Ajax ~Pop
8> Brian LeRchardson @ Simcoe Blues & Jazz, 926 Simcoe St. N., Oshawa
*8> open mic with Kevin Ker @ Duchess of Markham, 53 Main St., Markham
*8-12> open mic & jam @ Black Swan Pub Burlington, 4040 Palladium Way, Burlington
*8-12> jam hosted by The Personics @ Carrigan Arms, 2025 Upper Middle Rd., Burlington
*8-11> open mic with Sandy MacDonald @ Williamsburg Arms, 1187 Fischer Hallman Rd., Kitchener
8:30> Celebration of David Wiffen with Murray McLauchlan; Cowboy Junkies; Lynn Miles; Harlan Pepper; Liam Titcomb; Scarlett Jane; more @ Hugh's Room, 2261 Dundas St. W., TO West ~tribute; $50
8:30> Songbirds with host Sarah Beatty and performances by Kirsten Jones; Janine Stoll; @ Moonshine Café, 137 Kerr St. Oakville ~songwriters; $6
*9> Tommy Rocker's Classic Rock Band  with Jonny Rock on bass host jam @ Centro Pizza, 3406 Kingston Rd., Scarborough
9> Wonderfest Music Series with Nicole Coward; Emily Mac; Jeff Alan Greenway @ Habits Gastropub, 928 College St., TO ~indie; $10/pwyc
9> Swamperella featuring Soozi Schlanger @ The Local, 396 Roncesvalles Ave., TO West ~Cajun Swamp romp
*9> jam with Ted Rusk @ The Sauble Dunes, 11 Southampton Parkway, Sauble Beach
*9-1:30> open stage with Jay Pennell @ Dave's On St. Clair, 730 St. Clair West, TO West ~eclectic
9> Jay Pollock Trio @ Amsterdam Bicycle Club, 54 The Esplanade, TO ~indie
9> Zack Power & Eva Moon @ Linsmore Tavern, 1298 Danforth Ave., TO East ~Folk-Punk/Gypsy-Folk
9-12> Kevin Laliberté Jazz & Flamenco Band @ Gate 403, 403 Roncesvalles Ave., TO West
*9-1> Blackburn @ Jo Mamas, 317 King St. W., TO ~Blues
9> Philly Moves Afterparty with Esquire Fresh; Rebecca Rocklyn; Feel Good Smalls @ The Painted Lady, 218 Ossington Ave., TO West ~indie
9-1> Mackenzie Blues Band @ Monarchs Pub (Eaton Chelsea Hotel), 33 Gerrard St. W., TO ~Blues
9> Jackets; Mighty Big Word @ Dakota Tavern, 249 Ossington Ave., TO West
*9> jam @ The Wee Pub, 371 Wilson Rd. South, Oshawa
*9:30-2> Skip Tracer @ Southside Johnny's, 3653 Lakeshore Blvd., Etobicoke South ~Rock/Pop
9:30> open mic with Rob & Mat @ Stone Cottage Pub, 3750 Kingston Rd., Scarborough ~Pop Rock
9:30> Greg Wyard @ Black Dog Pub, 87 Island Rd., Scarborough ~Pop Rock
9:30> Glenn Groves @ Shore Grill, 71 Lakeshore Rd. E., Port Credit ~Pop Rock
*9:30> jam with Billick @ Harp & Crown, 300 Kingston Rd., Pickering
*9:30> jam with Jack B Nimble @ Abbey Road Pub, 3200 Erin Mills Parkway, Mississauga
*9:45> Mary Mckay @ Reservoir Lounge, 52 Wellington St. E., TO ~Jazz/Blues
9:45> Dave Turner Quartet featuring Rob Botos @ The Rex, 194 Queen St. W., TO ~Montreal Jazz
*10-2> karaoke with Shane Taylor @ Relish, 2152 Danforth Ave., TO East
10> Janes Party @ Cameron House (front), 408 Queen St. W., TO
10> Collette Savard & The Kissing Moon @ Tranzac Lounge (Southern Cross), 292 Brunswick Ave., TO
10> The Shoeless @ Tranzac Lounge (Tiki Room), 292 Brunswick Ave., TO
10> Oakland Stroke @ Orbit Room, 480 College St. TO ~Tower of Power tribute; $10
10> Feefawfun @ The Garnet, 231 Hunter St. W., Peterborough
10:30> tba @ The Hideout, 484 Queen St. W., TO ~indie Rock
Copyright © 2015 Toronto Moon Magazine. All Rights Reserved