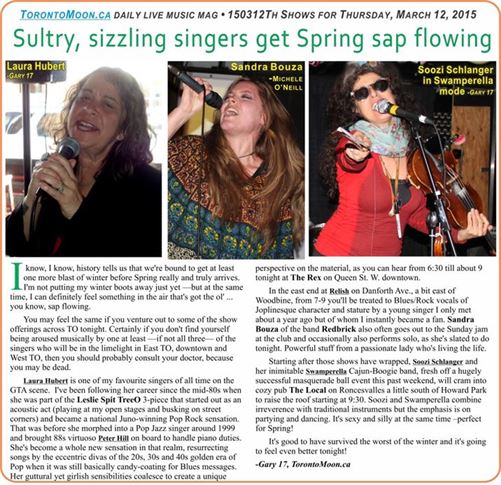 I know, I know, history tells us that we're bound to get at least one more blast of winter before Spring really and truly arrives. I'm not putting my winter boots away just yet —but at the same time, I can definitely feel something in the air that's got the ol' … you know, sap flowing.
You may feel the same if you venture out to some of the show offerings across TO tonight. Certainly if you don't find yourself being aroused musically by one at least —if not all three— of the singers who will be in the limelight in East TO, downtown and West TO, then you should probably consult your doctor, because you may be dead.
Laura Hubert is one of my favourite singers of all time on the GTA scene.  I've been following her career since the mid-80s when she was part of the Leslie Spit TreeO 3-piece that started out as an acoustic act (playing at my open stages and busking on street corners) and became a national Juno-winning Pop Rock sensation. That was before she morphed into a Pop Jazz singer around 1999 and brought 88s virtuoso Peter Hill on board to handle piano duties. She's become a whole new sensation in that realm, resurrecting songs by the eccentric divas of the 20s, 30s and 40s golden era of Pop when it was still basically candy-coating for Blues messages. Her guttural yet girlish sensibilities coalesce to create a unique perspective on the material, as you can hear from 6:30 till about 9 tonight at The Rex on Queen St. W. downtown.
In the east end at Relish on Danforth Ave., a bit east of Woodbine, from 7-9 you'll be treated to Blues/Rock vocals of Joplinesque character and stature by a young singer I only met about a year ago but of whom I instantly became a fan. Sandra Bouza of the band Redbrick also often goes out to the Sunday jam at the club and occasionally also performs solo, as she's slated to do tonight. Powerful stuff from a passionate lady who's living the life.
Starting after those shows have wrapped, Soozi Schlanger and her inimitable Swamperella Cajun-Boogie band, fresh off a hugely successful masquerade ball event this past weekend, will cram into cozy pub The Local on Roncesvalles a little south of Howard Park to raise the roof starting at 9:30. Soozi and Swamperella combine irreverence with traditional instruments but the emphasis is on partying and dancing. It's sexy and silly at the same time –perfect for Spring!
It's good to have survived the worst of the winter and it's going to feel even better tonight!
-Gary 17, TorontoMoon.ca
SHOW LISTINGS for Thursday, March 12, 2022
Listings preceded by an asterisk (*) are repeating weekly events. (Double asterisk indicates repeating event with different hosts/guest/etc.). Admission prices followed by a slash and minus (/-) after the amount indicates door charge with availability of cheaper rates for some purchases. /+ indicates stated price is minimum.
Names of subscribers appear in bold and underlined and, where applicable, include a live link to their websites or event page. Advertisers' listings are in larger type and highlighted, include a live link to their website and also have a copy of the ad included in listings.
*5-8> Kirsten Jones @ Richtree Restaurant, Eaton Centre (14 Queen St. West), TO ~Country originals & Pop covers
5-8> Bill MacLean & Brian Stevens @ Gate 403, 403 Roncesvalles Ave., TO West ~B2/piano & vocals duo
*5-8> Nelson Denis @ Frank's Pasta, 42 King Street E., Cobourg ~eclectic mix (Folk, Jazz, soft Rock, Latin)
6> Corin Raymond @ Cameron House (front), 408 Queen St. W., TO ~Roots-Pop
6> The Classified @ Simcoe Blues & Jazz, 926 Simcoe St. N., Oshawa
7-9> Sandra Bouza @ Relish, 2152 Danforth Ave., TO East ~Blues-Rock
7> Julian Fauth performs Album Live @ The Jazz Room, 59 King St. N., Waterloo ~Blues; $20
7> Kimberley & Co. featuring Dave Girdlestone of Soul Funkshun @ Timothy's Pub, 344 Brown's Line, Etobicoke South ~Pop Rock
*7> open mic with Derek Mok @ Kensington Lodge, 21 Kensington Ave., TO
*7:30-9:30> Bluegrass Thursdays with Houndstooth @ Tranzac Lounge (Southern Cross), 292 Brunswick Ave., TO
*7:30> open stage Jazz with Rob Phillips Band @ Black Horse Pub, 452 George St. N., Peterborough
*7:30-12> open mic with K.M. Smith @ Molly Bloom's Guelph, 91 Wyndham St. N., Guelph
*8-11> Tinderbox Thursdays open stage with Michael Keith @ La Revolucion, 2848 Dundas St. W., TO West ~eclectic
*8-10:30> Jerry Leger & The Situation @ Castro's, 2116 Queen St. E., TO East ~Folk-Rock/Country
8-12> R&B/Blues @ Nawlin's, 299 King St. W. TO
8> Suzanne Jarvie with David Corley @ Cameron House (rear), 408 Queen St. W., TO
8-12> Freedom Train @ Roc'n Doc's, 105 Lakeshore Rd. E., Port Credit ~Rock/Top 40
*8-12> open mic & jam @ Black Swan Pub Burlington, 4040 Palladium Way, Burlington
*8-12> jam hosted by The Personics @ Carrigan Arms, 2025 Upper Middle Rd., Burlington
*8-11> open mic with Sandy MacDonald @ Williamsburg Arms, 1187 Fischer Hallman Rd., Kitchener
8:30> JazzFM Cabaret Series presents "The Jazz Side of Peggy Lee" with June Garber, Lily Frost, Gigi Marentette, Barbra Lica @ Hugh's Room, 2261 Dundas St. W., TO West ~Jazz tribute; $40/-
8:30> Songwriters Circle Of Jerks with Nelson Sobral; Hugh Wilson; Nick Verona; David Hustler; Mike Mazzei @ Free Times Café, 320 College St. TO ~
8:30> Jay Semko of The Northern Pikes album tour @ Moonshine Café, 137 Kerr St. Oakville ~$10
9> Rock Bottom 'Rocking Dead Tour' show @ Linsmore Tavern, 1298 Danforth Ave., TO East ~Hard Rock
*9> Tommy Rocker's Classic Rock Band  with Jonny Rock on bass host jam @ Centro Pizza, 3406 Kingston Rd., Scarborough
9> Swamperella featuring Soozi Schlanger @ The Local, 396 Roncesvalles Ave., TO West ~Cajun Boogie
*9> jam with Ted Rusk @ The Sauble Dunes, 11 Southampton Parkway, Sauble Beach
*9-1:30> open stage with Jay Pennell @ Dave's On St. Clair, 730 St. Clair West, TO West ~eclectic
9-12> Kevin Laliberte Jazz & Flamenco Trio @ Gate 403, 403 Roncesvalles Ave., TO West ~Jazz/Flamenco
*9-1> Blackburn @ Jo Mamas, 317 King St. W., TO ~Blues
9-1> Big Rude Jake @ Monarchs Pub (Eaton Chelsea Hotel), 33 Gerrard St. W., TO ~Blues
9> SATE & guests @ Dakota Tavern, 249 Ossington Ave., TO West ~Blues-Rock/Funk; $10
*9> jam @ The Wee Pub, 371 Wilson Rd. South, Oshawa
*9:30-2> Skip Tracer @ Southside Johnny's, 3653 Lakeshore Blvd., Etobicoke South ~Rock/Pop
*9:30> karaoke with Shane Taylor @ Relish, 2152 Danforth Ave., TO East
9:30> open mic with Robbie & Mat @ Stone Cottage Pub, 3750 Kingston Rd., Scarborough ~Pop Rock
9:30> Scott Driscoll @ Black Dog Pub, 87 Island Rd., Scarborough ~Pop Rock
9:30> Kristin Lindell @ C'est What, 67 Front St. E., TO ~Pop?; $10
9:30> Glenn Groves @ Shore Grill, 71 Lakeshore Rd. E., Port Credit ~Pop Rock
*9:30> jam with Billick @ Harp & Crown, 300 Kingston Rd., Pickering
*9:30> jam with Jack B Nimble @ Abbey Road Pub, 3200 Erin Mills Parkway, Mississauga
*9:45> Mary Mckay @ Reservoir Lounge, 52 Wellington St. E., TO ~Jazz/Blues
9:45> Kirk MacDonald Group @ The Rex, 194 Queen St. W., TO ~Jazz
10> Sam Cash @ Cameron House (front), 408 Queen St. W., TO
10> Collette Savard & guests @ Tranzac Lounge (Southern Cross), 292 Brunswick Ave., TO
10> Oakland Stroke @ Orbit Room, 480 College St. TO ~Tower of Power tribute
10> The Penny Blacks @ The Garnet, 231 Hunter St. W., Peterborough
10:30> Don Campbell @ The Hideout, 484 Queen St. W., TO ~indie Rock
Copyright © 2015 Toronto Moon Magazine. All Rights Reserved