SHOW LISTINGS for Saturday, September 05, 2021
Listings are organized by area in which the shows occur and within each area field shows are listed chronologically.
Listings preceded by an asterisk (*) are repeating weekly events. (Double asterisk indicates repeating event with different hosts/guest/etc.). Admission prices followed by a slash and minus (/-) after the amount indicates door charge with availability of cheaper rates for some purchases. /+ indicates stated price is minimum.
Names of subscribers appear in bold, are underlined and, where applicable, include a live link to their websites. Advertisers' listings are in larger, highlighted type, include live link to website and also have ad icon included in listings.
416 - Toronto Central
*12-3> The Sinners Choir @ The Rex, 194 Queen St. W., TO ~Jazz
1:30-4:30 1st Saturday> Words & Music with hosts Linda Stitt + Glen Gary & featuring Steve-Paul Simms; Mark Ripp; Norman Cristofoli; more @ Vino Rosso, 995 Bay St. TO ~eclectic original mix
2-6> Greg Godovitz Band @ Hard Rock Café, 283 Yonge St., TO ~Rock
3> Jamzac @ Tranzac Club (Southern Cross), 292 Brunswick Ave., TO
3:30> Chris Hunt Tentet @ The Rex, 194 Queen St. W., TO ~Jazz
3:30> Alexis Baro Quintet @ The Pilot, 22 Cumberland St., TO ~Jazz
4-7> Club Django @ Seven44, 744 Mount Pleasant Road, TO North ~Django Jazz
*4-7> Climax Jazz Band @ Alleycatz, 2409 Yonge St., TO North ~Dixieland Jazz; $?
*4:40-7:30> The Happy Pals @ Grossman's, 379 Spadina Ave., TO ~New Orleans Jazz
6-8> Rattlesnake Choir @ Cameron House (front), 408 Queen St. W., TO ~Rockabilly
7:30> The Bacchus Collective @ The Rex, 194 Queen St. W., TO ~ Jazz
9> Evan Redsky; Yes We Mystic; guests @ Rivoli, 334 Queen St. W., TO; $10
9> Pop Cherry @ Seven44, 744 Mount Pleasant Road, TO North ~vintage Pop Rock; $
9> The Banna Hammocks @ Cameron House (rear), 408 Queen St. W., TO
9> Nerd Noise Part 2 with Chuckie Campbell & The Phaction; Teenburger; Mad Dukez; Fresh Kils; The Cybertronic Spree; Jefftheworld @ Horseshoe Tavern, 370 Queen St. W., TO; $10
9:30> Taxi @ Alleycatz, 2409 Yonge St., TO North ~Funk/Soul/R&B; $
9:45> Arthur Sadowsky @ The Rex, 194 Queen St. W., TO ~NYC Jazz
*9:45> Tyler Yarema & His Rhythm @ Reservoir Lounge, 52 Wellington St. E., TO ~Jazz/Blues
10> Ride The Tiger @ Orbit Room, 480 College St. TO ~Funk/Soul; $
10> Del Fi's @ Cameron House (front), 408 Queen St. W., TO
10> LMT Connection @ Tranzac Club (Southern Cross), 292 Brunswick Ave., TO ~R&B/Funk; $
10-2> Mike McDonald Band @ Grossman's, 379 Spadina Ave., TO ~Rockin' Blues
9> McSon; London Stone; The Jackson Rivals @ Lee's Palace, 529 Bloor St. W., TO; $7
10:30> The Heat @ Fionn MacCool's Esplanade, 70 The Esplanade
10:40> T.C. Folkpunk @ Amsterdam Bicycle Club, 54 The Esplanade, TO ~originals & punked up Roots/laid back Punk covers
416 - Toronto East
*3:30-6> Johnny Wright @ Outriggers, 2232 Queen St. E., TO East ~R&B
*4-7:30> Ronnie Hayward Trio @ McQueen's, 993 Queen St. E., TO E. ~Blues/Roots
6-8> The Cosmotones @ Castro's, 2116 Queen St. E., TO East ~Blues/Roots
8> Andy Griffiths & Frank Koren @ The Feathers, 962 Kingston Rd., TO East ~original & cover Roots-Pop
8> Jazzforia @ Hirut, 2050 Danforth Ave., TO East ~Jazz; pwyc
8> Mudpunch @ The Only Café, 972 Danforth Ave., TO East ~Blues Rock duo
9> End of Summer Party with Tom acoustic solo @ D'lusso Café, 1504 Danforth Ave., TO East
9> David Celia & The Mashmen @ Dora Keogh, 141 Danforth Ave., TO East ~indie Pop
9:30-11:30> Geoff Marshall and the Mail Order Cowboys @ Relish, 2152 Danforth Ave., TO East ~original
9:30> The Kat Kings @ The Duke Live, 1225 Queen St. E., TO East ~Pop Rock
9:30> Still Of The Night @ Linsmore Tavern, 1298 Danforth Ave., TO East ~Whitesnake Tribute; $10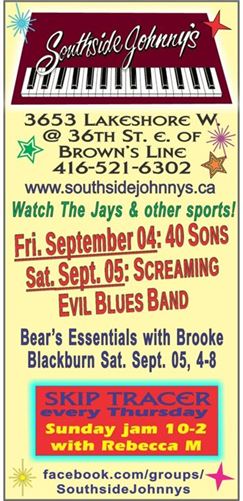 416 – Toronto Etobicoke
*3-6> Danny B Band @ Blue Goose, 1 Blue Goose St., Etobicoke South ~R&B/Blues
**4-8> The Bear's Essentials with guest singer Brooke Blackburn @ Southside Johnny's, 3653 Lake Shore Blvd. W. Etobicoke South ~Rock-R&B
*4-8> The Meteors with guest Neil Chapman @ Timothy's Pub, 344 Brown's Line, Etobicoke South ~Blues/Rock/R&B
7:30> Adrian Farrugia Trio @ Old Mill Inn, 21 Old Mill Rd., Etobicoke ~Jazz; minimum table charge
9:30> The David Love Band also featuring Darrell McNeill @ Timothy's Pub, 344 Brown's Line, Etobicoke South ~vintage melodic 60s-70s Pop; $
10-2> Screaming Evil Blues Band @ Southside Johnny's, 3653 Lake Shore Blvd. W. Etobicoke South ~Blues-Rock
416 – Toronto Scarborough
9-1> Mike Hines @ Black Dog Pub, 87 Island Rd., Scarborough ~acoustic Pop/soft Rock
9> The Tall Boyz Duo & friends featuring Tommy Rocker @ West Hill Pizza and Wings, 4379 Kingston Rd., Scarborough
*9:30-2> karaoke with The English Rose & The Mad Scotsman @ Winners, 2181 Lawrence Ave. E., Scarborough
9:30> Live From Limbo @ Stone Cottage Pub, 3750 Kingston Rd., Scarborough ~Pop Rock
9:30> Yeah Yeah Yeah Duo @ The Loaded Dog, 1921 Lawrence Ave. E., Scarborough ~Beatles songs
9:45> Al Reilly'sCatalyst @ Centro Pizza, 3408 Kingston Rd., Scarborough ~classic Rock
416 - Toronto West
*12-3> Julian Fauth's Blues Brunch @ Axis, 3048 Dundas St. W., TO West ~Blues
1-5> Johannes Linstead @ The Wine Garden, Canadian National Exhibition Grounds, Lake Shore Blvd. W., TO West ~instrumental Jazz/World
1:30-5:30> Kenny V @ Casino patio/stage Canadian National Exhibition Grounds, Lake Shore Blvd. W., TO West ~eclectic
**2-6> open mic with a different weekly host @ Magic Oven, 347 Keele St., TO West
2:30-4:30> Cody McMillan @ Humble Beginnings, 3109 Dundas St. W., TO West ~Folk/Country
3-6> The Mudmen @ CNE Midway Stage, Canadian National Exhibition Grounds, Lake Shore Blvd. W., TO West ~Celtic Rock
3-6> Kelly Prescott @ CNE Northern Comfort Saloon, Canadian National Exhibition Grounds, Lake Shore Blvd. W., TO West ~Country
**5-8> Glen Hornblast & The Queen St. Cowboys @ Gate 403, 403 Roncesvalles Ave. TO West –Roots/Country
5-8> Cowboy Crashing @ The Local, 396 Roncesvalles Ave., TO West ~Roots/Americana
5-9> Sultans of String @ The Wine Garden, Canadian National Exhibition Grounds, Lake Shore Blvd. W., TO West ~~Folk/World
6:30-10:30> Paul James Band @ Casino patio/stage Canadian National Exhibition Grounds, Lake Shore Blvd. W., TO West ~
7> Groovy Brothers @ The Tennessee, 1554 Queen St. W., TO West
7:30> Greg Wyard @ Brazen Head Pub, 165 East Liberty St., TO West ~acoustic Pop Rock
7:30-11> The Walkervilles @ CNE Midway Stage, Canadian National Exhibition Grounds, Lake Shore Blvd. W. TO West ~Pop Rock/Motown
7:30-11> Jaydee Bixby @ CNE Northern Comfort Stage, Canadian National Exhibition Grounds, Lake Shore Blvd. W., TO West ~Country
7:30> Monster Truck with openers Them Dang Rattlers @ CNE Bandshell, Canadian National Exhibition Grounds, Lake Shore Blvd. W., TO West ~Rock-Roots/Punk
8:30> Greg Brown @ Hugh's Room, 2261 Dundas St. W., TO West ~Rootsy Rock/Country songwriter; $40
9-1> Melissa Boyce Jazz & Blues Band @ Gate 403, 403 Roncesvalles Ave., TO West ~ Jazz/Blues
9> Mayhemingways @ The Local, 396 Roncesvalles Ave., TO West ~Folk
10> Some Like It Deep @ The Tennessee, 1554 Queen St. W., TO West
10-2> The Mercenaries @ Dakota Tavern, 249 Ossington Ave., TO West ~$
519
9> KC and the Fun Time Band @ Fionn MacCool's Guelph, 494 Ediburgh Rd. S., Guelph
705
5> Rick & Gailie @ Black Horse Pub, 452 George St. N., Peterborough
8:30> Doug Dynasty @ Black Horse Pub, 452 George St. N., Peterborough
9:30> Overtyme @ Sticky Fingers Dunlop, 150 Dunlop St. W., Barrie
10> Blimp Rock; Kelly McMichael @ The Garnet, 231 Hunter St. W., Peterborough
905 East
*9-1> karaoke with Rob MacArthur @ Tudor Rose, 700 Harwood Ave. S., Ajax
9> Greg Williams Band @ The Corral, 433 Simcoe St. S., Oshawa ~Country
9:30> Bone-Yard @ The Edge, 250 Bayly St., Ajax ~Rock; $
905 North
9> Rockhouse featuring Peter Guy @ Fionn MacCool's Newmarket, 17315 Leslie St., Newmarket
9-1> Full Tilt @ Oscar's Roadhouse, 1785 Queen St. E., Brampton ~Pop Rock/Top 40
9:30> Groove Marmalade @ Jake's Boathouse Brampton, 59 First Gulf Rd., Brampton ~Pop Rock
9:30> Synsonic @ Aw Shucks, 15230 Yonge St., Aurora ~Pop Rock
10> MINT featuring Amanda Rose and Anthony Cee @ All Stars, 73 Bramalea Rd., Brampton
905 South
**2:30> special guest with The Mighty Duck Band, The Duck, 244 Ontario St., St. Catharines ~R&B/Blues
9> Fairmount Plains @ Coach & Lantern, 384 Wilson St E., Hamilton
**9> Niagara Rhythm Section @ The Old Winery, 2228 Niagara Stone Rd., Niagara-On-The-Lake ~R&B/Blues
9:30> Guru Jambalaya @ Corktown Pub, 175 Young St., Hamilton ~indie; $
10> Nuffsaid; Dirty Jeans; Lutharo @ This Ain't Hollywood, 345 James St. N., Hamilton ~Rock/Metal' $5
10:30> Risky Business @ Casbah Lounge, 306 King St. W., Hamilton; free
905 West
noon-11> Burlington Ribfest with music on two stages @ Spencer Smith Park, 1400 Lakeshore Rd., Burlington
**2-6> Sil Simone Band with special guest Chuck Jackson @ Carrigan Arms, 2025 Upper Middle Rd., Burlington ~Rock/Blues
*2-6> jam w. Tom Finocchio @ Sam's Place, Barton-Chestnut Sts., Hamilton
**2-6> Saturday Blues Sermon with James Anthony Band @ Black Swan Pub Burlington, 4040 Palladium Way, Burlington ~Blues
*3-7> jam with Michelle Deneault & Redder @ Port Credit Legion, 35 Front St., Port Credit
*3-7> open stage jam @ Moonshine Café, 137 Kerr St., Oakville; $2
*6-9> Victoria & Bobby Keys @ Roc'n Doc's, 105 Lakeshore Rd. E., Port Credit ~soft Pop
9-1> Mark Yan & Barry Mulcahy; Krista Earle Band @ Moonshine Café, 137 Kerr St., Oakville ~Pop-Roots/Country-Pop; $7
9> Paisley Road @ Carrigan Arms, 2025 Upper Middle Rd., Burlington
9> Dusty Strings @ Fionn MacCool's Burlington, 2331 Appleby Line, Burlington
9:30> Ddan Dyer @ Shore Grill, 71 Lakeshore Rd. E., Port Credit ~Pop Rock/Top 40
9:30> Dualing Divas @ The Franklin House, 263 Queen St. S., Streetsville ~Pop Rock
9:30> Keep The Faith @ Boston Manor, 4460 Fairview Ave., Burlington ~Bon Jovi tribute
10-2> Rebelljo Band @ Roc'n Doc's, 105 Lakeshore Rd. E., Port Credit ~Rock/Top 40
10:15> The High Rollers @ Failte, 201 City Centre Dr., Mississauga
Copyright © 2015 Toronto Moon Magazine. All Rights Reserved