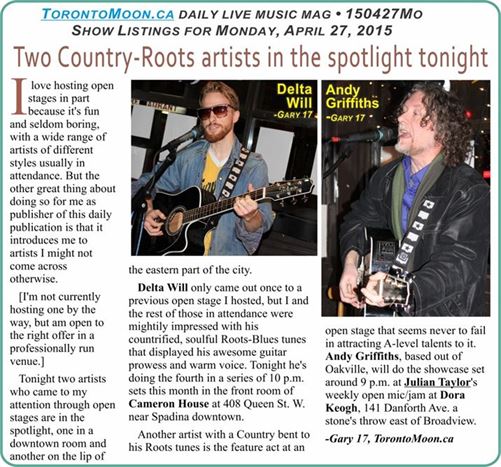 I love hosting open stages in part because it's fun and seldom boring, with a wide range of artists of different styles usually in attendance. But the other great thing about doing so for me as publisher of this daily publication is that it introduces me to artists I might not come across otherwise.
[I'm not currently hosting one by the way, but am open to the right offer in a professionally run venue.]
Tonight two artists who came to my attention through open stages are in the spotlight, one in a downtown room and another on the lip of the eastern part of the city.
Delta Will only came out once to a previous open stage I hosted, but I and the rest of those in attendance were mightily impressed with his countrified, soulful Roots-Blues tunes that displayed his awesome guitar prowess and warm voice. Tonight he's doing the fourth in a series of 10 p.m. sets this month in the front room of Cameron House at 408 Queen St. W. near Spadina downtown.
Another artist with a Country bent to his Roots tunes is the feature act at an open stage that seems never to fail in attracting A-level talents to it. Andy Griffiths, based out of Oakville, will do the showcase set around 9 p.m. at Julian Taylor's weekly open mic/jam at Dora Keogh, 141 Danforth Ave. a stone's throw east of Broadview.
-Gary 17, TorontoMoon.ca
SHOW LISTINGS for Monday, April 27, 2022
Listings are now organized by area in which the shows occur and within each area field shows are listed chronologically.
Listings preceded by an asterisk (*) are repeating weekly events. (Double asterisk indicates repeating event with different hosts/guest/etc.). Admission prices followed by a slash and minus (/-) after the amount indicates door charge with availability of cheaper rates for some purchases. /+ indicates stated price is minimum.
Names of subscribers appear in bold, are underlined and, where applicable, include a live link to their websites. Advertisers' listings are in larger highlighted type, include live link to website and also have ad icon included in listings.
416 - Toronto Central
6> Angie Gunn @ Cameron House (front), 408 Queen St. W., TO ~Country
*6-9> Calliope's Nest open stage/jam for women @ Lola Pub, 40 Kensington Ave., TO
6:30>

Peter Hill Quintet

@ The Rex, 194 Queen St. W., TO ~Jazz
7:30> Vincent Wolfe & The Vegas North Orchestra @ Seven44, 744 Mount Pleasant Road, TO North ~R&B/Swing; $$
8> comedy night @ Cameron House (rear), 408 Queen St. W., TO
8> piano cutting contest @ Cameron House (front), 408 Queen St. W., TO
8> Ukulele jam @ Tranzac Lounge (Main Hall), 292 Brunswick Ave., TO
**8-1> open stage with host Michael Burton @ Free Times Café, 320 College St., TO
**9-1:30> jam with No Band Required @ Grossman's, 379 Spadina Ave., TO
*9-1> Hamstrung Stringband @ The Local, 396 Roncesvalles Ave., TO West ~Bluegrass
*9:30> open mic night at Amsterdam Bicycle Club, 54 The Esplanade, TO
9:30> John MacLeod's Rex Hotel Orchestra @ The Rex, 194 Queen St. W., TO ~Jazz
10> tba @ The Orbit Room, 580 College St., TO ~R&B/Blues
*10> open mic (2 songs; signup starts 8p.m.) @ Tranzac Lounge (Southern Cross), 292 Brunswick Ave., TO
10> Delta Will @ Cameron House (front), 408 Queen St. W., TO ~Country Blues-Roots
10:30> Big Otter Creek acoustic duo @ The Hideout, 484 Queen St. W., TO ~indie Rock
416 - Toronto East
*6-8> Smokey Folk Bluegrass Mondays @ Relish, 2152 Danforth Ave., Toronto East ~Bluegrass CLOSED TODAY
*7-11> Jerome Godboo & Frank Wilks @ The Duke Live, 1225 Queen St. E., TO East ~Blues/Pop
**7:30> M Factor Mondays with host Elana Harte & features Darcy Fever; Edward Sayers @ The Old Nick, 123 Danforth Ave., TO East
8-11> tba @ Relish, 2152 Danforth Ave., Toronto East ~songwriter CLOSED TODAY
8-12> open stage with Julian Taylor & 9:30 feature by Andy Griffiths @ Dora Keogh, 141 Danforth Ave. TO East
8:30> Johnson Cook @ Castro's, 2116 Queen St. E., TO East
*9:30-2> Sebastian Agnello & friends @ Black Swan (ground floor), 154 Danforth Ave., TO East
416 – Toronto West
5-8> Kayla Ramu Jazz Band @ Gate 403, 403 Roncesvalles Ave., TO West ~Jazz
8> "Davy The Puck" with Bob Bossin @ Hugh's Room, 2261 Dundas St. W., TO West ~one-man musical; $27.50/-
*9-1> eclectic open stage/jam with host Nelson Sobral @ The Painted Lady, 218 Ossington Ave., TO West
9-1> Abbey Sholzberg Trio @ Gate 403, 403 Roncesvalles Ave., TO West ~Jazz
*10> open mic with Ric Ocasek @ Cadillac Lounge, 1298 Queen St. W., TO West
416 - SCARBOROUGH
*8-11> open stage @ McGradie's, 2167 Victoria Park Ave., Scarborough
705
*7> Hard Time Mondays with Rick & Gailie @ Black Horse Pub, 452 George St. N., Peterborough
905 West
**8-12> BBQ & jam night with Dale Roosien @ Moonshine Café, 137 Kerr St., Oakville; ($8.95 with BBQ dinner special starts at 6)
8-12> Chris Plock & Stevie G @ Roc'n Doc's, 105 Lakeshore E., Port Credit ~acoustic Pop Rock
*9-1> jam with Tom Barlow @ Shore Grill, 71 Lakeshore Rd. E., Port Credit
905 East
*8-12> open stage @ Simcoe Blues & Jazz, 926 Simcoe St. N., Oshawa
Online/On The Air
Copyright © 2015 Toronto Moon Magazine. All Rights Reserved