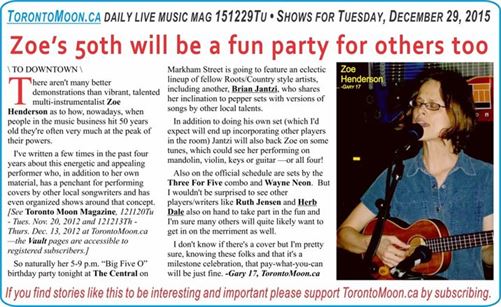 \ TO DOWNTOWN \
There aren't many better demonstrations than vibrant, talented multi-instrumentalist Zoe Henderson as to how, nowadays, when people in the music business hit 50 years old they're often very much at the peak of their powers.
I've written a few times in the past four years about this energetic and appealing performer who, in addition to her own material, has a penchant for performing covers by other local songwriters and has even organized shows around that concept. [See Toronto Moon Magazine, 121120Tu - Tues. Nov. 20, 2012 and 121212Th - Dec. 13, 2012 at TorontoMoon.ca —the Vault pages are accessible to registered subscribers.]
So naturally her 5-9 p.m. "Big Five O" birthday party tonight at The Central on Markham Street is going to feature an eclectic lineup of fellow Roots/Country style artists, including another, Brian Jantzi, who shares her inclination to pepper sets with versions of songs by other local talents.
In addition to doing his own set (which I'd expect will end up incorporating other players in the room) Jantzi will also back Zoe on some tunes, which could see her performing on mandolin, violin, keys or guitar —or all four!
Also on the official schedule are sets by the Three For Five combo and Wayne Neon. But I wouldn't be surprised to see other players/writers like Ruth Jensen and Herb Dale also on hand to take part in the fun and I'm sure many others will quite likely want to get in on the merriment as well.
I don't know if there's a cover but I'm pretty sure, knowing these folks and that it's a milestone celebration, that pay-what-you-can will be just fine.
-Gary 17, TorontoMoon.ca
Become a subscriber! Visit http://www.torontomoon.ca/subscribe/ for full details.
SHOW LISTINGS for Tuesday, December 29, 2021
Listings are organized by area in which the shows occur and within each area field shows are listed chronologically.
Listings preceded by an asterisk (*) are repeating weekly events. (Double asterisk indicates repeating event with different hosts/guest/etc.). Admission prices followed by a slash and minus (/-) after the amount indicates door charge with availability of cheaper rates for some purchases. /+ indicates stated price is minimum.
Names of subscribers appear in bold, are underlined and, where applicable, include a live link to their websites. Advertisers' listings are in larger highlighted type, include live link to website and also have ad icon included in listings.
416 – Toronto Central
5-9> Zoe Henderson 50th birthday with Wayne Neon; Brian Jantzi; Zoe Henderson & Brian Jantzi; Three For Five; @ The Central, 603 Markham Ave., TO ~original Roots/Country

6> The Distillery @ Cameron House (front), 408 Queen St. W., TO
6:30> Pete Schmidt @ The Rex, 194 Queen St. W., TO ~holiday Blues; $
*7-11> Girls Night Out Jazz singers' Jazz jam with Lisa Particelli, Peter Hill et al @ 120 Diner, 120 Church St., TO
7:30> tba @ Tranzac Club (Southern Cross), 292 Brunswick St., TO
8> The Plaightwrights @ Rivoli, 334 Queen St. W., TO ~$5
8> Aiden Levine @ Free Times Café, 320 College St., TO ~songwriter
*8:45> Tyler Yarema & His Rhythm @ Reservoir Lounge, 52 Wellington St. E., TO ~Jazz/Blues; $
9> Running Violet; Mightabins; Chuckline Rider; The Zillis @ Horseshoe Tavern, 370 Queen St. W., TO ~indie; $6
*9> Chris Caddell Blues Band @ Lou Dawgs, 598 King St. W., TO ~Blues
**9:30> Jazz jam hosted by Chris Gale @ The Rex, 194 Queen St. W., TO ~Jazz; $
*10-2> The Sattalites @ Orbit Room, 580 College St., TO ~original & cover Reggae/Funk; $
10> tba @ Tranzac Club (Southern Cross), 292 Brunswick St., TO
*10> The Hit Pickers @ Cloak & Dagger, 294 College St., TO
10> The Sinners Choir @ Cameron House (front), 408 Queen St. W., TO ~Rockabilly
10:30> Don Campbell @ The Hideout, 484 Queen St. W., TO ~indie Rock

416 – Toronto East
*6-9> Julian Fauth solo @ Sauce, 1376 Danforth Ave., TO East ~original Blues piano
7-9> Jazzifornia @ Relish, 2152 Danforth Ave., TO East
8> Stray Bullets; Guilty Pleasures; Mauve Grove @ Linsmore Tavern, 1298 Danforth Ave., TO East ~indie; free
*9-1> Open jam with Frank Wilks, Jerome Godboo & Spyder @ The Duke Live, 1225 Queen St. E., TO East
9-11> WE-B3 @ Castro's, 2116 Queen St. E., TO East
9> open mic @ Groove Bar, 1952 Danforth Ave., TO East
*9:30> Peter Verity @ Black Swan, 154 Danforth Ave., TO East ~Folk Roots
**9:30-12> open stage hosted by Jay Pennell or Kyle Duffin @ The Old Nick, 123 Danforth Ave., TO East
416 – Toronto Scarborough
*9:30> karaoke with The English Rose & The Mad Scotsman @ The Fossil & Haggis, 790 Military Trail, Scarborough
416 – Toronto West
5-8> Abbey Sholzberg Trio @ Gate 403, 403 Roncesvalles Ave., TO West ~Jazz
8:30> Robert Davis @ Fat City Blues, 890 College St., TO West ~Blues
9> MS @ The Local, 396 Roncesvalles Ave., TO West ~90s R&B
9> Tim Shia Band @ Gate 403, 403 Roncesvalles Ave., TO West ~Jazz
9> Lalama, Di Renzo & Moore @ Burdock, 1184 Bloor St. W., TO West ~$
**9:30> jam with Derek Downham or Cody McMillan @ Axis, 3048 Dundas St. W., TO West ~eclectic
705

7> open mic with Randy Hill @ Black Horse Pub, 452 George St. N., Peterborough
8-10> Sean Hully Jazz Group @ The Garnet, 231 Hunter St. W., Peterborough
9> Matt Jarvis @ The Spill, 414 George St. N., Peterborough
905 East
*6:30-11> The Woodshed jam with Don Niblett & Frank Zochodne @ Simcoe Blues & Jazz, 926 Simcoe St. N., Oshawa
9> James Barker Band @ The Corral, 433 Simcoe St. S., Oshawa ~Country Rock
*10> open mic with Josh Beaven @ The Atria, 59 King St. E., Oshawa
905 North
*8-11> jam with Matthew Kane & The Brews Brothers @ The Crown, 9580 Yonge St., Richmond Hill
*8:30> open mic @ Falcon & Firkin, 10300 Yonge St., Richmond Hill
*9> open mic with Manny D, Andy Earle & Dave Breckels @ Big Chris BBQ, 17380 Yonge St., Newmarket
905 South
8> Shake Rattle & Rave @ Casbah Lounge, 306 King St. W., Hamilton ~$
*9:30-1> Traditional Irish jam @ Corktown Pub, 175 Young St., Hamilton
905 West
*8> The Phil & John Show feat. Phil Naro @ Shore Grill, 71 Lakeshore Rd. E., Port Credit ~acoustic Pop Rock
*8-12> Groovestone @ Roc'n Doc's, 105 Lakeshore Rd. E., Port Credit ~Rock/Funk; $
*8 (sign up at 7:30)> open stage with host Neil McNaughton @ Moonshine Café, 137 Kerr St., Oakville; $2
*8:45> open mic with Matt Zadkovich @ Culchain's Irish Pub, 158 Queen St. S., Streetsville-Mississauga
*10> open mic @ The Dickens, 423 Elizabeth St., Burlington
Copyright © 2015 Toronto Moon Magazine. All Rights Reserved