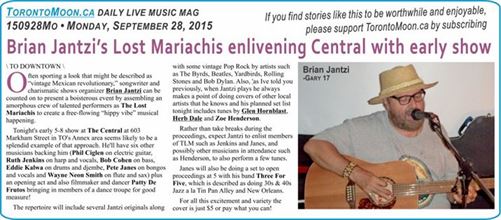 \ TO DOWNTOWN \
Often sporting a look that might be described as "vintage Mexican revolutionary," songwriter and charismatic shows organizer Brian Jantzi can be counted on to present a boisterous event by assembling an amorphous crew of talented performers as The Lost Mariachis to create a free-flowing "hippy vibe" musical happening.
Tonight's early 5-8 show at The Central at 603 Markham Street in TO's Annex area seems likely to be a splendid example of that approach. He'll have six other musicians backing him (Phil Ciglen on electric guitar, Ruth Jenkins on harp and vocals, Bob Cohen on bass, Eddie Kalwa on drums and djembe, Pete Janes on bongos and vocals and Wayne Neon Smith on flute and sax) plus an opening act and also filmmaker and dancer Patty De Frutos bringing in members of a dance troupe for good measure!
The repertoire will include several Jantzi originals along with some vintage Pop Rock by artists such as The Byrds, Beatles, Yardbirds, Rolling Stones and Bob Dylan. Also, as I've told you previously, when Jantzi plays he always makes a point of doing covers of other local artists that he knows and his planned set list tonight includes tunes by Glen Hornblast, Herb Dale and Zoe Henderson.
Rather than take breaks during the proceedings, expect Jantzi to enlist members of TLM such as Jenkins and Janes, and possibly other musicians in attendance such as Henderson, to also perform a few tunes.
Janes will also be doing a set to open proceedings at 5 with his band Three For Five, which is described as doing 30s & 40s Jazz a la Tin Pan Alley and New Orleans.
For all this excitement and variety the cover is just $5 or pay what you can!
-Gary 17, TorontoMoon.ca
SHOW LISTINGS for Monday, September 28, 2021
Listings are organized by area in which the shows occur and within each area field shows are listed chronologically.
Listings preceded by an asterisk (*) are repeating weekly events. (Double asterisk indicates repeating event with different hosts/guest/etc.). Admission prices followed by a slash and minus (/-) after the amount indicates door charge with availability of cheaper rates for some purchases. /+ indicates stated price is minimum.
Names of subscribers appear in bold, are underlined and, where applicable, include a live link to their websites. Advertisers' listings are in larger highlighted type, include live link to website and also have ad icon included in listings.
416 - Toronto Central
5-8> Brian Jantzi & The Lost Mariachis; opening set by Three for Five featuring Glen Gary & interpretative dancers @ The Central, 603 Marham St. TO ~eclectic Roots, Jazz Latin-Rock, Country; $5 or pwyc
5:30-9:30>Momondays Session featuring Signe Miranda; more @ Hard Rock Café, 279 Yonge St., TO ~storytelling, songs and speeches; $20
6> Vivienne Wilder @ Cameron House (front), 408 Queen St. W., TO
*6-9> Calliope's Nest open stage/jam for women @ Lola Pub, 40 Kensington Ave., TO
6:30> U of T Jazz Ensembles @ The Rex, 194 Queen St. W., TO ~Jazz
*7> Balfolk Toronto @ May Café, 876 Dundas St. W., TO ~Folk music & dance
**7:30-1 (sign-up starts at 7)> open stage with host Michael Burton @ Free Times Café, 320 College St., TO
7:30> Mega City Swing Band @ Seven44, 744 Mount Pleasant Road, TO North ~R&B/Swing
7:30> The Beaches; Ria Mae; Ascot Royals; Bellwoods @ Horseshoe Tavern, 370 Queen St. W., TO ~indie; $10
7:30> Hot-Sauced Words @ C'est What, 67 Front St. E., TO ~poetry; pwyc
8> comedy night @ Cameron House (rear), 408 Queen St. W., TO
8> Ukulele jam @ Tranzac Lounge (Main Hall), 292 Brunswick Ave., TO
8:30> Just For Laughs/Alt Dot Comedy Lounge @ Rivoli, 334 Queen St. W., TO; $5
**9-1:30> jam with No Band Required @ Grossman's, 379 Spadina Ave., TO
*9?> open mic @ Lou Dawgs Ryerson, 76 Gerrard St. E., TO
*9-1> Hamstrung Stringband @ The Local, 396 Roncesvalles Ave., TO West ~Bluegrass
*9:30> open mic night at Amsterdam Bicycle Club, 54 The Esplanade, TO
9:30> John MacLeod's Rex Hotel Orchestra @ The Rex, 194 Queen St. W., TO ~Jazz; $
10> Jordan John @ The Orbit Room, 580 College St., TO ~R&B/Blues
*10> jam night hosted by Phill Hood & Jon McCann @ The Cage 292, 292 College St., TO
*10> open mic (2 songs; sign-up starts 8 p.m.) @ Tranzac Lounge (Southern Cross), 292 Brunswick Ave., TO
10> O Frontera @ Cameron House (front), 408 Queen St. W., TO
416 - Toronto East
**7:30> M Factor Mondays with host Elana Harte & features Hicks & Dawe; Brock Simpson @ The Old Nick, 123 Danforth Ave., TO East ~songwriters
8-11> Anthony Lohan @ Relish, 2152 Danforth Ave., Toronto East ~songwriter
8-12> open stage with Julian Taylor @ Dora Keogh, 141 Danforth Ave. TO East
8:30> Lotus Wight @ Castro's, 2116 Queen St. E., TO East
*9:30-2> Sebastian Agnello & friends @ Black Swan (ground floor), 154 Danforth Ave., TO East
416 – Toronto Etobicoke
*8-12> Al Reilly's Catalyst also featuring Anthony Cee host Rock jam @ Rockpile, 5555 Dundas St. W., Etobicoke

416 – Toronto Scarborough
*8-11> open stage @ McGradie's, 2167 Victoria Park Ave., Scarborough
416 – Toronto West
5-8> Chris Gale Band @ Gate 403, 403 Roncesvalles Ave., TO West ~Jazz
*9-1> eclectic open stage/jam with host Nelson Sobral @ The Painted Lady, 218 Ossington Ave., TO West
9-1> Kalya Ramu Band @ Gate 403, 403 Roncesvalles Ave., TO West ~Jazz
705
*7> Hard Time Mondays with Rick & Gailie @ Black Horse Pub, 452 George St. N., Peterborough
10> Melissa Payne; Gratia Leitch @ The Garnet, 231 Hunter St. W., Peterborough
905 East
*8-12> open stage @ Simcoe Blues & Jazz, 926 Simcoe St. N., Oshawa
*10> L&M Jam with host Emerson Ireland @ The Thirsty Monk, 21 Celina St., Oshawa
905 North
**9> tba @ Memphis North, 18947 Woodbine Ave., East Gwillimbury ~singer-songwriters
905 West
**8-12> BBQ & jam night with Dale Roosien @ Moonshine Café, 137 Kerr St., Oakville; ($8.95 with BBQ dinner special starts at 6)
*8> open mic night @ Fionn MacCool's Burlington, 2331 Appleby Line, Burlington
*9-1> jam with Tom Barlow @ Shore Grill, 71 Lakeshore Rd. E., Port Credit
9-1> Alexander Quail @ Roc'n Doc's, 105 Lakeshore E., Port Credit ~acoustic Pop