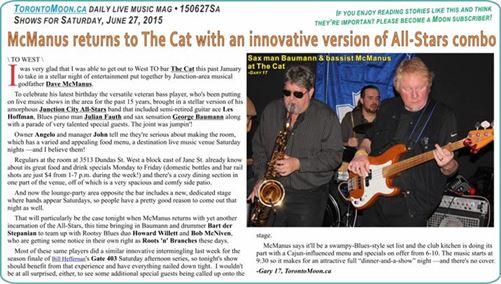 \ TO WEST \
I was very glad that I was able to get out to West TO bar The Cat this past January to take in a stellar night of entertainment put together by Junction-area musical godfather Dave McManus.
To celebrate his latest birthday the versatile veteran bass player, who's been putting on live music shows in the area for the past 15 years, brought in a stellar version of his amorphous Junction City All-Stars band that included semi-retired guitar ace Les Hoffman, Blues piano man Julian Fauth and sax sensation George Baumann along with a parade of very talented special guests. The joint was jumpin'!
Owner Angelo and manager John tell me they're serious about making the room, which has a varied and appealing food menu, a destination live music venue Saturday nights —and I believe them!
Regulars at the room at 3513 Dundas St. West a block east of Jane St. already know about its great food and drink specials Monday to Friday (domestic bottles and bar rail shots are just $4 from 1-7 p.m. during the week!) and there's a cozy dining section in one part of the venue, off of which is a very spacious and comfy side patio.
And now the lounge-party area opposite the bar includes a new, dedicated stage where bands appear Saturdays, so people have a pretty good reason to come out that night as well.
That will particularly be the case tonight when McManus returns with yet another incarnation of the All-Stars, this time bringing in Baumann and drummer Bart der Stepanian to team up with Rootsy Blues duo Howard Willett and Bob McNiven, who are getting some notice in their own right as Roots 'n' Branches these days.
Most of these same players did a similar innovative intermingling last week for the season finale of Bill Heffernan's Gate 403 Saturday afternoon series, so tonight's show should benefit from that experience and have everything nailed down tight.  I wouldn't be at all surprised, either, to see some additional special guests being called up onto the stage.
McManus says it'll be a swampy-Blues-style set list and the club kitchen is doing its part with a Cajun-influenced menu and specials on offer from 6-10. The music starts at 9:30 so it makes for an attractive full "dinner-and-a-show" night —and there's no cover.
-Gary 17, TorontoMoon.ca
SHOW LISTINGS for Saturday, June 27, 2021
Listings are organized by area in which the shows occur and within each area field shows are listed chronologically.
Listings preceded by an asterisk (*) are repeating weekly events. (Double asterisk indicates repeating event with different hosts/guest/etc.). Admission prices followed by a slash and minus (/-) after the amount indicates door charge with availability of cheaper rates for some purchases. /+ indicates stated price is minimum.
Names of subscribers appear in bold, are underlined and, where applicable, include a live link to their websites. Advertisers' listings are in larger, highlighted type, include live link to website and also have ad icon included in listings.
TDJ = Toronto Downtown Jazz Festival –see today's full listings online.
416 - Toronto Central
*12-3> TDJ: The Sinners Choir @ The Rex, 194 Queen St. W., TO ~Jazz
3> The Hot Five Jazzmakers @ C'est What, 67 Front St. E., TO ~traditional Jazz; $5
3> Jamzac @ Tranzac Club (Southern Cross), 292 Brunswick Ave., TO
3:30> Jake Koffman Quartet @ The Pilot, 22 Cumberland St., TO ~Jazz
4-7> Danny 11 @ Seven44, 744 Mount Pleasant Road, TO North
*4-7> TDJ: Climax Jazz Band @ Alleycatz, 2409 Yonge St., TO North ~Dixieland Jazz; $?
*4:40-7:30> TDJ: The Happy Pals @ Grossman's, 379 Spadina Ave., TO ~New Orleans Jazz
6-8> Colonel Tom & The American Pour featuring Peter Hill on keys @ Cameron House (front), 408 Queen St. W., TO
6:30> Scott B Sympathy @ Tranzac Club (Southern Cross), 292 Brunswick Ave., TO
7> The Phil & John Show featuring Phil Naro @ The Pour House, 182 Dupont St., TO ~acoustic Pop Rock
8> TDJ: Pat LaBarbera @ The Rex, 194 Queen St. W., TO ~ Jazz
8:30> Matt Zadkovitch & Heather Brissenden for Nepal benefit @ Free Times Café, 320 College St. TO; $10
9> Something Extra @ Seven44, 744 Mount Pleasant Road, TO North
9> The Garden @ Drums N Flats, 1980 Avenue Rd., TO North
9> Canadian Shield album release; The Old Salts; Blue Sky Miners @ Horseshoe Tavern, 370 Queen St. W., TO ~original modern Rock; $8
9:30> TDJ: Soular @ Alleycatz, 2409 Yonge St., TO North ~Funk/Soul/R&B; $10
*9:45> TDJ: Tyler Yarema & His Rhythm @ Reservoir Lounge, 52 Wellington St. E., TO ~Jazz/Bluesl $
*10> karaoke with Randy Petrie @ Kramers, 1915 Yonge St., TO North
10> TDJ: Chris Tarry Group @ The Rex, 194 Queen St. W., TO ~NYC Jazz
10> Footprints @ The Rivoli, 334 Queen St. W., TO; $10
10> Ride The Tiger @ Orbit Room, 480 College St. TO ~Funk/Soul
10> Greg Cockerill Band @ Cameron House (front), 408 Queen St. W., TO
10-2> TDJ: Caution Jam @ Grossman's, 379 Spadina Ave., TO ~Grateful Dead style jam band; free
10:30> Shawn Brady & The Northern Sons @ The Hideout, 484 Queen St. W., TO ~original Rock
Midnight> TDJ: late night Jazz jam with Chris Gale @ Jaszz Bistro, 251 Victoria St. ~Jazz; $
416 - Toronto East
*3:30-6> Johnny Wright @ Outriggers, 2232 Queen St. E., TO East ~R&B
3:30-7> Go Freddy Go @ Eton House, 710 Danforth Ave., TO East ~vintage Pop Rock
*4-7:30> Ronnie Hayward Trio @ McQueen's, 993 Queen St. E., TO E. ~Blues/Roots
6-8> The Cosmotones @ Castro's, 2116 Queen St. E., TO East ~Blues/Roots
7> Beth Hart @ The Danforth Music Hall, 147 Danforth Ave., TO East; original Jazz/Blues $40-50
7:30> TDJ: Monica Chapman @ Relish, 2152 Danforth Ave., TO East ~Jazz; pwyc
8> David Leask @ The Feathers, 962 Kingston Rd., TO East ~songwriter
9> The Chick Magnets @ Eton House, 710 Danforth Ave., TO East
9-11> Muscle Soul @ Castro's, 2116 Queen St. E., TO East ~Funk/Soul
9:30-11:30> TDJ: Bentroots featuring Ed Roth & Robert Newman @ Relish, 2152 Danforth Ave., TO East ~Swampy Blues-Rock
9:30> Forever Man featuring Hervé Basset @ Linsmore Tavern, 1298 Danforth Ave., TO East ~Eric Clapton tribute; $10
9:30> Donkey featuring Alex Radeff @ Dora Keogh, 141 Danforth Ave., TO East ~Rock/Top 40 hits & originals
9:30> Mark Spicoluk Showcases @ The Duke Live, 1225 Queen St. E., TO East ~Pop Rock
416 - Etobicoke
*3-6> Danny B Band @ Blue Goose, 1 Blue Goose St., Etobicoke South ~R&B/Blues
**4-8> The Bear's Essentials with guest singer Penny Skolski @ Southside Johnny's, 3653 Lakeshore Blvd. W. Etobicoke South ~Rock-R&B
*4-8> The Meteors with guest Peter Graham Mifsud @ Timothy's Pub, 344 Brown's Line, Etobicoke South ~Blues/Rock/R&B
7:30> TDJ: Jackie Richardson & Friends @ Old Mill Inn, 21 Old Mill Rd., Etobicoke ~Jazz; $35.50
9> Ronnie & The Corvairs @ Blue Goose Tavern, 1 Blue Goose Rd., Etobicoke South ~Pop Rock
9> Hurricane Hill @ Maple Leaf House, 2749 Lakeshore Boulevard East, Etobicoke ~Rock/Top 40/Blues
9:30> Trés Hombres @ Timothy's Pub 344 Brown's Line, Etobicoke South ~Zee Zee Top tribute; $
10-2> Battered Egos @ Southside Johnny's, 3653 Lakeshore Blvd. W. Etobicoke South ~Rock/Top 40
416 – Scarborough
6:30> Yeah Yeah Yeah @ The Loaded Dog, 1921 Lawrence Ave. E., Scarborough ~acoustic  Beatles Pop
9-1> Fat Tony @ Black Dog Pub, 87 Island Rd., Scarborough ~acoustic Pop/soft Rock
*9:30-2> karaoke with The English Rose & The Mad Scotsman @ Winners, 2181 Lawrence Ave. E., Scarborough
9:30> Jeff Pearson Duo @ Stone Cottage Pub, 3750 Kingston Rd., Scarborough ~Pop Rock
416 - Toronto West
*12-3> Julian Fauth's Blues Brunch @ Axis, 3048 Dundas St. W., TO West ~Blues
**2-6> open mic with host Brian Jantzi @ Magic Oven, 347 Keele St., TO West ~acoustic Pop
2:30-4:30> Crooked House Road @ Humble Beginnings, 3109 Dundas St. W., TO West ~acoustic Roots/Blues/Pop
**5-8> TDJ: Joanne Morra @ Gate 403, 403 Roncesvalles Ave. TO West –Jazz; free
5-8> Mike Tod @ The Local, 396 Roncesvalles Ave., TO West ~Canadiana
6> TDJ: Lorne Lofsky Trio @ Chalkers Pub, 247 Marlee Ave., TO West ~Jazz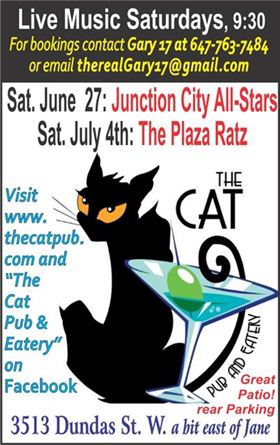 8:30> Glendale One & The B-Town Horns @ Hugh's Room, 2261 Dundas St. W., TO West ~creative arrangement of Beatles tunes; $20/-
9-1> TDJ: Melissa Boyce @ Gate 403, 403 Roncesvalles Ave., TO West ~ Jazz; free
9> Chris Staig & The Marquee Players @ The Local, 396 Roncesvalles Ave., TO West ~Rock 'n' Roll
9> The Key Frames @ Dakota Tavern, 249 Ossington Ave., TO West
519
9:30> Jack de Keyzer @ Biggie's, 107 Wyndham St. N., Guelph ~Blues
613
noon-11> Mountain Man Festival with The Dreadful Starlings featuring Iliya Vee (noon); Harrison Kennedy; Sean Pinchin; Steve Marriner; Robin Banks; many more @ Calabogie Peaks Resort, 30 Barrett Chute Road. Calabogie
705
5> Rick & Gailie @ Black Horse Pub, 452 George St. N., Peterborough
8:30> Tonemasters @ Black Horse Pub, 452 George St. N., Peterborough
10> David Celia Band @ The Garnet, 231 Hunter St. W., Peterborough ~original Pop Rock
9:30> HiFi Seoul @ Sticky Fingers Dunlop, 150 Dunlop St. W., Barrie
905 East
Noon> Pickering Village Jam Festival at 5 venues, Old Kingston Rd., Pickering
*4> Susan Latimer @ Simcoe Blues & Jazz, 926 Simcoe St., Oshawa ~original Roots
6-11> Doubleshot Blues Band featuring Jim Cornell @ Pickering Village Jam Festival, 71 Old Kingston Rd., Pickering ~Blues
*9-1> karaoke with Rob MacArthur @ Tudor Rose, 700 Harwood Ave. S., Ajax
9> Bryce Moore Band @ The Corral, 433 Simcoe St. S., Oshawa ~Country
9-1> Stevie Ray Vaughan tribute @ Simcoe Blues & Jazz, 926 Simcoe St. N., Oshawa
10-2> Tamin' Thunder @ Fionn MacCool's Ajax, 36 Kingston Rd. E., Ajax ~Funk/Rock/R&B
10-2> Rough & Ready @ Whisky John's, 843 King St. W., Oshawa
905 North
8:45> acoustic open mic @ Hanna's Shawarma, 9301 Bathurst St., Richmond Hill
9-1> Full Tilt @ Oscar's Roadhouse, 1785 Queen St. E., Brampton ~Pop Rock/Top 40
9:30> Midnight Jewel featuring Brian Potts @ Aw Shucks, 15230 Yonge St., Aurora ~Pop Rock
9:30> Ascension Groove @ Jake's Boathouse Brampton, 59 First Gulf Rd., Brampton ~Pop Rock
9:45> Side B Vibe @ Stewart Maguire's Landing, 15 Allan Dr., Bolton ~Rock/Top 40
905 South
**2> Brant Parker Band with guest Cheryl Lescom @ Donnelley's Pub, 54 Front St., Thorold ~Blues
**2:30> special guest with The Mighty Duck Band, The Duck, 244 Ontario St., St. Catharines ~R&B/Blues
**2:30> tba @ Coach & Lantern (upstairs), 384 Wilson St E., Hamilton ~Blues
9> Stone The Radio @ Coach & Lantern, 384 Wilson St E., Hamilton
9> Hugh Cornwell of The Stranglers with special guest Laura Cole @ This Ain't Hollywood, 345 James St. N., Hamilton
**9> Niagara Rhythm Section @ The Old Winery, 2228 Niagara Stone Rd., Niagara-On-The-Lake ~R&B/Blues
9:30> LVO @ Corktown Pub, 175 Young St., Hamilton ~indie; $
10> Dunn featuring Dee Flat @ Moe's, 190 Main St. E., Port Colburne ~Rock/Top 40

905 West
**2-6> Sil Simone Band with special guest Gene Hardy @ Carrigan Arms, 2025 Upper Middle Rd., Burlington ~Rock/Blues
*2-6> jam w. Tom Finocchio @ Sam's Place, Barton-Chestnut Sts., Hamilton
**2-6> Saturday Blues Sermon with James Anthony & special guest Irene Torres @ Black Swan Pub Burlington, 4040 Palladium Way, Burlington ~Blues
*3-7> jam with Michelle Deneault & Redder @ Port Credit Legion, 35 Front St., Port Credit
*6-9> Victoria & Bobby Keys @ Roc'n Doc's, 105 Lakeshore Rd. E., Port Credit ~soft Pop
8-12> Oakville improve comedy jam @ Moonshine Café, 137 Kerr St., Oakville; $5
9> Rainbow Dance @ Carrigan Arms, 2025 Upper Middle Rd., Burlington
9> Chelsea Crites @ Sixth Line Pub, 1500 Sixth Line, Oakville ~Country
9:30> Paul & Curtis @ Shore Grill, 71 Lakeshore Rd. E., Port Credit ~Pop Rock/Top 40
9:30> Tianna Woods @ The Franklin House, 263 Queen St. S., Streetsville ~Pop Rock
9:30> Cocktail Rock @ Gator Ted's, 1505 Guelph Line, Burlington ~Rock/Pop
10-2> The Nomads @ Roc'n Doc's, 105 Lakeshore Rd. E., Port Credit ~Rock/Top 40
Copyright © 2015 Toronto Moon Magazine. All Rights Reserved