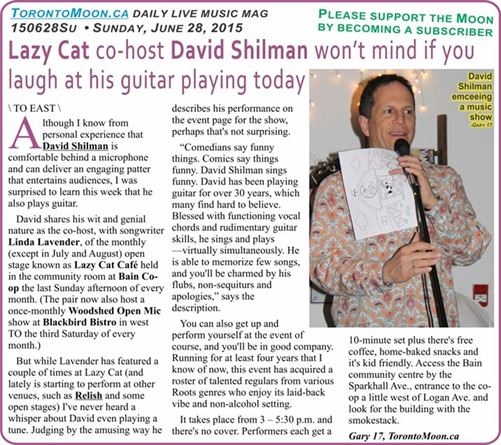 \ TO EAST \
Although I know from personal experience that David Shilman is comfortable behind a microphone and can deliver an engaging patter that entertains audiences, I was surprised to learn this week that he also plays guitar.
David shares his wit and genial nature as the co-host, with songwriter Linda Lavender, of the monthly (except in July and August) open stage known as Lazy Cat Café held in the community room at Bain Co-op the last Sunday afternoon of every month. (The pair now also host a once-monthly Woodshed Open Mic show at Blackbird Bistro in west TO the third Saturday of every month.)
But while Lavender has featured a couple of times at Lazy Cat (and lately is starting to perform at other venues, such as Relish and some open stages) I've never heard a whisper about David doing so. Judging by the amusing way he describes his performance on the event page for the show, perhaps that's not surprising.
"Comedians say funny things. Comics say things funny. David Shilman sings funny. David has been playing guitar for over 30 years, which many find hard to believe. Blessed with functioning vocal chords and rudimentary guitar skills, he sings and plays —virtually simultaneously. He is able to memorize few songs, and you'll be charmed by his flubs, non-sequiturs and apologies," says the description.
You can also get up and perform yourself at the event of course, and you'll be in good company. Running for at least four years that I know of now, this event has acquired a roster of talented regulars from various Roots genres who enjoy its laid-back vibe and non-alcohol setting.
It takes place from 3 – 5:30 p.m. and there's no cover. Performers each get a 10-minute set plus there's free coffee, home-baked snacks and it's kid friendly. Access the Bain community centre by the Sparkhall Ave., entrance to the co-op a little west of Logan Ave. and look for the building with the smokestack.
-Gary 17, TorontoMoon.ca

SHOW LISTINGS for Sunday, June 28, 2021

:
Listings are organized by area in which shows take place and listed chronologically within each area field.
Listings preceded by an asterisk (*) are repeating weekly events. (Double asterisk indicates repeating event with different hosts/guest/etc.). Admission prices followed by a slash and minus (/-) after the amount indicates door charge with availability of cheaper rates for some purchases. /+ indicates stated price is minimum.
Names of subscribers appear in bold, are underlined and, where applicable, include a live link to their websites. Advertisers' listings are in larger highlighted type, include live link to website and also have ad icon included in listings.
416 – Toronto Central
11am-2pm> Gypsy Jive Band for Jazz brunch @ Free Times Café, 320 College St., TO
12-3> Humber Community Music Student Jazz Recitals @ The Rex, 194 Queen St. W., TO ~Jazz
Noon – 10> Pedestrian Sunday in Kensington Market with many acts at various venues ~eclectic
2> Don Campbell on the patio @ The Hideout, 484 Queen St. W., TO ~acoustic Pop
3-5> Michael Laderoute @ Tranzac Club (Southern Cross), 292 Brunswick Ave., TO
3> Cadre @ C'est What, 69 Front St. E., TO ~Rockin' Roots-Blues; pwyc
*3-6> Michael Brennan @ Graffiti's, 170 Baldwin St. TO ~East Coast Rock/Blues Roots
*4:30-8> New Orleans Connection All Stars & guests @ Grossman's, 379 Spadina Ave., TO ~New Orleans Jazz
5-7> Steve-Paul Simms & Lynn Harrison @ Tranzac Club (Southern Cross), 292 Brunswick Ave., TO ~original Pop/Folk

5-9> Sunday night jam @ Seven44, 744 Mount Pleasant Road, TO North ~cover $
*7-1> Freefall Sundays open stage with hosts Steve York & Tony Rabalao (2 songs each -signup @ 7 or pre-sign online) @ The Supermarket, 268 Augusta St., TO
7> The Double Cuts @ Cameron House (front), 408 Queen St. W., TO ~Western Swing
7-9:30> Northern Spy @ The Rex, 194 Queen St. W., TO ~NYC Jazz
7:30> Gathering Sparks with Eve Goldberg & Sam Turton et al @ Tranzac Club (Southern Cross), 292 Brunswick Ave., TO ~Folk
7> Toronto Guitar School concert with Glen Alan; Taylor & Bryn; Ivana Popovic; Perry Maher; Bryn Scott-Grimes @ Free Times Café, 320 College St., TO ~guitar students; $5
9> jam with Jay Pennell @ Scruffy Murphy's, 150 Eglinton Ave. E., TO North
*9> Rob Hiemstra solo @ The Unicorn, 175 Eglinton Ave. E., TO North ~Rock/Pop
9:30> Radiohead Jazz Project; The T.J.O. & Idioteque @ The Rex, 194 Queen St. W., TO ~Jazz
*10> Horshack feat. Chris Caddell @ Orbit Room, 580 College St., TO ~Bluesy contemporary & classic Rock
10> Steve Ward presents @ Tranzac Club (Southern Cross), 292 Brunswick Ave., TO
10> Thelonius Hank @ Cameron House (front), 408 Queen St. W., TO
10> James Clark solo @ Amersterdam Bicycle Club @ 54 The Esplanade, TO ~indie Pop
**10> Blues jam with Brian Cober, Bill Hedefine & guest bassist @ Grossman's, 379 Spadina Ave., TO
10:30> Scott Baragar @ The Hideout, 484 Queen St. W., TO ~indie Rock
416 – Toronto East
11-2> tba for Jazz brunch @ Relish, 2152 Danforth Ave. TO East
*2-5> Lisa Particelli's Girls Night Out Jazz Jam @ Morgan's, 1282 Danforth Ave., TO East ~Jazz
*3-6> open mic with Nicola Vaughan @ Hirut, 2050 Danforth Ave., TO East
3-5:30> last Sunday monthly Lazy Cat Café open stage with hosts Linda Lavender & David Shilman & feature by David Shilman @ Bain Co-op Community Centre, 100 Bain Ave. (enter off Sparkhall Ave.), TO East
*3:30-7:30> jam @ Black Bear, 1125 O'Connor Drive, TO East
4> Gypsy Rebels @ Castro's Lounge, 2116 Queen St. E., TO East
*5-9> John Dickie/Pat Perez Band @ Linsmore Tavern, 1298 Danforth Ave, TO East ~R&B/Blues
*8-9> Sam Taylor & The East End Love @ Relish, 2152 Danforth Ave., TO East ~original Blues
9> Watch This Sound @ Castro's Lounge, 2116 Queen St. E., TO East ~vintage Jamaican music
*9:30-1> jam with the Stir It Up Band featuring Bryan Van Dusen & David Macmichael @ Relish, 2152 Danforth Ave., TO East
416 – Toronto West
*12-3> Julian Fauth's Blues brunch @ Axis, 3048 Dundas St. W., TO West ~Blues
* 12-3> The Cosmotones @ Dakota Tavern, 249 Ossington Ave., TO West ~Rockabilly
**5-8> John Borra & Sam Ferrara w. guest @ The Communist's Daughter, 1149 Dundas St. W. TO West ~Country
5-8> Chris Coole @ The Local, 396 Roncesvalles Ave., TO West ~old-school Country
5-8> Cheryl White R&B Band @ Gate 403, 403 Roncesvalles Ave., TO West ~R&B
8:30> Sultans of String duo concert & video taping @ Hugh's Room, 2261 Dundas St. W., TO West ~$12
9-1> Anthony Fung Trio @ Gate 403, 403 Roncesvalles Ave., TO West ~Jazz
9> Ada Dahli and the Pallbearers @ The Local, 396 Roncesvalles Ave., TO West ~Roots/Rock'n' Soul
10> The Beauties @ Dakota Tavern, 249 Ossington Ave., TO West ~indie Rock/Soul; $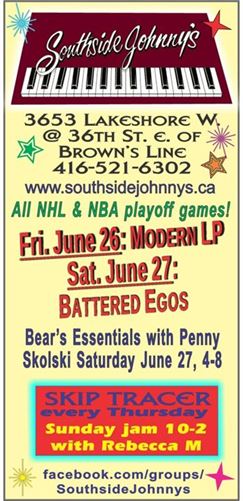 416- Etobicoke
4-8> Lost Patients @ Timothy's Pub, 344 Brown's Line, Etobicoke ~Pop Rock
4-8> Jerome Godboo Band @ Blue Goose Tavern, 1 Blue Goose Rd., Etobicoke South ~Blues
*10-2> jam with Rebecca Matiesen & Phoenix @ Southside Johnny's, 3653 Lakeshore Blvd. W., Etobicoke South
416 – Scarborough
*6-10> jam with Tommy Rocker @ Scarborough Junction, 646 Danforth Rd., Scarborough
*7-11> open jam @ McGradie's, 2167 Victoria Park Ave., Scarborough
519
*9-1> jam @ Ivy Arms Pub, 201 Main Street East, Milton
613
10 a,m. - 2 p.m.> Mountain Man Festival with Al Tambay @ Calabogie Peaks Resort, 30 Barrett Chute Road. Calabogie
705
*3-7> jam at CJ Barleys, 213 The Queensway, Keswick
3> Tom Eastland @ Black Horse Pub, 452 George St. N., Peterborough
10> Dana Beeler @ The Garnet, 231 Hunter St., W., Peterborough ~Country
905 East
Noon – 8 p.m.> Pickering Village Jam Festival at 5 venues, Old Kingston Rd., Pickering
4-8> Doubleshot Blues Band featuring Jim Cornell @ Pickering Village Jam Festival, 71 Old Kingston Rd., Pickering ~Blues
*5-9> All ages open jam with Juggernaut @ West Shore Bar & Grill, 877 Bayly St., Pickering
*7-11> Karaoke with Rob MacArthur @ The Edge, 250 Bayly St. W., Ajax
*8:30-12:30> karaoke with The English Rose & The Mad Scotsman @ Pearson Pub, 101 Mary St. W. Whitby
905 North
*3-7> open stage with Kevin Ker @ The Earl Of Whitchurch, 6204 Main St., Stouffville
*5-9> open mic with feature guest @ Sgt. Pepper's Aurora, Walmart Plaza (Hwy 404 & Aurora Rd.), Aurora
905 South
2-6> Bay City Blues Band & guest Steve Grisbrook @ Bay City Music Hall, 50 Leander Drive, Hamilton ~Blues; $5
3> Summer Sunday Slamfest: MTL Trash; Chachi; On Acid; Thirty Helens; Pseudo; more @ This Ain't Hollywood, 345 James St. N., Hamilton ~indie; $8
9> Dave Ptolemy @ Coach & Lantern, 384 Wilson St E., Hamilton
905 West
**2-6> with host Colin Connors and guest Laura Mattson @ Carrigan Arms, 2025 Upper Middle Rd., Burlington ~Country
*4:30-8> Chuck Jackson's All Stars @ Roc'n Doc's, 105 Lakeshore Rd. E., Port Credit ~Blues
**5-8> The Stew @ Mulligan's, 2458 Dundas St. W., Mississauga ~R&B/Rock
**7-11> The Nomads @ Shore Grill, 71 Lakeshore Rd. E., Port Credit
*7> open jam with Mike Shotton & The Flying Squirrels @ Black Swan Pub Burlington, 4040 Palladium Way, Burlington
*7:30> open jam hosted by Troy Harmer @ The Brown Barrel, 1515 Upper Ottawa St., Hamilton
7:30> Oakville Improv Comedy Jam @ Moonshine Café, 137 Kerr St., Oakville; $5
*9-1> Gracie @ Roc'n Doc's, 105 Lakeshore Rd. E., Port Credit ~Rock/Top 40
*10:30> Adam Cooke & The Adams Family @ The Dickens, 423 Elizabeth St., Burlington